originally published: 07/24/2019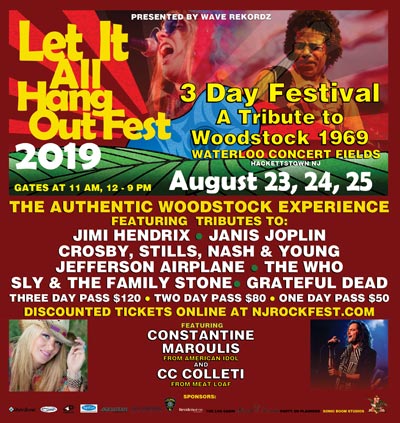 Jersey rocker CC Colleti has organized the three-day Woodstock tribute Let It All Hang Out Fest at which she, American Idol finalist Constantine Maroulis and several others will pay tribute to the historic event's original lineup.
This week also features Pyrrhic Victory Records, 3143 Management, Telegraph Hill Records, Hub City Sounds, Bulletproof Belv, Shut Up, Rhonette Smith, Deal Casino, Hi-Tide Summer Holiday, Rachel Ana Dobken, 18th & Addison, Baron Praxis, The Latest Noise, Asbury Park Music Foundation, Turnpike Gates, JERSEY ROCKS!, Dan Amato and Jackie June


Jersey rocker CC Coletti, a seven-year backing vocalist for Meat Loaf, has organized a three-day music festival at Waterloo Concert Fields in Hackettstown in honor of the 50th anniversary of Woodstock. The singer-turned-concert promoter is calling the event Let It All Hang Out Fest after the name of her latest album. The festival will be held Aug. 23 to 25 and features 20 tribute acts, including CSN Songs (Crosby Stills Nash), Kiss the Sky (Jimi Hendrix), Splintered Sunlight (Grateful Dead), and Coletti's Experience Janis (Janis Joplin).
"I grew up on a street called Woodstock Lane, so I guess I was a rock flower child since day one," she said. "As the youngest of five in a house full of music, I knew I was destined to live the music life from a very young age and I haven't looked back since! Music has taken me around the world and I'm proud to be a part of Let It All Hang Out Fest, so close to where it all began for me."
To start the weekend, CC Coletti Band will be headline the Aug. 23 stage with guitarist Anthony Krizan of Spin Doctors. Saturday's headliner will be Constantine Maroulis, a season four "American Idol" finalist from Wyckoff. The Garden State's best original and cover bands will sprinkle the stage all weekend. Highlights also will include more than 300 vendors of food, art, kids' products, beer, spirits and more; pet adoption and a variety of family fun. Proceeds from the $50 to $120 tickets will benefit Kelsey Charity Run, which helps kids fight cancer; Operation Chillout, a support program for homeless veterans, and VetRest, a nonprofit that helps our vets cope with post-traumatic stress disorder.
Carteret's bangin' summer concert series continues with shows coming up by Spin Doctors, the Elton John tribute act Sir Elton and much more. Sunday Concerts by the Bay in Waterfront Park will feature The Infernos, July 28; Chicago tribute band Beginnings, Aug. 4; Jersey Sound, Aug. 11; the all-female Red Rose Jazz Combo, Aug. 18, and New Power Soul, Aug. 25. Concerts by the Bay highlights the borough's expansive redevelopment of an abandoned area on the shore of the Arthur Kill that most recently has included the multimillion-dollar municipal marina. The park also features a continually lengthened boardwalk, fishing pier, mini golf course, playground, snack stand and bocce ball and shuffleboard courts. Still to come to the waterfront are more expansions of the boardwalk, a ferry service and an events center.
Concerts in the Park in Carteret Park will continue with Larry Stevens Band, July 26; The Crosstones, Aug. 2; Karickter Band, Aug. 9; The Sell Outs, Aug. 16; Masterpiece, Aug. 23, and Strictly 60s, Aug. 30. On July 27 in Waterfront Park, Latin Fest will bring family fun, as well as performances of salsa, merengue, bachata, cumbia and/or musica tipica by Raul Acosta y Oro Solido, Swing Combo, Son D'Kalle, and Willie Will & Lain Mix Masters. Highlights also will include food, a beer garden and fireworks. On Sept. 21, Ethnic Day, an annual celebration of the borough's diverse community, featuring food from many different countries and cultures, will come at the end of the annual Mayor's Charity Carnival in Carteret Park. Each year, Ethnic Day features a headlining act, which will be Spin Doctors, featuring members from Princeton whose early '90s hits topped the pop charts. The carnival will benefit Mayor Dan Reiman's Children's Charity Trust Fund, which supports borough schools and youth programs with about $60,000 annually.
The ever-busy Mint 400 Records has dropped a new EP by Grasser, a side project of Biff Swenson of the label act Yawn Mower; his cousin, Nick Gianatiempo (Les Dangers, Prehistoric Forest), and Dana Yurcisin (Static Sex). The five-song "Later, Registration" sounds like a cross between The Jersey Boys and The Jerky Boys, as well as The Strokes and *NSYNC. The punk-fueled band's gigantic hooks can be heard on the first single, "Don't Ever Not Do What You Did." The EP is a follow-up to the 2016 release, "College Dropout(s)."
The Components, a Mint 400 two-piece comprised of singer-guitarist Ronnie Sena and drummer-backing vocalist Zoe Ekonomidis, have released the self-produced, mixed and mastered single "Space Invader." The tune will be followed by another single and video next month and an LP by year's end. The duo have been compared to Nirvana, Dead Boys, Queens of the Stone Age, Frank Iero of My Chemical Romance and Senses Fail.
Coming soon from Mint 400 will be releases by The Clydes and The Extensions, whose debut outing will be celebrated on Sept.20 at Asbury Lanes. In the next Scene Report, look for Mint 400 to announce a new indie festival it will co-sponsor and co-present in the fall in Jersey City. In the meantime, the label's forthcoming shows include the indie-friendly Fair Lawn venue Stosh's 40th anniversary party on July 27 with Abrupt, The 65's, Foxanne, New Narratives, Guilty Giraffe, Scary Hours, The Extensions and Ruby Bones and label mash-up with the fellow North Jersey indie Pyrrhic Victory Recordings featuring The 65's, Miss Ohio, The Extensions, Blue Vervain, and Yawn Mower on Sept. 6 at FM Bar in Jersey City.
Speaking of Pyrrhic Victory, Scary Hours, aka quirky folk-punk singer-songwriter Ryan Struck, has released his debut album, "Live to Serve," featuring the second single and video "Live to Serve/Serve to Live." The first single, "Recurring Daydream," was featured in critics' 2018 year-end lists.
The Extensions also will be featured on 3143 Management's artist compilation, whose release also will be celebrated on Sept. 20 at Asbury Lanes. The comp will feature the 3143 roster, including recently signed garage-glam power-poppers The Hell Yeah Babies, electro-pop artist Polyna, and producer-DJ Deen Anthony, as well as stable acts Arlan Feiles, Dave Mooney & Viewers Like You, Deirdre Forrest, Honey Wild, JAHK, The Ellis Wilkinson Band and The Mercury Brothers.
A little more than a week later after their record and compilation release, members of The Extensions, as well as Dave Mooney & Viewers Like You, will participate on Sept. 28 at Asbury Lanes in a 50thanniversary tribute to The Beatles' "Abbey Road" album. The Asbury All Star Abbey Road Band also will feature members of Foes of Fern, Levy & the Oaks and Des & the Swagmatics, all of whom are on event co-sponsor Telegraph Hill Records. Sponsors of the Makin Waves and Red Pants Productions co-promotion also include The Aquarian Weekly, Holdfast Records, MOGO Taco, New Jersey Stage, "OneMore with Brian Erickson," "Radio Jersey," and Asbury Park Music Foundation, whose youth programs will benefit $2 from each admission.
In other Telegraph Hill news, Foes of Fern won a second award for their "Bicycle Song" video lensed by the talented Andrea Morgan. Last month, they took home the Best Video prize from the Jersey Shore Film Festival, which followed the Jersey City Popup Film Festival earlier this year. You also can see Foes live July 26, The Living Gallery, Brooklyn; July 27, Second Annual Jersey Music Festival, Jackson Moose Lodge, with We're Ghosts Now, Mike Brody vs. The People, Puppy Grease, Natalie Farrell, Dan Apy of the Mercury Brothers and much more; July 28, Seafarer Bar, Highlands; July 29, "OneMore with Brian Erickson," Asbury Park Music Foundation with much of the Telegraph Hill roster; Aug. 4, Asbury Park Yacht Club, opening a show that will record a live album of Levy & the Oaks; Aug. 10, American Trash, New York City, and Aug. 22, The Saint, Asbury Park, with Tara Dente, Luke Dowler and Christine Mitchell.
In addition to the aforementioned free Aug. 4 show for the Telegraph Hill-sponsored live album, Levy & the Oaks are playing heavily in support of their latest single, a cover of The Romantics' 1983 hit "Talking in Your Sleep." Upcoming dates include a summer-long Sunday residency at the always-free APYC with a free vinyl giveaway, plus openers Deaglan on July 28, Candy Cavity on Aug. 11 and Avery Mandeville on Aug. 25. Other shows include Aug. 2 at Triumph Brewing Co. in New Hope and Aug. 10 and 31 and Sept. 21 at Seafarer Bar in Highlands.
In other Telegraph Hill News, Bobby Mahoney and the Seventh Son have dropped a new single and video for "Should Have Called You Up (Last Night)" on the eve of opening for The Wallflowers on July 26 at Starland Ballroom in Sayreville. They'll also play Aug. 1 at Asbury Park Brewery. "Horsefoot" is the second single from Lowlight's next LP, "Endless Bummer," which drops Sept. 13. In between, the band will play Aug. 17 at Franklin Schoolhouse in Metuchen and Aug. 21 at Rockwood Music Hall in New York City before heading on tour to North Carolina, Virginia and Syracuse, N.Y. And Leah Voysey will drop her second single, "Keep It To Yourself," which also will be a video helmed by Morgan.
New Brunswick Cultural Center's eighth annual Hub City Sounds series of free festivals offers family-friendly music, food and other fun from July 27 with Just Jersey Fest at Rutgers Gardens to the fifth annual Corazon Latino Festival on Oct. 27 in Joyce Kilmer Park. The Just Jersey kickoff celebrates the Jersey summer vibe in Rutgers Gardens; ?lled with live music, dance performances, food and crafts, courtesy of locally sourced artists, musicians and vendors. In partnership with El Mercado Esperanza, Corazon Latino Festival is a carnival-themed adventure showcasing rich Latino and Caribbean culture ?lled with traditional cultural dances, music, visual arts displays and much more.
In between, there also will be:
Carifest, featuring the island vibes of Caribbean cuisine, music and dance, including a jerk chicken tasting contest, as well as a special theatrical tribute to Rutgers legend Paul Robeson, Aug. 24, Boyd Park.

Indo-American Festival, an offering of Indian treats, music, dance and yoga, Aug. 25, Boyd Park.

Seventh annual Central Jersey Jazz Festival, one-third of an unparalleled collaboration between three communities in three different counties — Flemington, New Brunswick, and Somerville — Sept. 14, downtown New Brunswick.

Rock New Brunswick, a mash up of local punk, funk, hip-hop and rock, Sept. 21, The Yard.

39th Raritan River Festival, a celebration of local environment and community featuring live music, vendors, New Brunswick Community Farmers Market, kid's activities, cardboard canoe races and Beez Foundation's annual Rubber Duck Race, Sept. 22, Boyd Park.
"We are thrilled to bring back Hub City Sounds, a festival that showcases the rich pride and diversity of our region," said Tracey O'Reggio Clark, interim executive director of the New Brunswick Cultural Center. "We are elated to expand our program locations to include Rutgers Gardens and The Yard at College Avenue; and with activities and events for all ages, Hub City Sounds has something for everyone."
The Hub City Sounds series includes a variety of activities for kids including a moon castle, face painters, henna, petting zoos, canvas painting and much more. Festival-goers are welcome to bring blankets or chairs for lawn seating at park events, and refreshments and retail will be available to purchase. Free parking is available for the Boyd Park events, exactly one block away at the Rutgers Public Safety Building, 55 Commercial Ave.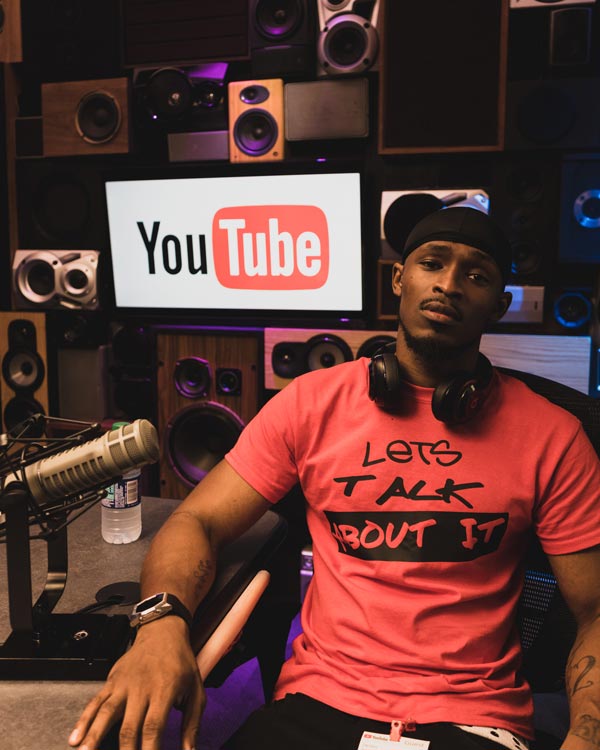 Bulletproof Belv is pictured at YouTube Space in New York City. The Asbury Park rapper will be dropping a new video soon from his latest LP, "Everything Earned."
Prolific Asbury Park rapper Bulletproof Belv has dropped what he said he feels is his best album yet. The eight-song "Everything Earned" has no features. It's all Belv backed by the beats of El Trapo Cheese, the rapper's go-to producer. Belv recently played in front of 500 opening for Money Bagg Yo at XL NightLife Club in Elizabeth. He also recently joined frequent collaborator Matty Carlock at his homecoming gig at Asbury Park Brewery after a national tour. He also recently was featured in interviews on Kean University's WKNJ 90.3-FM and Expresate TV, where the chat took place in YouTube Space, the streaming platform's New York City studios. Expect a new video from Belv soon.
Two Jersey Shore bands who have helped to keep the spirit of grunge alive with recent music are The Black Clouds and Gay Guy/Straight Guy. The former's vocalist-guitarist, Dan Matthews, and the latter's drummer, Bob Paulos, have joined forces in Shut Up, a powerful trio that recalls the hard heavy end of the sludge pool in which The Melvins and The Dwarves swim. Joining them is The Sex Zombies' vocalist-bassist Jamie Conner, Matthews' wife. Shut Up will release their debut album, "Nope," on Matthews' Capacitor Records. They'll celebrate the release on Aug. 3 at the Stone Pony in Asbury Park with punk bands Hot Blood and Fetal Rage. "Nope" was produced in Seattle by Matthews and longtime Black Clouds producer Jack Endino, who also recorded, mixed and mastered at his Soundhouse studio, where he also helmed Sub Pop records by Nirvana, Mudhoney and Soundgarden, three of Matthews' greatest influences. Shut Up also will play Aug. 30 at The Chubby Pickle with Chemtrail and Oct. 4 opening for Mudhoney at White Eagle Hall in Jersey City.
Centennials front woman Rhonette Smith has gone solo and will drop the digital version of her debut album, "Phantasmic," on July 26. Ten years in the making, including the past five with Centennials, the LP presents themes rooted in fantasy, make believe and self-discovery, Rhonette said. Bandcamp pre-orders include a free download of the first single, "Disaster," which recently was made into a lyric video. Rhonette will celebrate the release on Aug. 24 at The Chubby Pickle with a free 21+ show also featuring Reality Suite, Roulette, and The Angry Pirates. "I specifically chose these bands because they have killer female leads with heavy sounds that break the mold of the general female singer typecast," Rhonette said. In the meantime, she'll play solo July 27 at Danny Boy's Irish Pub, South Amboy, as well as with Centennials Aug. 16 at The Asbury hotel and Aug. 30 at Crossroads, Garwood.
After touring nationwide most of the year, Deal Casino are back in Asbury Park on Aug. 8 at House in Independents headlining a show that also will feature American Trappist, Sonic Blume, and Sean McVerry. They will drop a single right before the show that follows "Robin Hood," their latest new material since last year's "LLC" LP.
Asbury Park Surf Music Festival has been rebranded as Hi-Tide Summer Holiday, which will be Aug. 16 to 18 at Asbury Lanes and The Asbury hotel. Performers will include The 5.6.7.8's from Japan, The Neanderthals, Eddie Angel's Guitar Party feat. The Primitive Frinks, Deke Dickerson & Bloodshot Bill, The Boss Martians, Jason Lee & the R.IP.Tides, Impala, The Hula Girls, The Surfrajettes, Insect Surfers, Black Flamingos, Lulufin, The Who Hoo, also are from Japan, Argentina's Los Freneticos, The Delstroyers, Slowey and The Boats, and The Swingin' Palms. Highlights also will include tiki cocktails, bowling, pool parties, DJs, vendors and seminars also at Danny Clinch Transparent Gallery and Little Buddy Hideaway, a tiki bar on Cookman Avenue.
Rachel Ana Dobken will celebrate the release of her new roller rink-set video on July 25 at The Saint. The clip is for "Always," a single from her 2018 album "When It Happens To You." The show also will feature Illiterate Light and Cranston Dean Band. "There is a palpable, electric energy that exists in the song 'Always,' and I wanted to make sure we captured visually," Rachel said. "At the end of the day, it is all about the music, so it was about the four of us being in a room playing together passing that around. It's pretty cool because each member of the band ended up playing the parts they played on the record: Ryan MacLean, guitar; Joey Henderson, guitar; Dan Haase, bass, and myself, drums, guitar, vocals." Rachel also will play Aug. 6 at Asbury Park Brewery with Zac Clark who plays with Andrew McMahon in the Wilderness and Aug. 17 at John & Peter's. Those dates will sandwich a New England tour with Cranston Dean Band and Patty C. In addition to her own sets, she will drum for both.
The Jersey Shore two-piece 18th & Addison have a dropped a new video for "Leeches," the first single off their upcoming Wiretap Records label debut. The Sept. 6 outing follows two self-released EPs and an LP. The song is about growth and progression toward a better future and sense of self, Tom Kunzman said. "We really wanted to do something different than we usually do with our videos," Kait DiBenedetto added. "We usually take a much more comedic approach, but with this one, we wanted to make it a bit more serious and tell a little bit darker story to drive home the vibe of the song." An eclectic blend of pop and punk, the duo can be seen July 27 at Rock the River in Toms River, Aug. 24, Shakers Pub, Oakdale, N.Y., and Sept. 6, The Brighton Bar, Long Branch, which will be their record release party. Then they'll jet down to the Carolinas for a couple of gigs.
Jersey Shore grunge band Baron Praxis have dropped a gorgeous new video for "L'appel Du Vide," an emotional single from a forthcoming album. They said they'll drop two more by summer's end. The well-crafted clip was shot and directed by Nick Wolf, who's also worked with The Mercury Brothers and Blaise. Upcoming Baron Praxis shows include July 27, Brighton Bar, with Stone Temple Pilots and Chris Cornell tribute acts; Aug. 2, Elephant Talk Indie Music Festival (which also will take place Aug. 3 and 4 at The Watering Hole, Mays Landing, with Nalani & Sarina, Dentist, CVGES, The Danbees, Megan Knight, Jon Caspi & the First Gun, The Black Clouds, Judo Chop and much more); Aug. 3, The Saint, with Warring Monk and Judo Chop; Aug. 11, Asbury Lanes, with Inventure; Aug. 13, PJ Sweeney's, Brick, and Aug. 23, Club House, Toms River, with Jean Pool and Rusty Mullet.
The Jersey City-based indie The Latest Noise will continue its series of live events with the release of "Crack Up," an EP from label artist BWQ on July 26 at FM Bar. Recorded at Blackbird Studios in Nashville, while on tour, and Silver Horse Studios in Hoboken, "Crack Up" is the band's follow up to last year's acclaimed debut, "American Ghost." They'll play the entire EP live, among other tunes. The Latest Noise also will present the record release party for Sean Tobin's "Dreams & Black Caffeine" EP on July 27 at the Wonder Bar in Asbury Park with James Cellei Trio, Chris Brown, Brian Massa, and Nick Ryan Band.
Asbury Park Music Foundation once again is presenting local bands in the Mockingbird Concert Series on the CBGB L.A.B. stage in Newark International Airport Terminal C near Gate 123. Made possible with a $20,000 donation from Tito's Vodka, as well as support from OTG and Owen's Craft Mixers, the series will continue July 25 with Experiment 34; July 26, Ashley Delima; Aug. 1, Dentist; Aug. 2, Leah Vohsey and Deidre Forrest; Aug. 8, The Foes of Fern; Aug. 9, Matt Cook and Bryan Hansen; Aug. 15, Rick Barry; Aug. 16, Kate Dressed Up and Elaine Rasnake; Aug. 22, Devon Moore of Fake Pockets; Aug. 23, Cat London and Rich Aveo; Aug. 29, Cranston Dean, and Aug. 30, We're Ghosts Now.
Roots rocker Turnpike Gates has a tasty show in support of his EP, "Almost There." He'll play inside The Stone Pony on the Locals Only Stage on July 28 in support of the Summer Stage outing with The Flaming Lips, Lennon Claypool Delirium and Particle Kid. Public Access Band and Experiment 34 also will lend inside support.
Congrats to the local bands Sonoa, Powerlines, Bad Blooms, and Experiment 34 who were tapped by Union County Arts Center in Rahway to open their main stage for their JERSEY ROCKS! event headlined by the The Springsteen Experience: A Tribute to the Boss! Executive Director Brian Remo said he wanted to pair the return of The Springsteen Experience with local Jersey bands in order to give them the opportunity to play the main stage.
Jersey Shore singer-songwriter Dan Amato is working hard in support of his new EP, "Anywhere," which takes him in a modern country direction inspired by Kacey Musgraves, Thomas Rhett, and Luke Combs. Yet, the classic Springsteen-instilled Sounds of Asbury Park still permeate his songwriting. The title track was co-written by music industry vet Joe Rapolla, head of the music department at Monmouth University, from which Amato graduated this year. Check out the country-soul rocker live July 26, The Chubby Pickle; Aug. 16, Dog House Saloon, Washington Township; Aug. 30, Fox Hollow Vineyards. Holmdel, and Sept. 20, Willie McBride's, Hoboken.
Jersey Shore singer-songwriter Jackie June has some hot shows coming up in support of her "Wildflower" debut EP of "deeply personal songs," particularly the single "Chasing Nightmares," which was made into a telling video. See her live Aug. 20, Café Artiste, Ocean Grove; Sept. 28, Porchfest, Asbury Park, and Oct. 19 opening for '80s popster Tiffany at Debonair Music Hall in Teaneck. "I'm super excited … that the Asbury Park music community has been so warm, welcoming, and receptive to what I'm doing," she said. "It's amazing to be a part of such a great music scene!"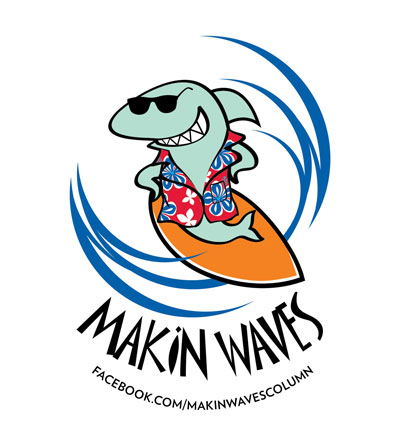 Bob Makin is the reporter for MyCentralJersey.com/entertainment and a former managing editor of The Aquarian Weekly, which launched this column in 1988. Contact him at makinwaves64@yahoo.com. And like Makin Waves at www.facebook.com/makinwavescolumn.