originally published: 07/23/2019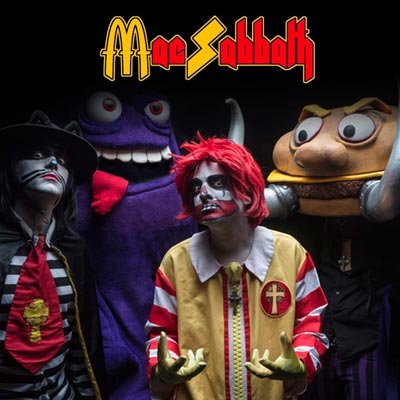 (MONTCLAIR, NJ) -- Curious about the heavy sounds and lyrical joys of "drive-thru metal?" The curiosity ends here, as surging parody/tribute band, Mac Sabbath comes to the Wellmont Theater on Tuesday, August 27 at 8:00pm. The group will unleash its underground parody metal sound in Montclair as it continues its 2019 "American Cheese Tour."
True: There are those who admire Black Sabbath. There are others who appreciate American fast food – in all its greasy, salty glory. But never have the two been joined so closely. Cue Mac Sabbath, the YouTube-friendly parody band from Los Angeles.
The group consists of identifiable front-man Ronald Osbourne, along with Slayer MacCheeze, Grimalice and Catburglar. Backed by manager and spokesperson Mike Odd, also the lead singer of a visually inspired hard-rock band Rosemary's Billygoat, Mac Sabbath continues to pioneer drive-thru metal, while both joining and admonishing fast food culture.
The group is known for tunes drawn from Black Sabbath hits, including "More Ribs," "Pair-a-buns," "Sweet Beef," "Frying Pan" and more.
This "drive-thru metal" and Sabbath tribute band is said to have been born in a fast food restaurant in 2013 when lead singer Ronald Osbourne – in full clown getup – convinced soon-to-be manager Mike Odd to back the concept of fast food-fueled rock music. Odd was sold, the band flourished and, today, it continues to tour the nation behind both identifiable costumes and heavy guitar solos.
---
The article continues after this ad
---
---
Osbourne and his bandmates will bring their eccentric, high-energy tunes to Montclair this August – in a performance sure to be colorfully loud, undeniably memorable and as potent as a fast-food overload. It's a can't-miss performance from these likable burger-rock artists!
The Wellmont Theater is located at 5 Seymour Street in Montclair, New Jersey.  Tickets are available for purchase online.