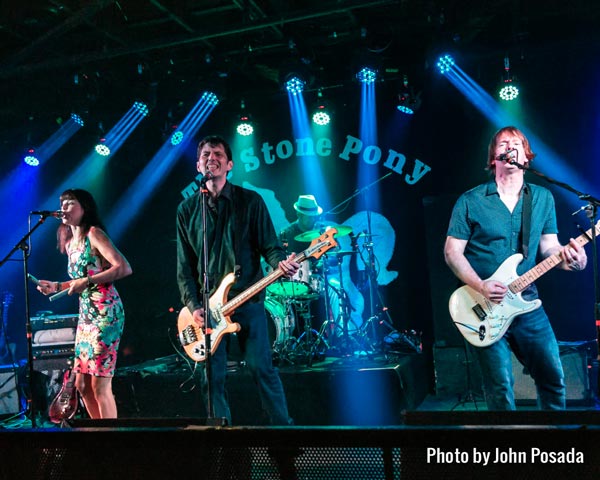 (BAYVILLE, NJ) -- The 9th Annual Soulsational Festival will take place at Veterans Park in Bayville, NJ on July 27, 2019 from 11:00am to 8:00pm. The festival is a free community event featuring live music, many vendors, giveaways, a silent auction, and lots of opportunities to give back and unite the Jersey Shore community! It is being sponsored and organized by Alternative Health Solutions of NJ and www.MichelleALeonard.com. This event is sponsored and supported by Berkeley Township Recreation and The Zen Den. 
The Soulsational Music & Wellness Festival was created to honor, share, and explore the many healing modalities, practitioners, organizations, and businesses devoted to wellness right here on the Jersey Shore. Its goal is to increase awareness of the many different green, holistic, organic, and healthy options within our community, support the local economy and offer a unique interactive family experience for all those in attendance. We together hope to motivate and inspire our community to find what brings them health and greater happiness while creating lifelong family memories.
The festival is expected to reach an audience of over 5,000 people with continuous duel stage entertainment including great local original New Jersey musicians, numerous free group classes, A kids village, an art gallery, poets corner and live demonstrations. The day will also be packed with a full schedule of FREE events for the entire family of all ages; and with over 100 vendors, Food Trucks, and a Kids Village. Some featured vendors this year include businesses such as Hannah Mary Reiki, The Meaningful Mala, Glen Kelly Real Estate, Hot or Not Yoga...  plus more. The event will be rounded off with interactive exhibits, healthy food options and organic/ local beer thanks to Ma Deuce Deuce (MA22), and with numerous planned activities- there is something for everyone - From start to finish!
Soulsational Music and Wellness Festival directly supports the education and awareness of living an optimal wellness lifestyle, healthier living options, and spreading the Live Positive Today Movement. This is an  100% volunteer run event that charge no admission fees. Donations from this event will be donated to local Ocean and Monmouth County charities; collected pantry food will be given to a local Pantry to distribute. We are also asking for diapers, school supplies, and new toys for the holiday. All donations will remain local with chosen charities in our area. Any donations collected for Soulsational goes directly to help produce the event including paying for musicians.  
Scroll down for the complete schedule.
---
The article continues after this ad
---
---
LIVE MUSIC:
Featuring on the Main Stage: Special Emcee Host: Mark Farrell

11:00 The Wag

12:15 The Goodstock Jamband

1:15 Clarizio Music Presents Mondays at Six

2:15 Alli& The Housecats

3:15 Jake Tavill & Indigo Soul

4:30 Anjelia Pelay

6:00 Amanda Duncan

and MORE!

 

Featuring on the Food Truck stage along with Poets:

2:15 Nicole Curtis 

1:45 Jersey Duo  

2:30 Kellie Shane of Pepperwine

3:30 The Williamsboy 

4:30 Stella Mrowicki

5:30 – 7:00  Soulsational at Sundown Open Mic Hosted by Mychal Mills
Free Class, Workshop, and Activity List:

All Day: Walking Meditation / Michelle A Leonard Hypnosis

All Day: Community Art Canvas / Kristen Eve Woolley

11:00 Beyond The Laces Book Giveaway 25 Free books and chips thanks to the Herrs Company. 

11:15 Lovelight Practice Yoga / Christina Zaccaro

11:15 Belly Dancing Class / Yame Abdo - SharqiDance

11:15 kids Twist & Laugh / Amanda McCalip

11:30 Energy Cleansing Smudging /  Hannah Mary Reiki

11:30 Write to Self: Guided Writing & Meditation / Chelsea Palermo 

12:00 Box O' Cacao Yoga / Jodie Goff

12:00 Young Living Essential Oils Workshop / Michele McRae

12:00 Kids Yoga with Littles / Ambar Gingerelli

12:45 Jivamukti / Hot or Not Yoga

12:45 Kids Art Class

1:00 Crystal Bowls Sound Meditation / Louisa Rodriguez-Diaz

1:30 Bhakti Yoga / Loren Russo and friends

1:30 Easy Kids Cooking Instructional / Erin Bee

2:00 Own Your Power / Bailey Frumen LLC

2:15 Partner Yoga / Adam Binder & Rose Dease

2:15 Cell Phone Photography for Kids / Carly Kutsup

2:15 Owning Your Own Voice/ Ann Kestner

3:00 - 6:00: Creating a Peace Mandala / Apeiron Yoga

3:00 EZE Fitness Cardio Boxing & Weight Training / Hafiz Montgomery

3:00 kids: Catching Dreams: Mindfully Weaving Dreams into Art / Kristy Mathews

3:10 Om in The Park Yoga Demo / Dana Gan & Friends

3:15 Crystal Bowl Sound Healing / Beth Connelly

3:15 Troubles Into Triumph/ Ann Kestner

3:45 Kids Create Calm with Aromatherapy / Jodi Sherman

4:00 Vinyasa Flow Yoga/ Heather Burch

4:00 T'ai Chi Chih / Annette McNeil

4:15 Compassion Through Characters/ Laura McCullough

4:30 Magical Moment of Mystery / Jillian Speranza

5:00 Twist & Flow Yoga / Victoria Kerins

5:00 Creating the Life of Your Dreams / April Kmiechick

5:15 kids Story Time / Author Amanda McCalip

5:30 – 7:00 Soulsational at Sundown Open Mic

6:00 Vision Board Workshop / Carrie Villanueva

6:00 The Wonder of kids Magic with Amelia

6:15 Sacred Portals Healing Circle / The Myzstik Sisters 

6:15 - 8:00 Soulsational Talent & Variety 

7:30 pm Soulsational Drum Circle 
2019 sponsors include; Berkeley Township Recreation, Michelle A Leonard Hypnosis, Hannah Mary Reiki, Karmalife Holistic Wellness, FEVOLA'S PIZZA, Stumpy's Hatchet House Eatontown, Karen Brundage-Johnson, SharqiDance, Holman Frenia Allison PC, The Meaningful Mala , Personally Yours Accessories, Hot or Not Yoga, Clarizio Music Studio, Nash Everett , Mihlon Family Chiropractic Center, Zen, Den Center, The Meaningful Mala, Fashionably Twisted, A Moment of Clarity.
Alternative Health Solution of NJ's © nonprofit mission (with a pending 501C3) is to enhance the positive quality and development of individual, family, and community life by providing services that are available, accessible, and responsive to the needs of those seeking assistance, and to work with the community to educate, contribute, facilitate, and promote solutions for the enrichment of all. Connecting people, enriching lives.
Michelle Leonard's mission in all aspects of her life is to make people happy. She believes in building stronger communities through healthier citizens by educating and empowering them with information that inspires and motivates with compassionate support through awareness. She is a pioneer and community advocate of the Optimal Wellness Lifestyle™ movement and has created a not for profit organization to better empower consumers with life changing positive knowledge about green and natural health modalities for personal and planetary wellness. Her goal is to help others Live Positive Today™, spread a message of hope and healing across America, and provide charitable services. She would like to see individuals be inspired and motivated and have the reachable opportunity to restore, revive, rebuild, and recover themselves finding their personal greater happiness. 
Its all about "Locals Loving Locals" and motivating and inspiring health, hope, happiness, and harmony.