originally published: 07/17/2019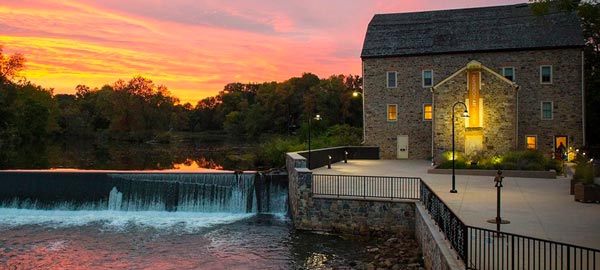 I may never stop being amazed and inspired by New Jersey's wide and wonderful range of arts and cultural offerings.
Just this week, for example, I talked to Marjorie Frankel Nathanson, Executive Director of the Hunterdon Art Museum, commonly referred to as HAM, in Clinton, N.J. Now the museum and its charming town top my list of go-to New Jersey day trips.
In addition to the HAM Faculty Exhibition, showcasing works in various medium by 15 teachers, three other exhibitions are currently on view through September 1 at the HAM – "Transformed: Paper in Dimension," curated by Nancy Eckert and featuring the work of eight artists; "Aurora Robson: Re:fuse;" and "Shari Mendelson: Amphorae and Apparitions."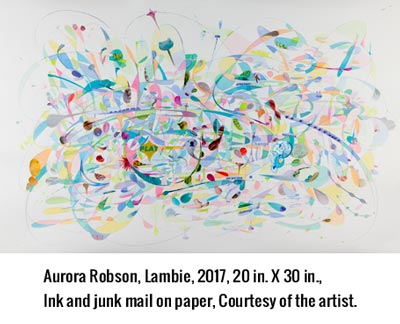 Aurora Robson is a multi-media artist known primarily for her work converting plastic waste into art. In her TEDx talk "Trash + love," Robson says, "Artists have historically served as the eyes of society. To make a piece of art is precisely the opposite of the impulse to throw something away."
Nathanson is pleased to be able to present Robson's work at the museum. "We are excited not only because her art is beautiful," she said, "but because of what is behind it."
In "Re:fuse," Robson uses bleach, detergent, shampoo and milk bottles, other plastic debris, and junk mail to create wall reliefs and collages that are both visually interesting and thought-provoking. 
"I practice revealing the hidden value and potential in trash," Robson said in her talk. "Giving thought and attention to matter is what makes something a piece of art."
"Waste is merely displaced abundance."
In "Amphorae and Apparitions," artist Shari Mendelson performs some artistic sleight of hand, creating works that look like one thing but originate from something else entirely.
Nathanson explains, "Like with Robson, Mendelson's work came to our attention from someone who'd seen it, we were intrigued."
And like Robson, Mendelson makes use of discarded plastic. "She uses similar materials," Nathanson said, "but in a completely different way."
According to the HAM press release, Mendelson makes her intentionally ancient-appearing vessels and figurines from salvaged plastic, which she cuts into pieces and then uses hot glue and acyclic resin to create new sculptures.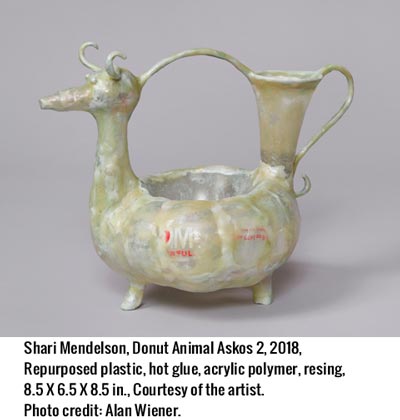 "The original material is transformed from plastic trash into pieces that address issues of history, culture and the relative value of objects," Mendelson said
Nathanson added, "By using plastic bottles, Mendelson puts contemporary issues on a collision course with civilization's long history."
This what's-old-becomes-new idea is one that Nathanson believes could provoke meaningful conversations. "By presenting this work, we hope to spark a discussion that might include the environment, consumerism, ancient civilizations and contemporary values."
"Transformed: Paper in Dimension" is the third exhibition on view this summer at the HAM. The show features works by multiple artists, but the focus is on a particular concept – to dissolve the boundaries between paper and drawing, textiles, painting, architecture and sculpture.
In the press release, guest curator Carol Eckert said that paper was traditionally used as ground – a flat surface onto which substances are applied. But in this exhibition, the paper becomes the means to transmit the content.
"The artists transform a simple material by cutting, weaving, folding, shredding, twisting, gluing and sewing," Eckert said, "creating multifaceted structures and intricate physical drawings."
And, in keeping with the sustainability aspect of the other exhibitions, several artists in the show responded to this issue by using repurposed papers.
Artists whose work appears in the show are Nancy Baker, Joell Baxter, Stephanie Beck, Jaynie Crimmins, Adam Fowler, Margaret Griffith, Wendy Letven, Nnenna Okore and Laura Vandenburgh.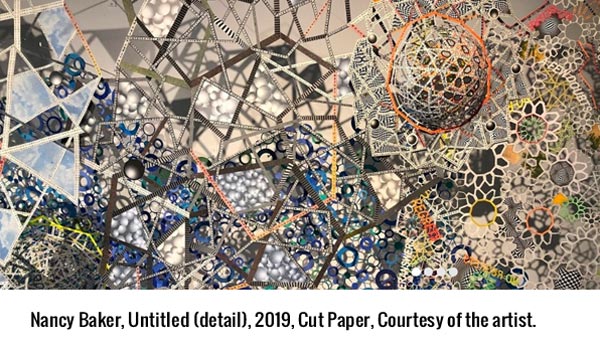 One factor Eckert thought about when assembling this show was to find work that interacted well with the museum's space. Nathanson concurs.
"We considered the various spaces in the building and looked at it as a whole," she said. "And this show works very well with the others. They are all unique and really beautiful."
Aside from what's inside the museum, though, is its beautiful setting, on the south branch of the Raritan River, and marvelous building, which served as a gristmill for more than a century until a group of local residents with a vision of creating an arts center bought it.
In 1953, work began to convert the building into a museum, with attention to maintaining the mill's historic character throughout the renovations.
The 1980s saw more changes, including bringing in a full-time director, adding classes and dedicated classroom spaces, offering greater educational outreach, creating more storage for the museum's growing collection, and a building redesign to make it accessible.
Now, the museum continues to produce outstanding programs, expand its educational mission and show the work of locally and nationally significant artists.
Having worked for the museum for more than 20 years, Nathanson is able to provide perspective on the institution.
"The museum has made remarkable strides over the years and established itself as a place where people can see unique exhibitions of contemporary art," she said. "We have a love for the intersection of craft and fine art."
Nathanson told me that HAM puts on 13 exhibitions each year, which I know can be a challenge for an institution with a small staff. "We have a strong exhibition committee," she said, "and they do a great job of keeping their ears to the ground and bringing together ideas for exhibitions."
She also said the museum's appeal extends well beyond a local audience. "We regularly draw from beyond the regional area," she said, "because of the exhibitions we do."
"For example, last year we hosted a contemporary lace exhibition that featured international artists, and we had visitors from all over the world."  
Nathanson said that HAM's tradition of local support has continued as well.
"We are definitely an important and relevant part of the community," Nathanson said. "We're in downtown Clinton, and right across the river from another old mill that was preserved, the Red Mill Museum Village."
The museum also has a beautiful terrace that overlooks the river, which Nathanson called "a gathering place for the whole town." And, from May to September, there is music on the terrace weekly as part of the "Come Together Friday Nights" series.
HAM's educational component is more robust than ever. It offers more than 300 classes and workshops – everything from Mommy and Me to adult classes for people serious about learning to make art – as well as long-standing programs like the Young Artist Showcase (25+ years) and specialized classes for adults and children with developmental disabilities (30+ years).
In summary, I believe that HAM's mission statement – "to engage people with contemporary art, craft, and design in ways that educate, challenge, and inspire" – really says it all about the museum.
But don't take my word for it; find out for yourself. Add a trip to the HAM to see these exhibitions to your summer to-do list, too.