originally published: 07/11/2019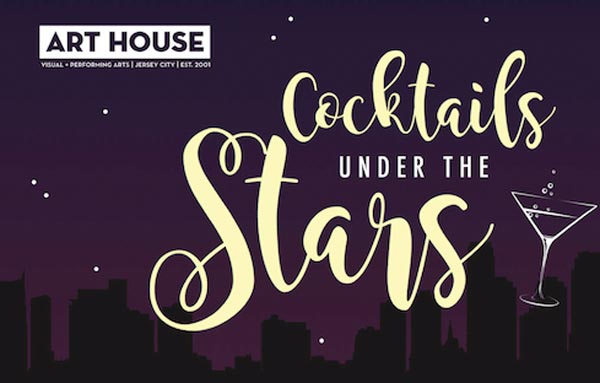 (JERSEY CITY, NJ) -- Join Art House Productions and SILVERMAN for Cocktails Under The Stars, a glamorous midsummer party honoring actor Matt Servitto (The Sopranos, Sex and the City, Brotherhood) with the AHP NJ Performer Award, Robert Policastro with the AHP Most Valuable Volunteer Award, and Morgan Refakis (Producer of AHP's Your Move Festival) with the AHP Producer Award. With breathtaking, panoramic views of Jersey City's skyline, Cocktails Under the Stars will be held on Thursday, August 1st, 2019 from 6:00pm-9:30pm on the Rooftop Terrace of Charles and Co. in Jersey City, NJ. 
Cocktails Under the Stars will feature cocktails, wine & beer, music, hors d'oeuvres, and a 50/50 raffle. The event is sponsored by SILVERMAN, CoolVines, Genova Burns LLC,  CORGI, David Gibson, Samantha Green, IATSE Local 59, Krispy Kreme doughnuts, The Ashford, Brightside Tavern, Carvao, FM, and South House
Charles and Co. is located at 201 Montgomery Street in Jersey City near the Grove Street PATH Station. Tickets are $75 online and $85 at the door. Tickets may be purchased at www.arthouseproductions.org. Charles and Co. is wheelchair accessible. For additional accessibility requests and inquiries, please contact info@arthouseproductions.org or call (201) 918-6019.
Art House Productions is a home for adventurous artists, audiences, and ideas. Theyengage, inspire, entertain and challenge audiences with ambitious visual and performing arts programs; they provide arts education programs that promote life-long learning to a diverse community; and they celebrate the essential power of the arts to illuminate our common humanity.
Since 2001, Art House has been a pioneering force in the Jersey City Arts movement, supporting artists in the creation and presentation of primarily new work, and encouraging artistic growth and experimentation across all mediums, while fostering a widespread appreciation for the arts in the community. From their theater productions to gallery exhibitions to multi-media art festivals, Art House reminds you that home is where the art is. Art House Productions is located at 262 17th Street in Jersey City, New Jersey.
---