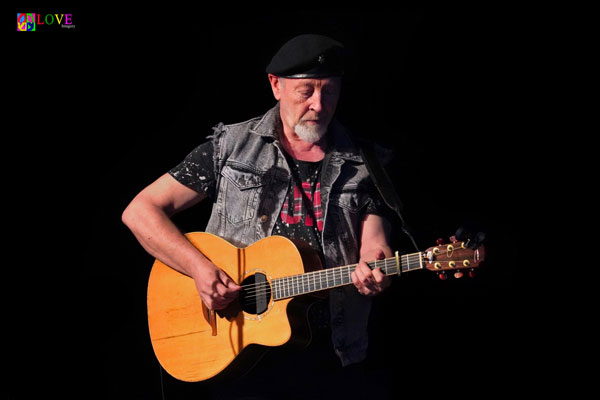 The crowd on the boardwalk in Ocean City, NJ this Tuesday, June 25, 2019 is ready to make its way inside the turn-of-the-century Ocean City Music Pier for a summertime concert of music by singer/songwriters Richard Thompson and Joan Osborne.
Richard Thompson was born in England to a father who was a Scotland Yard detective and a pair of grandparents who played together in a dance band. Growing up, Thompson listened to his father's jazz guitar recordings, in addition to his sister's rock and roll records and traditional Scottish music.
As a teen, he joined the band, Fairport Convention, where he developed into an outstanding guitarist and budding songwriter. Later, he performed as half of the British folk rock duo, Richard and Linda Thompson.
These days, Thompson, a Grammy Award-nominee, holds a coveted spot on Rolling Stone's list of the "100 Greatest Guitarists of All Time" and counts a Lifetime Achievement Award from the Americana Music Association in Nashville, in addition to a Lifetime Achievement Award from the BBC Awards, among his many accolades.
As a songwriter, his compositions have been covered by artists as diverse as The Blind Boys of Alabama, David Byrne, Alison Krauss and Union Station, Don Henley, Robert Plant, The Neville Brothers, and REM.
---
The article continues after this ad
---
---
Time magazine included Thompson's anthem, "1952 Vincent Black Lightning," on its list of the "100 Greatest Songs Since 1923," and Glidemagazine said about his guitar skills, "Like Hendrix, he's his own genre, one of the major virtuosos of our time."
Joan Osborne was born and raised in Kentucky. A seven-time Grammy Award nominee known for her work in the area of pop, soul, R&B, blues, and country, Osborne started her career as a part of the New York City music scene. In the Big Apple, she attended open-mic nights before ultimately being launched into the spotlight with the breakout single from her 1995 album, Relish, "One of Us."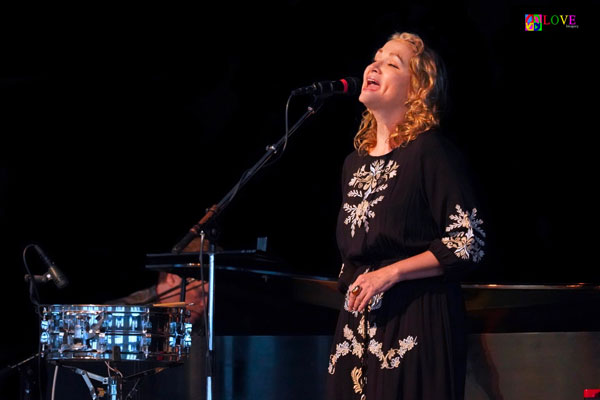 Her considerable vocal talents have made Osborne a sought-after performer here in the United States and around the world. She sang with Motown's legendary Funk Brothers in the acclaimed 2002 film, Standing in the Shadows of Motown. She's also shared the stage with such varied performers as Stevie Wonder, Melissa Etheridge, Emmylou Harris, Taj Mahal, Luciano Pavarotti, and Bob Dylan.
Tonight, Osborne is set to perform songs from her latest album, Joan Osborne Sings the Songs of Bob Dylan.
Audience members make their way inside the stunning Ocean City Music Pier auditorium where they're able to witness a stage set with a grand piano and synthesizer, a snare drum, and a stool holding a mug of tea, in addition to a panoramic view of the ocean and boardwalk.
Keyboardist Keith Cotton takes a seat at the grand piano and begins to play as Joan Osborne makes her entrance holding a small blue tambourine. Her voice resonant, sultry, and smoky, she performs a soulful rendition of Bob Dylan's "Tangled Up in Blue."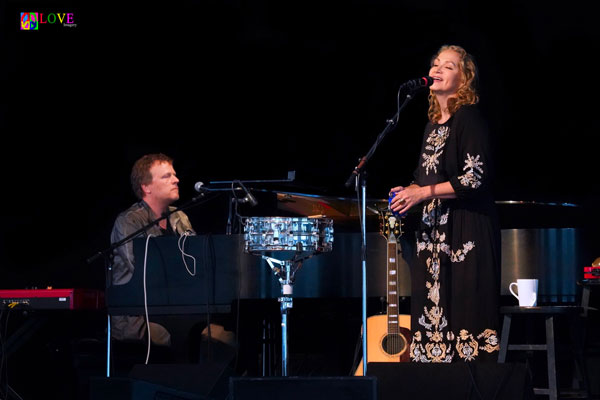 As Osborne sings, "We drove that car as far as we could/Abandoned it out west/Split up on a dark sad night/Both agreeing it was best/She turned around to look at me/As I was walkin' away/I heard her say over my shoulder/We'll meet again some day," she's expertly accompanied by Cotton's piano playing.
The audience cheers and Osborne replies by saying, "Hi, Ocean City; how are you guys? I'm so happy to be opening for the incredible Richard Thompson, I'm gonna keep the chit chat to a minimum."
After introducing Cotton, Osborne picks up her guitar and strums along as Cotton plays the piano introduction to "Don't Think Twice, It's Alright."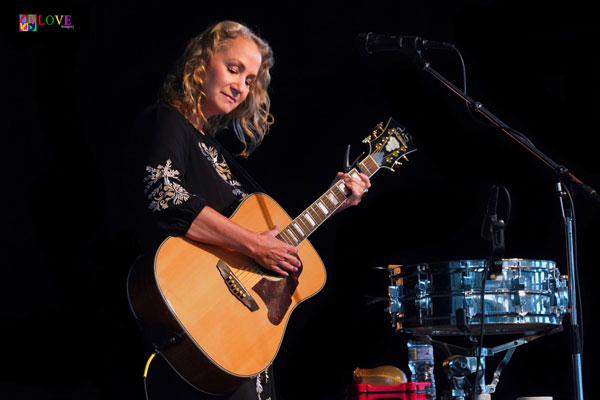 Joan shows the audience both her heart and soul with her pleading and poignant interpretation of this classic Dylan composition which elicits avid cheers at the end.
Next up is a driving rendition of "High Water (for Charlie Patton)." Cotton's piano rocks and rolls as Osborne plays her blue tambourine, adding to the motion. Her expressive, rich alto rings out as she sings, boasting a great dynamic range.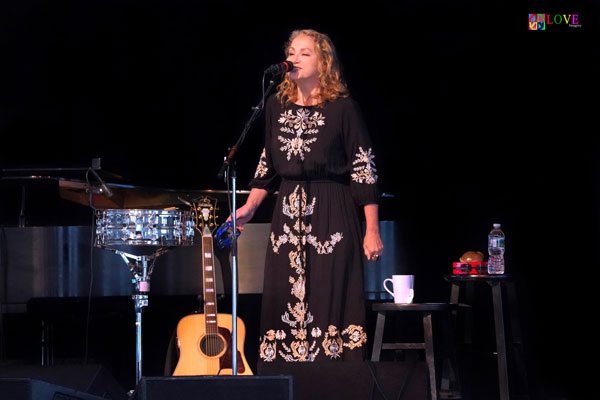 Taking a moment to talk briefly about Bob Dylan, Osborne explains, "He can write every kind of song. He's a heavy, heavy guy," before noting, "I heard this song in the parking lot of a bluegrass concert in Australia, on a rooftop in Switzerland, and in a dressing room in Tokyo, Japan —and it can be passed around person to person."
Strumming her guitar as Cotton plays piano and sings harmony, Osborne performs "You Ain't Goin' Nowhere," a Dylan song which became a 1968 hit for The Byrds.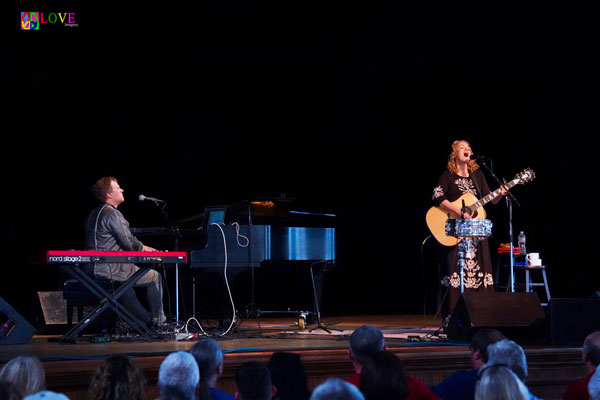 Inviting everyone to clap and then sing along, the audience joins in on the catchy " Whoo-ee! Ride me high/Tomorrow's the day my bride's gonna come/Oh, oh are we gonna fly/Down in the easy chair" chorus.
Osborne plays the snare drum holding a brush in one hand as she performs a Dylan tune which reached #2 on the U.S. charts in 1966, "Rainy Day Women #12 and 35." Heads bop and toes tap to the infectious beat as Osborne sings the song's famous "Everybody must get stoned" refrain, her voice enticing the audience to join in this easy breezy number and snap their fingers to the beat.
After taking a sip of tea between tunes, Osborne performs Dylan's "Trying to Get To Heaven (Before They Close the Door)." Standing proud and tall and telling Dylan's story with just her beautiful voice and face, Osborne sings, "Every day your memory grows dimmer/It doesn't haunt me like it did before/I've been walking through the mirror to nowhere/Tryin' to get to heaven before they close the door."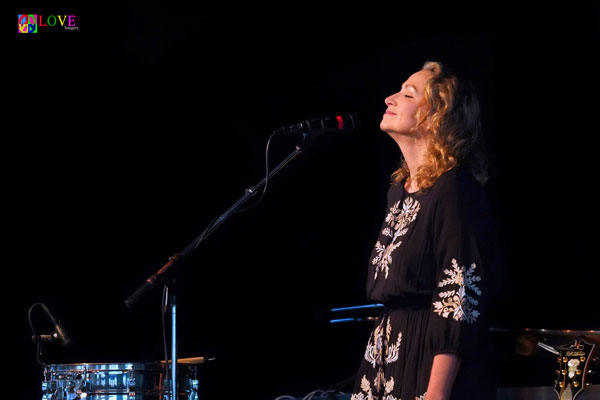 A highlight of Osborne's set is her eloquent performance of "Buckets of Rain." While Joan's sweet smile adds to the simplicity of this tender love song, Cotton impresses as he integrates the melodies of two familiar pieces — Scott Joplin's "The Entertainer" and Mungo Jerry's "In the Summertime" — into his piano solo. At the end, Osborne both whistles and hums the melody much to the audience's delight.
After thanking Richard Thompson for inviting her to share the stage with him this evening, Osborne plays tambourine on a slow rocking version of "Gotta Serve Somebody," as Cotton moves to the digital keyboard. While the pair performs, audience members dance at their seats and join in echoing "Serve somebody" before Cotton performs hand-over-hand triplets on a thoughtful keyboard solo.
In response to their performance, the crowd stands in appreciation, and Osborne and Cotton take a well-deserved bow.
During intermission, while some audience members take a moment to enjoy the view of the sea from the Ocean City Music Pier, we chat with several in attendance this evening who share their thoughts on Joan Osborne's performance.
Comments Buzz from Cape May Courthouse, "I'm a Joan Osborne fan — and she was wonderful — really awesome tonight," noting, "Even though I wasn't familiar with her Dylan album, she did an amazing job."
Says Matthew from Sergeantsville, "What a marvelous interpretation of Bob Dylan — you forget how wonderful his lyrics are." Acknowledging, "I have all of her albums from the 1990s," Matthew concludes by stating, "Based on her song selection, her emphasis on lyrics, and her musical interpretation, Joan Osborne's still got it!"
Lastly, we chat with Mikhel, 16, from Vorhees who is here with his dad, Marty.
Remarks Mikhel, "I thought Joan Osborne was phenomenal," revealing, "I want to get her autograph to add to my collection — I have over 1000 autographs." When asked why he's such a fan of Joan Osborne's, Mikhel responds, "I like pop music — performers like Sean Mendez and Ed Shearan — but I also like listening to my dad's music, too."
Dad Marty explains, "We're fans of Joan Osborne. We saw her here about two years ago when she performed with Shawn Colvin. We loved her and wanted to see her again," before acknowledging, "And we like Richard Thompson, too, so we're looking forward to experiencing his set as well."
Even though daylight can still be seen inside the Ocean City Music Pier auditorium, the overhead lights blink and audience members make their way back to their seats. The crowd stands when Richard Thompson takes the stage along with Joan Osborne.
As Thompson plays his acoustic guitar, his rich baritone voice blends with Osborne's alto on the pair's cover version of The Everly Brothers' "Let It Be Me."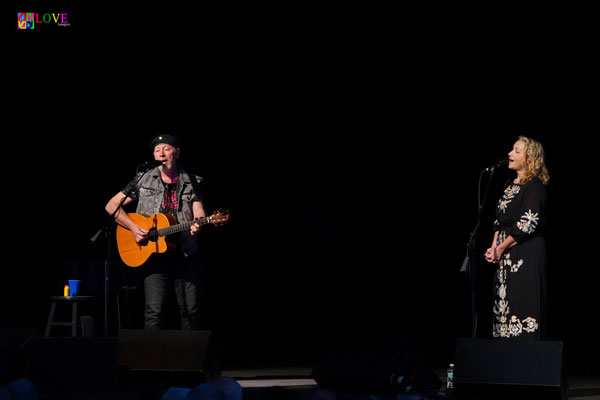 On this lyrical interpretation, the singers' legato vocal lines emphasize the song's meaning. After watching one another as they harmonize, the musicians hug one another at the conclusion and Osborne exits the stage.
Rocking and picking as he sings, Thompson opens his solo set with "Jesus." Singing, "How you love it when they call you Jesus," audience members tap their fingers to what sounds like a complete rhythm section accompaniment created solely by Thompson as he expertly plays his acoustic guitar.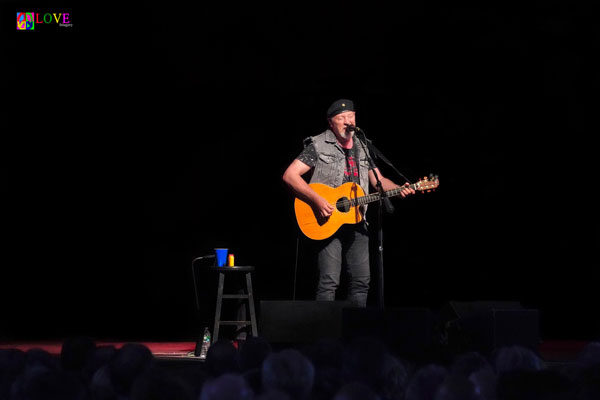 After the crowd claps and cheers, Thompson greets the audience stating, "Normally, it's a distressing thing to play when there's still some daylight, but here I can see the beauty of the audience," before acknowledging with a smile, "See? Flattery will get you everywhere."
Thompson holds a pick with his thumb and index finger while using the other three fingers of his right hand to miraculously play the melody on his open-tuned guitar on "The Ghost of You Walks." His voice emotional and pleading, he holds out the long vowels to add to the supernatural effect of the song as he sings, "The ghost of you walks right through my head/Sleepwalks at the foot of my bed/Sends old shivers over my skin," on this well-crafted ballad.
Announcing, "Unfortunately, sometimes other people have used the same name for a song," Thompson jokes, "Thank you, Monkees, and thank you, Amy Winehouse — I wasn't the first and I won't be the last," before launching into his original composition, "Valerie."
With it's upbeat driving beat, Thompson makes his guitar sound like a complete rock band. Audience members dance in their chairs, drinking in the instrument's chords, bass, and rhythm as Thompson moves and plays with indescribable skill to cheers and whistles and one very loudly screaming fan.
"Are you ok?" Thompson exclaims, before performing "Crocodile Tears," a Scottish-sounding story song about a woman's relationship that fell apart. Singing the tongue-in-cheek lyrics, "I saw you last night with that fella/The updated version of me/You were smug as a lottery winner/You were warm as a reptile can be," the audience laughs along with Thompson on this entertaining number.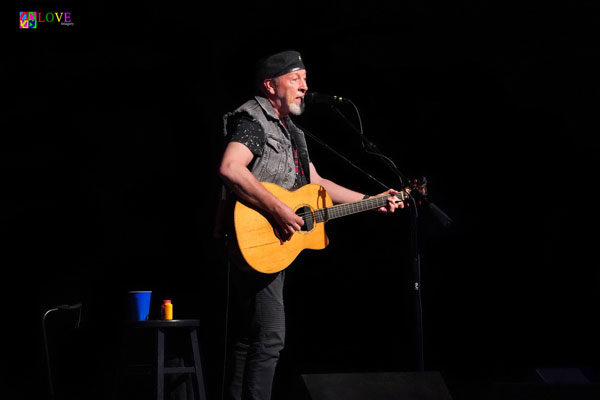 The crowd cheers as soon as they recognize the introduction to "Beeswing." Communicating this story song with emotion, Thompson croons, "She was a rare thing/Fine as a beeswing," before bending and turning his guitar phrases to make his solo echo the sound of bagpipes.
Next up is a song which Thompson describes as "an old man's view of a town that is changing." On this bluesy number with a dance hall feel — "They Tore the Hippodrome Down" — Thompson's voice is expressive and compelling. Dynamics, sophisticated guitar chordings, and Thompson's rich baritone add to the drama of the overall presentation.
Following large applause, Thompson performs "The Storm Won't Come," a song from his latest album, 13 Rivers. As he sings, "I'm longing for a storm to blow through town/And blow these sad old buildings down," he makes his guitar accompaniment rumble like thunder on this fast and driving rock number.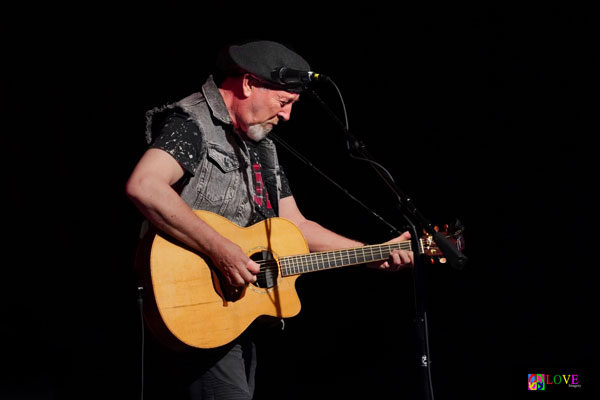 After singing, "Hope You Like the New Me" — a song on which his voice sounds eery and dark and his guitar accompaniment dissonant, ominous, and haunting — Thompson tunes his guitar, joking, "I know you came to hear the hits….there aren't any," before acknowledging, "but this one gently brushed the UK singles chart in 1974."
Here, Thompson launches into "I Want to See the Bright Lights Tonight," a straight ahead rock tune with a catchy melody on which he sings, "I'm so tired of working every day/Now the weekend's come I'm gonna throw my troubles away/If you've got the cab fare, mister, you'll do all right/I want to see the bright lights tonight."
One of the highlights of Thompson's set is his cover version of a tune which was recorded in the '60s by his band, Fairport Convention, "Who Knows Where the Time Goes." After reminding the audience about his stint in the group, Thompson says about the group's female lead singer, "Sandy Denny wrote this song about the passage of time."
His voice full and tender on this thought-provoking ballad, the audience takes in the beauty of the lyrics, melody, and accompaniment as Thompson sings, "Across the evening sky, all the birds are leaving/But how can they know it's time for them to go?/Before the winter fire, I will still be dreaming/I have no thought of time/For who knows where the time goes?"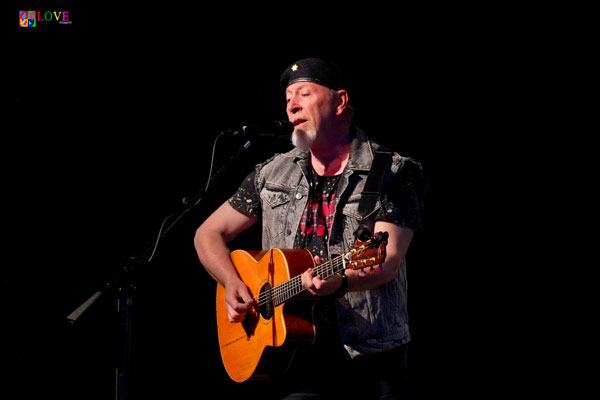 The audience cheers and Thompson responds with yet another concert highlight, a live rendition of his classic composition, "1952 St. Vincent Black Lightning." Picking fast and furiously, audience members can't help but move to the beat in their seats as Thompson croons, "Said Red Molly to James that's a fine motorbike/A girl could feel special on any such like/Said James to Red Molly, my hat's off to you/It's a Vincent Black Lightning, 1952."
The audience responds to Thompson's efforts with an enthusiastic standing ovation, and as Thompson retunes his guitar, an audience members yells out, "Play it again!"
After joking, "I'll do all of the other verses now," Thompson launches into "Persuasion," a song with a pretty melody on which he perfectly executes all of the high notes in his falsetto voice. He follows that up with "The Rattle Within," a number which features his dynamic vocal along with a staccato guitar accompaniment, created by picking and strumming on his instrument.
The audience cheers and applauds and Thompson performs another Fairport Convention song, "She Moved Through the Fair." Crooning, "And she went away from me and moved through the fair/And fondly I watched her move here and move there/And then she went onward, just one star awake/Like the swan in the evening moves over the lake," Thompson paints a picture as he mesmerizes listeners with this creation's mystical sound.
Joking, "This is where my band usually shows up — they must have gone to Ocean City, New Zealand," Thompson announces, "I'm asking for your assistance in singing."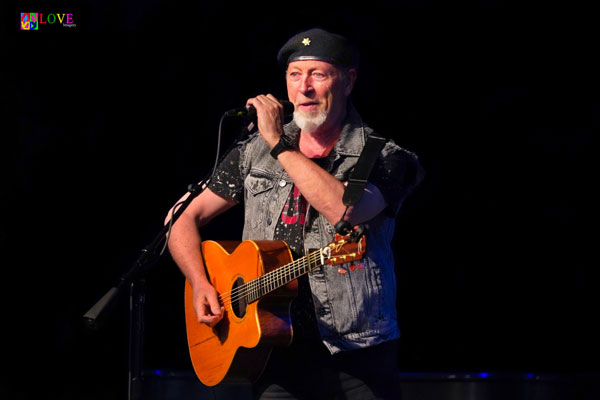 Here, Thompson divides the crowd into three groups for an audience participation version of "Tear-Stained Letter." As Group 1 rocks out on the "Cry, cry if it makes you feel better/Set it all down in a tear-stained letter" refrain, Group 2 vocally performs a sax solo, and Group 3 adds percussion by foot stomping and what Thompson refers to as "Bavarian knee slapping." Thompson laughs when an audience member jokes at the conclusion, "You can bring the band next time."
That notwithstanding, the audience happily sings along on the folk ballad, "Down Where the Drunkards Roll," a number on which his guitar echoes the sound of a classical guitar composition, before Thompson concludes his set with the minor-key rocker, "Bathsheba Smiles."
The crowd rises for Thompson as he thanks the audience for coming and thanks Joan Osborne for opening for him tonight before taking a bow and leaving the stage.
Returning for the first of four encores, Thompson performs an expressive and lovely rendition of "The Dimming of the Day." Following audience cheers, his unplugged rendition of his power rocker, "I Feel So Good," brings a smile to his face courtesy of the audience's enthusiastic response.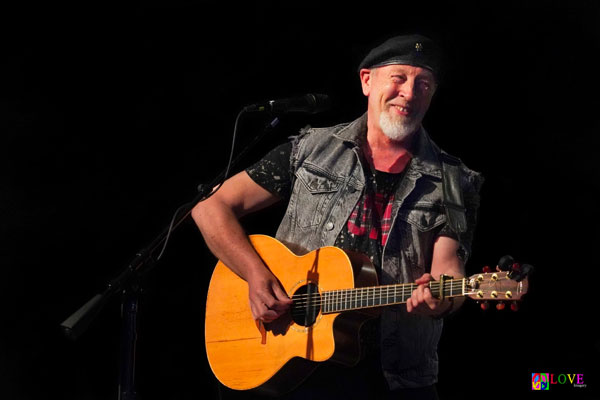 For a third encore, Thompson invites singer Zara Phillips to join him for a duet version of "Wall of Death." While several Ocean City rides can be seen lighting up the boardwalk outside the auditorium windows, the pair sings the tongue-in-cheek lyrics, "You can waste your time on the other rides/This is the nearest to being alive/Oh let me take my chances on the Wall Of Death."
The night concludes with the couple performing "She Never Could Resist a Winding Road," their vocal harmonies blending on the "Maybe just around the bend/The rainbow waiting at the end/She never could resist a winding road" chorus.
As audience members make their way out of the auditorium and onto the Ocean City boardwalk, we chat with several concertgoers who share their thoughts on tonight's performance with us.
Comments Terri from Boise, "I'm here from Idaho and I just loved this show and this venue."
Explaining, "I loved Joan Osborne, and I was so close to Richard Thompson, I was amazed — he's got more energy than I do," Terry continues, "He's so humble, and he sounds so crisp and clean," before acknowledging, "Plus, the venue seems so intimate — and it was really cool how I was able to play in the water like I was a child today and then come right back to see a concert here tonight."
Ingrid from Ocean City agrees calling tonight's performance "Terrific," and noting, "Richard Thompson is so nimble — and did you see the muscles on his arms?"
Continuing, "My favorite song was 'Wall of Death'— which, to me, is a song which is really all about being alive," Ingrid contends, "And this is a great place to see a musical performance — it's such a beautiful venue, and it's right on the Atlantic Ocean."
George from Ocean City comments, "I loved Richard Thompson's performance tonight — he's an incredible guitarist," before concluding, "There are all different styles of guitar playing, and he can play them all."
Bill from Vineland concurs adding, "There's no better guitarist — he's as good as it gets," acknowledging, "And he has such a good sense of humor, too."
Lastly, we chat with Mark from Margate who says, "I've been a fan of Richard Thompson since I was 14 years old."
Explaining, "Richard is the one of the world's greatest guitar players, not to mention a magnificent songwriter, so for me, he's the top of the mountain," Mark continues, "There are very few artists around who are like him. All kudos to him — he's earned it," before concluding, "Tonight's show ranks so far up there with the very best, I just might have to call it the greatest show I've ever seen."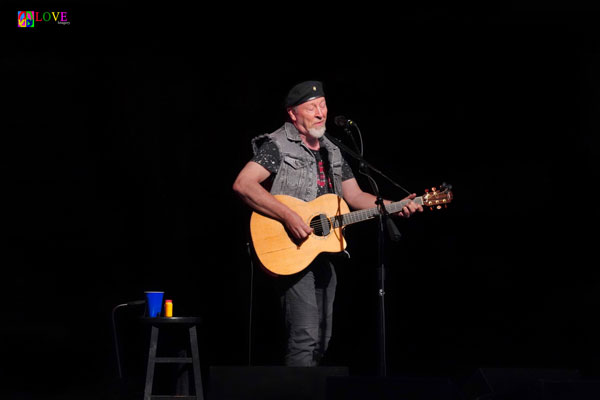 To learn more about Richard Thompson, please go to richardthompson-music.com. For more on Joan Osborne, please click on joanosborne.com. For information on upcoming summer concerts at Ocean City Music Pier — including Jon Anderson of Yes on July 29, Lou Gramm of Foreigner on August 5, and The Zombies on August 19 — please go to ocnj.us/summerconcerts.
Photos by Love Imagery
Spotlight Central. Your source for Jersey entertainment news and reviews
Love Imagery Fine Art Photography. all you need. peace/love/flower/power