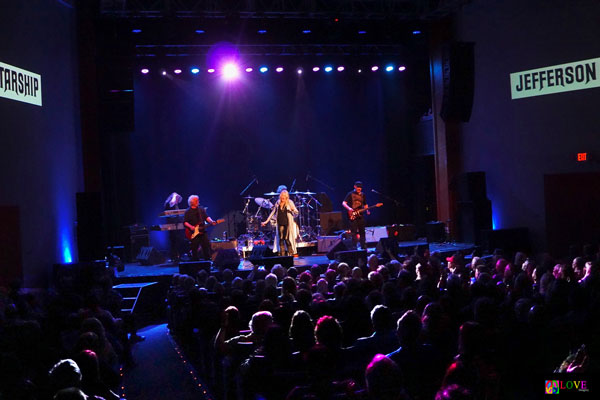 The packed house at the Newton Theatre in Newton, NJ, this Thursday, June 20, 2019 patiently awaits the arrival of tonight's featured performing group — Jefferson Starship.
Jefferson Starship is a San Francisco rock group that evolved out of the band Jefferson Airplane. By the mid-1970s, the group consisted of such Jefferson Airplane members as bassist/keyboardist/vocalist David Freiberg — also a founding member of Quicksilver Messenger Service — along with Grace Slick, singer/guitarist Paul Kantner, and singer/songwriter Marty Balin.
Although Jefferson Starship underwent several major changes in personnel over the years, the five current members of the group — vocalist Cathy Richardson, guitarist Jude Gold, keyboardist Chris Smith, and drummer Donny Baldwin — still tour today under the leadership of Freiberg, age 80.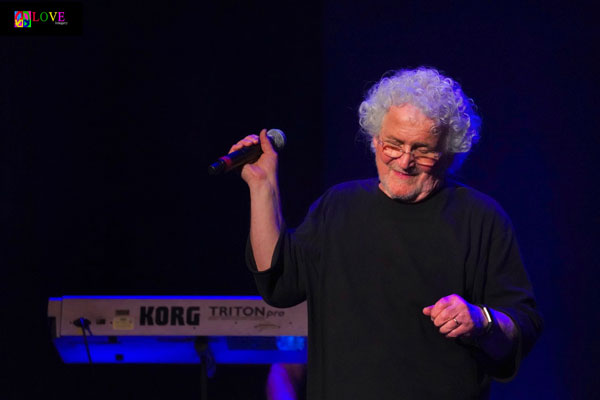 The lights dim and the sound of psychedelic music swirls while the members of Jefferson Starship take their places, all vamping on their instruments as Cathy Richardson takes center stage in her flowing jacket.
Richardson's voice is powerful as she sings, "Sunrise/Surprise/Civilized man/You were keeper to me," while mystical sounds emanate from the stage on the group's opening number, "Sunrise."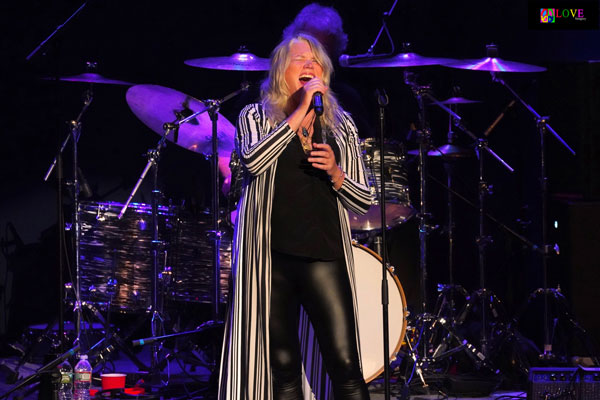 ---
The article continues after this ad
---
---
Following large applause, the band segues into its 1981 Top 40 hit, "Find Your Way Back," where colored lights dance to the rhythm of this straight-ahead rocker. Donny Baldwin's drums drive the band as Chris Smith plays keyboard and keyboard bass, and the audience claps along to the driving beat. Guitarist Jude Gold jumps up and down on the stage as he solos before vocalist Richardson ad libs over Gold's golden guitar licks.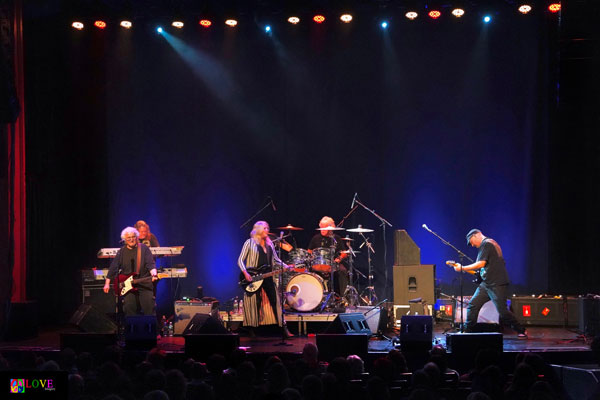 "Stranger" opens with a hypnotic bass line played by Smith on keyboard and Gold's wailing guitar intro. Freiberg and Richardson sing together in harmony on the song's mysterious "What is veiled now soon will be shown/Come walk with me through the unknown" chorus.
The audience cheers and Richardson takes a moment to address the crowd saying, "Thanks, everybody! How are you feeling tonight? Are you ready to sing along? Let's do it!"
Here, the group launches into its 1978 Top Ten hit, "Count On Me" where the audience happily joins in on the "You can count on me/Count on my love" chorus and Freiberg and Gold add vocal harmonies to Richardson's lead.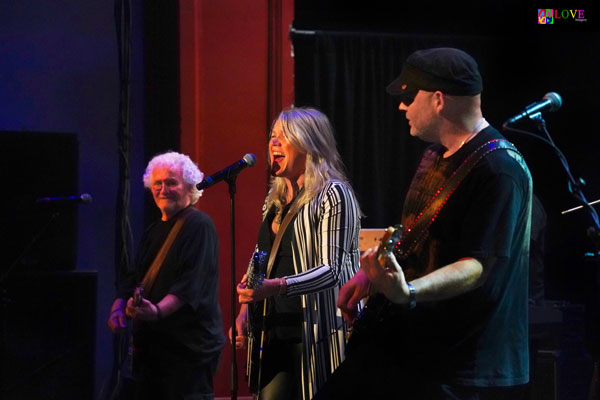 Chris Smith plays a keyboard solo up and down the scale while Freiberg accompanies him on the guitar.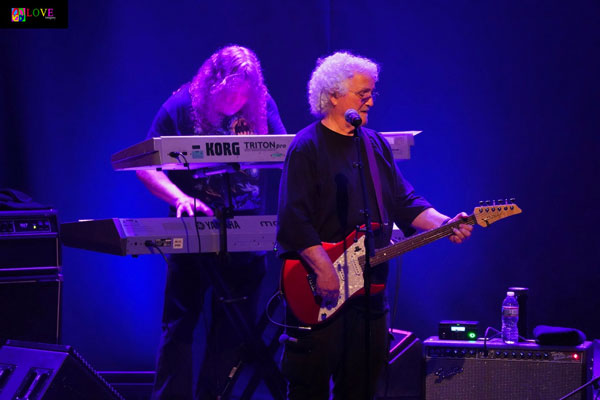 Richardson goes back and sings directly to Smith at his keyboard while holding a tambourine over his head. The audience hoots and hollers at the end for this certified crowd-pleaser.
"Give it up for the one and only David Freiberg!" exclaims Richardson, and the audience responds with cheers while several fans leap to their feet.
Freiberg handles the lead vocal on "Today," his voice sounding rich and full, and Gold picks out a guitar accompaniment before Freiberg and Richardson sing to one another with power and emotion on this tender ballad.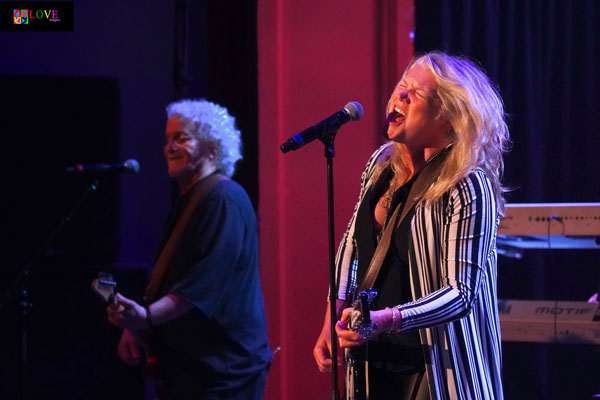 Freiberg asks, "Would it be ok if I did a Quicksilver song?" and the audience responds with an emphatic "Yeah!" Freiberg impresses with his powerful and resonant voice on "Fresh Air," a bluesy minor-key rocker, where Gold plays a twangy and funky guitar solo. The audience rises for Freiberg's soulful performance.
Freiberg continues to remain in the spotlight on Jefferson Starship's Top 20 hit from 1976, "With Your Love." His warm tenor filling the room, Richardson and Gold join Freiberg as he croons the song's famous, "I've got to know what you're doin', doin' to me with your love/With your love" chorus. Gold's guitar adds its own voice to the arrangment before it returns to Freiberg who masterfully ends the song with a jazzy vocal on the coda.
Donny Baldwin's drumming is powerful and ominous on a new Jefferson Starship song, "What Are We Waiting For." As Baldwin's rolling drums pound out a backbeat behind the band, Richardson sings lead on this anthem of hope crooning, "Disruption/Distortion/Selling lies/Selling hate/But we can stop the lies/It isn't too late." The song ends with Richardson creating feedback with her guitar and amp until nothing but the hum of her amplifier can be heard.
The crowd cheers before Richardson asks, "Do you remember the '80s?" at which point an audience member yells out, "The 60s?"
"We lived all of the decades!" replies Richardson before she introduces drummer Donny Baldwin, acknowledging that Baldwin played drums on many of the original Jefferson Starship recordings where he even "sang the high harmonies," too.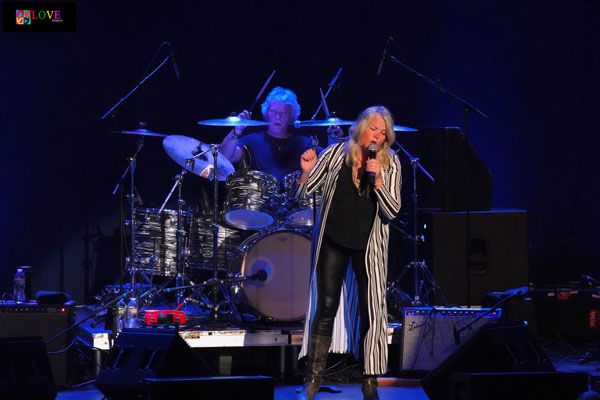 Here, Baldwin and Freiberg sing backup vocals together on a medley of two 1986 Starship chart-toppers — "Sara" and "Nothing's Gonna Stop Us Now." As Richardson powerfully handles the lead on "Sara," Freiberg starts off singing "Nothing's Gonna Stop Us Now," before Richardson makes it a duet. The audience claps and sings along on this feel good-anthem, the two singers ad-libbing over one another as the song builds to a frenzied conclusion.
Freiberg plays guitar on Jefferson Starship's 1975 Top 5 hit, "Miracles," as Richardson sings lead, her rich alto floating out over the crowd. With Freiberg and Baldwin singing backups, Richardson vocalizes, "If only you believe like I believe, baby/(If only you believe like I believe)/We'd get by," her voice pleading and soulful. On the coda, Richardson has the audience echo-singing with her before the crowd responds with cheers and a standing ovation.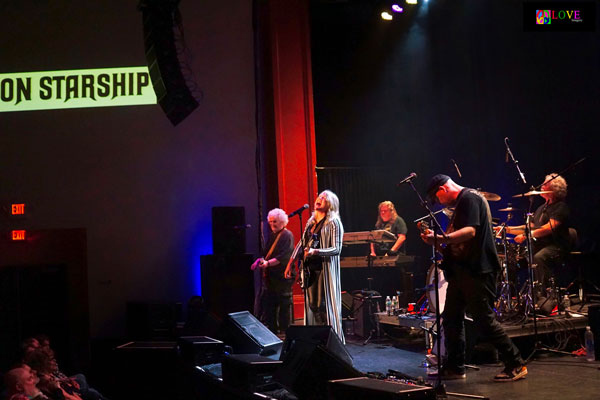 The band leaves the stage except for guitarist Jude Gold who is featured on a solo guitar performance of "Embryonic Journey." While playing his open-tuned guitar, Gold impresses with his lightning fast finger picking. At times, he plays conventionally on the fingerboard, while at other times, he taps the guitar's neck, inspiring cheers and applause from the crowd. Using his instrument's whammy bar, he saws his hands across the strings and manipulates the guitar's volume control to sound like a cello before holding up his instrument in a vertical manner and ending with glistening harmonics.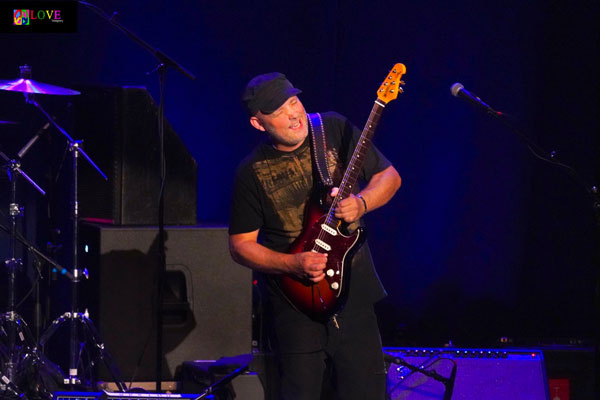 The crowd rises to its feet for this unique and impressive solo.
The rest of Jefferson Starship retakes the stage and Richardson enters with a black hood over her hair before mysteriously launching into Jefferson Airplane's 1967 classic, "White Rabbit." Audience members dance in their seats as Richardson knocks their socks off with her powerful performance singing the famous, "Go ask Alice, when she's ten feet tall" chorus. When Richardson skillfully bounces her mic stand down to the ground with her foot and makes it ricochet right back up to her again, the crowd stands and cheers.
Asking, "Are you ready to rock and roll?" she and the group launch into Starship's 1981 #1 hit, "We Built This City," where Freiberg sings lead and Richardson harmonizes. The driving beat, flashing lights, and wailing guitar bring the crowd right back to the '80s as the audience sings along on the ubiquitous "We built this city/We built this city on rock and roll" chorus.
After announcing, "Hey, New Jersey — do you want more?" Richardson dances around the stage, her hair covering her face, as she plays cowbell while Freiberg sings Jefferson Starship's 1979 Top 20 hit, "Jane." Effortlessly vocalizing straight from his soul, Freiberg hits notes both high and low with emotion and power while clearly enjoying himself as he sings, "Jane, you're playin' a game, playin' a game, playin' a game," before ending with a wail.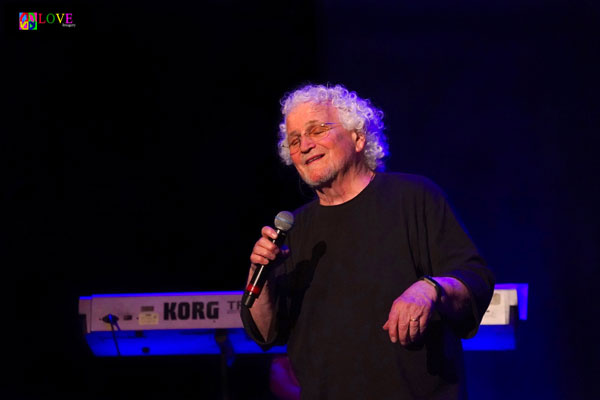 The crowd stands and cheers as Richardson points to Freiberg and exclaims, "He wrote that song!"
One by one, Richardson introduces her fellow band members, and gives each a chance to solo on his instrument. When she gets to drummer Donny Baldwin, the entire group watches Baldwin solo with rapt attention and Gold even videorecords it on his cell phone from the side of the stage.
Then, Freiberg introduces Cathy Richardson asking, "How long have you been singing with us?" to which Richardson jokingly replies, "I've been singing with you since I got your records when I was 15!"
Disclosing that Richardson was personally chosen by Grace Slick to perform her music, Richardson acknowledges, "It's not easy to stand in the shoes of a legend" before thanking the band for giving her the opportunity.
Lastly, she introduces Freiberg, revealing, "In a couple of months, he will be 81 years old." Calling him, "A living legend — the best rock legend 'rocktogenarian!'" — the audience stands and applauds for Freiberg.
The audience rocks out as Richardson and Jefferson Starship launch into the 1967 Jefferson Airplane classic, "Somebody to Love."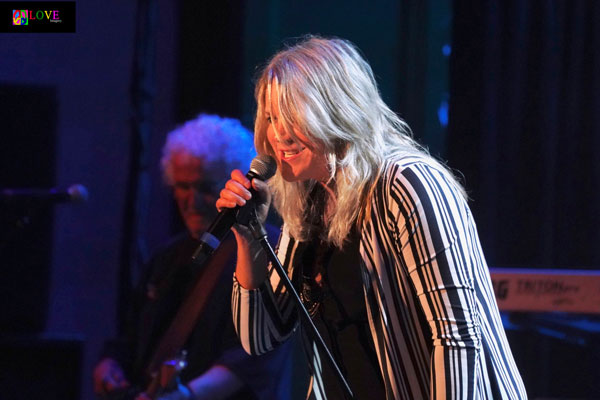 After Richardson dances and jumps around as she sings, "Don't you want somebody to love/Don't you need somebody to love," Gold plays an electrifying guitar solo and the audience responds to the group's infectious energy with joyful singing, clapping, cheers, and applause.
Bowing together and waving goodnight, the members of Jefferson Starship flash peace signs before leaving the stage and returning for an encore of 1969's "Volunteers" where Richardson straps on her guitar and the crowd joins her in singing, "Look what's happening out in the streets/Got a revolution/Got to revolution." On this number which is filled with energy, life, and a contemporary message, Richardson belts out, "Sing a song of America/The dream goes on/The dream goes on" as Gold integrates snippets of Leonard Bernstein's "America" from West Side Story and Francis Scott-Key's "The Star-Spangled Banner" into his guitar solo.
After the group says goodbye by stating, "Peace!" audience members happily make their way out of the Newton Theatre auditorium.
As they do, we take a moment to catch up with Jefferson Starship lead singer Cathy Richardson who reveals the motivation behind singing such iconic songs every night when she acknowledges, "It comes straight from my heart."
We also catch up with "rocktogenarian" David Freiberg who discloses, "Even though I'm going to be 81, I keep rocking with these guys," before declaring, "I just can't quit!"
We also chat with several audience members who share their thoughts about tonight's concert with us.
Comments Steve from Landing, "I see a lot of shows, but there is just something special about Jefferson Starship; they are brilliant. The singers are amazing, and the guitarist, Jude Gold, is a magician. I had front row seats and I loved every minute of it — in fact, it's the greatest show I've ever seen here."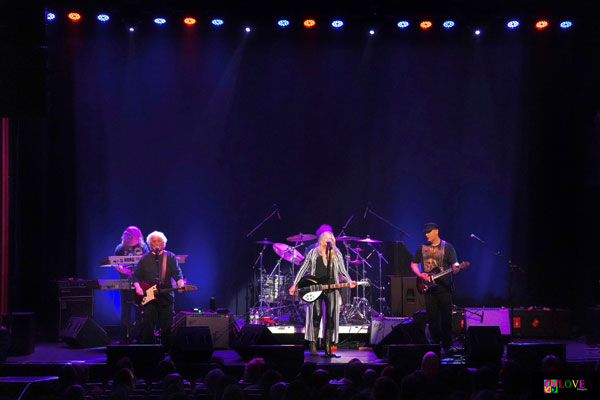 Likewise, Barbara from Vernon contends, "Jefferson Starship was great! I liked that they played both Quicksilver and Jefferson Airplane songs, and they did them so well," before noting, "And I especially loved seeing them here at the Newton Theatre, where no matter where you sit, you always have a great seat."
Andrea from Hawley, PA remarks, "Jefferson Starship was fabulous! We were sitting in the front row, and even though I grew up on this music, I'd never seen them before. All I can say is, 'Wow — I'd see them again anytime!'"
Continuing, "'White Rabbit' is always a favorite, but I loved everything about this show — the singers, the guitar solos, David Freiberg — the artistry is so apparent," Andrea concludes by revealing, "I come from a musical family, so I can really appreciate this group's musicianship — they're really good."
Remarks Carl from North Bergen, "This concert was amazing! I've been following Jefferson Starship for years. I was friends with both Paul Kantner and Marty Balin, and I even got to go with them on one of their European tours. They were very gracious and — still today — the whole band is made up of really good people."
Suzanne from Dobbs Ferry exclaims, "Jefferson Starship is just phenomenal!" before adding, "And Cathy Richardson is one of the greatest singers of our time — there isn't even a word that can describe how good she is."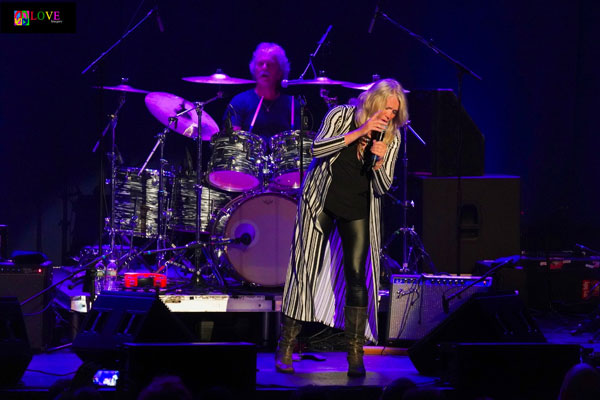 David from Dobbs Ferry agrees noting,"We've known David Freiberg for 25 years. He gets more youthful the older he gets!"
Adding, "Tonight's show was great," David points out, "And Chris Smith did a wonderful job simultaneously playing keyboard and keyboard bass. Holding everything together like he does is not easy, but he does it beautifully."
Lastly, we chat with Rick from Stillwater who acknowledges, "This was my first time ever seeing Jefferson Starship. I was blown away by this show! The vocals are amazing, and I loved the way they bounced between the eras and involved the audience from beginning to end," before concluding with a smile, "It was just magical!"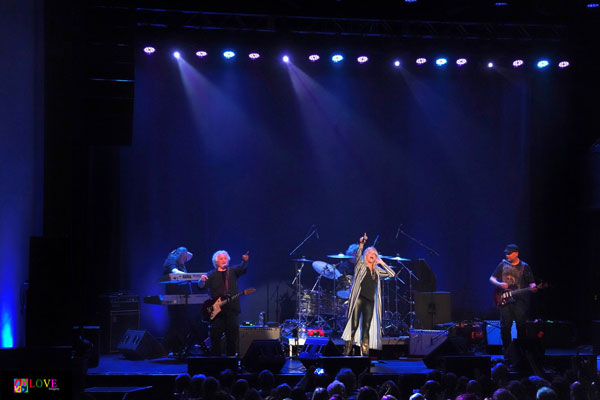 To learn more about Jefferson Starship, please go to jeffersonstarship.com. For information about future concerts at The Newton Theatre — including Aimee Mann on July 14, Robert Earl Keen on August 17, Jonny Lang on September 17, John Hiatt on November 9, and Don McLean on November 22 — please click on thenewtontheatre.com.
Photos by Love Imagery
Spotlight Central. Your source for Jersey entertainment news and reviews
Love Imagery Fine Art Photography. all you need. peace/love/flower/power