originally published: 06/27/2019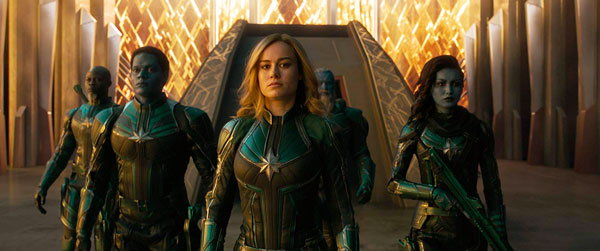 (MORRISTOWN, NJ) -- Mayo Performing Arts Center presents free summer movies throughout July and August.  Tickets will be available at the MPAC box office beginning July 8 for Captain Marvel. Tickets for other events will be available two weeks prior to showings.
The Lineup includes:
Captain Marvel - Thursday, July 25 at 10:30am and 7:00pm. Tickets available beginning July 8 at 12:00pm. Brie Larson stars in this action-packed thriller about a pilot who gains superpowers after a freak accident and uses them to save the world. With Samuel L. Jackson. Rated: PG-13
Peter Rabbit - Thursday, August 8 at 10:30am. Tickets available beginning July 22 at 12:00pm. Mischievous Peter Rabbit creates chaos in Mr. McGregor's vegetable garden as both vie for the attention of an animal-loving new neighbor. Rated: PG
Airplane! - Thursday, August 8 at 7:00pm. Tickets available beginning July 22 at 12:00pm. Celebrate the 40th anniversary of the comedy classic! Starring Leslie Nielsen, Robert Hays, Julie Haggerty, Peter Graves and Lloyd Bridges. PG; Some material may not be appropriate for younger children.
---
The article continues after this ad
---
---
The Lego Movie - Wednesday, August 21 at 10:30am. Tickets available beginning August 5 at 12:00pm. An ordinary LEGO construction figure reluctantly joins a quest to stop an evil tyrant from destroying the LEGO universe. Featuring the voices of Chris Pratt, Elizabeth Banks and Will Farrell. PG
Bohemian Rhapsody - Wednesday, August 21 at 7:00pm. Tickets available beginning August 5 at 12:00pm. Winner of four Oscars, including Best Actor (Rami Malek), and the Golden Globe for Best Picture, Bohemian Rhapsody chronicles the story of the band Queen and its lead singer Freddie Mercury. PG-13
MPAC's free movies are part of its summer Arts in the Community free concerts and movies. MPAC is also presenting free evening events at Vail Mansion Lawn, adjacent to the Theatre, and co-presenting lunchtime concerts with Morris Arts at Morristown Green.
---
Remaining events are as follows: 
Free Concerts at Vail - All concerts will take place from 6:30pm – 7:30pm. Rain site St. Peter's Church
Thursday, June 27 - Tshila.  Singer-songwriter and producer Tshila was born in Kampala, Uganda. Inspired by the influence she could have through music, she taught herself to play guitar and started to experiment with her own sound. She recorded and self-produced her first album, Sipping From the Nile in 2006. The album gained recognition from music critics around the world. In 2007, the BBC World Service conducted a talent search and named her one of the 20 best unsigned artists in the world.
Wednesday, July 10 - Second Annual Salsa Under the Stars featuring the Newark Arts High Latin Band. Come out for the ultimate summer dance party! Featuring music from the Newark Arts High Latin Band, Salsa Under the Stars is a chance to enjoy a beautiful summer evening dancing the night away. Free dance lessons provided! Professional dancers from Fred Astaire Dance Studio of Morristown will get the crowd moving with dance instruction & demonstrations! The studio has been a part of the community for over a decade, maintaining a standard of class and excellence in ballroom & latin dance instruction that has a history spanning over 65 years.
Wednesday, July 31 - Lauren Davidson. CMA artist Lauren Davidson is an NYC/NJ based urban country singer-songwriter with one powerful voice.  Small in stature, but big in inner strength, Lauren was described as "an early Patsy Cline or Linda Ronstadt; that I can do this myself attitude" by Audio Fuzz Magazine. And do it herself she certainly can.
Wednesday, August 14 - The Shrewd Mechanicals. The Shakespeare Theatre of New Jersey's summer touring is proud to present this year's production, entitled Verily, Madly Thine! It will feature a wonderful array of moments from Shakespeare's plays as well as a few selections from more contemporary authors who have been inspired by one of Shakespeare's originals. Verily, Madly Thine also features a delightful sprinkling of music, and in total, these 60 minutes about falling in love will make you fall in love with this delightful and entertaining collection of scenes inhabited by the victims of Cupid's arrows.
Thursday, August 29 - Mama D & the Vexations. Mama D & The Vexations is a high energy cover band from Morristown NJ with a soulful edge. Their powerful renditions of hits from the 60s through today keep the crowd moving all night long! 
---
Music Beyond Borders: All concerts at the Morristown Green at 12:30pm. Rainsite is the United Methodist Church
Tuesday, July 9 at 12:30pm - Armando Son Jimenez' Grupo Sabor (Colombian Salsa). Since he migrated to the USA more than 25 years ago, Jorge Armando Jimenez (aka Sonjimenez or Sonji) has performed with top salsa musicians at prominent venues from NYC's B.B. Kings to Club Tropicana in Milan, Italy. His trio, Grupo Sabor, has a hot, tropical swing which combines hard salsa, some Cuban stile, romantic salsa and cumbia. Celebrate summer with the hot Latin rhythms of this fabulous salsa trio. Co-presented by Morris Arts.
Tuesday, July 23 at 12:30pm - Forestdance Trio: Music of Africa. Forestdance Trio plays the music of Africa now, at once ancient and modern, spirit which moves in us all. From a world of deep musical tradition, motherland joins hands with all, in unity. With ancestral sounds ringing ever-fresh and present; healing sounds of the wind, water, heartbeat, earth, sky, and sun. Deep within us all, source. The wind whispers through the trees... Forestdance! Co-presented by Morris Arts.
Tuesday, August 6 at 12:30pm - Mariachi Citlalli: A Taste of Mexico. This highly talented mariachi band performs a wide range of Mexican music from traditional to contemporary. Founded in 2000, the group's members perform on trumpet, vihuela (5 string guitar-like instrument), guitarron (large guitar), and keyboard/accordion. Co-presented by Morris Arts.
Additional free events may be added throughout the summer.
Mayo Performing Arts Center is located at 100 South Street in Morristown, New Jersey.