originally published: 06/19/2019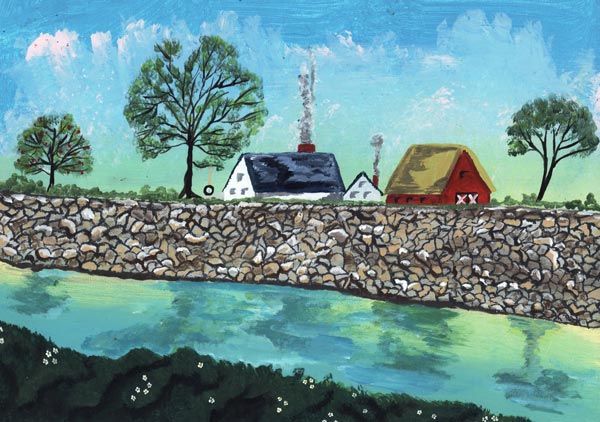 (PRINCETON JUNCTION, NJ) -- Running from July 15 through September 6, 2019, the West Windsor Arts Council presents the HomeFront: Expressions of ArtSpace Exhibition. Artspace is a program of Homefront, whose mission is to end homelessness in Central NJ by harnessing the caring, resources, and expertise of the community. Using art as a tool to improve physical, mental, and emotional well being, ArtSpace builds self confidence and nourishes the spirit of its families. The Expressions of ArtSpace Exhibition will feature works of art created by the participants of this exceptional program.
Since 1991, HomeFront has helped homeless families to build lives of self-respect, stability, and independence by using a comprehensive and holistic approach to ending homelessness in Central New Jersey. Founded by Connie Mercer and comprised of an incredibly caring team of volunteers, this not-for-profit organization is dedicated to breaking the downward spiral of poverty and guiding affected families onto a path toward stability and success. As a social service agency, HomeFront addresses material needs for shelter, food, and clothing - and it has established effective programs to help parents develop educational, vocational, and life skills while also opening the world and its many possibilities to their children. Since its establishment 25 years ago, HomeFront continues to serve thousands of families in the Mercer County area.
An opening reception will be held on Sunday July 21, 2019 from 4:00pm - 6:00pm. Please visit www.westwindsorarts.org for more information.
The West Windsor Arts Center presents exhibitions, musical, dance, & literary performances, art classes, workshops, and various special events year-round. The council establishes a calendar of exhibitions that draw upon emerging local and regional artists who reflect upon the diverse cultural makeup of our community. The committee curates six exhibitions to present each year based on the artworks integration of diverse, multicultural themes involving media, community interest, and educational value. The West Windsor Arts Council is delighted to welcome the ArtSpace program to the gallery through this new and exciting partnership with HomeFront. It is the mission of the West Windsor Arts Council  to "provide high-quality cultural programming that brings people together and transforms the world around us by inspiring, educating and promoting the arts" - and this new partnership presents the perfect opportunity for WWAC to support and advocate for the local artists of the ArtSpace program who are using the therapeutic power of art to transform their own lives.
Offered through HomeFront, ArtSpace is an innovative therapeutic art program where the creative process becomes a tangible tool for self-expression, critical thinking, and problem solving. The ArtSpace Studio is a welcoming space that provides participants with a safe environment and encouraging volunteers who guide clients in artistic processes of creating content that is personal, real, and truthful. ArtSpace fosters a sense of joy and exuberance by giving participants a moment to breathe and bring a new reality to an otherwise blank page.
Every human needs an outlet of expression that does not limit, but allows for us to discover new ways of thinking and helps us to see ourselves in new, beautiful ways. The art on display varies between original drawings and paintings created by the wonderfully talented artists of HomeFront's ArtSpace.
"Each person who walks into HomeFront has a rich and valuable story to tell, and in an age where difference can often connote division, we believe it is important to expose the things that make us jointly human" - HomeFront, ArtSpace
The West Windsor Arts Council's mission is to provide high quality cultural programming that brings people together and transforms the world around us by inspiring, educating, and promoting the arts and art appreciation for our diverse community.
IMAGE: River Runs by HomeFront's JoAnn A. of ArtSpace
---