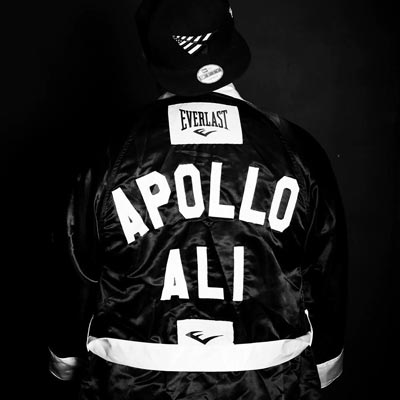 Camden rapper Apollo Ali, the last grandson of heavyweight champion "Jersey" Joe Walcott, will be performing songs off his brand-new LP, "Don't Bite," on the Garden State Hip-Hop and Makin Waves Summer Rap 'n' Rock Tour. He honors his grandfather with a new single, "Champion Sound," from his just-dropped LP, "Don't Bite."

Having boxed in my youth with the Howell P.A.L., I am fascinated by the Camden rapper Apollo Ali, the last grandson of "Jersey" Joe Walcott, the oldest heavyweight champion ever to hold the undisputed title. Ali once again honors his grandfather with the single, "Champion Sound," from the new album, "Don't Bite." Both the song and Walcott are proof that you never should give up on your dreams, no matter what the obstacles, the rapper said. 
It's fitting then that Ali will participate in the Garden State Hip Hop and Makin Waves Summer Rap 'n' Rock Tour (#rapnrocktour) during July throughout the Mid-Atlantic. The six-city, seven-date jaunt aims to make dreams come true for its dozen participants, while presenting a variety of mixed bills intended to foster racial harmony and unity. Also on the tour will be Newark rapper Dane the Beautiful Monster; New Brunswick groove-rock band Green Knuckle Material; Asbury Park/Jackson rap collective Black Suburbia Music Group, feat. Drew the Recluse and Miles Nxbxdy; eclectic New Brunswick rap outfit The Band Called FUSE; Long Branch rapper Mista Encore; the Asbury Park collective of rapper-poet Chris Rockwell; Jersey Shore rapper K-Prez; Philly/Trenton soul-hop band Chalk & the Beige Americans; Wayne soul-hop sextet Switch Mob; Jersey DJs Ronny Rayz and Rachel Barkley, and students of the Asbury Park Music Foundation's Hip Hop Institute. Ali's dates on the Rap 'n' Rock Tour are July 12, Asbury Park Music Foundation; July 13, The Fire, Philadelphia; July 19, Mill Hill Basement, Trenton, and July 21, Blackthorn, New Brunswick. 
Ali seems to take his stage name from a mash-up of two great boxers from the 1970s: Muhammad Ali, The Greatest in real life, and his fictionalization, Apollo Creed, in the "Rocky" movies. But actually, there's a deeper meaning. Apollo is the Greek god of music, and Ali means "most high." The rapper said that the combination defines him. I chatted with him about boxing, including Jersey Joe or Grandpop, as he called him, and his podcast about boxing culture, "Phantom Punch," and rapping, including his new LP, forthcoming tour and more.
I must say you fascinate me because I was a P.A.L. boxer as a youth, so when my co-producer/promoter Rodney Coursey of Garden State Hip Hop introduced me to your music, and I saw how much you honor your grandfather, I had to have you on our Summer Rap 'n' Rock Tour. Did you know Jersey Joe before he died?

Dope! Yes (laughs). I knew Jersey Joe as Grandpop. At the time. I was a kid. I'm his youngest grandson.
How has your grandfather influenced and impacted you and why? 

As you know, my grandfather was the oldest man to win the unified heavyweight crown. So that alone doesn't only influence me, it influences anyone that's chasing a goal/dream. It's never, ever too late. The Hall of Fame blood pumps through my veins, so naturally, I strive for greatness in my own form and fashion.
How and why does Jersey Joe's legacy still matter to Camden?

'A city invincible' is what defines Camden N.J. My grandfather was the first example of that Camden cloth represented to the world. From Jersey Joe Walcott Boulevard, a cross street of Martin Luther King Jr. Boulevard; his memorial downtown at the waterfront next to the Battleship (New Jersey), to the pending statue to be erected in the future, Jersey Joe Walcott is still Camden's own FIRST world-famous example of black excellence.
Jersey Joe was referee of Sonny Liston's 1965 heavyweight title rematch with Muhammad Ali, who was fighting as Ali for the first time in that bout. Your stage name seems to be a mash-up of Apollo Creed and Ali. Are both fighters significant to you, along with boxing as a whole?

I come from a boxing family, so that's a no-brainer. My grandfather and Muhammad Ali are two of my favorite people to ever walk the earth. However, my name is my name more so for the math behind it, not the fictional and non-fictional fighter. Apollo means God of music, and Ali means most high. That's what defines me.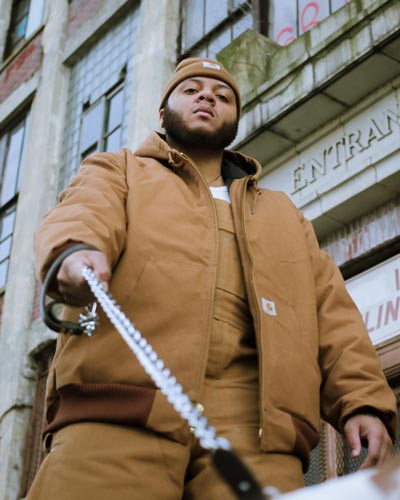 You produce and host a podcast called 'Phantom Punch' about boxing and boxing culture, the title of which was inspired by the so-called 'phantom punch' with which Ali knocked out Liston in 1:44 of the first round of their rematch to retain the heavyweight title. Did your grandfather's involvement in that fight as ref inspire you to use 'Phantom Punch' as the title of the podcast? 
Again, Muhammad Ali and my grandfather are my favorite people. The most iconic photo of Ali happens to be from that particular moment in time and space, where my grandfather just so happened to be holding Ali back from the spectacle he was making after dropping Liston with the phantom punch. So yes, that's part of the reason, besides the first name I picked wasn't available.
What do you enjoy most about producing 'Phantom Punch' and why?

I'm a boxing fan. The podcast gives me an opportunity to stay close to the sport in the midst of all my other endeavors. We're just two friends that watch fights together.
Tell me a little bit about your 'Phantom Punch' partner Johnny Southpaw.

He's a good friend of mine that I go to and watch fights with regularly. He had a short amateur career and spent a few years working at the Everlast offices in NYC.
Are you or have you been a boxer? If so, tell me a little bit about your history with the sport.

There is nothing in the sport of boxing I could do that my grandfather didn't do. I mean, I was the FIRST to bring real footwork in to the ring (laughs). C'mon.
No, I am not a boxer. I have trained on and off over the years, and I'm currently back in the gym. But I'm definitely focused on blazing my own trail.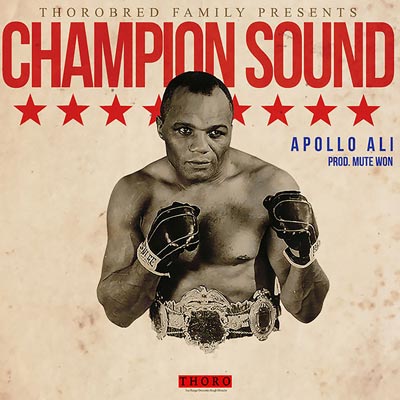 You also honored your grandfather by putting one of his most famous boxing photos on the cover of your latest single, 'Champion Sound,' which is featured on your new album, 'Don't Bite.' What is the theme of 'Champion Sound' and what inspired it? 
It's pretty self-explanatory. It's motivational music for myself and others that are constantly pursuing greatness.
What plans do you have to promote 'Don't Bite'?

Visuals, interviews, shows. Content content CONTENT all on the way!
How does 'Don't Bite' compare to your 2015 LP, 'Contradiction,' and 2016 EP, 'Sundress Season,' as far as lyrical and production style? 

It's hip hop all the way through. 'Contradiction' is something special. It's not to be compared. 
What are your favorite 'Don't Bite' tracks and why? 

All of them. It's just good hip hop/rap music. No fillers, no fluff. Just rap and beats.
The album cover for 'Contradiction' features a photo of Jersey Joe holding a baby. Who is that baby? 

The baby is me.
Were you born and raised in Camden and do you still live there?

I was raised between Camden and Pennsauken both. As of now with my parents, I own a studio in the Parkside section of the city.
Who is the rapper-screenwriter Verb Spielberg, where is he from, how do you know him, and are you still working closely with him?

He's my cousin, business partner and from Camden. We always working together even when we not. He's #ThorobredFamily (Ali's production company). 
What do you think of the Garden State Hip Hop and Makin Waves Summer Rap 'n' Rock Tour?

This is my first time hearing or being a part of it. I'm looking forward to seeing what all is in store.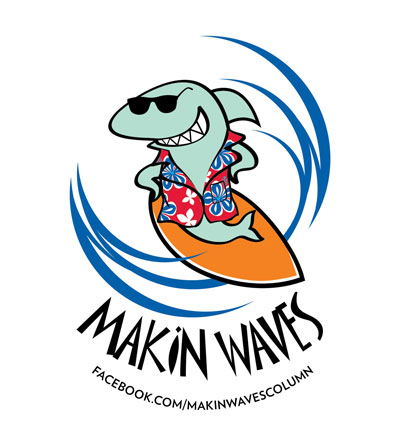 Bob Makin is the reporter for MyCentralJersey.com/entertainment and a former managing editor of The Aquarian Weekly, which launched this column in 1988. Contact him at makinwaves64@yahoo.com. And like Makin Waves at www.facebook.com/makinwavescolumn.