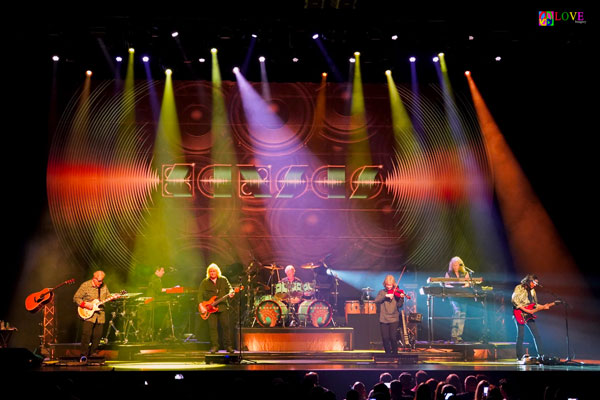 The packed house this Friday, May 31, 2019 at Sound Waves, located in Atlantic City, NJ's Hard Rock Hotel and Casino, excitedly awaits the start of a live concert by one of America's preeminent rock groups — Kansas.
The garage band from Topeka released their debut album in 1974 after being discovered by Wally Gold, who worked for Don Kirshner. That album, Kansas, defined the band's sound — a mix of American-style rock and complex symphonic arrangements.
Going on to create a catalog which includes fifteen studio albums and five live recordings, Kansas produced eight gold records, three sextuple platinum albums including 1976's Leftoverture and 1977's Point of Know Return, a platinum live recording, and two million-selling gold singles. To this day, "Carry On Wayward Son" continues to be one of the top five most-played songs on classic rock radio, and "Dust In the Wind" has been played on the radio more than three million times.
A documentary on the group, Miracles Out of Nowhere, can currently be seen on AXS-TV. The program chronicles the rise to fame of the group which hit the airwaves with a line-up that included drummer Phil Ehart, guitarist Richard Williams, singer/keyboardist Steve Walsh, violinist Robbie Steinhardt, bassist Dave Hope, and guitarist/keyboardist Kerry Livgrin.
These days, founding members Richard Williams and Phil Ehart continue to perform for audiences around the globe alongside newer band members vocalist/keyboardist Ronnie Platt, violinist/guitarist David Ragsdale, bassist/vocalist Billy Greer, guitarist Zak Rizvi, and keyboardist Tom Brislin.
---
The article continues after this ad
---
---
The lights dim and the members of Kansas take their places through the fog. Audience members begin to hoot and holler as the group opens tonight's show with "Point of Know Return."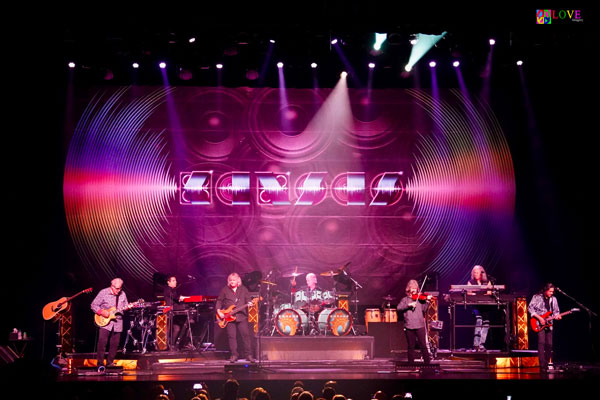 As Ronnie Platt wails from behind his keyboards, "How long?/How long?/How long to the point of know return?" — his vocals sounding strong and powerful in this sonically-superior listening room — colored lights flash rhythms played by David Ragdale's soaring violin and Phil Ehart's powerful drumming.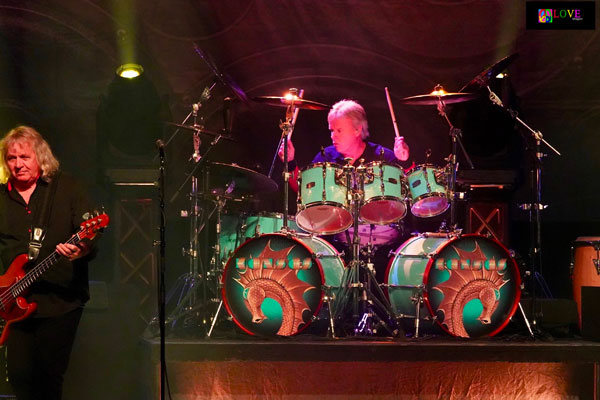 The crowd roars its approval and bassist Billy Greer welcomes the audience saying, "Good evening and welcome to Kansas. Here we go!" after which an audience member happily screams, "Far out!"
The group launches into their highly rhythmic rocker, "Paradox." With the meter shifting as the instrumentalists play, Platt comes down front to sing with passion before returning to his keyboards while the band barrels full steam into the groove and frenzied rhythm of this infectious song.
Following huge applause, Platt handles the lead on the funky shuffle, "Two Cents Worth." As he croons, "There's nowhere to turn/So I'll just have to learn not to cry," the band brilliantly accompanies him on this bluesy rocker while fans in the audience rock and sway to the music.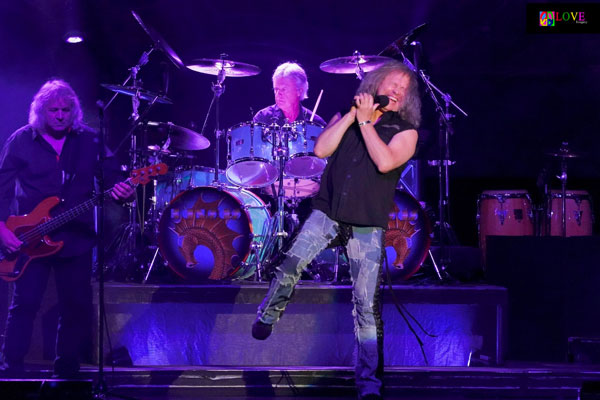 Up next is an extended medley consisting of "Mysteries and Mayhem," "Pinnacle," and "The Wall." As the sequence begins, guitarists Richard Williams and Zak Rivki play with rapid fire and David Ragsdale bows his violin with energy. Bassist Billy Greer and Ronnie Platt share vocals and the audience claps overhead as Phil Ehart shines on the drums. Echoing jazz fusion violinist, Jean Luc Ponty, David Ragsdale's violin screams over Zak Rivki's guitar, creating a symphony of colors that race back and forth as they energize the room.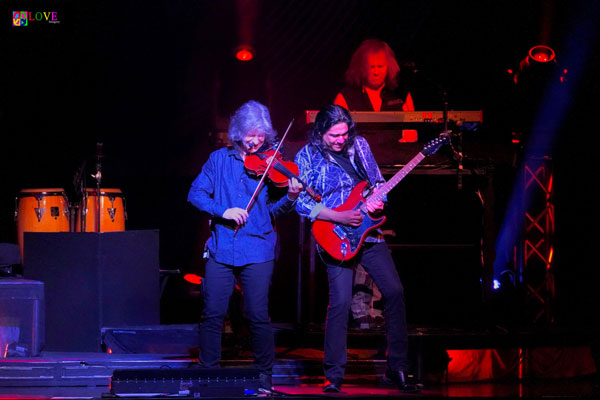 Slowing down to feature a trio comprised of Ragsdale on violin, Tom Brislin on keyboards, and Richard Williams on acoustic guitar, the musicians play with style before Williams solos on his electric and elicits cheers from the appreciative crowd.
As the pieces within the medley morph together — alternating between instrumental interludes and vocal choruses — they create a mini-symphony which is constantly changing right before the audience's eyes and ears. The crowd takes in the gorgeous melody which accompanies the fitting "The moment is a masterpiece" lyric from "The Wall," and the soaring nature of the music inspires audience members to leap out of their seats and begin to cheer on their feet.
Greer responds by exclaiming, "That's the energy we're looking for!" revealing, "We play New Jersey more that any other state in the union — you guys are awesome!"
Greer and the band follow up with "People of the South Wind." As Platt croons, "I can still see their smiling faces," the audience happily applauds for this catchy rocker which features Ragsdale bowing the melody along with Platt's lead vocal, a rhythmic keyboard solo from Tom Brislin, and lots of audience singing on the hooky "People of the south wind" chorus.
"Hold On" is an acoustic number which has Platt crying, "Hold on/Baby, hold on." With it's country waltz feel, the song builds in intensity as three-part vocals soar and Platt holds out the number's final note to ecstatic cheers.
A highlight of tonight's concert is Kansas' live rendition of their 1978 hit, "Dust in the Wind." As Williams and Greer play acoustic guitars and Zak Rivki fingerpicks on his electric, the audience sings along on the ubiquitous "All we are is dust in the wind" lyric before the song's beautiful melodic violin line washes over the crowd with haunting grace and ends with trills on the coda.
The audience cheers and the group segues into "Cold Gray Morning." With its jazz fusion intro, this powerful story-song features brilliant accented off-the-beat drumming by Phil Ehart, screaming violin playing by Ragsdale, and an acoustic guitar solo by Williams before he switches over to his electric and makes it sing.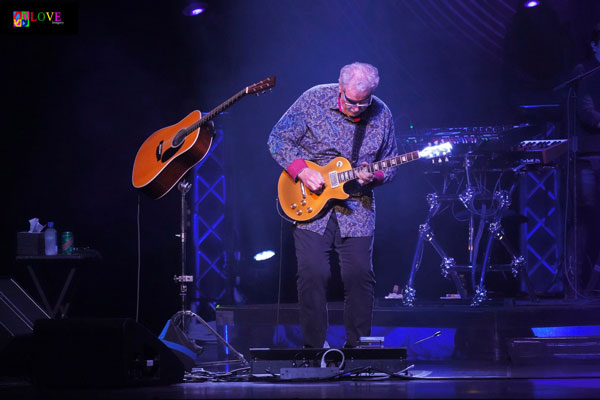 The audience can't help but rock out to the rhythm of this catchy tune, which ultimately ends with blue lights shimmering on the band.
Keyboard and a distorted vocal provide the intro to "Icarus (Born on Wings of Steel)." The band rocks the catchy riff and audience members put their hands up in the air each time Platt sings, "So high, so high." As complex as any Frank Zappa composition, the arrangement features a death-defying Ragsdale violin solo which is not to be believed, the master musician wailing and screaming as fast and furiously as if his bow is on fire.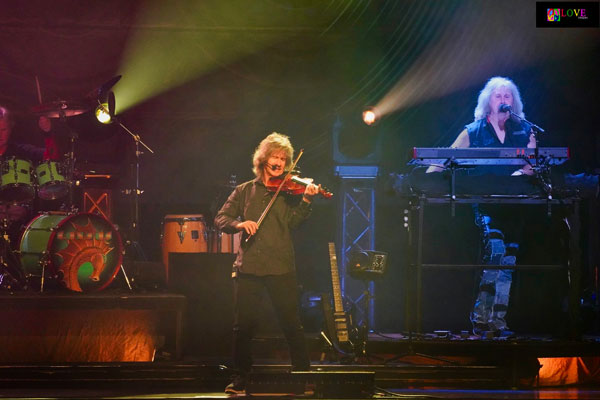 Yellow and white lights shine on the audience as the ever-shifting music swirls and waves throughout the theater, and Platt conducts the ending like an orchestral leader, bringing audience members to their feet cheering and applauding.
Phil Ehart's drums kick off the energetic "Summer," where Billy Greer sings lead on this catchy shuffle. Audience members rock to the beat of this rhythmic number on which Williams' fingers fly on his electric and Greer and Rivki play side-by-side, the band's lightning-fast riffs punctuated by flashing lights.
Platt makes his way down to the edge of the stage for "What's On My Mind," a straight-ahead rocker which has David Ragdale switching off from playing violin to playing a wailing electric guitar solo as Williams, Greer, and Rivki rock out on their instruments in line.
Following enormous applause, Greer announces, "It's the 40th anniversary of Point of Know Return, so we're gonna play a couple of songs from Point."
Launching into "Lightning's Hand," lights continue to flash as Platt sings downstage and Tom Brislin rhythmically plays keyboard triplets on this modal piece accompanied by Williams on guitar and Greer on bass.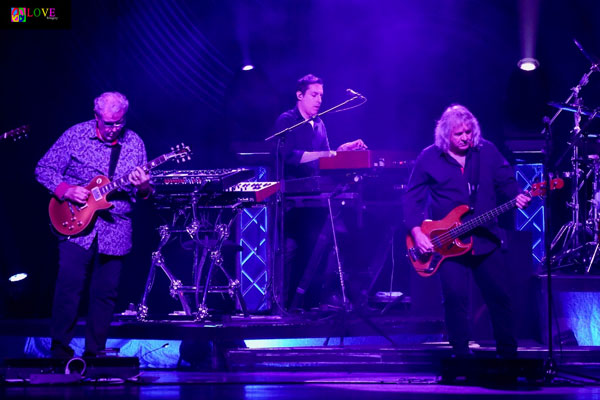 As the musicians play with lightning hands, Phil Ehart's drums crash and roll to the flashing lights and Ragsdale and Rivki play rapid-fire style up and down the scale. Again, Platt conducts the "orchestra" as the drums roll the song to a stop, the crowd screaming its approval.
Segueing into "Spark of the Tempest," Kansas' drum tech Eric Holmquist joins the group on percussion, helping Ehart with the funky beat while Platt and Greer trade off vocals. Heads bop to the infectious rhythm and hands clap overhead as the band sings, "Soothsayer saying now tell me no lies/What is this madness that is filling the skies?"
After introducing the members of the group, Greer exclaims, "New Jersey is taking over Kansas!" explaining, "There are two Jersey boys in the band — our newest member, keyboardist Tom Brislin, and our guitarist, Zak Rivki." The audience cheers for these talented hometown heroes.
Kansas concludes tonight's show with "Miracles Out of Nowhere." As Richard Williams inspires the crowd with his fancy fingerpicking, Platt and Greer trade lead vocals before they join in singing together. As the piece continues, it echoes the sound of a Johann Sebastian Bach composition with Ragsdale's violin joining in and guitar and bass following suit.
Soon, lights flash their part on an in-your-face musical experience which features sublime guitar playing by Richard Williams.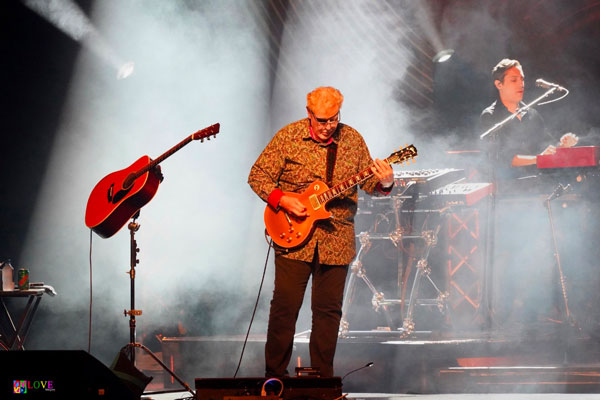 He's supported with high-energy drumming by Phil Ehart, a tremolo violin performance by David Ragsdale, and a symphonic ending which has audience members roaring on their feet.
The group leaves the stage but shortly returns, at which point Greer exclaims, "You guys have been an amazing audience — we want you to sing along!"
Here, the group launches into their 1977 hit, "Carry On Wayward Son." The audience joyfully wails on the "Carry on my wayward son/For there'll be peace when you are done" chorus. As Platt sings his heart out, Williams impresses with a recreation of his iconic guitar solo from the original recording, and lights flash as Phil Ehart brilliantly pounds the drums on this outstanding rock anthem.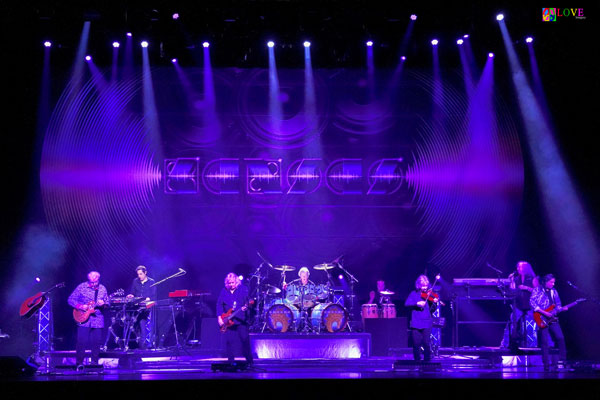 At the conclusion, the entire group takes a bow together, all to the continued roars of the crowd.
As audience members make their way out of the Hard Rock's Sound Waves theater, we chat with several in attendance who share their opinions about tonight's concert with us.
Comments Jack from Woolwich Twp.,"This is the twelfth time I've seen Kansas, and they are fantastic. I've listened to their songs since I was in high school," before noting, "and I especially like their new keyboard player, Tom Brislin."
Ken from Beachwood agrees stating, "We loved them — as a band, they are so powerful."
Ken's wife, Pam, remarks, "Kansas is just unbelievable. Their energy is amazing," before declaring, "and I'm absolutely stunned the band's original drummer — Phil Ehart — is still with them!"
Continuing, "My husband, Ken, turned me on to this music," Pam acknowledges, "We're both musicians, so we know good music," before concluding, "We'd never seen Kansas before tonight, but we have been fans of theirs since we were both in 10th grade."
Whereas Lenny from Dunellen calls Kansas' performance tonight, "Awesome — a great show," Marcy from Dunellen explains, "It was like an opera in terms of the give and take — the way they played back and forth," noting, "For me, it was the group's instrumentation — along with the light show — that helped to make it special."
Robert from Lansdale PA comments, "This band gels so well — they all play off one another," noting, "and the group's vocal harmonies were really phenomenal tonight."
Next, we get an opportunity to chat with Kansas' newest member, New Jersey's own Tom Brislin, who says about becoming the keyboardist for the group, "This is a fantastic experience! I'm a fan of progressive rock, and to have one of the great progressive rock bands take me on has just been amazing."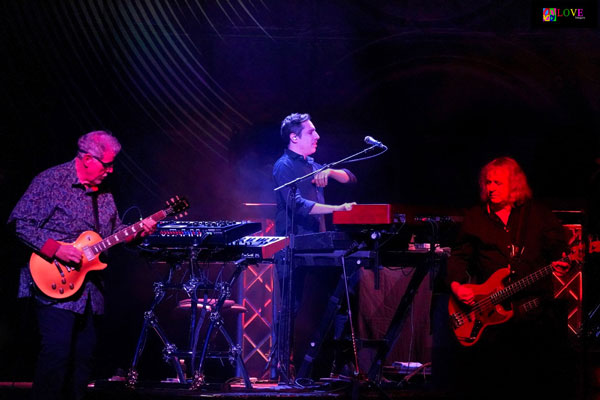 Acknowledging, "I had a couple of months to get to know the music," Brislin discloses, "and I'm especially excited to be recording Kansas' new album with them, and I'll also be writing for it, as well."
Lastly, we chat wth David and Robert, two long-time Kansas fans from Pennsylvania.
Recalls David, from Yardley, "Kansas has been my favorite band since the 1970s. This is my 58th concert. Growing up, I heard a lot of opera, and Kansas' music has a real classical feel to it."
Noting, "It's great that they can have so much fun playing together," David points out, "Everyone gets into it. There are seven great musicians in the band, and they're so in tune to what they're doing."
Explaining, "It's the live experience that makes this whole thing work," David concludes by revealing, "Even my kids go to the shows, so now we have two generations of fans in my family."
David's friend, Robert from Conshohockin, tells us, "I've been a fan of Kansas since 1977, and I've seen them 227 times! l just love the great symphonic sound and complex rhythms the band is famous for," before acknowledging, "I guess you could call me a true 'Wheathead.'"
When asked to explain his attraction to Kansas' music, Robert explains, "This band constantly reminds me of a runaway train. When the group is playing, it's like they're all going uphill together on the train, but then the train breaks away from the track where the pieces of the track are of all different lengths."
Suggesting, "If Beethoven, Bach, Mozart, Pavarotti, and Buddy Rich were going uphill on the same train and their train broke away from the track, they wouldn't sound nearly as good as Kansas," Robert concludes by proposing, "To me, it's having that own special runaway train sound that makes Kansas' songs such masterpieces."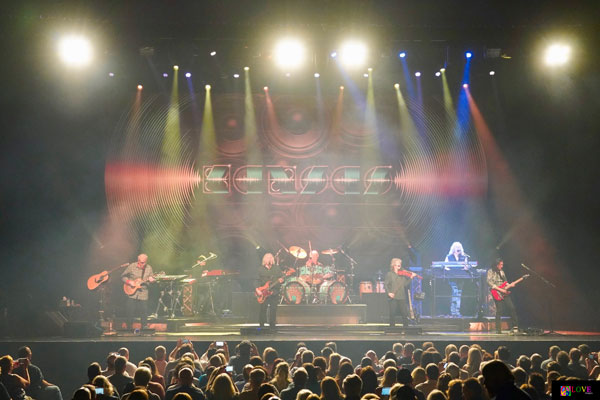 To learn more about Kansas, please go to kansasband.com. For information on upcoming performances at the Hard Rock Hotel and Casino's Sound Waves performing arts venue — including Three Dog Night on July 25 and 26 and Daughtry on August 31 — please click on hardrockhotels.com/sound-waves.
Photos by Love Imagery
Spotlight Central. Your source for Jersey entertainment news and reviews
Love Imagery Fine Art Photography. all you need. peace/love/flower/power