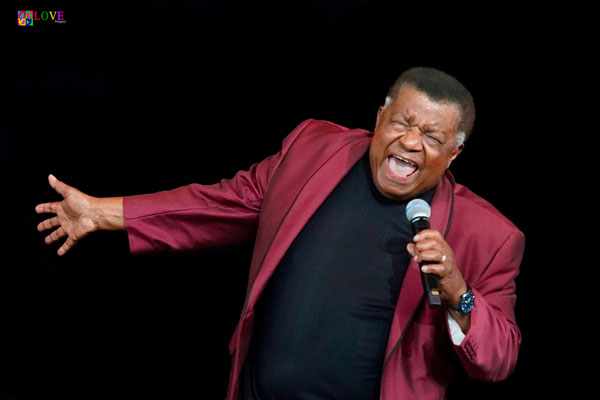 The large audience assembled this Wednesday, May 29, 2019 afternoon at Holmdel, NJ's PNC Bank Arts Center patiently awaits the start of an afternoon concert presented by Jerome Anthony Gourdine, Ernest Wright, Robert DeBlanc, and Johnny Britt, also known as Little Anthony and the Imperials. The show is part of the Garden State Arts Foundation's 2019 "Senior Concert Series," a selection of concerts free for NJ residents aged 55 and older.
Since 1984, The Garden State Arts Foundation has provided free programs for senior citizens, families, and children at the PNC Bank Arts Center and other locations throughout New Jersey. According to Ronald Gravino, Vice President of GSAF's Board of Trustees, "no federal, state, local, or Garden State Parkway toll money" is used to fund any GSAF presentations. Rather, the programs are presented by donations from such GSAF partners as PNC Bank, Live Nation Entertainment, and Sirius XM '60s on 6 radio, in addition to contributions from the general public.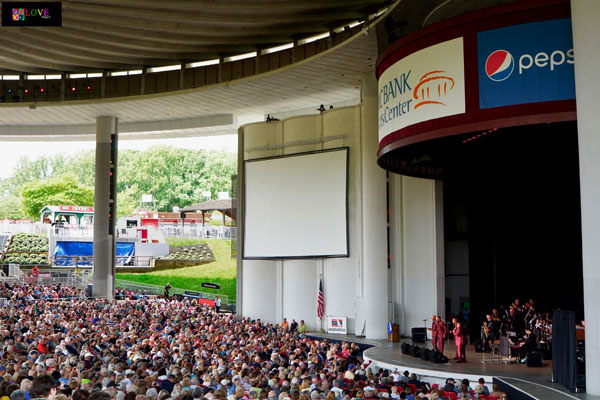 Following a warm welcome from GSAF Executive Director Carolyn Santiago and an overture played by a skilled back-up band, Gourdine — aka Little Anthony — hits the stage solo with a poignant and soulful version of Eric Carmen's "All By Myself."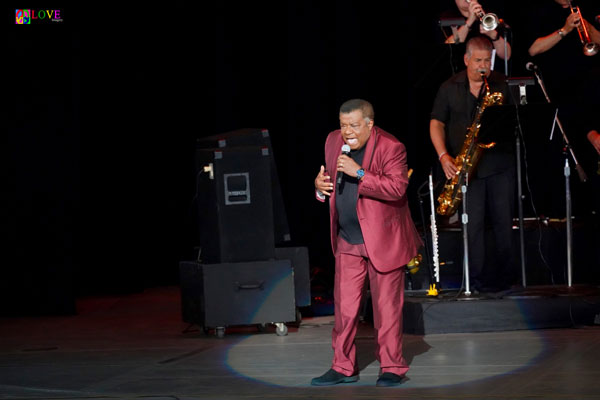 In the middle of the performance, the rest of the Imperials — Wright, DeBlanc, and Britt — come dancing out, where they join Anthony on stage and expertly accompany him as his signature voice soars.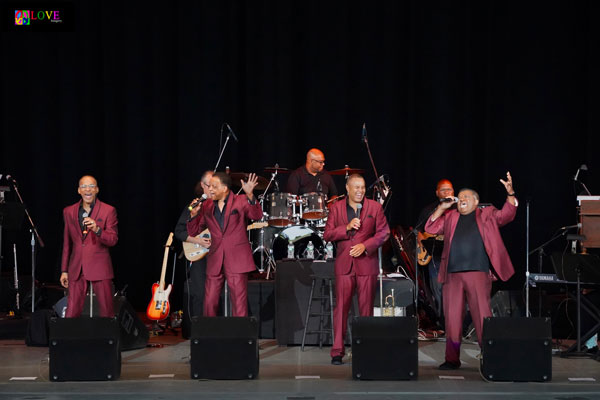 Next, the group turns to R&B with a potent performance of Marvin Gaye's Motown classic, "Heard it Through the Grapevine." Here, they soulfully rock the house filled with an estimated audience of 6000 music lovers.
---
The article continues after this ad
---
---
Taking a moment to greet the Jersey crowd, Anthony welcomes everyone to "beautiful downtown Holmdel," after which his stage mate, Ernest Wright, jokes, "I don't see a subway!"
Highlights of this midday performance include Anthony and the Imperials' performance of their very first Top 10 hit, 1958's "Tears on My Pillow."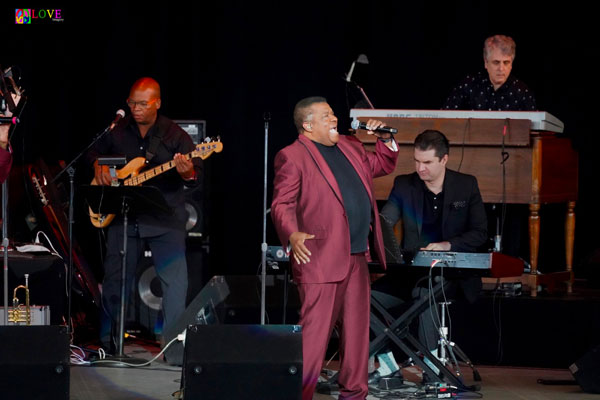 Additional highlights of the program include the boys performing a song which Anthony says, "sold two million copies in 1960, but I still don't understand it"— his 1960's hit, "Shimmy Shimmy Koko Bop."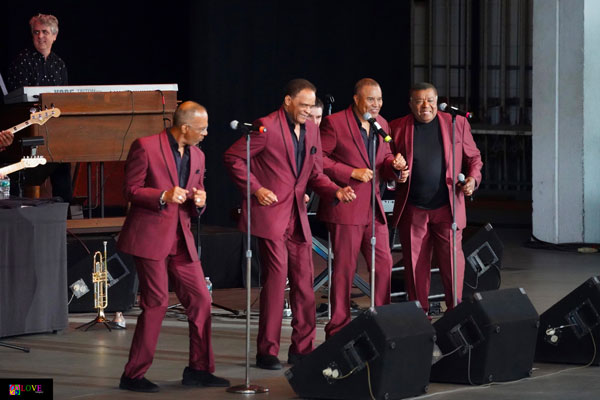 Little Anthony takes a moment to introduce his fellow singers and tell the crowd a little bit about them. Here, the audience learns that Ernest Wright is an original member of The Imperials, Johnny Britt worked as the musical director for The Temptations, and Robert DeBlanc toured for years with Marvin Gaye.
At this point, the group performs Little Anthony's dramatic 1964 ballad, "I'm on the Outside (Looking In)."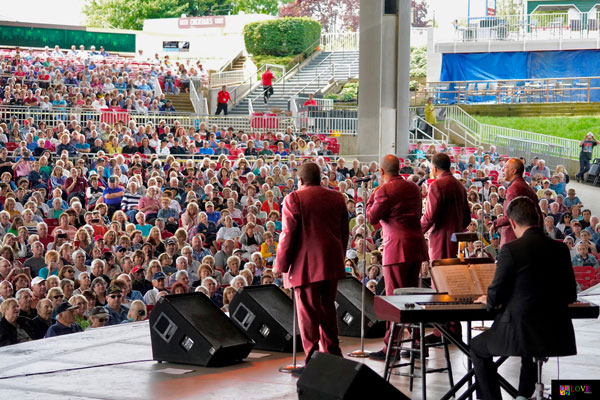 The quartet's rendition — which features smooth backup vocals and Anthony singing with style and flair — ends with great audience applause.
They follow up with performances of Frankie Lymon's uptempo "Goody Goody" and The Imperials' own "Take Me Back."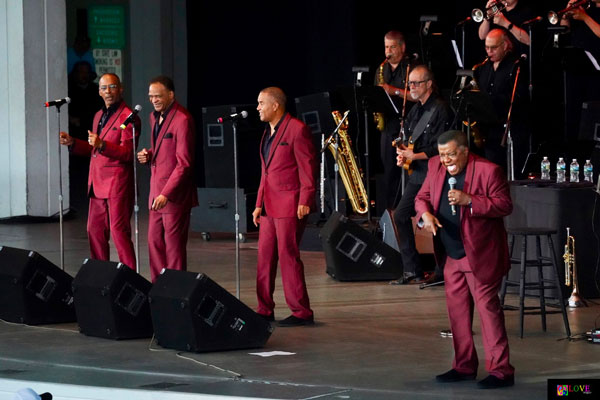 Bass singer Robert DeBlanc is featured on a bluesy rendition of the classic "You Are My Sunshine." Funky and loose, DeBlanc works the stage as Little Anthony joins his colleagues singing back-up. Heads bop and audience members cheer for this delightful number.
Anthony and the boys perform a spirited version of Little Richard's classic rocker, "Lucille." Upbeat, rocking, and rollicking, the number features a honking baritone saxophone solo.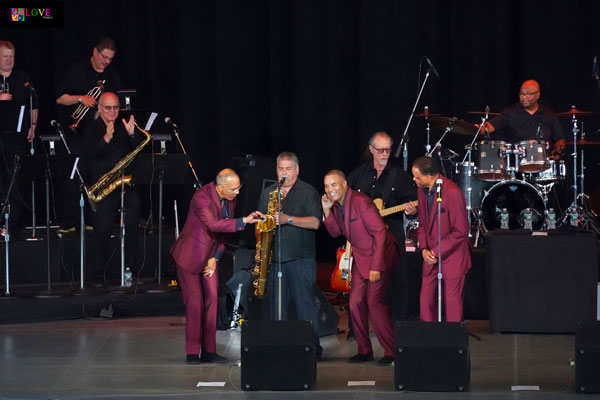 Then, the singers do the swim, singing with their hearts and souls as they have fun on this classic '50s tune.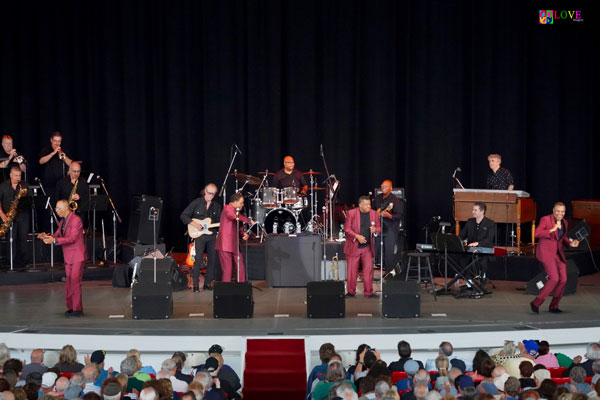 Little Anthony's one-of-a-kind voice is featured on a number which he reveals is his "favorite song" — his 1965 classic, "Hurt So Bad."
Johnny Britt opens the song playing a muted trumpet solo, and the backup singers perform choreographed dancing as they accompany Anthony who sings with feeling, his voice rich with emotion.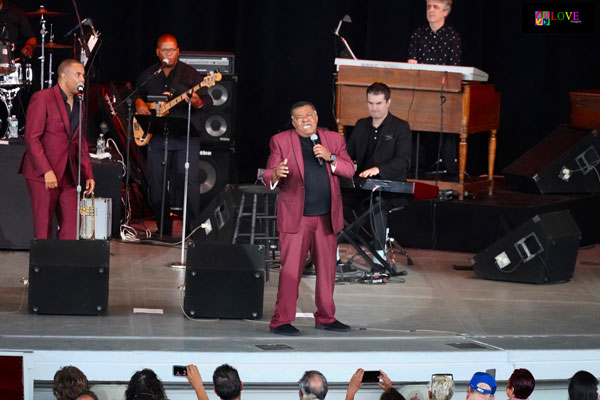 Next up is a knock-your-socks-off version of the Holland-Dozier-Holland penned "How Sweet it Is," featuring Johnny Britt. Starting slowly and soulfully, the audience cheers as Johnny holds out a note long and proud before inviting the audience to clap along while the group segues into an upbeat tempo.
Following huge applause, Anthony exclaims, "I want to sing the blues!" Here, he performs a funky and soulful rendition of Bonnie Raitt's "That's Just Love Sneaking Up on You." Upbeat, bluesy, and energetic, this dynamic performance features Anthony and the Imperials dancing as they sing to the funky beat.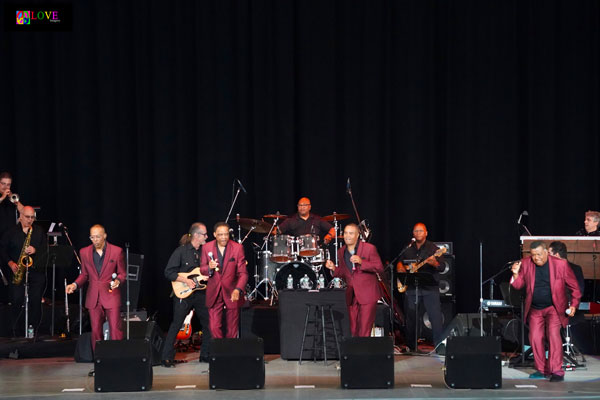 The group follows up with a number which, as Anthony reveals, is the song that "singlehandedly put us in the Rock and Roll Hall of Fame" — a song that was written specifically for him that went on to sell four million copies — his 1964 smash, "Goin' Out of My Head." On this highlight performance of the afternoon, Anthony is right on the money as he sings all of the high parts with ease, bringing cheers from audience members who stand for his classic interpretation.
Following a well-earned standing ovation, Little Anthony and the Imperials burst into their grand finale for this afternoon's performance — a blistering version of The Police's "Every Breath You Take" — leaving the Jersey crowd with a kaleidoscope of magnificent musical memories.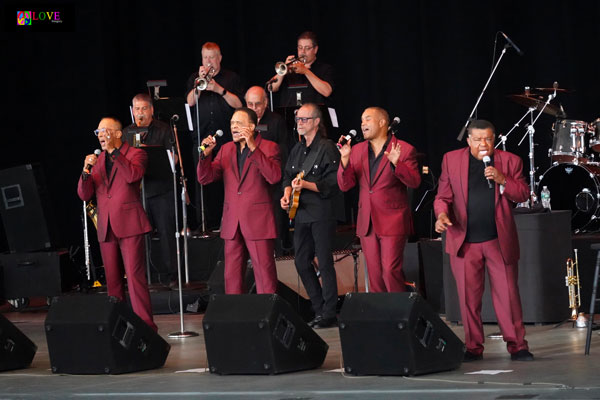 As audience members make their way out of the amphitheater, we chat with several in the crowd who share their reactions to this afternoon's performance.
Comments Pat from Monroe Twp, "Little Anthony and the Imperials were just wonderful — they're terrific! All the musicians in the orchestra were fabulous, too," before noting, "And this is a wonderful venue to see them in. They really do a marvelous job putting on great concerts here at the PNC Bank Arts Center."
Remarks Wendy From Manalapan, "Little Anthony and the Imperials' performance was very enjoyable," revealing, "We come to all the shows here."
Ira from Manalapan exclaims, "I wish I had their energy. It's hard to believe, but Little Anthony is 78 years old — and he's still got it!"
Continuing, "I liked how he started the show with 'All By Myself,'" Ira adds, "In the beginning, I actually thought he was going to perform the whole concert by himself, but then all the Imperials came dancing out, and I thought that was so unique."
Bonnie from Holmdel declares, "Little Anthony and the Imperials were excellent! I think it is important to see these shows — there are so many iconic names who perform here."
Whereas Gail from East Windsor contends, "Little Anthony and the Imperials were so entertaining," her friend, Ellen from East Windsor, explains, "Little Anthony was so powerful. He can still hit those high notes and hold them out. And Robert DeBlanc was so animated — he did all of his steps with enthusiasm," before concluding, "And Johnny Britt sang effortlessly and relaxed — he looked so happy, as if he was truly enjoying being on stage."
At this point, we slip backstage to chat with Johnny Britt who tell us, "I love the New York/New Jersey area. I could live here. I just love the energy in Jersey!"
Continuing, "Working with Little Anthony and the Imperials is the best gig I've ever had," Britt reveals, "I feel like one of the stars with these guys. To have Anthony ask me to perform with the group was an honor, and to have Anthony on one side of me and Ernest on the other side of me is, like, "oh my goodness" — Anthony is a true legend."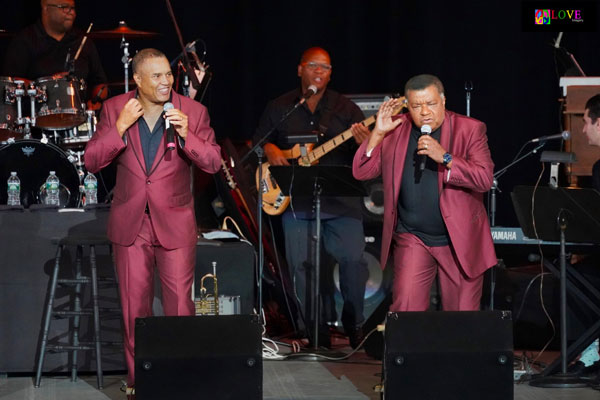 We also get to chat with Little Anthony himself who says, "I love Jersey — I'm always in Jersey," recalling, "I can remember playing just down the road a bit at Six Flags Great Adventure many years ago, and this is the third time we've played here at the PNC Bank Arts Center — it's always great playing here."
Adding, "I'll also be in Atlantic City next month," Anthony maintains, "I'm never going to retire."
"Why?" we inquire.
Exclaims Anthony with a smile, "Because I like to sing!"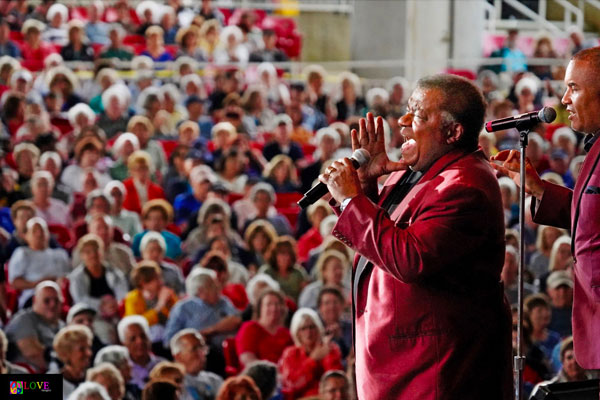 To learn more about Little Anthony and the Imperials, please go to littleanthonyandtheimperials.org. For information on future Garden State Arts Foundation concerts for NJ residents 55 and older including Bobby Rydell and Ron Dante on Sept. 4 — or for info on the upcoming concert for audiences of all ages starring Cousin Brucie, Darlene Love, Kenny Vance and the Planotones, and The Ventures on June 14 — please go to gsafoundation.org.
Photos by Love Imagery
Spotlight Central. Your source for Jersey entertainment news and reviews
Love Imagery Fine Art Photography. all you need. peace/love/flower/power