originally published: 06/10/2019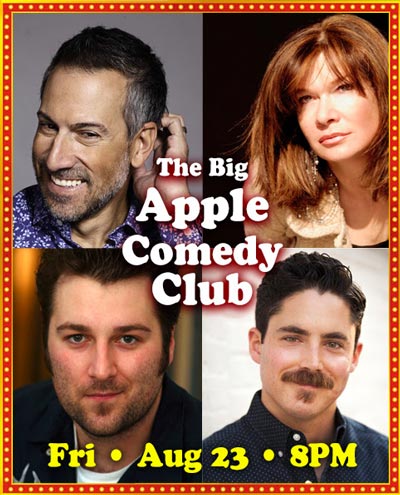 (NEWTON, NJ) -- The Big Apple Comedy Club returns with four of New York City's freshest comedians for a show on Friday, August 23, 2019 at 8:00. The lineup includes Joe Matarese, Marc Riccadonna, Vanessa Holingshead, and Doug Smith. Don't miss the chance to see these hilarious, high energy comics in action! 

Joe Matarese grew up in Cherry Hill, NJ and started doing standup at the age of twenty in Philadelphia. I guess that explains his obsession with the movie Rocky. Joe bases his whole career on one Rocky line, "I just wanna go the distance." During his long career he's appeared on MTV's Spring Break, The Jim Breuer Show, The Carson Daly Show, NBC's "Late Friday," numerous times on CBS' The Late Late Show with Craig Ferguson, NBC's "Last Comic "Standing" and "America's Got Talent," Comedy Central's "Premium Blend," E Network's "Chelsea Lately (multiple appearances)," CBS' "The Late Show with David Letterman (twice)," his very own Comedy Central Special along with two One Hour Specials entitled "Medicated" and "The Poster's Wrong." 

Mark Riccadonna is one of the funniest young comics to emerge on the New York comedy scene in quite some time. A favorite on college campuses as well, Mark has been featured at The New York Underground Comedy Festival and The Boston Comedy Festival. In the clubs, you can find him performing regularly at Stand Up New York, The New York Comedy Club and Caroline's On Broadway. Mark has also appeared on Comedy Central's "Premium Blend."

With a veritable apartment building of captivating characters in her head, the eclectic Vanessa Hollingshead is not so much a comedian as she is a landlord. Her unique, compelling and heartfelt comedy has a distinctly female bent, yet somehow, she still manages to unite rather than divide. She made recent appearances in the cult-hit films, American Dummy and Ghost Dog: The Way of the Samurai with Forrest Whitaker, and received torrents of critical acclaim for her one-woman Off- Broadway show, Flashback. She has performed twice at the prestigious Montreal "Just For Laughs" Festival and is a favorite at New York's top comedy clubs including Caroline's on Broadway, The Comic Strip, and Stand Up New York. She also performs regularly at Las Vegas and Atlantic City's best casinos including The Tropicana, Harrah's and Caesar's Palace. Vanessa's television credits include hosting a week of NBC's "Later" as well as appearing on Comedy Central's "Premium Blend," Metro Channel's "New Joke City," HBO "Comedy Showcase" and her very own special, "Comedy Central Presents... Vanessa Hollingshead."

Doug Smith is a rising New York comic who just made his late night debut on Conan. Following his selection as a New Face at the Montreal Just for Laughs Festival in 2013, he's been featured at the Oddball Comedy and Curiosity Festival, Bridgetown Comedy Festival, and the NY Comedy Festival where he was chosen to host six sold out shows for Norm Macdonald. Doug co-hosts the stand-up/variety show See You in Hell which The Comedy Bureau listed in the Top 100 Best Things in Comedy 2014. In 2015, Doug was a finalist in Caroline's March Madness competition as well as the NY's Funniest competition. He is also the creator and star of the web series Secret Weapon, which received high praise from numerous comedy websites and was a finalist at the Channel 101 festival. In addition to Conan, Doug's TV appearances include Gotham Comedy Live and Fuse TV's Uproarious. Don't miss the chance to see this great, cutting edge act!

The Big Apple Comedy Club returns to The Newton Theatre on Friday, August 23, 2019, at 8 PM. Tickets start at just $19.

For purchases or information contact The Newton Theatre box office at 219 Spring Street in Newton, NJ; online at www.TheNewtonTheatre.com; or by calling 973-940-NEWT.
---