originally published: 06/09/2019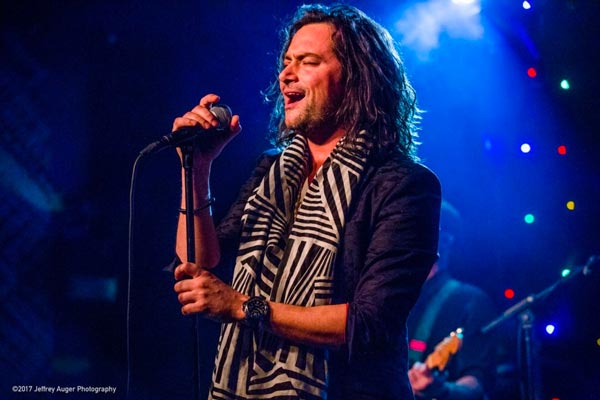 He is the contestant from American Idol, Season 4, who looked into the camera and captivated millions of hearts. But Constantine Maroulis is more than that. His singing and performance style on the show was strong and memorable. His rendition of "Bohemian Rhapsody" still ranks as one of Idol's most popular performances. The night he was voted out in 6th place, his fans were devastated. But it all turned out well: Constantine began a post-Idol career that is still going strong all these years later.
Born in Brooklyn, Constantine was very young when his family moved to New Jersey where he still makes his home. He studied musical theater at the Boston Conservatory. That training helped him land his first Broadway role in The Wedding Singer shortly after his time on Idol. When the show Rock of Ages went looking for their leading man, they found it in Constantine. It turned out to be a role of a lifetime and it earned him a Tony Nomination for Best Lead Actor in a Musical. After touring with Rock of Ages, he next tackled one of the most difficult male roles in musical theater, that of Jekyll and Hyde.
He also has done Off-Broadway productions. His appearance in Jacques Brel is Alive and Well and Living in Paris was a few months after The Wedding Singer where he showed another side of his singing style. In 2017, he took on the role of Robert Moses in Bulldozer. And further uptown at the 2nd Stage Theater, he appeared in a non-singing role in Friend Art.
Constantine travels to do regional theater. He appeared at New Haven's Long Wharf Theatre to do The Most Beautiful Room in New York and at the MUNY playing Judas inJesus Christ Superstar. He's made two appearances at North Shore Music Theatre in Evita and then Jekyll and Hyde.
In addition to theater, he keeps the concert/singing side of his career active. He performs with the Postmodern Jukebox and Rocktopia. He gives numerous solo concerts like the one coming to Avenel Performing Arts Center.
---
The article continues after this ad
---
---
Constantine Maroulis is a busy, active artist. So as he prepares for his upcoming performance at the Avenel Performing Arts Center, he was gracious enough to take time to answer some questions I posed to him about the show and a few other things.
You have performed a wide variety of songs over the years. How do you decide which ones to select for your concerts and shows?
Growing up with a wide range of music and influences has provided me with an endless song list to choose from.  From the Great American Songbook and Broadway tunes to all the eras of Rock.  Enjoying baseball as much as I do, creating a set list is a lot like forming a batting line-up… I try to tell a story with the set list that has a beginning, middle and end.  Depending on the venue and the size of the show and if I'm bringing a full band or just an accompanist, will also help dictate what kind of show it is. 
So then, can you give us a little preview of what to expect from your upcoming shows at Avenel Performing Arts Center.
For this upcoming show, I'll be drawing upon life experiences in a more concert cabaret style. Shows from Broadway I've been in and a mixture of original material from my upcoming album, "Until I'm Wanted" along with my special brand of cover material my fans have come to expect.  
From American Idol to a Broadway Performer with solo shows along the way; you have traveled a very diverse path in your career.  What are some of the best memories you have from all that you have done these past 15 years?
It's always wonderful to get to travel the world with your work especially when you love it… from tours of Southeast Asia to Australia… From Vancouver to Toronto, South America and back again… It's been a hell of a ride so far.  Nothing has been more rewarding than being the father to my daughter, Malena James.  So grateful she gets to grow up in a diverse world with so much love and music around her.  Keep on truckin'!
You are in the process of recording a new CD/album. What are some of the challenges you have faced or are facing?
Actually it's been a very enjoyable process experiencing my first crowd fund effort… And we are really excited about the work on the project… Lots of new material and we are making a lot of progress.  I'm very proud of the work on the record so far.  
Tell us about your selections for the new CD.
Songs mainly ; ) ..A love letter to rock n roll and the ones that tried to brake me but more importantly the ones that held me up. 
Fill in the blank: The part of me that is most Jersey is __________
Yanks, Giants, Jovi, Asbury 
What are you working on or planning for the next few months?
Actually these last two years have probably been my most diverse in decades… From touring with Steven Adler of guns and roses… Postmodern Jukebox… Rocktopia… And tons of solo shows I keep it pretty varied and diverse… I'm on two movies that shoot later this summer and fall… Will be finishing up the album… Doing some solo dates all the while being a soccer dad to my eight-year-old… So not much at all ; ) 
---
About the Show at Avenel Performing Arts Center
Constantine Maroulis will perform at the Avenel Performing Arts Center at 2:00 p.m. and 8:00 p.m. Saturday, June 15, 2019. Tickets are available through the website for Avenel PAC or from their Box Office right at their site.
Avenel Performing Arts Center is located at 150 Avenel Street, Avenel, New Jersey.
---
Let's Go to the Theater helps people learn more about about live theater and develop appreciation for this art form. Karen M. Nowosad is the founder of the site. The enjoyment Karen gets from going to the theater is something she wants to share with others.
---