By Spotlight Central
originally published: 06/04/2019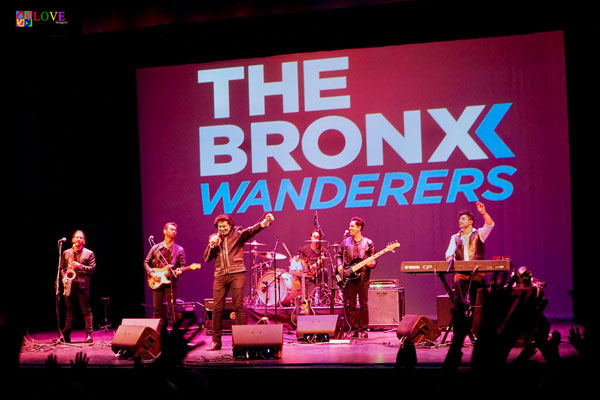 The Bronx Wanderers are in the house this Sunday, May 19, 2019 afternoon at Toms River, NJ's Grunin Center for the Arts. On this — the first of two sold-out shows on a single day — the group is poised to entertain the Jersey crowd with an appealing selection of tunes ranging from the 1950s all the way to the present day.
The Bronx Wanderers is comprised of a father, Vinny Sr., on lead vocals; his son, Vin A., on keyboards and guitar; and his other son, drummer Nicky "Stix." Because Nicky just became a father himself last week, Vinny Sr.'s nephew, Alex, is filling in with the band tonight on drums.
Rounding out The Wanderers are three of Vin A. and Nicholas' high school friends — David Braun on guitar, Joe Bari on sax, and Fernando Tort on bass.
According to Vinny Sr., even though he grew up in the Bronx — where, over the years, he became friends with such famous local residents as Chazz Palminteri, Danny Aiello, and Tony Orlando — once he was older, he decided to cross the river and raise his family in Demarest, located in nearby Bergen County, New Jersey.
Says Vinny Sr. about having such a personal connection to New Jersey, "Hey… New Jersey is my home!"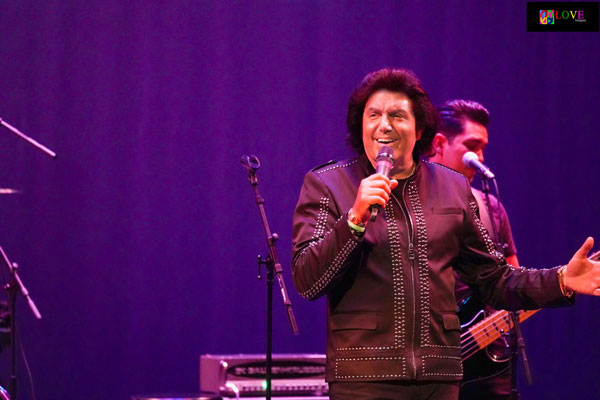 ---
The article continues after this ad
---
---
As a young man, Vinny Sr. had dreams of making it big in show business as a professional musician. After talking to several music industry experts in New York City, however, he decided to put his dreams on hold and create a career as a record producer, label executive, and music publisher.
After 35 successful years working with the likes of Jim Croce, Alabama, Reba McEntire, and The Spinners, Vinny Sr. put together a rock and roll band featuring his teenage sons. Since then, the group has gone on to perform in venues across the country. As of the last three years, however, they've earned themselves a steady gig performing in a Las Vegas, Nevada, casino.
According to Vinny Sr., he maintains a personal connection to every song he and the boys perform in their shows. As such, it's no surprise they open this afternoon's Grunin Center show with "The Wanderer" and "I Wonder Why," both hits by Dion — the individual who introduced Vinny Sr. to the NYC music producers who originally made him a music executive.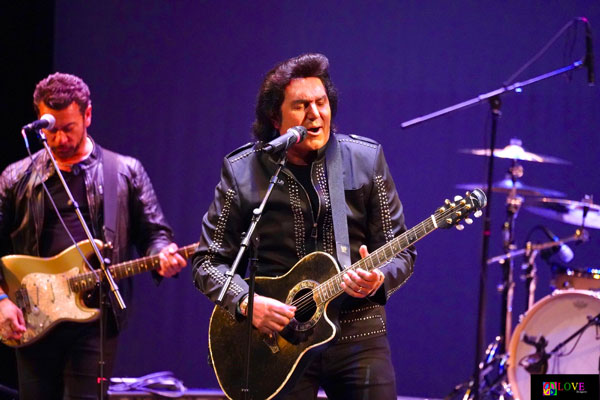 Vinnie Sr. and the group perform Dion's tunes with all of the energy one might expect for a band which — over the course of their hundreds of shows every year — keeps the flame alive for the music of the '50s, '60s, and beyond.
Next, the audience is treated to a very special surprise when Vinny Sr. introduces Joe Long — bass player for The Four Seasons from 1965 to 1975 — who happens to be in the audience.
One of many highlights of the afternoon follows when The Wanderers expertly perform a tribute to The Four Seasons which includes a medley of the group's hits, "Save it for Me," "Rag Doll," "Walk Like a Man," "Dawn," and "Who Loves You," as images from the early '60s flash on the screen behind them.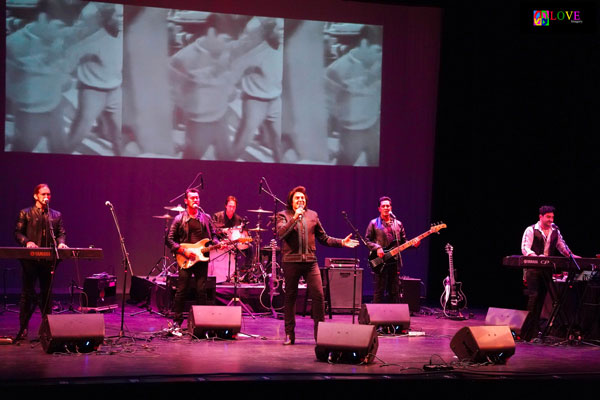 The good vibes of the music fill the auditorium as the audience cheers and applauds and several women happily begin to dance in the aisles.
"It's great to be home in New Jersey! Wow, how is everyone?" asks Vinny Sr. "It's been three years we've been away," before explaining, "We went to Las Vegas where we play six days a week at the Mat Franco Theater at the Linq."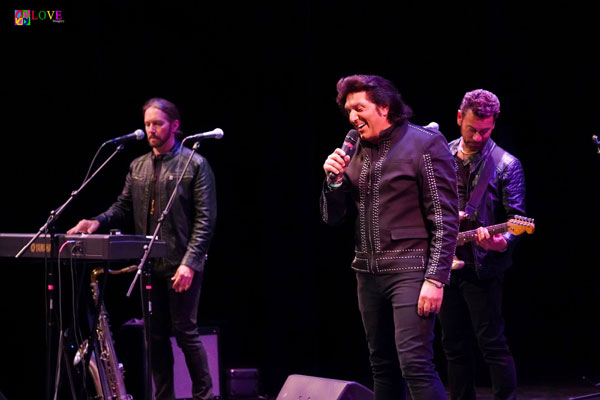 Here, the band launches into yet another highlight of the show — The Bronx Wanderers' treatment of Billy Joel's "Scenes from an Italian Restaurant."
On this rendition, Vin A. handles the lead vocal and keyboard parts.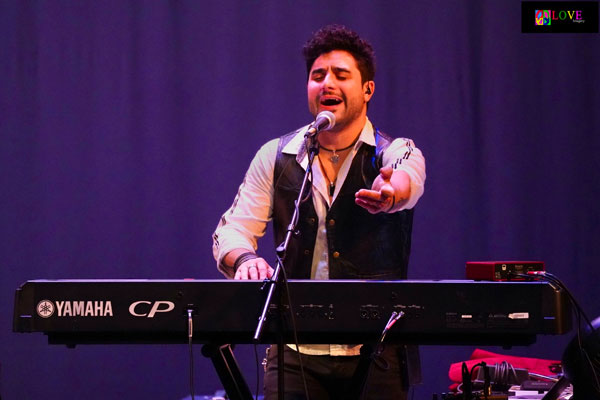 He's supported by Joe Bari's smooth and mellow saxophone playing, along with David Braun's lead guitar talents.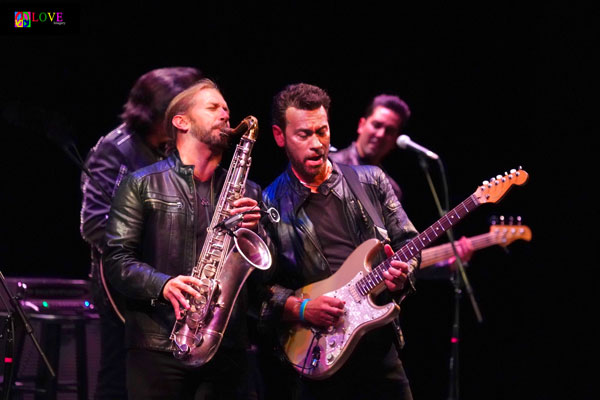 Cousin Alex twirls his sticks as he solidly keeps the beat. The audience responds by standing and cheering for the group's top-notch performance.
After inviting the audience to sing along, The Wanderers perform Neil Diamond's "Sweet Caroline." Audience members' hands sway back and forth as they join in singing the famous "Sweet Caroline/Good times never seemed so good" chorus. After Vinny Sr. exclaims, "You guys are doing great! You having a good time? Let's get loud!" the crowd ramps things up and even more audience members get out of their seats to dance.
Vin A. takes the spotlight center stage when he is featured on lead vocal and guitar on Stray Cats' "Rock This Town."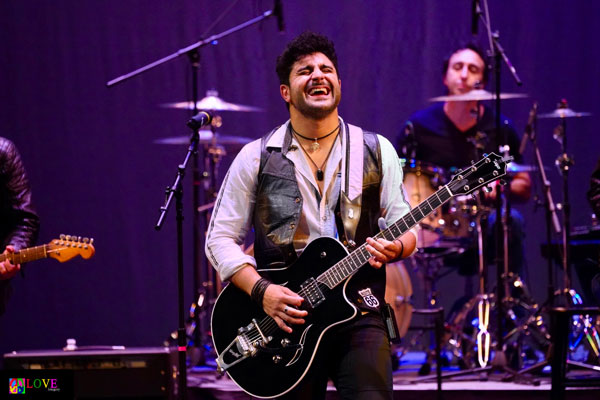 Heads bop and hands clap on this rockabilly hit which elicits cheers for his and the band's electric performance.
After Vinny Sr. tells the audience, "When we're touring, I get to do songs I don't do in Vegas," he and the group launch into their version of Dion's "Teenager in Love."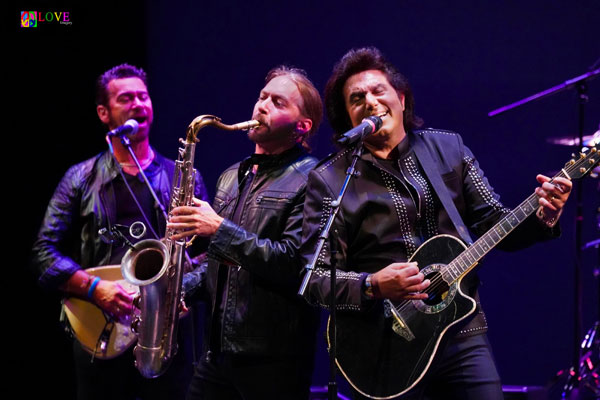 Whereas some audience members spontaneously sing lead with Vinny Sr., others join in singing backup with the rest of the musicians in the band.
"You guys are great!" exclaims Vinny Sr.
Vinny Sr. asks all of the Vietnam veterans in the audience to stand up. After additionally recognizing the first responders, EMTs, doctors, nurses, and teachers in the house, he dedicates the group's next song to all veterans.
As a video featuring a variety of images from the late 1960s plays on the screen behind them, The Wanderers perform a medley of The Animals' "We Gotta Get Out of This Place" and Creedence Clearwater Revival's "Fortunate Son."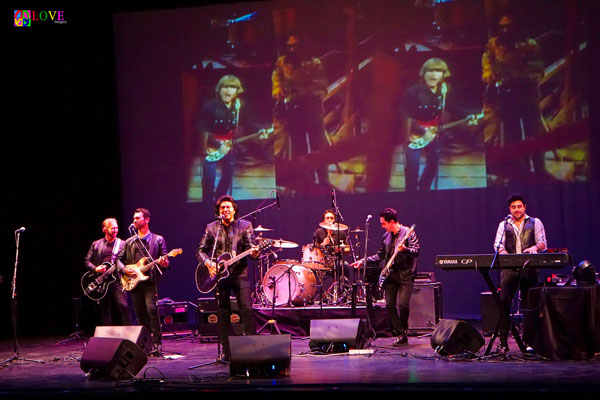 Wailing guitars, along with the groove of the music, make audience members bop their heads as they sing along and clap double time to the band's high energy arrangement.
The Bronx Wanderers follow up with an audience-pleasing medley of surf tunes including The Surfaris' "Wipe Out," and The Ventures' "Theme from Hawaii Five–0" and "Walk Don't Run." On this instrumental medley, Vinny Sr. turns the spotlight over to the youngsters and plays the part of "proud papa" as his "boys" — notably saxophonist Joe Bari — rock the house to the fascinated crowd.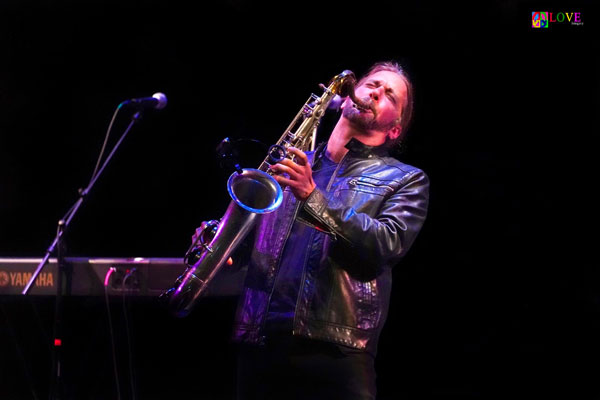 Following Vinny Sr.'s rendition of Jay and The Americans' "Cara Mia," the group gives one of its most impressive performances of the afternoon — a stunning live version of Queen's "Bohemian Rhapsody."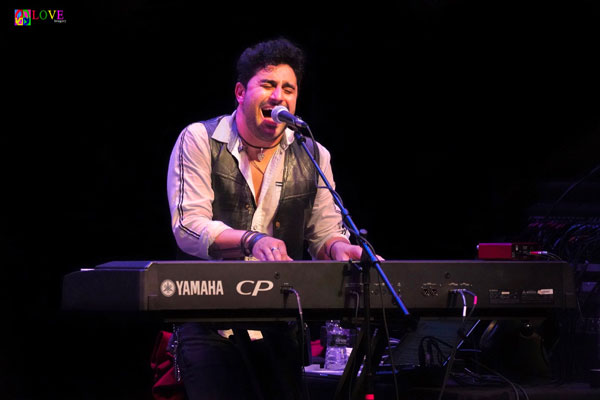 Featuring Vin A. on lead vocal and piano, the rendition is so perfectly brought to life, it immediately brings the dazzled audience to its feet.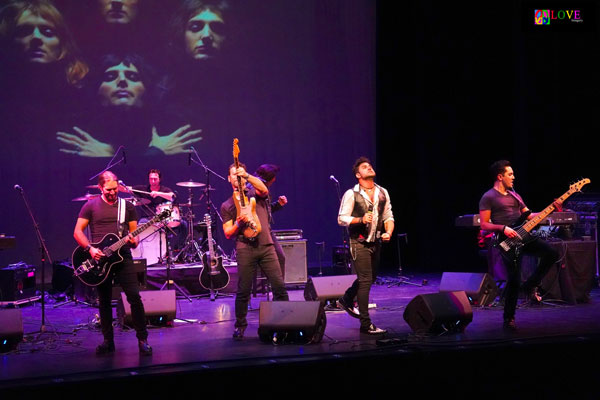 After Vinny Sr. announces, "Once a night, the 'boys' get to do something without me," the younger members of the band launch into a raucous version of the Mark Ronson/Bruno Mars hit, "Uptown Funk."
Featuring Vin A. all decked out in his red jacket — accompanied on bass and vocals by Fernando Tort — the group's energetic performance thoroughly entertains the sold-out house.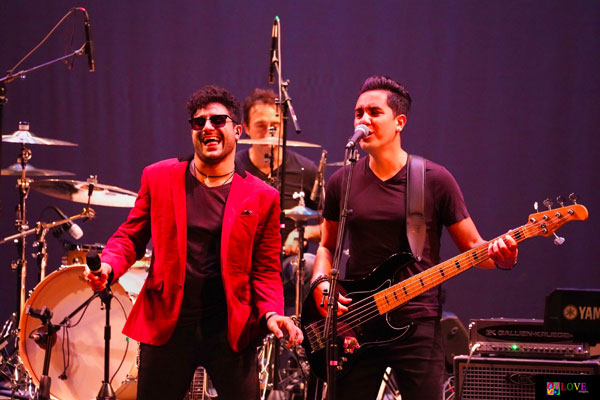 Vin A. dances around while he sings and Fernando gets the crowd clapping along before the audience joins in singing and dancing in the aisles and at their seats to the group's upbeat and funky performance.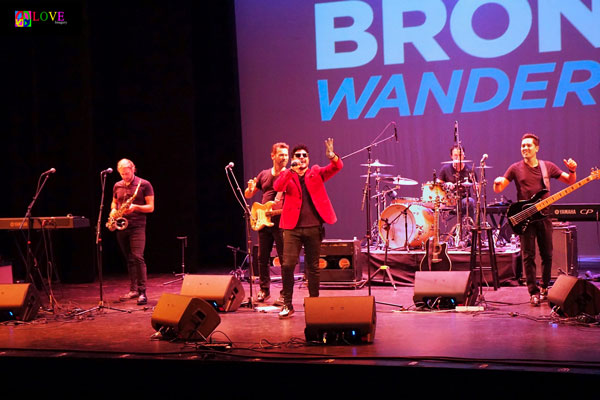 Vinny Sr. follows up with his tribute to Elvis Presley, "If I Can Dream." As images of Elvis appear on the screen, Vinny Sr. sings a duet with Elvis' pre-recorded voice.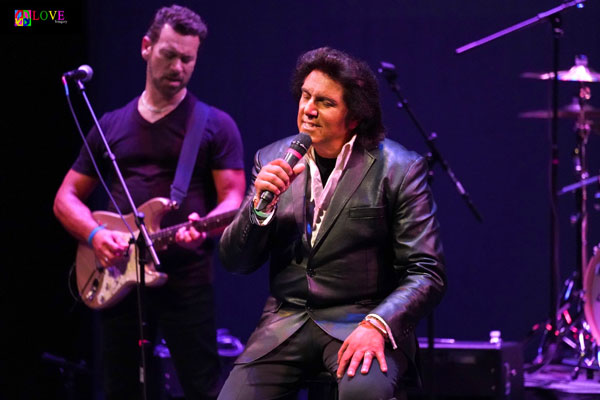 The number ends with Vinny Sr. announcing, "Welcome to my dream come true," before thanking everyone in the audience for coming, exclaiming, "There's nothing better than playing at home!"
After adding, "For 15 years, I've been criss-crossing the USA in a van with my sons and band to build a group that plays in Vegas now," Vinny Sr. advises, "If you have a goal or dream, never give up hope — never stop believing."
The group changes into sharp blue blazers before their next highlight performance. Here, heads bop and audience members sing and dance along to the feel-good music of a second Four Seasons' medley featuring "Sherry," "Don't Worry About Me," "Let's Hang On," and "Bye Bye Baby."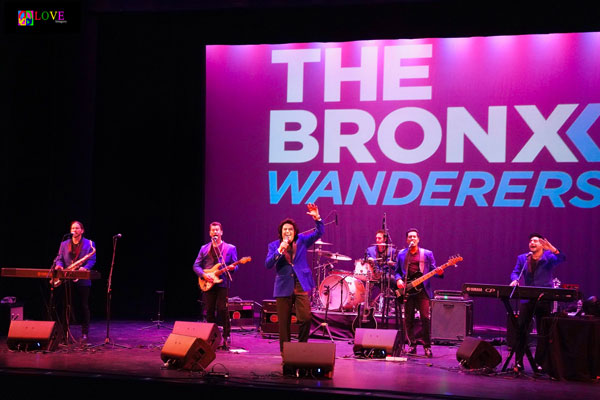 Audience members cheer, and fans dance in the aisles to an electrifying medley of Queen's "We Will Rock You" and "We Are the Champions."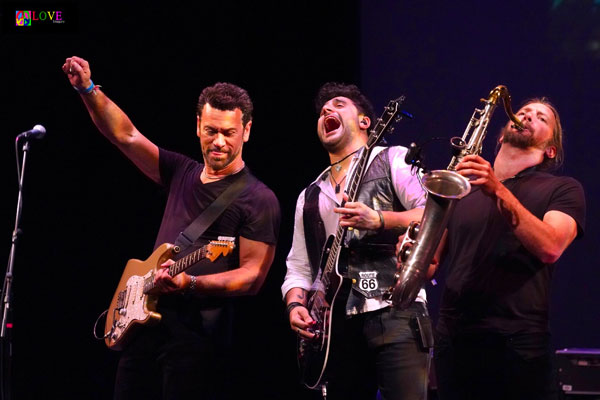 Lastly, as scenes from the film, Back to the Future, play on the screen, The Bronx Wanderers rock out to Chuck Berry's "Johnny B. Goode."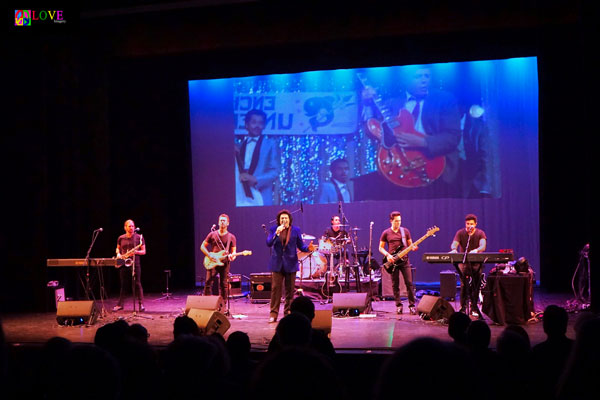 After Vinny Sr. announces, "We had a ball!" the group concludes today's show with a high-energy recreation of The Beatles' "The End."
While the group members wave goodbye as they exit the stage, the audience cheers for its hometown heroes — The Bronx Wanderers.
As members of the audience make their way out of the auditorium, we chat with several in attendance today who share their reactions to this afternoon's show.
First, we chat with a group of four concertgoers from Manchester.
States Leslie, "It was awesome — just incredible!" before Rosemary agrees, commenting "I've seen them three times and I could see them again. When is their next show?"
Whereas Lydia remarks, "They were fantastic — irresistible — just wonderful!" Peter concurs before noting, "But the main thing is, they have talent!"
Next, we chat with two friends, Barbara and Joanne, who are here to see both Bronx Wanderers' concerts today at the Grunin Center.
Recounts Barbara from Easton PA, "I never saw The Bronx Wanderers in Las Vegas, but I did see them on Long Island. Their music is from my era. Their energy is outrageous, and the fact that they're a family makes them even more appealing to me."
Joanne from Montvale — who is proudly wearing her Bronx Wanderers T-shirt — says, "I first saw them about eight or nine years ago, and I've been hooked ever since." Adding, "We even went to Vegas to see them," Joanne explains, "I love the way Vinny Sr. tells stories between the songs, and I love how he appreciates everyone. In fact, when we were in Vegas, he recognized my shirt and gave me a thumbs up!"
We also chat with Mary Ellen from Long Beach, NY, who exclaims, "The Bronx Wanderers are awesome — they play happy music!"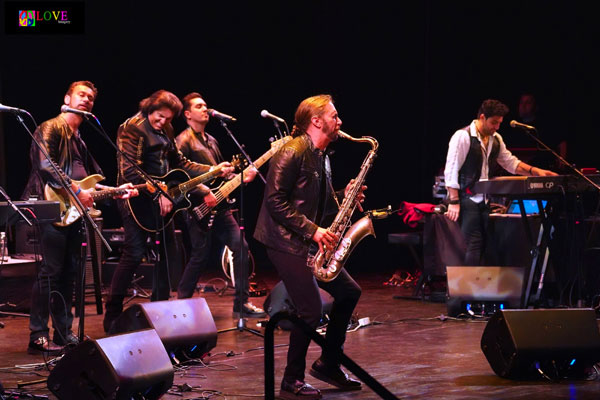 Acknowledging, "I was a part of the group dancing in the aisles," Mary Ellen explains, "There are about nine of us in the group. Vinny calls us 'The Jersey Girls.' We recently went to Vegas to see the band," before noting, "And now we have friends from Las Vegas who are visiting us here, and they came with us to see The Bronx Wanderers today in Jersey."
Lastly, we chat with Joe Long, the former member of The Four Seasons, who comments about today's performance by The Bronx Wanderers declaring, "It's always a treat, a tribute, and an honor to have our Jersey Boys' songs played, but I have to say that last group of Four Seasons' songs was my favorite!"
Adding, "The Bronx Wanderers are a phenomenal group," Long concludes by joking, "They're just a little boring — because they're always so good!"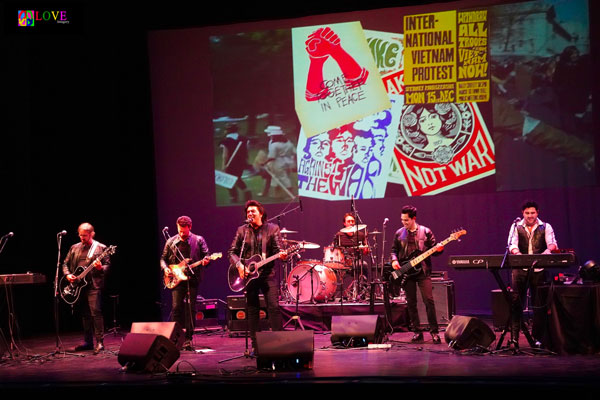 To learn more about The Bronx Wanderers, please go to bronxwanderers.com. For information on upcoming programming at the Grunin Center for the Arts — including The Basement Musicians: A Walk Down Memory Lane on June 29 and Rufus Wainwright on August 23 — please go to grunincenter.org.
Photos by Love Imagery
Spotlight Central. Your source for Jersey entertainment news and reviews
Love Imagery Fine Art Photography. all you need. peace/love/flower/power