originally published: 05/22/2019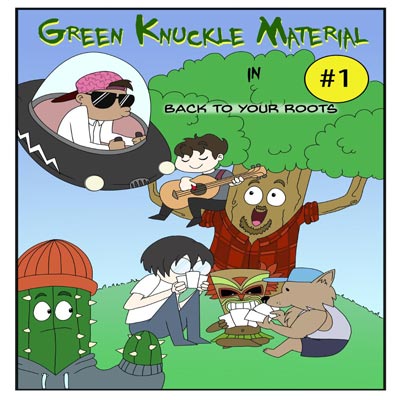 Green Knuckle Material, a hard-working groove-rock/hip-hop band with roots in North, Central and South Jersey, will celebrate the release of their new EP, a re-recording of three songs from their 2016 "Back to Your Roots" debut, and an accompanying comic book on May 25 at Debonair Music Hall with Jean Pool, Tula Vera and Olive & the Pitz. ILLUSTRATION BY BROOK WATERWRITER
Green Knuckle Material deliver much more edge and chops on re-recordings of three songs from their 2016 debut EP, "Back to Your Roots."

Back in 2016, a young reggae-rockin' groove/hip-hop band reached out to me to review their EP, "Back to Your Roots." I gave it a nice review and offered the band a spot at my Super Bowl of Jersey Bands, a precursor of the annual Makin Waves Jam 'n' Groove Fest. But they had to drop due to lineup changes that they weren't ready to present live. 
Well, that lineup sure has made up for the absence with an edge and chops that can be heard on a beefed up, yet slimmed down re-release of "Back to Your Roots," featuring completely re-recorded versions of three of the original tracks: "Childhood," "Rebels on the Run," and "Go that Way." I especially like "Rebels on the Run" with its guest co-lead vocal by Jenna Rose, founding bassist Daniel Ravenda's sister. She too somehow managed to improve upon her already great vocals. I hope she appears with band on the more than two dozen shows they will be playing this summer on three different tours. 
The three-week Back to Your Roots Tour kicks off on May 25 at Debonair Music Hall in Teaneck with a celebration of the release of the new EP, as well as an accompanying comic book. Jean Pool, Tula Vera and Olive & the Pitz will help them celebrate. The tour will continue with a house show on May 31 in Forked River, two shows in Virginia, and a spot on June 13 at Bumpin' Uglies' Weekend at Wolfie's festival in Bedford, Pa. After a date on June 14 at Willie McBride's in Hoboken, Green Knuckle Material will present their own Bayville V Music Festival on June 15 with Experiment 34, Boy Blue, MAPS, Recess, Jared Knapik, A Boy Named John, 81 Rich, and Sonoa.
Then Green Knuckle will open for Tropidelic June 19 at Stanhope House, for Good Charlotte June 27 at Starland Ballroom in Sayreville, and for Badfish July 2 at Jenks in Point Pleasant Beach. And then they will partake in parts of a seven-date Mid-Atlantic summer tour organized by Garden State Hip Hop and Makin Waves with contributions on July 12 at an Asbury Park venue to be announced, July 14 at FM Bar in Jersey City and July 21 at Blackthorn in New Brunswick. Look for a Makin Waves interview in early June, which will feature details of their third tour in as many months, as well as an October headlining date at The Stone Pony, where they won the most recent Rock to the Top finals in March.
The EP follows their latest single, "Queen of Dragons," a groove-ladened ode to "Game of Thrones" late, great Daenerys Targaryen and the Makin Waves Song of the Week at AsburyMusic.com, as well on Makin Waves' Spotify & YouTube playlists. "Queen of Dragons" will be featured on an album to be released by year's end.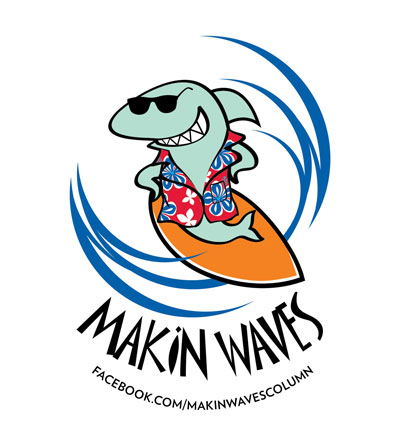 Bob Makin is the reporter for MyCentralJersey.com/entertainment and a former managing editor of The Aquarian Weekly, which launched this column in 1988. Contact him at makinwaves64@yahoo.com. And like Makin Waves at www.facebook.com/makinwavescolumn.