originally published: 05/21/2019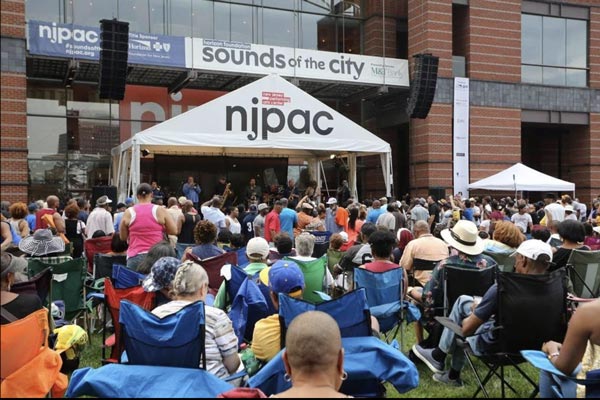 (NEWARK, NJ) -- The hottest summer scene in Newark for live music and electrifying dance parties under the stars returns on July 11 with the Horizon Foundation Sounds of the City series of FREE outdoor concerts at the New Jersey Performing Arts Center (NJPAC).  Held on Thursday evenings in July and August, the eight festive events engage thousands of music lovers from throughout Greater Newark with performances by headline musicians, a dance floor, an artisans' marketplace, a fleet of food trucks, and an al fresco bar.
When audiences gather at NJPAC's Chambers Plaza, they expect to hear some of the most diverse artists and bands in the metro area, and this year is no different.
"Rap, urban contemporary gospel, blues, reggae, salsa, roots, R&B, funk … and these are just some of the genres that come immediately to mind," said NJPAC Executive Vice President and Executive Producer David Rodriguez, describing the range of music as one of the most diverse the Arts Center has programmed for a two-month span.
"To single out one evening, 'Newark Salutes Its Own' on July 18, the audience will enjoy hearing various musical styles, but also experience other lively arts at this inaugural celebration of local emerging performers," he added.
---
The article continues after this ad
---
---
The concerts, scheduled from 5:00pm to 9:00pm, start on July 11 with WBGO-FM DJ Felix Hernandez's "Rhythm Revue Dance Party" and conclude on August 29 with Newark rap unit Lords of the Underground.
The Horizon Foundation for New Jersey is the charitable arm of Newark-based Horizon Blue Cross Blue Shield of New Jersey.
"Horizon is pleased to bring another summer of free outdoor concerts to diverse audiences who flock to NJPAC's outdoor plaza for world-class musical entertainment," said Kevin P. Conlin, Chairman & CEO of Horizon Blue Cross Blue Shield of New Jersey and a member of NJPAC's Board of Directors. "As a corporate citizen of Newark for more than eight and a half decades, Horizon is proud to move in rhythm with the city and support a downtown concert series that brings communities and residents together."
The Horizon Foundation Sounds of the City concert series is made possible through a special collaboration of NJPAC, The Horizon Foundation for New Jersey and generous sponsors RWJBarnabas Health, Mars Wrigley Confectionery,  Whole Foods Market and Tito's Handmade Vodka.
NJPAC's in-house restaurant, Nico Kitchen + Bar, will be open during performances. In the event of inclement weather, scheduling advisories may be found at njpac.org.

 
---
HORIZON FOUNDATION SOUNDS OF THE CITY 2019

All concerts take place on Thursdays from 5:00pm to 9:00pm

 

JULY 11 - Felix Hernandez's "Rhythm Revue Dance Party"

Kick off the summer when NJPAC welcomes back the popular live version of the metro area's first and longest-running radio show dedicated to spinning classic soul and R&B. DJ Felix Hernandez and his "Rhythm Revue" have been broadcast by WBGO Jazz 88.3FM, WBLS-FM, 98.7 KISS-FM, and Sirius XM.

 
JULY 18 - "Newark Salutes Its Own"

Catch the stars of tomorrow today at this showcase of local talent. The city's cutting-edge artists and bands perform musical stylings from R&B and Latin to hip hop and funk.

 
JULY 25 - The Wailers' Julian Junior Marvin

Also appearing: The Alchemystics (reggae/hip hop)

Jamaican-born blues-rock guitarist and vocalist Julian Junior Marvin is known for a style as innovative as it is expressive. A member of Bob Marley & The Wailers from 1977 until Marley's passing in 1981, Marvin later released four CDs with The Wailers Band, as well as a number of solo projects. As frontman for the current Wailers band, Marvin and company play songs made popular by Marley, performed the way they were meant to be heard.

 
AUGUST 1 - New Power Generation featuring the music of Prince

Also appearing: Singer and songwriter Angela Johnson

 New Power Generation, Prince's backing band through the 1990s and 2000s, reunites for this tribute to the late superstar's epic body of work. Spearheaded by keyboardist Morris Hayes (who also served as Prince's musical director for many years), the re-formed New Power Generation features many members of the original band, joined by charismatic vocalist Mackenzie. Their performance is a high-energy musical kaleidoscope that pays tribute to Prince's biggest hits, including songs like "Diamonds and Pearls," "1999," "Let's Go Crazy," "Pop Life," "Purple Rain," "Kiss," and more.

 
AUGUST 8 - Charlie Cruz

Also appearing: 3D Rhythm of Life (Latin/tropical soul band)

One of the fastest rising stars in salsa music, vocalist Charlie Cruz was born in Puerto Rico and spent his teenage years in Paterson, where he first grew to love salsa. As a young performer, he spent two years in Puerto Rico honing his skills as a vocalist in the Domingo Quiñones Orchestra. Soon after, he shared a stage with Gilberto Santa Rosa, Victor Manuelle and Tito Nieves. That concert led to a contract with Sir George Records, where Cruz has produced a string of hit singles, including "Bombon de Azucar," "Amarte es un Problema" and "Déjala que Baile." His latest album is Tu Con El.

 
AUGUST 15 - "A Night of Inspiration" with The Walls Group & The String Queens

Presented by NJPAC in association with Chew Entertainment, "A Night of Inspiration" is an evening of sublimely moving music that brings together two top acts: The Texas-based Walls Group, composed of four charismatic, supremely talented siblings who specialize in urban contemporary gospel, and the Washington, D.C.-based String Queens, a dynamic, all-female string trio known for a diverse repertoire that moves freely from the Baroque era to the Jazz Age to today's Billboard Hot 100 Chart.

 
AUGUST 22 - The Davell Crawford Movement

Also appearing: The VooDUDES (Zydeco/rock/blues/country)

An evening of American roots music, courtesy of acclaimed New Orleans pianist Davell Crawford and his band. Crawford is one of the most durable artists on the contemporary Crescent City music scene and a leading ambassador of the New Orleans piano legacy. Known for his work in American roots music – which includes gospel, traditional jazz, country, funk and R&B – Crawford's keyboard prowess has taken him to many of the world's greatest clubs, performance halls and jazz festivals.

 
AUGUST 29 - Lords of the Underground

Also appearing: DJ Wallah (HOT 97) and students of NJPAC's Hip Hop Intensive

Newark's own Lords of the Underground – the chart-topping rap trio of Bruce Anthony Colston (aka DJ Lord Jazz), Dupré Kelly (DoItAll), and Al'Terik Wardrick (Mr. Funke) – first broke onto the music scene with their 1993 debut LP, "Here Come the Lords." That album went platinum and turned the Lords into one of rap's best-selling units. The group went on to sell over 5 million albums worldwide, and to release five No. 1 singles on the Billboard Rap Chart, including classics like "Psycho," "Chief Rocka," "Funky Child" and "Tic Toc."
---
New Jersey Performing Arts Center (NJPAC), located at One Center Street in Newark, New Jersey., is America's most diverse performing arts center, and the artistic, cultural, educational and civic center of New Jersey – where great performances and events enhance and transform lives every day. NJPAC brings diverse communities together, providing access to all and showcasing the state's and the world's best artists while acting as a leading catalyst in the revitalization of its home city. Through its extensive Arts Education programs, NJPAC is shaping the next generation of artists and arts enthusiasts. NJPAC has attracted nearly 10 million visitors (including over 1.7 million children) since opening its doors in 1997, and nurtures meaningful and lasting relationships with each of its constituents.