originally published: 05/14/2019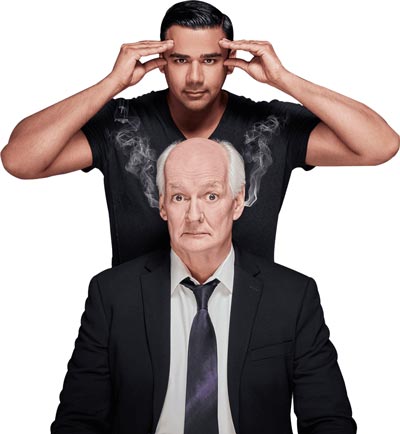 (NEWTON, NJ) -- From the minds of improv and comedy legend Colin Mochrie and Master Hypnotist Asad Mecci comes a brand new, mind-blowing, jaw-dropping, side-splitting show. Hypnosis and Improv -- two art forms that have mystified and entertained fans, skeptics and everyone in between for decades worldwide – come together as two masters of their crafts unite for a totally unique comedy experience, HYPROV: Improv Under Hypnosis. The show comes to The Newton Theatre on Thursday, October 10 at 7:30pm.
How it Works: Twenty random volunteers from the audience will be put under hypnosis by Master Hypnotist Asad Mecci (the process of which is a show in its own right), their inhibitions evaporated and their minds no longer their own. The contestants are methodically and hysterically whittled down until the five best are left on stage when one of the world's leading improvisers enters! Co-Creator Colin Mochrie takes the stage to improvise with the top five while they are still under hypnosis, turning the show into an improv extravaganza!
In the hands of two masters, and solely crafted from the audience's uninhibited subconscious, this will be an entirely original and completely unforgettable theatrical experience, for who knows where the unconscious mind will go...
One of the most prolific improvisers in the world, Mochrie is best known as one of the stars of both the British and U.S. TV shows, "Whose Line Is It Anyway?", currently in its 4th season on the CW Network.  Mochrie has toured the world with fellow Whoser Brad Sherwoord for the past 12 years.
A Master Hypnotist, Mecci has performed on Entertainment Tonight, MTV, Maxim Online, HGTV, and has been written about in the NY Times, the Huffington Post and Maxim Magazine.  When he is not performing on stage, Mecci uses hypnosis to help people lose weight, reduce stress and achieve peak performance. 
---
The article continues after this ad
---
---
The Newton Theatre is located at 234 Spring Street in Newton, New Jersey.  Tickets start at $49 and are available for purchase at The Newton Theatre box office, online at www.TheNewtonTheatre.com, or by calling 973-940-NEWT.