originally published: 05/13/2019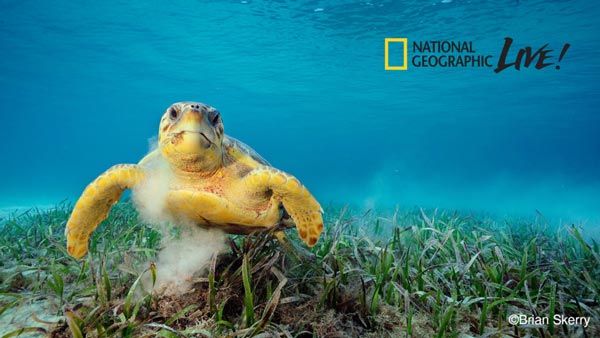 (TOMS RIVER, NJ) -- National Geographic Live, National Geographic's touring speaker series, and Jay and Linda Grunin Center for the Arts at Ocean County College are proud to announce "Ocean Soul" with Brian Skerry, a National Geographic Photography Fellow and renowned underwater photographer. The event will take place on Thursday, June 6, 2019 at 7:00pm in the Grunin Center.  
Growing up in a small, working-class town, Brian Skerry dreamed of exploring the oceans and becoming a National Geographic photographer. Today, Skerry is one of the leading underwater photographers in the world.
Since 1998, Skerry has covered a wide range of stories for National Geographic, documenting the harp seal's struggle to survive in frozen waters, the alarming decrease in the world's fisheries, the planet's last remaining pristine coral reefs, the plight of the right whale, and threatened sharks in the Bahamas, to name a few. His images celebrate the mystery of the depths and offer portraits of creatures so intimate they sometimes appear to have been shot in a studio. Skerry dives eight months of the year, often in extreme conditions beneath Arctic ice or in predator-infested waters, and has even lived at the bottom of the sea to get close to his subjects. He has emerged as a leading voice for marine conservation.
In 2017, National Geographic Books published SHARK, a collection of some of Skerry's most breathtaking shark images throughout his career. Skerry's powerful presentations showcase award-winning imagery and thrilling wildlife encounters, inspire reverence for the marine realm, and offer hope for protecting the vitality of the world's oceans.
National Geographic Live is the live events division of National Geographic. With a broad roster of talent including renowned photographers, scientists, authors, filmmakers and adventurers, National Geographic Live's critically acclaimed programs have connected with audiences worldwide for over a century. Currently, National Geographic Live events are held in a variety of cities around the world, including, Seattle, Tampa, Los Angeles, and Calgary. In each of these cities, speakers share behind-the-scenes stories from the front lines of exploration onstage alongside stunning imagery and gripping footage.  
---
The article continues after this ad
---
---
For tickets and information, please call 732-255-0500 or visit grunincenter.org. 
The Jay and Linda Grunin Center for the Arts, located on the campus of Ocean County College in Toms River, is a performing arts center dedicated to providing art and entertainment to Ocean County and the Jersey Shore. Featuring premiere acts from across the globe, the Grunin Center's intimate venue allows patrons to experience once-in-a-lifetime from venerated artists, hometown musicians, and unique entertainers. Music performances of all genres, theatre, film, and dance make their way to the Grunin Center stage each season. The Grunin Center is also the home to young performers from various educational performing arts organizations, including Ocean County College students from the performing arts and fine arts programs, and the Ocean County and NJ State Teen Arts Festivals.