By Spotlight Central
originally published: 05/10/2019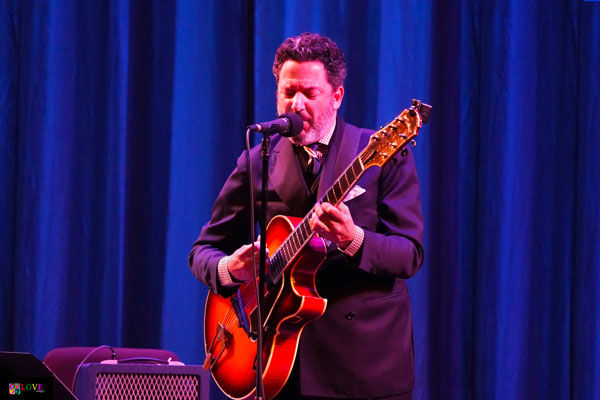 The sold-out audience at Toms River, NJ's Grunin Center of the Arts this Friday, April 24, 2019 anxiously awaits a tribute performance by virtuoso jazz guitarist John Pizzarelli entitled For Centennial Reasons:100 Years Salute to Nat King Cole.
Pizzarelli was born in Paterson, NJ. He started guitar lessons when he was six, but also played trumpet throughout his college years. As the son of jazz guitar great, Bucky Pizzarelli, while still a teenager, John had the experience of performing with the likes of Benny Goodman, Clark Terry, and Les Paul. With a trio he founded with his brother, Martin, John spent time in the 1990s as the opening act for Frank Sinatra.
Appearing on over 40 albums by such celebrated artists as Paul McCartney, James Taylor, The Manhattan Transfer, and more, Pizzarelli has recorded over 20 solo albums including Our Love is Here to Stay, Dear Mr. Sinatra, and Midnight McCartney, not to mention his latest effort, 2019's For Centennial Reasons: 100 Years Salute to Nat King Cole.
Pizzarelli's dad, Bucky, had the distinction of recording in the studio with Nat King Cole, a singer introduced on TV's The Jack Benny Show as "the best friend a song ever had." Cole first came to prominence as a piano player. Revealing, "I started out to become a jazz pianist; in the meantime, I started singing and I sang the way I felt and that's just the way it came out," Cole became renowned for his smooth baritone voice. He performed in jazz and big band settings, and ultimately became a major force in popular music for decades.
Cole hosted a national television show, The Nat King Cole Show, and also achieved great success on the music charts with hits like "Unforgettable," "The Christmas Song," "Mona Lisa," "When I Fall in Love," "Straighten Up and Fly Right," and many more.
---
The article continues after this ad
---
---
At the Grunin Center, the stage is set with a grand piano, an upright bass, a guitar amp placed on a chair, and a microphone positioned directly in the center.
The lights dim and John Pizzarelli — along with pianist Konrad Paszkudzki and bassist Mike Karn — take the stage to avid audience applause. As they take their places at their respective instruments, a woman in the crowd yells out, "Go, John!" to which Pizzarelli jokes, "We'll get to you in a little bit."
Opening with a Nat King Cole hit from 1965, Pizzarelli and his trio perform "L-O-V-E" with an upbeat flavor. Crooning "Love is all that I can give to you" in his warm and pleasant vocal style, Pizzarelli is perfectly accompanied by his trio on an arrangement which features a lyrical Paskudski piano solo and a coda which concludes with a Karn bass riff.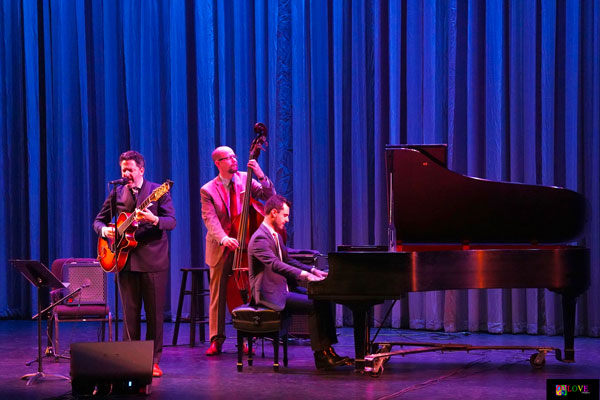 Singing sweetly, Pizzarelli launches into Cole's "Sweet Lorraine." Following a jazzy guitar solo — his fingers impressively flying around the fingerboard — the crowd cheers before Karn takes a bass solo and then walks along with the tune as Pizzarelli performs a scat solo at the end.
The trio follows up with an up-tempo rendition of "Hit That Jive, Jack." After Pizzarelli sings the line, "It's time to hear the piano man," Paskudski impresses with a bluesy bebop piano solo, after which the audience exudes an audible "Whew!" Pizzarelli's foot taps as Karn solos on the bass and then Paskudski echoes Pizzarelli's guitar lines, the trio echoing the sound of a train happily rolling along.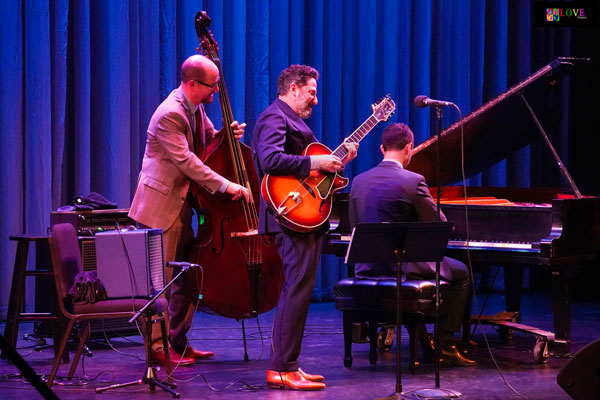 The audience approves of the amalgamation, whistling as they applaud.
After taking a moment to welcome the crowd, Pizzarelli shares some stories about Nat King Cole whose music, he says, "spanned a 20 to 25-year timeframe."
Launching into "Could Ja," Pizzarelli sings, "Could'ya, for an ice cream sundae?/Could'ya, for a smile or two?" as he deftly accompanies himself on his 7-string electric guitar.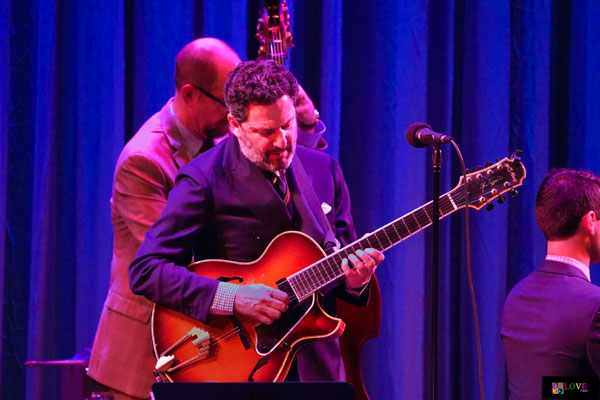 Next, Pizzarelli tells a story about New Orleans songwriter Danny Barker, who wrote the humorous tune, "Save the Bones for Henry Jones." Opening with a jazz guitar lick, Pizzarelli performs the song, singing about a supper where he'll happily "save the bones for Henry Jones, 'cause Henry don't eat no meat." The crowd cheers for this audience pleaser.
Recounting how East Coast songwriter Johnny Mercer "started his own record company in California," Pizzarelli explains how his business — Capitol Records — became "the house that Nat built" due to Cole's prodigious record sales.
Here, he performs the Johnny Mercer standard, "Something's Gotta Give," a song which was recorded by many artists including Fred Astaire, The McGuire Sisters, Sammy Davis, Jr., Mel Torme, Bing Crosby, Frank Sinatra, and Ella Fitzgerald.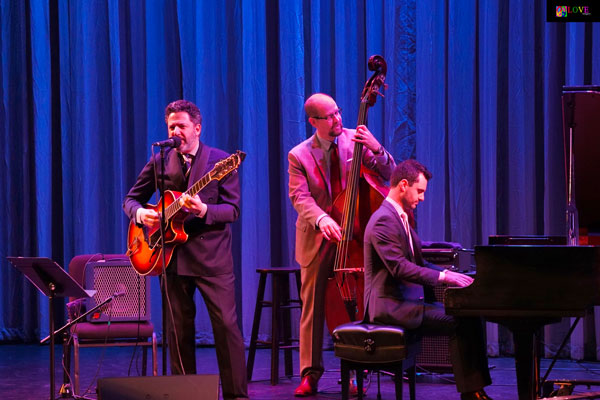 On the trio's performance of the number, Paskudski takes a lyrical piano solo which echoes a riff first presented by Pizzarelli on the guitar.
Moving on to another Mercer composition — one which Pizzarelli describes as "a song about music and football" — the combo performs "Jamboree Jones." On this delightful number, Pizzarelli tells the story about a musician who "played the clarinet with all his might," before going on to inspire his college team to win the Rose Bowl.
Next, Pizzarelli talks about songwriter Eden Ahbez, a "beatnik" who gave an original composition to Nat King Cole who recorded it as the "B-Side" of "Lost April" before a DJ at WNEW Radio in New York listened to it and decided, "That's the hit!"
Here, Pizzarelli performs the tune which went on to sell over two million records — "Nature Boy." Crooning, "There was a boy/A very strange enchanted boy," the audience can hear Pizzarelli's foot quietly tapping as he plays unusual inversions and chord fingerings on his guitar before he concludes with the song's universal message: "The greatest thing you'll ever learn/Is just to love and be loved in return."
Pizzarelli takes a break from the music to talk about his famous father, guitarist Bucky Pizzarelli, announcing, "My dad, Bucky — he's well at 93," before comically imitating his dad's voice asking, "So where ya playin' tonight?"
"I'm playing in Toms River," John responds, and receives chuckles from the crowd when he comically impersonates Bucky's terse reply, "Oh — I played there."
After regaling the audience with stories about his days attending the University of Tampa and NJ's William Paterson College, Pizzarelli informs the crowd that his father suggested he listen to Nat King Cole's music on his "living room hifi" which featured his "Gerard turntable — with four speeds."
Here, Pizzarelli performs a snappy rendition of one of those songs, "It's Only a Paper Moon," his guitar solo capturing the audience member's hearts with his colorful strumming and tapping, his timbre tastefully alternating between a mellow tone and a bright one.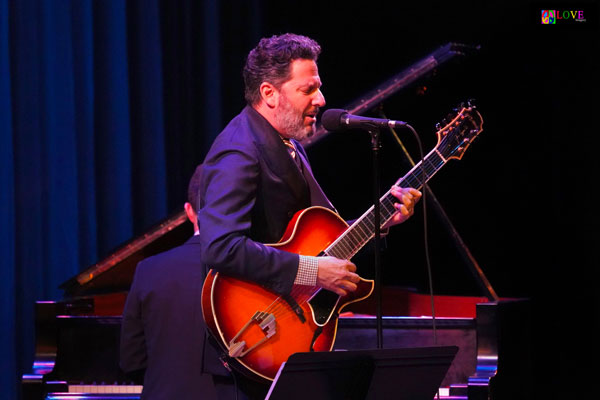 Paskudski starts off his delicate piano solo with the melody from "Bye Bye Blackbird" while Karn keeps the rhythm rolling on the bass before the audience responds to the combo with enthusiastic cheers and applause.
The crowd loves Pizzarelli's performance of "Frim Fram Sauce" where he croons, "I don't want French fried potatoes/Red ripe tomatoes/I'm never satisfied/I want the frim fram sauce with the Ausen fay/With chafafa on the side," the acoustics sounding crisp and clear in the Grunin Center's living-room-like listening environment.
Soft and sweet vocals characterize "I Love You For Sentimental Reasons." Pizzarelli bends the strings on his guitar solo on this lovely ballad and Paskudski plays high on the piano, all three musicians watching and listening to each other as they gracefully end together on the coda.
The group follows up with an original song by Pizzarelli entitled "Nat King Cool." On this number — which borrows the chord progression from "Sweet Georgia Brown" — Pizzarelli and Paskudski play Pizzarelli's original bebop melody in unison.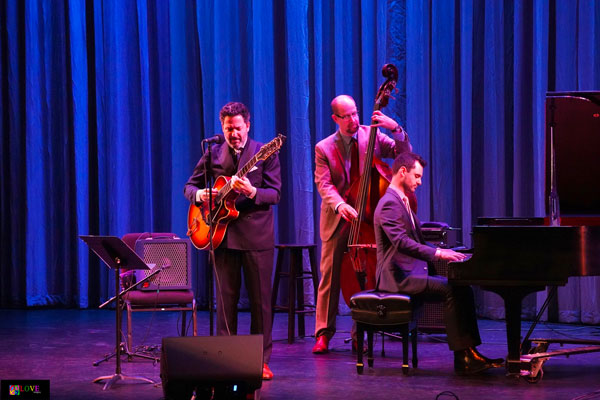 Then, Pizzarelli takes an amazing bebop scat solo where he simultaneously sings and plays his guitar, eliciting large applause. Karn follows up with a bass solo before Pizzarelli and Paskudski play counterpoint solos on this complex and wonderful treat for the ears.
After joking, "There's always a medley," and noting, "These three songs are a joy to hear and experience," with soul and artistry, Pizzarelli and his colleagues artfully perform an arrangement of three Nat King Cole hits — "Mona Lisa," "For All We Know," and "Unforgettable" — bringing many in the crowd back to a time when melody, lyrics, and musicality were the hallmark of American popular songs.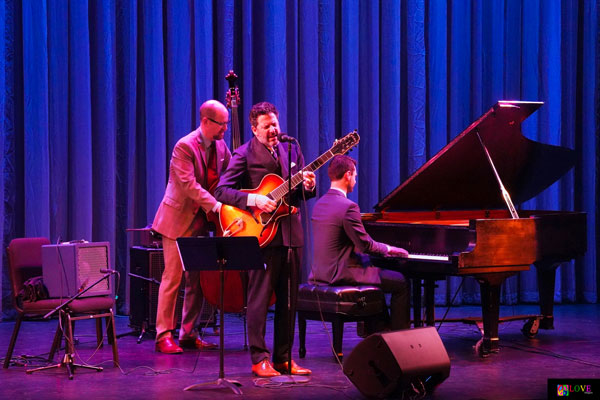 Asking if it would be all right if he performed a number which is not associated with Nat King Cole, the audience happily agrees. Pizzarelli starts by entertaining the crowd with a humorous story about how, in 1986, he and his dad, Bucky, went to perform the song for the State Assembly in Trenton where lawmakers considered making the tune the "state jingle."
According to John, after he and Bucky drove to the capital, Bucky decided he didn't want to pay for parking. Here, John humorously imitates his dad saying, "I'll find a space on the street"— which, as he jokes, turns out to be miles away from the State House.
At this point, he performs the song — his own hit, "I Love Jersey Best" — in the style of a variety of well-known musicians including Paul Simon, Bruce Springsteen, Bob Dylan, The Beach Boys, Johnny Cash, The Bee Gees, Roy Orbison, and many more. The Jersey crowd loves this version of the tune and responds with avid cheers and applause.
After acknowledging the members of his trio, Pizzarelli concludes tonight's concert with Nat King Cole's 1946 hit, "(Get Your Kicks On) Route 66." Vocalizing, "If you ever plan to motor west/Travel my way, take the highway that is best/Get your kicks on Route 66," Pizzarelli and Paskudski follow up with a counterpoint solo as Karn supports them on bass before the audience responds with a well-deserved standing ovation.
After asking "One more?" Pizzarelli and Co. perform an encore of Cole's 1943 hit, "Straighten Up and Fly Right." Scatting as he solos, John and the band swing, ending the show on a perfect high note.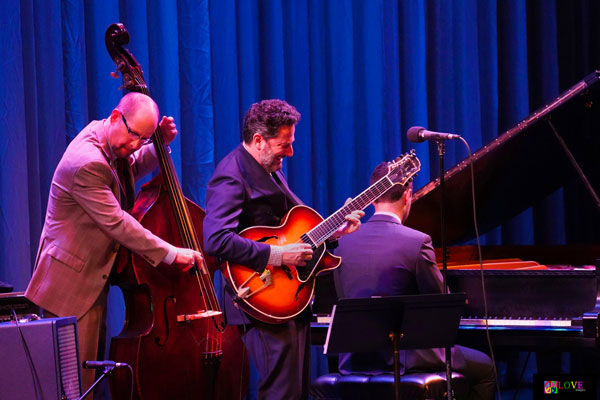 As audience members make their way out of the Grunin Center auditorium, we chat with several music lovers in the crowd who share their opinions of tonight's performance with us.
Comments Irene from Lakewood, "John Pizzarelli was marvelous!" Explaining, "He takes after his father," Irene recalls, "I used to see John when he would open for Frank Sinatra at the Garden State Arts Center," before noting, "I loved that he played Nat King Cole's music — it brought back so many great memories."
Irene's friend, Hilary from Lakewood, agrees adding, "I'd never seen John Pizzarelli, but my friend invited me to come tonight — she thought I would enjoy it, and I did," before exclaiming, "Everybody did!"
Remarks Maria from Manchester, "We've been following John Pizzarelli for many years," recalling, "We used to see him perform at Nobody's Inn in Mahwah where he would play 'I Like Jersey Best' and everyone would throw quarters at the stage like they were paying Parkway tolls."
Continuing, "We still follow him around today, " Maria adds, "We love him — he's just so entertaining!"
Ted from Manchester agrees adding, "We've not only seen him perform with his father, Bucky, but with his brother, Martin, as well," noting, "His stories alone are adorable."
Dave from Toms River contends, "He's a real audience pleaser," explaining, "He has total control of his instrument. The way he scats and plays his guitar at the same time, to me, is part of his signature," before adding, "He's very funny, too — I loved hearing his stories."
Judy from Seaside Park concurs stating, "On top of his musical talent, he's so funny — I really loved his impressions of his father, Bucky!"
Lastly, Linda from Seaside Park exclaims, "We love John Pizzarelli — he's absolutely fantastic! For somebody who is a guitar player first and a singer second, he's a great singer!" before she concludes, "He's totally impressive — he's such a joy to watch!"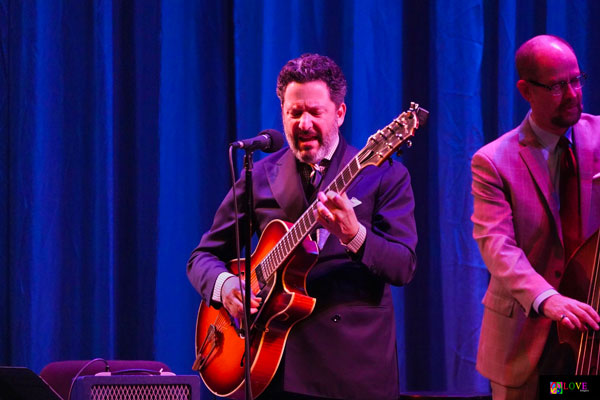 To learn more about John Pizzaralli, please go to johnpizzarelli.com. To find out about future concert performances at Toms River's Grunin Center for the Arts — including The Bronx Wanderers on May 19 and Rufus Wainwright on August 23 — please go to grunincenter.org.
Photos by Love Imagery
Spotlight Central. Your source for Jersey entertainment news and reviews
Love Imagery Fine Art Photography. all you need. peace/love/flower/power