originally published: 05/09/2019
Full on Empty, featuring Dan Caputo of Negative Sky, pictured, will be one of 24 bands that play the inaugural Makin Waves Fest May 17 to 19 at the Brighton Bar, Long Branch, and May 20 at the Wonder Bar in Asbury Park. PHOTO BY BOB MAKIN 
Also featured this week are Lump 'N' Loaf Records, He Said She Said, Park Fest, Telegraph Hill Records, Jernee Mill, Cat London, Kathleen Elle, Mike Montrey Band, Greygoesblack, The View from Here, Asbury Park Music Foundation and Rose Kingsley.
Makin Waves, will celebrate its 31st anniversary with the inaugural Makin Waves Fest from May 17 to at the Brighton Bar, Long Branch, and May 20 at Happy Mondays at Asbury Park's  Wonder Bar, a co-sponsor of the event. Presented by the Brighton and Happy Mondays in association with The Aquarian Weekly, Light of Day Foundation, Reg Santana Presents, Tito's Handmade Vodka and Wave Resort, Makin Waves Fest will feature 24 local music acts, as well sponsor giveaways. At the Brighton, the fest also will include Tito's Vodka drink specials and chair massages by co-sponsor Massage by Design.  On Saturday and Sunday, the fun also will include gourmet sliders from co-sponsor The Outslider food truck. Additional Makin Waves Fest sponsors are AsburyMusic.com, Asbury Park Chamber of Commerce, Blowup Radio, New Jersey Stage, The Pop Break, Radio Jersey and Danny Coleman's Rock on Radio.
The music will include four great Jersey indie acts on May 17 at the Brighton: The Cryptkeeper Five, TV Tramps, 40 Pound Hound, and Christine Mitchell. May 18 is a Brighton reunion of many of the bands who have played there for the past 31 years, including: Solace, featuring members of Godspeed and Social Decay; The X-men, a reunion of Brighton owner Greg Macolino's beloved band; Defiance Engine, featuring members of Daisycutter, Solarized and Dirge; Full On Empty, featuring members of Negative Sky and The Atomic Bitchwax; Ribeye Brothers, featuring members of Monster Magnet and The Atomic Bitchwax; 19DRT, featuring members of Daisycutter and Dime Bag; Tom Kanach, the front man of Well of Souls and Mischief, and Jon Caspi & The First Gun, popular punk band fronted by a Jersey rock veteran.
Opening that show will be Brighton newcomer Ezra Caspi, the ridiculously talented teenage singer-songwriter son of local punk legend Jon Caspi. For more info about both the May 17 and 18 shows, visit the Facebook event page.
The celebration also will include the Third Annual Makin Waves Jam 'n' Groove Fest on Sunday, May 19. Featuring some of Jersey's best jam bands, this year's Jam 'n' Groove will pay 50th anniversary tribute to the highly influential Allman Brothers Band, The Meters and Little Feat. With performances of such classic songs as "Statesboro Blues," "Melissa," "Hey Pocky Way," "Spanish Moon," "Done Somebody Wrong," "Jessica," "Cissy Strut," "Skin It Back," "One Way Out," "Africa," "Dixie Chicken," "Elizabeth Reed," "Ramblin' Man," "Time Loves a Hero," "Hot'lanta," "Just Kissed My Baby," and "Whipping Post," the tribute show will include Jersey jam bands Secret Sound, Dogs in a Pile, Dark City Strings, The Inflatable Head, Fungkshui, Ten Foot Tall, and Mike Montrey Band, plus the opening The Green Planet Band, featuring a trio of teen 'n' tween siblings. For more about Jam 'n' Groove Fest, visit its Facebook event page facebook.com/events/771101623276377/ and the New Jersey Stage article on the show.
Makin Waves Fest will conclude on May 20 with MakinWaves@Happy Mondays, featuring three of New Jersey's most popular female-fronted acts: Des & the Swagmatics, Taylor Tote Band and Nalani & Sarina. Happy Mondays is a free weekly local music concert series that runs annually from early spring to local summer at the Wonder Bar. Not only is there no admission fee, but this time out, there also will be additional free promotional items from sponsors. Visit the Facebook event page for more.


Lee Mrowicki, "The Legendary Voice of the Stone Pony," is pictured in the world-famous venue's DJ booth in 2017. His show "Radio Jersey," which airs 6-8 p.m. daily on AsburyMusic.com, recently started its third year. PHOTO BY BOB MAKIN
May 6 marked the start of the third year "on the air" for "Radio Jersey," webcasting 6 to 8 p.m. weeknights AsburyMusic.com. "The Legendary Voice of the Stone Pony," host-producer Lee Mrowicki features the music of New Jersey, but credits the show's listeners, as well as New Jersey performers for the popularity of the program.
"All I really do is steer the ship," said Lee who still makes occasional DJ appearances at the world-famous Asbury Park club, as well as its sister venue, The Wonder Bar. "The performers and the listeners provide the fuel to make it go. I must say that both have been so encouraging and appreciative of what 'Radio Jersey' is all about. I must be doing something they like.
"I do get a little help from my friends as well," he continued. "'Radio Jersey' gets regular contributions from Vini 'Mad Dog' Lopez, former WNEW-FM and CBS-TV star Mark McEwen, J.T. Bowen from the Red Bank Rockers, former WHTG-FM DJ Nick Ciavata, music journalist Bob Makin, and of course, my partner in crime, award-winning newscaster Steve Lubetkin.  J.T. Bowen serves as the program's spiritual advisor. Lopez and McEwen send in reports reliving some of their interesting rock 'n' roll experiences. Nick Ciavata and Bob Makin file reports about the music scenes throughout the state. Steve Lubetkin keeps listeners abreast of important NJ news once each hour. And, of course, we play the greatest music in the world from local, as well as famous NJ performers for NJ listeners and for the entire world to hear."
"Radio Jersey" stays fresh with specific themes each weekday. On Mondays, the first hour features "Cover Me Monday" with cover songs by well-known NJ performers, including cover bands. This past Monday's show featured a little-known version of Springsteen's "Born To Run" by the Who's Roger Daltry. The second hour on Monday is Ladies Night, featuring the music of Jersey Girls from the past and present. It's "Two for Tuesday" on when "Radio Jersey" gets a chance to showcase two consecutive songs by New Jersey performers. Wednesdays feature "The Alternative Side of NJ Music" with music from up-and-coming performers in addition to well-known performers, such as The Bouncing Souls, Blondie, The Front Bottoms, Richard Barone and more. Around 7:25 p.m. Wednesdays is also when "The Makin Waves Report" airs, which is such a treat for me, because I've been working with Lee since the early '80s when he helped give me my start as a music writer covering shows at the Stone Pony for the Asbury Park Press. 
"Throwback Thursday" digs into the archives for New Jersey music of the 1960s into the 2000s. Every Friday, the first hour is free-form and features the "North Jersey Music Report" with Ciavata. The second hour, "The E Street Block Party," plays Bruce Springsteen and music of the individuals from his band, past and present. 
About his continually growing audience, Lee said, "We know who is listening because they tell us daily, and listeners show their appreciation with their fantastic remarks on Facebook and in person."
RockAgainstHate.org, a nonprofit group of musicians making a difference by raising funds for good causes through the online release of music compilations featuring songs from New Jersey artists and around the globe, will release its third annual compilation, "Volume 3," on May 11 to benefit Kids in Need of Defense (KIND). The 40-track compilation will be available online for a donation of $10 or more. Founded by Angelina Jolie and Microsoft, KIND helps protect the basic human rights of refugee and immigrant children in the United States, many of whom came here to escape violence and persecution. The charity also will benefit from a release show on May 11 at Espresso Joe's in Keyport with participants Amanda Rose Riley, Carol Lester, Creeping Hush, Diego Allessandro, E.Joseph, Hal Guitarist, Keith Peters, Laree Cisco, Mike Ferraro, The Last Martyr and The Mighty Alrighty. Other contributors include A Halo Called Fred, Val Emmich, The Dirtee Blondes, Puppyboy, Nerve Tonic, Dinosaur Eyelids, The Successful Failures, Colie Brice, The Fisherman & the Sea, Motherface, Sonofdov, Ziggy Grover, The Subterraneans, Holistic Medicine Project, Greygoesblack,  Meeko Brando, Best Hit TV, Catherine Wacha, Yellow Dog, Big Mother Gig, Diego Allessandro, and Dw. Dunphy (who created the cover artwork).
RockAgainstHate.org was established in 2017 in the wake of what was considered a divisive election with musicians coming together to release original exclusive songs to raise funds toward anti-hate efforts and equal rights. To date, thousands have been raised for The Trevor Project and Planned Parenthood from the first two volumes.
"With the actions we have seen our current government take towards immigration, it seemed more pressing than ever to have 'Volume 3' benefit KIND, an organization that helps the most vulnerable of immigrants, children," said Lazlo, founder of BlowUpRadio.com and curator of "Rock Against Hate." "I am proud that I am able to work with the music community to try to contribute toward helping others."
Spring is here and with that comes exciting Lump 'N' Loaf Records news and events, including new musical projects Fred Missile and Black Cordova, the long-delayed release of early Burning Up White material, and a number of concerts from stalwarts of the Hillsborough-based indie A Halo Called Fred and Trio of Madness. Fred Missile's single and video, "A Little Bit Free: A Fascism Litmus Test," is a collaboration between members of A Halo Called Fred, New Jersey's geeky Tupperware psycho-pop band, and punk poet laureate John S. Hall of King Missile fame. The sadly and angrily satirical single was born out of a mutual distrust of our evil, Nazi-like president and his corrupt administration and fears that our country is descending into the fascist pit of a real-life "Hunger Games," the disgustingness of which you recently may have witnessed via the wealthy ridiculousness of the Met Gala. But I digress … According to the band, the basic premise of the song is that in order to be a free society, Americans must have the right to say the most disgusting things about the president humanly imaginable.
"It started out as a regular Halo song," Halo bandleader Geverend Dee said, "Witnessing how the U.S. government's policies are becoming more and more fascist, we felt like it was important to not keep our mouths shut and start to say something about it. In keeping with our own style and sense of humor, we felt like the best course of action was to record a song that no fascist government would allow its citizens to create and use it at a test to see if things were as bad as they were appearing to get. When we got to the middle section, it felt like a King Missilesque spoken-word was in order, and rather than attempt to write it ourselves, we went right to John, knowing he has very similar political beliefs and knowing how uninhibited he is in expressing those beliefs."
"Free" has been released under the Creative Commons Attribution-NonCommercial-ShareAlike 4.0 International License, which grants anyone the right to distribute the song or create derivative works for any non-commercial use with credit given to the original author. The track is available online.
Black Cordova is another new Lump 'N' Loaf act. Originally a one-off for the label's "Happy Freakin Halloween" compilation, the instrumental band soon will record their debut CD. Made up of label founder Damian Gonzalez (Burning Up White, Zigman Bird) on bass, Nick Charles (Trio of Madness, The Number Theory) on guitar, and Scott Wilson (Burning Up White, The Number Theory) on drums, Black Cordova mine the rich history of rock 'n' roll, incorporating the sounds of '50s and '60s guitar-based music, including surf, rockabilly, blues and R&B. 
Burning Up White's long-awaited 1998 CD single, "William/Movie," is finally available for download. Recorded and engineered by Alap Momin (David Byrne, Jon Spencer Blues Explosion) at Sweetwood Studios in Parsippany, the single was to be included on the band's never released full-length album, which finally will be released by Lump'N'Loaf in 2020. Twenty years earlier, South River-based Burning Up White's "non-standard pop" mix of new wave, '70's rock, indie and jazz was the original impetus for the formation of Lump'N'Loaf, Gonzalez said.
As for those aforementioned shows, Trio of Madness will play May 12 at John and Peter's, New Hope, and A Halo Called Fred will play COGS Steampunk Expo May 17 to 19 at the Sheraton Parsippany Hotel and and July 27 at Mythmusica Music Mythic Festival in Townsend, Del.
Well, if ever there was a summer party anthem, the new Latin-spiced duo, He Said She Said, have nailed it with their single and video "Danced with the Devil." Shot by VLM Films on the Asbury Park streets and a rooftop overlooking the city, the clip features singer-songwriter Natalie Farrell and Chris-Oz Salvatierra, formerly of Small Town Scoundrels. They have an infectious blast dancing and jamming with guitarist-collaborator Kevin Hannum and a bunch of their friends, including Taylor Tote and Levy Okun, while drinking beverages made by Asbury Park Brewery and Asbury Park Distilling. The track was recorded by original Coheed and Cambria and co-founding Dillinger Escape Plan drummer Chris Pennie. An EP is expected later in the year, along with live performances. In the meantime, Natalie will perform May 16 at the Wonder Bar in Asbury opening for Filmore, May 18 at Parkfest in Cornwall Park in Highlands, and May 24 at The Asbury hotel. She said she hopes to bring Chris up as a special guest at those gigs so they can perform "Danced with the Devil." 
Park Fest is a health-focused, family-oriented event organized by singer-songwriter Cranston Dean and Telegraph Hill Records. Also taking place in two other Highlands parks, the May 18 event will kick off from noon to 2 p.m. in Huddy Park with yoga and fitness sessions, as well as music by Christine Mitchell, Katherine Quintana and Patty C. Joining Natalie Farrell in Cornwall Park from 2 to 4 p.m. will be Alix Gagliastro and Clutch Cabin, who'll play in the midst of games and other family fun. The day will continue from 4 to 9 p.m. in Veterans Park with music by Des & the Swagmatics, The Cranston Dean Band, The Burns, M.A. Tappan & the Shine, The Daly Rituals, The Mercury Brothers, Ryan Gregg of Shady Street Show Band, and Luke Dowler. 
Speaking of Telegraph Hill, the label has released a video for the Leah Vohsey single "Poison." Having recently recorded "Read on You" live at the Wonder Bar, Connor Bracken and the Mother Leeds Band will release a track and a video soon. In the meantime, they'll play May 12 at the Stone Pony with label mates Bobby Mahoney & the Seventh Son on the inside stage respectively before and after Frank Turner & the Sleeping Souls, Against Me!, Murder By Death and Tim Barry play the Summer Stage. 
Label operative and guitarist extraordinaire Matt Fernicola is on tour with his band The Foes of Fern. Dates will continue May 9 at Rosie's Twin Kegs, Nashville; May 10, Tommy's Pub, Charlotte, N.C., and May 11, Yacht Club Beverage House, Youngsville, N.C. And make sure you save the date when The Foes of Fern open a 50th Anniversary Tribute to The Beatles' "Abbey Road" on Sept. 28. Fern also will be in the Asbury All Star Abbey Band, directed by Brian Erickson and featuring members of The Extensions, Levy & the Oaks, Des & the Swagmatics, and The Paper Jets. Telegraph label mates Levy & the Oaks and Des & the Swagmatics also will be on the bill, which will be presented by Red Pants Productions and Makin Waves.
Well, this is just about some of the most rad news I've heard in a while: Sayreville-based Jernee Mill will ride down their namesake road on June 11 to make their Starland Ballroom debut opening for Hinder. The band have discount tickets available, but if you can't make that show, you also can see them June 22 at Roxy & Dukes in Dunellen with Infinitus Mortus, Steel Spade Syndicate, The Carousers and Jag One. The shows coincide with a new single, "Heartbreak," which Jernee Mill recorded at Firedog Studios in Spotswood. The band's new manager, James H. Craft, produced and Tom DeStefano recorded and mixed. The band plan to continue to work on an EP at Firedog throughout the summer for a release by year's end, Craft said.
Singer-songwriter Cat London has released a video for "Cities," a single from a forthcoming follow-up to the 2016 EP, "Dangerous Me." The video recently was celebrated with a release party at Asbury Lanes, where it largely was shot, along with scenes at Rebel Supply Co., also in Asbury. Cat has a second clip in the works for a tune entitled "With Him" that will be shot soon at Springlake Theatre. Catch her live May 28 at Café Artiste, Ocean Grove, with David Ross Lawn; May 29, The Asbury hotel; June 18, Van Gogh's Ear, Union; June 29, Lizzie Rose Room, Tuckerton; July 19, Sofar Sounds, Boston, and Sept. 27, Hacksensack Performing Arts Center. As one half of the musical comedy duo, Cat & Vegas and the Temple of Boom, she will continue to perform first Fridays at L'Etage in Philly. 
Four years since the release of her multi-award winning debut EP "Helium," Kathleen Elle is ready to launch her first full-length album, "Brainwaves," a 10-track collection of stories about relationships and the joy, sadness, anger, regret, envy and laughter they bring. The May 15 digital release will be celebrated on May 17 at East Brunswick Elks. The LP follows three singles that have netted 20,000 streams on Spotify. They include the title track, which she submitted to NPR's prestigious Tiny Desk Contest (the clip for which is streaming above). Recorded, mixed and mastered by Steve Jankowski at his Wall-based Jankland Studios, the self-produced album also follows the nationally acclaimed anti-bullying anthem, "Don't Let Them In," which won Kathleen awards and scholarships from Seventeen Magazine, Abercrombie & Fitch, Campus MovieFest, Lincoln Center and National YoungArts. Kathleen used her scholarship money to gain a degree in Classical Music Composition from Rutgers University's Mason Gross School of the Arts. She will graduate on May 19, then tour Germany with Rutgers Kirkpatrick Choir in international chorale competitions. Upon her return home, Kathleen will play all summer at La Terrazza, Klein's and Flames in Belmar and  Mosutto's in Wall. She also will participate in Bradley Beach's Porchfest on May 18. 
In addition to their second appearance at Makin Waves Jam 'n' Groove Fest, Mike Montrey Band have a slew of tasty summer gigs coming up, including May 11, June 8 and Aug. 17,  Stagehouse Outdoor Stage, Somerset; May 21, Pierce Sessions, Farmingdale (Montrey solo with Carolann E. Solobello); May 31, Loconia Ale Works, Sparta; June 1, Bryce Resort, Basye, Va.; June 21, Stonehenge Music Festival, Jermyn, Pa., with Juggling Suns and Dogs in a Pile; June 22, Sourlands Mountain Festival, Hillsborough, with Daniella Cotton, Anthony Krizan, and Citizen's Band Radio; June 22, Blackthorn Pub, New Brunswick; July 11, Jams on the Sand, Anchor's Bend, Asbury Park beach, with Southern Avenue; July 13, Black Potatoe Music Festival, Red Mill Museum Village, Clinton, with Jenny & the Felines, Rennie Pincus, Pyrenesia, Pat O'Shea, and Matt Angus Thing; July 19, Memorial Park, Hightstown; Aug. 9, Hudson Valley Music Summit, Kingston, N.Y., and Sept. 14, John & Peter's, New Hope. Fronted by the 2018 Makin Waves Male Artist of the Year, MMB are the first act asked to play Jam 'n' Groove a second time. Check out their Tiny Desk Contest entry streaming above. The video was filmed by keyboardist Phil Silverberg at The Inn of Cape May during the Singer Songwriter of Cape May Music Conference/Festival. MMB played a set at The Boiler Room and, beforehand, decided to capture the clip in their hotel room. "We were concerned that the volume might be an issue in the hotel room, and right at the end, our booking agent, Kat Falcey, slipped into the room, having no idea what was going on," the band said, "thus creating the perfect take!"
After two self-released EPs and an LP since 2014, Central Jersey soul-gaze band Greygoesblack have released the four-song "Records Over Wire," on the UK label Shore Dive Records. Made with help from Benjamin Feldman of Coffee Haus Studios in Freehold, "Records Over Wire" will be followed with another EP by summer's end, the band said. On June 8, they will be featured on the Dungeon Podcast, which you can find here.
Central Jersey's The View From Here have dropped a new single and music video entitled "Whatever Happened, Happened," off their latest EP, "New Perspective." The clip is "a semblance of the modern-day dating scene where attention spans are dwindling and chivalry is lost," the band said. "Everything is communicated via some dating app or social media, and our generation, when actually taking the old-fashioned route to dating, is quickly bored and looking for the next thing." Influenced by Dance Gavin Dance and Taking Back Sunday, The View From Here will present their pop-driven post-hardcore indie rock on May 17 and 18 to Jersey Shore Fest, Seaside Heights; May 22, The Fire, Philadelphia; June 28, Cornchella, Artemas, Pa., and July 20, Roxy & Dukes Roadhouse.
Congrats to Asbury Park Music Foundation, which will receive the Non-Profit of the Year Award at the Asbury Park Chamber of Commerce's annual Carousel Awards on May 10 at Convention Hall, featuring music by Des & the Swagmatics. APMF has been an integral part of the community's revival since it began in 2011 and has had several significant accomplishments over the past year. APMF provides under-served youth with life-changing music education, helps the local music scene thrive, and unites a diverse community through music. In addition to grants, showcase events bring out the community and attract visitors while generating funds from corporate sponsors, individual donors and ticket sales. The cornerstone of events are the weekly summer concert series: Music Mondays at Springwood Park and Asbury Park Live and Asbury Park Concert Band, both on the boardwalk. This summer's concerts are slated to start the week of June 24 and run for 10 weeks. 
This past year also featured a popular Sunday Sessions series of acoustic storyteller shows, which will continue on May 19 with Desiree Spinks of Des & the Swagmatics, Reagan Richards of Williams Honor and Jillian Rhys McCoy in benefit of APMF's youth programs. Sunday Sessions take place at APMF's venue in the Lakehouse building on Lake Avenue, where the organization also introduced monthly hip hop shows with Suburbia Friday Nights. Another significant accomplishment was bringing a holiday show back to the city after a two-decade absence. The sold-out "A Very Asbury Holiday Show" at the Paramount Theater raised substantial funds for APMF, as well as the Boys and Girls Club, Jewish Family and Children's Service and the Asbury Park Toy Drive. The follow-up show will be Dec. 8.
Dubbed the female Frank Sinatra, Springfield-raised jazz/opera singer Rose Kingsley has returned home to pay tribute to the Jersey music icon. On May 10 at Lincoln Center's Bruno Walter Auditorium, Kingsley will appear with crooner Richard Shelton in "Too Marvelous for Words," also a tribute to frequent Sinatra songsmith Johnny Mercer. Sinatra recorded more than a dozen of Mercer's songs, including "Day In, Day Out," "Laura," "Jeepers Creepers," "Blues in the Night," "Something's Gotta Give," "Fools Rush In (Where Angels Fear to Tread)," "That Old Black Magic," "Autumn Leaves," "One More for My Baby (and One More for the Road)," and, of course, "Too Marvelous for Words." The concert was arranged by Bob Corwin, Mercer's music director and pianist for 20 years. 
Besides New Jersey and Mercer, Kingsley has something else in common with Sinatra. Raised in Springfield, she now lives in Ol' Blue Eyes' longtime residence of Palm Springs, Calif. There she runs the International Opera Institute, a school for aspiring classical vocalists. The program also is a return to Lincoln Center, where she has performed many times with Metropolitan Opera. Those opera chops will come into play on May 11 at Stockton University's Dante Hall Theater in Atlantic City, where she will appear in "An Evening of Andrew Lloyd Webber" with Thomas Booth, a colleague from the Met.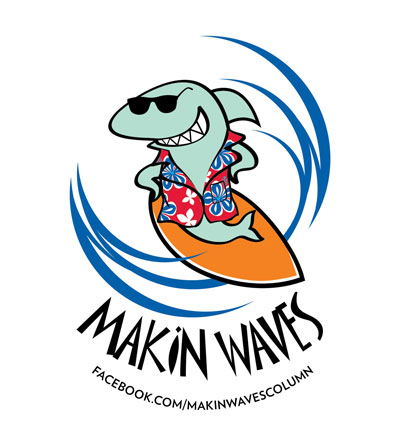 Bob Makin is the reporter for MyCentralJersey.com/entertainment and a former managing editor of The Aquarian Weekly, which launched this column in 1988. Contact him at makinwaves64@yahoo.com. And like Makin Waves at www.facebook.com/makinwavescolumn.