Little Vicious will release their "Dark Country" LP on May 17, which will coincide with a video shoot for the track "Soul Collector" at Whitechapel Projects in Long Branch.
During the 12 months that she has been able to devote to her music full time, bad-ass shredder Marguerite King has been able to make Little Vicious one of the best bands in New Jersey and their forthcoming LP, "Dark Country," proves it.

The cover of Little Vicious' forthcoming LP, "Dark Country," depicts a woman with a serpent tattoo handing a skeleton key over to another woman. Perhaps this symbolizes main creative force Marguerite King selling her rock 'n' roll soul to the devil. Granted, when she first returned home around 2017 to the Asbury Park area after a few years of success in the Fort Collins, Colorado music scene, Little Vicious was good, initially a two-piece with Marguerite on guitar and a rotating seat of drummers. Now a trio featuring bass to pick up a fat, wicked-sounding bottom, LV have become face-meltingly awesome because Marguerite can devote herself to her music fulltime rather than a pesky day job. Yet, the devil lurks in the shadows, waiting, wanting one more dance with her wildly radiant spirit.    
"Dark Country" is Marguerite's 12-song dance down the imposing mountains of Boulder across a whiskey-rattled cigarette-chain highway to the citified seaside of Asbury Park. Overcoming adversity and disappointment, she keeps on keepin' on, becoming a local legend in a city filled with them, their faces blasted onto public buildings like a musical Mount Rushmore. 
If it was the early 1990s, the album's smokin', gnarly mix of stoner rock, blues, punk and pop would be described as grunge. While that description may seem dated, the spine-rattling results are similar. 
Three things are certain: 



"Dark Country" is the kind of loud, noisy, ballsy record that's great to blast down the highway speeding in a convertible or on a motorcycle




Little Vicious prove that there's hope for rock 'n' roll in an age when the genre either has been driven underground or forced into corporate facsimile




Marguerite, drummer Eric Pierce and producer Pete Steinkopf of The Bouncing Souls have made the best NJ indie album released so far this year. 



Among the many things I love about "Dark Country" are the false endings or pregnant pauses on "Hit You Right," a spooky inversion of Stevie Wonder's "Superstition," the soul-snarled "… To Be Honest," "Soul Collector," a grunge tornado that examines the shame of being vain with a dual guitar solo overlain between Marguerite and herself, and the standout "Voodoo." The Makin Waves Song of the Week at AsburyMusic.com, Spotify and YouTube, "Voodoo" is a trippy lust fest that sounds like the soundtrack to an orgy in an opium den, which should make Monster Magnet fans clamor for Little Vicious as an opening act. 
The Song of the Week is whichever tune most sticks in my head while listening to and writing about the Record of the Week. "Voodoo" had some stiff competition with the infectious thunder of the opening "Make Me Wait," which dichotomously might appeal to the fans of the punk-fueled emotion of Screaming Females and the gritty, grimy blues of Nashville Pussy. Equally great is "Hold Ya'," the spawn of a '60s girl group if they had a rock 'n' roll baby with MC5. 
"Dark Country" also features a couple of cool Nirvana guitar references, such as the tuned-down guitar squawk on the eerie "Reign Electric" and the "Smells like Teen Spirit" shuffle on the bluesy "Fade." The album also includes the blasting punk-rap of "Surf Dance Strip Beats," the empowering outlaw strut of "Blood Spitter," the bewitching breakup of "Sweet Sorrow," and the fiery closer, "Spotlights," which sums up all the passion that went into "Dark Country."  
As good as this album is, Little Vicious are even better live. On May 15, they'll play the Wonder Bar in Asbury with Demob Happy, cleopatrick and BRKN LOVE, and on May 17 at Whitechapel Projects in Long Branch, they'll make a video for the bone-crushing "Soul Collector." After they rock Orlando's Standard Music Co. again on June 10, they'll take a bit of a break from the road before playing New York, Philly and Asbury in late July and then the Southeast in mid-August.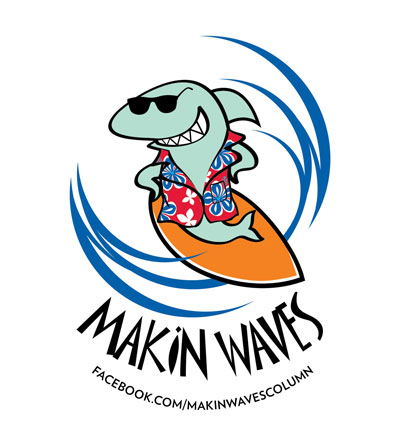 Bob Makin is the reporter for MyCentralJersey.com/entertainment and a former managing editor of The Aquarian Weekly, which launched this column in 1988. Contact him at makinwaves64@yahoo.com. And like Makin Waves at www.facebook.com/makinwavescolumn.