originally published: 05/09/2019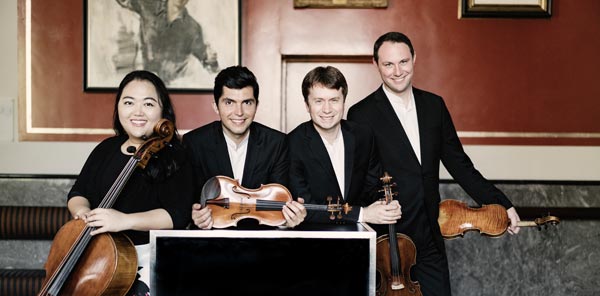 (RIDGEWOOD, NJ) -- The final performance of Parlance Chamber Concerts' 12th season will conclude in Ridgewood on Sunday, May 19th at 3:00pm with Leading Members of the Metropolitan Opera and the Calidore String Quartet exploring the profoundly mysterious world of Mozart's Last Year.
The program will showcase Mozart's works from 1791, including songs, arias, organ music, his last string quintet, and two mesmerizing works featuring glass harmonica:
The Program:
Three Late Songs, K. 596 – 598
Adagio and Rondo, K. 617 for glass harmonica, flute, oboe, viola, and cello
Fantasie in F minor, K. 594 for organ
Non più di fiori from La Clemenza di Tito, K. 621
Adagio in C, K. 617a for glass harmonica
String Quintet in E-flat, K. 614
The afternoon features the work of Wendy Bryn Harmer, Met Opera soprano; Ken Noda, piano; Paul Jacobs, organ; Calidore String Quartet; Matthew Lipman, viola; Friedrich Heinrich Kern, glass harmonica; Chelsea Knox, flute; Elaine Douvas, oboe; and Inn-Hyuck Cho, basset horn.
The performance takes place at West Side Presbyterian Church (6 South Monroe Street) in Ridgewood, New Jersey. Tickets are available for purchase online.
---
The article continues after this ad
---
---
The Calidore String Quartet, with violinists Jeffrey Myers and Ryan Meehan, violist Jeremy Berry, and cellist Estelle Choi, has been praised by the New York Times for its "deep reserves of virtuosity and irrepressible dramatic instinct"and by the Los Angeles Times for its balance of "intellect and expression." After their Kennedy Center debut the Washington Postproclaimed that"Four more individual musicians are unimaginable, yet these speak, breathe, think and feel as one…The grateful audience left enriched and, I suspect, a little more human than it arrived."The Calidore String Quartet has enjoyed an impressive number of accolades, including a 2018 Avery Fisher Career Grant, and the 2017 Lincoln Center Emerging Artist Award. The Calidore made international headlines as winner of the $100,000 Grand-Prize of the 2016 M-Prize International Chamber Music Competition, the largest prize for chamber music in the world. The quartet was also the first North American ensemble to win the Borletti-Buitoni Trust Fellowship and was named BBC Radio 3 New Generation Artists, an honor that brings with it recordings, international radio broadcasts and appearances in Britain's most prominent venues and festivals. 2018-19 is the Calidore's third year in residence with the Chamber Music Society of Lincoln Center's CMS Two program.Within two years of their founding in 2010, the Calidore String Quartet won grand prizes in virtually all the major U.S. chamber music competitions, including the Fischoff, Coleman, Chesapeake, and Yellow Springscompetitions and captured top prizes at the 2012 ARD Munich International String Quartet Competitionand Hamburg International Chamber Music Competition.
The Calidore String Quartet regularly performs in prestigious venues throughout North America, Europe and Asia such as Lincoln Center,Carnegie Hall, Kennedy Center, Wigmore Hall, Berlin Konzerthaus, Brussels BOZAR, Cologne Philharmonie, Seoul's Kumho Arts Hall and at many significant festivals, including the BBC Proms, Verbier, Ravinia, Mostly Mozart, Music@Menlo, Rheingau, East Neuk and Festspiele Mecklenburg-Vorpommern.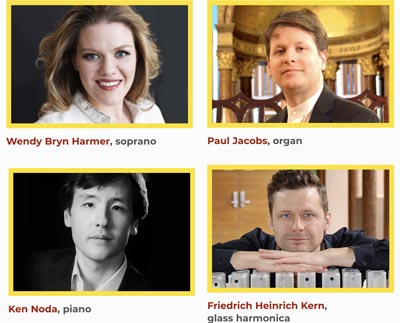 Founded in the 2007-2008 season by Metropolitan Opera Orchestra principal flutist Michael Parloff, Parlance Chamber Concerts is dedicated to bringing world-class instrumentalists and singers to Northern New Jersey in affordable, innovatively programmed concerts and educational events. Two events were presented during the inaugural 2007/08 season, and subsequent seasons saw a steady increase in the number of events offered. Eight public events are being presented in the current 2017-2018 season. All events take place in the acoustically superb sanctuary of West Side Presbyterian Church in Ridgewood, New Jersey.
Parlance Chamber Concerts grew out of the success of more than a decade of benefit concerts organized and presented by Michael Parloff in his Ridgewood, New Jersey, home. These semiannual fundraising events supported various local nonprofit organizations. Michael Parloff's reputation as one of America's preeminent flutists and a leader in the chamber music world has enabled him to feature top-flight singers and instrumentalists from the Metropolitan Opera, New York Philharmonic, and New York City's extraordinary chamber music community.
A significant number of attendees came to these events initially as novice concertgoers and subsequently told Mr. Parloff that they learned to love and appreciate classical music through exposure to world class performers in the intimate, relaxed ambiance of his home. This gave rise to the idea of widening the audience for classical music in our community by presenting innovatively designed public concerts and educational events for listeners of all ages and levels of concert-going experience. The sense of connection between performers and audience members is strengthened by informal spoken introductions and program notes delivered during the course of the concerts and through post-concert receptions. The receptions provide audience members with opportunities to meet the performing artists and learn more about the music, the composers, and the performers themselves.
Parlance Chamber Concerts are priced affordably to demonstrate our commitment to making chamber music available to as many people in our community as possible. In addition, sets of complimentary tickets are offered to local teachers and staff members of community organizations, including schools, hospitals, and mental health clinics.
An important part of Parlance Chamber Concerts' goals is to introduce children and newcomers to classical music. In that regard, Parlance Chamber Concerts presented its first family concert on November 2, 2008, entitled "Animals and Dances" and has continued to present children's and family concerts in subsequent seasons. These highly successful events have featured leading members of the Metropolitan Opera Orchestra and the New York Philharmonic. Narrators have included well-known actors and New York City's classical radio personalities. WQXR's former daytime announcer, Midge Woolsey, narrated Prokofiev's Peter and the Wolf with 25 leading members of the Met Orchestra conducted by Michael Parloff on October 30, 2011.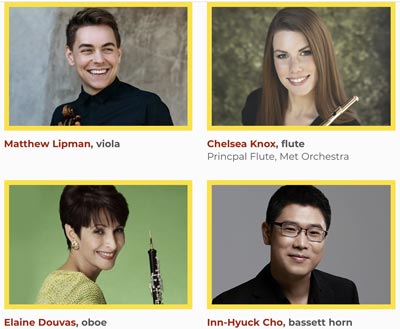 In addition, Parlance Chamber Concerts reaches out to underprivileged audiences in neighboring communities, offering free and discounted tickets to children and adults to many events over the course of each season. Parlance Chamber Concerts is also exploring the possibility of in-school fundraising concerts to benefit the music and arts programs in the public schools of Ridgewood, New Jersey.
Past Parlance Chamber Concerts events have featured such world-renowned instrumentalists, singers, and chamber ensembles as The Emerson, Brentano, Jerusalem, Escher, Danish, and Chiara String Quartets; pianists Emanuel Ax, Richard Goode, Peter Serkin, Jeremy Denk, Orion Weiss, Anne-Marie McDermott, Lucille Chung, Simone Dinnerstein, Wu Han, Alessio Bax, Warren Jones, Conrad Tao, Jeewon Park, and Shai Wosner; flutist James Galway; clarinetist Richard Stoltzman; violinists Frank Huang, Benjamin Beilman, Elmar Oliveira and Stefan Jackiw; cellists David Finckel and André Díaz; classical guitarists Sharon Isbin, Jason Vieaux, and the Los Angeles Guitar Quartet; harpists Mariko Anraku and Emmanuel Ceysson; and Metropolitan Opera star singers including sopranos Danielle de Niese, Susanna Phillips, and Ying Fang, mezzo-sopranos Stephanie Blythe, Isabel Leonard, and Kate Lindsey, tenor Matthew Polenzani, baritones Thomas Hampson and Nathan Gunn, and bass Morris Robinson. Jazz artists have included The Paquito D'Rivera Quintet, vibraphonist Stefon Harris, The Bill Charlap Trio, and noted guitarists Bucky Pizzarielli, Frank Vignola, and Howard Alden. Leading instrumentalists from the Metropolitan Opera Orchestra, New York Philharmonic, and Lincoln Center Chamber Music Society have been featured each season on Parlance Chamber Concerts.