By Spotlight Central
originally published: 05/06/2019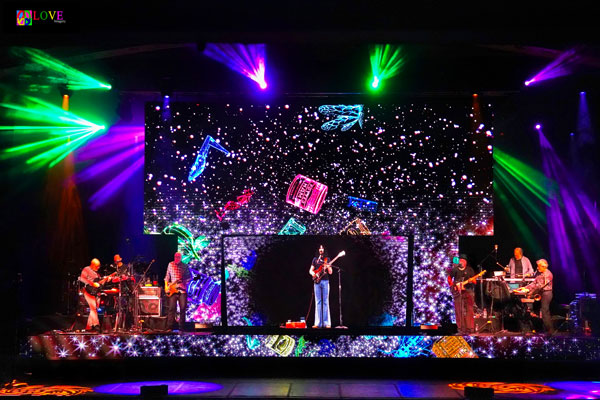 The crowd is abuzz with excitement this Monday, April 22, 2019 at the Hackensack Meridian Health Theatre inside Red Bank, NJ's Count Basie Center for the Arts as they anxiously await a performance of The Bizarre World of Frank Zappa.
The show is produced by Eyellusion, the hologram company that created the technology for the Ronnie James Dio heavy metal hologram show. That production, which debuted in Germany in 2016, has an upcoming US inaugural tour with a New Jersey performance scheduled for June 8 at Asbury Park's Paramount Theatre.
Frank Zappa's son, Ahmet Zappa, is an executive vice president of business development for Eyellusion and is also a co-trustee of the Zappa Family Trust. As such, the idea of a Frank Zappa hologram tour seemed like a natural to the visionary musician's son.
Says Ahmet about the production, "The development of Bizarre World has been a herculean undertaking and an extremely emotional journey for me. Weirdly, it's also been one of the most creatively satisfying projects that I have ever had the privilege of working on."
"It's fascinating to me how into holograms my dad was," notes Ahmet adding, "The fact that we're now finally able to technologically bring to life the ideas and concepts my father talked about so many years ago is astonishing," before concluding, "People's minds, eyes, and ears will be stunned by the crazy amounts of awesomeness they'll be exposed to every night on this tour."
---
The article continues after this ad
---
---
Before the performance begins, we take a moment to chat with Jeff Pezzuti, CEO of Eyellusion. Recalls Pezzuti, "We started working on the Zappa production in October of 2017 and our first show was last week. It's a funny, topical, and emotional journey of who Frank really was."
Noting, "We want to appeal to Zappa fans, but the show is built for new fans, too," Pezzuti explains, "It's a fun concept where the younger generation can have a new experience with Frank Zappa's music," before concluding, "We've reset the mark for Zappa shows — I can guarantee no one's seen a show like this before."
Inside the Basie's Hackensack Meridian Health Theatre, the stage is set with a large screen with additional screens mounted below it. To the left is a drum set, a guitar/keyboard/vocal mic set-up, and a bass. To the right is a keyboard/guitar/sax and vocal mic set-up, a guitar with a microphone stand, and an unusual instrument which looks to be a sort of a MIDI xylophone controller.
It's obvious from a glance, however, that the main attention tonight will be focused right in the center of the stage where, we believe, images of Frank Zappa — both in two- and three-dimensions — will be created.
As we wait for tonight's presentation to begin, we chat with several music lovers in the house who share their expectations with us regarding The Bizarre World of Frank Zappa.
Exclaims Mark from Bethlehem PA, "I'm excited — to put it mildly!"
Explaining, "I'm a diehard Zappa fan," Mark recalls, "I saw Frank about 12 times. The first time I saw him — in 1976 — changed my life. I'd been to concerts before, but the interaction between him and the audience was what made him different from all of the other artists I'd seen."
"I love Frank Zappa and, to me, the technology just brings it to a new level," notes Mark, before adding, "and I know it's gonna be a great show because they have a great group of Frank's musicians playing the music."
Richard from Staten Island concurs before recalling, "I heard Zappa's record, Freak Out, in 1967 and it blew my mind. I've been a fan ever since."
Adding, "I never got to see Frank perform live, so I'm really looking forward to tonight's performance," Richard declares, "Zappa may be dead, but he's not gone — he's been brought back by popular demand."
Walter from Red Bank acknowledges, "I've seen all of Frank Zappa's videos and I have all of his cassettes, so it will be great to see him 'alive' one more time," before musing, "I'm really not sure what to expect tonight, but I hope to be blown away."
Colleen from Collingsworth concurs adding, "I'm expecting it will be extra exciting. I'm just waiting for all of it to begin!"
Lastly, Jim from Aberdeen recalls, "I've been a Zappa fan since 1976, when I saw him at the Spectrum in Philly. I actually went to the show because I was a fan of the warm up act — The Sensational Alex Harvey Band — but I became a Zappa fan that night."
Continuing, "After the concert, I went over to where the musicians were expected to come out, and that's where I met Frank Zappa," Jim explains, "It was at that point, he took a guitar pick and handed it right to me. I ended up giving it to my grandpa because he was such a Zappa fan."
After noting, "A few years ago, I saw Dweezil Zappa's show, and on the song, 'Cosmik Debris,' they showed a video where Frank played with the band," Mark concludes, "My hope is that this show is gonna be like that one…but on steroids."
The lights dim and the crowd cheers as legendary Frank Zappa sidemen Mike Keneally on keyboards and guitar, Joe "Vaultmeister" Travers on drums, Scott Thunes on bass, Ray White on guitar and vocals, Robert Martin on sax, vocals, and keyboard, and Ed Mann on digital vibes and percussion take the stage.
Immediately, one's sense of sight and sound are directly activated as light, images, and music appear and captivate the audience as the bluesy "Cosmik Debris" is performed by the band.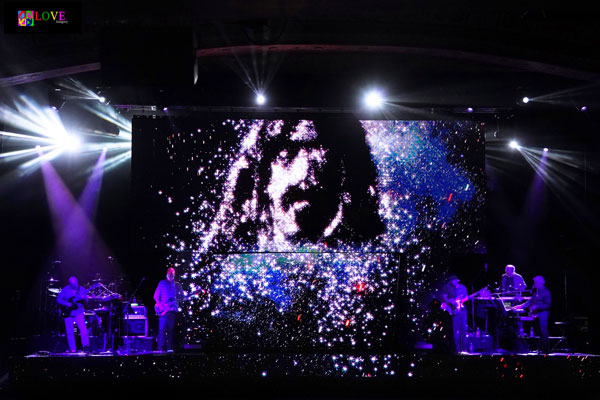 The audience cheers as Frank Zappa — sporting his iconic black mustache and goatee and flowing jet black hair — appears as a three-dimensional hologram and solos on guitar, his guitar picking looking real as he moves to the music.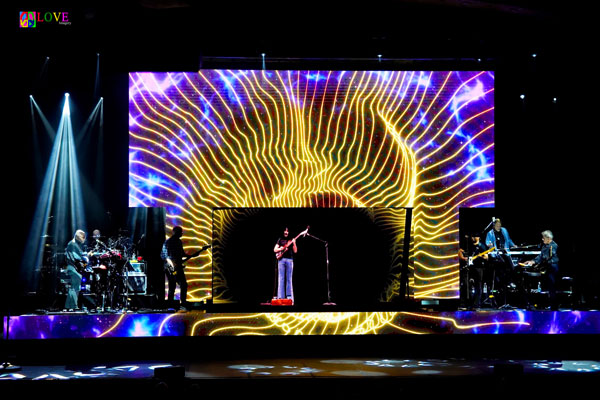 Following large applause, Zappa takes a turn at the microphone and announces, "Good evening. I'm your resident buffoon, and my name is Frank."
The crowd is mesmerized by the stimuli of images projected on the screens as the Zappa hologram disappears and cartoon images created by a string of dental floss appear to accompany the song, "Montana." As Zappa's voice croons, "I might be movin' to Montana soon/Just to raise me up a crop of dental floss," the string of floss produces images of the artist — in addition to guitars and trumpets — which appear, morph, and disappear while the band jams and sings along on this slow, funky tune.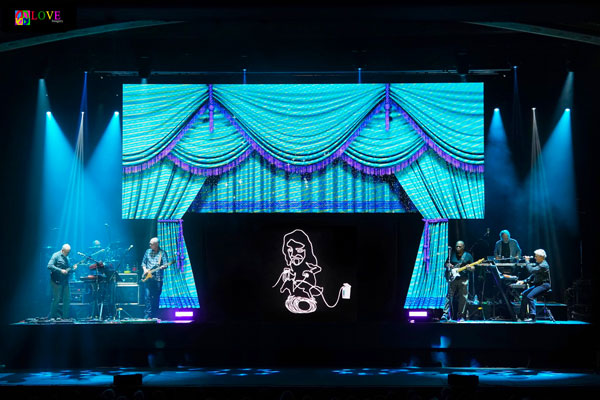 Next up is the powerful rocker, "Trouble Every Day." As Zappa's voice sings, "Well, I'm about to get sick from watchin' my TV/Been checkin' out the news till my eyeballs fail to see/I mean to say that every day is just another rotten mess/And when it's gonna change, my friend, is anybody's guess," news headlines and photos of Dr. Martin Luther King circa 1968 appear just before bright lights stream down on the crowd.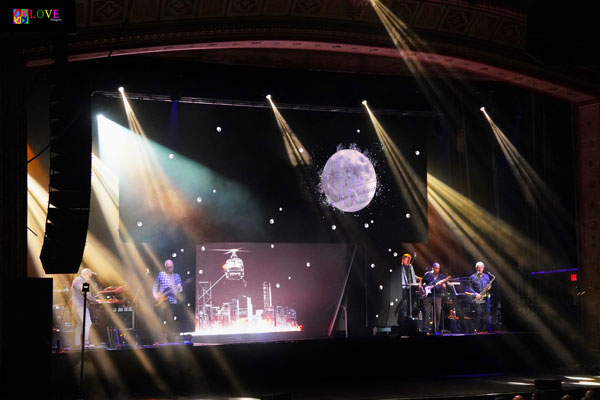 Images of Zappa singing are also projected as fire licks and burns on the screen, the music building as the band rocks and Robert Martin's saxophone wails.
Kaleidoscopic images of the band as they perform live provide a psychedelic compliment to "Village of the Sun," a complex R&B number which features both a keyboard solo and a guitar solo by Mike Keneally.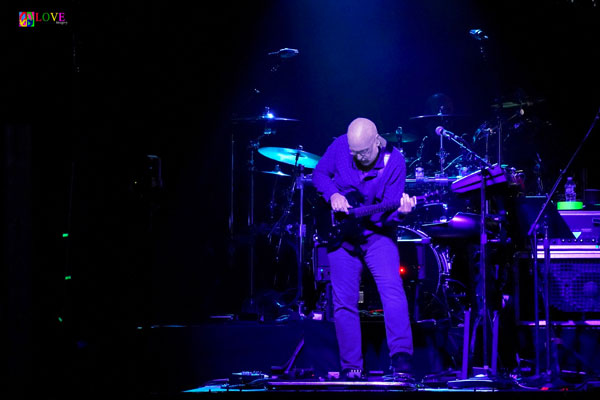 The music — jazzy and flowing, percussive and dynamic — is also graced by a lyrical Robert Martin saxophone solo.
"Penguins in Bondage" has Ray White singing lead vocals on this bluesy number as Mike Keneally accompanies him on guitar, keyboard, and kazoo while a neon outline of a cartoon Zappa sings along. The music is loud, driving, and sexy as Zappa is featured on an electrifying guitar solo which elicits cheers from the crowd.
Zappa once again reappears center stage in hologram form to play fast and furious on the rockin' instrumental, "Apostrophe."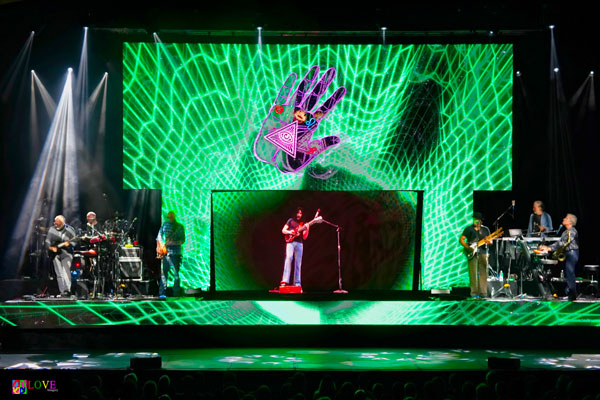 Lights flash while bassist Scott Thunes plays with abandon.
This is followed by audience members cheering for Zappa's guitar solo before he dissolves right in front of their eyes.
Guitarist Ray White steps up to the mic to announce, "To be celebrating Frank and his music, I'm amazed," before declaring, "Suspend your disbelief and let's have a good time!"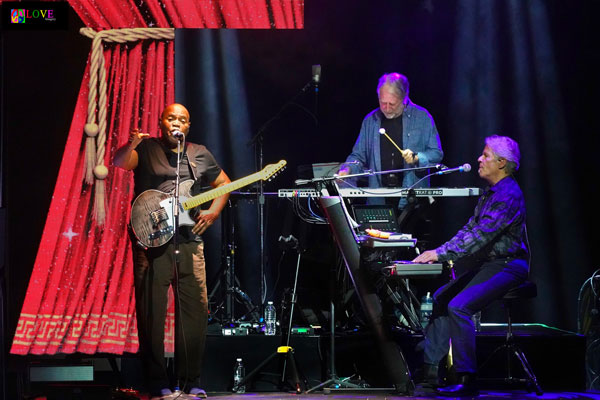 Here, White and Co. launch into "Zombie Woof" — a funky number which features keyboardist Robert Martin on lead vocals. The music driving and frenzied, Claymation-like characters appear on screen and alternate with live shots of the band swathed in color as the audience, too, is bathed in frigid blue light.
More animation and video footage follow in the next handful of selections which include songs like "Why Does It Hurt When I Pee?" a number which has a screen filled with creatures playing musical instruments while percussionist Ed Mann quickly plays up and down his MIDI controller while accompanied by Robert Martin on keys.
Following lively applause, Mike Keneally addresses the crowd exclaiming, "It's incredible to be playing this music with these guys!"
Introducing the group's next number, Keneally explains, "It's a suite which was written in 1972 — an incredible composition called 'Farther O'blivion,' which, in its totality, was never released on an album."
As images of scores of Zappa album covers float across the screen, Keneally and the band fill the auditorium with the sounds of this complex jazz rocker.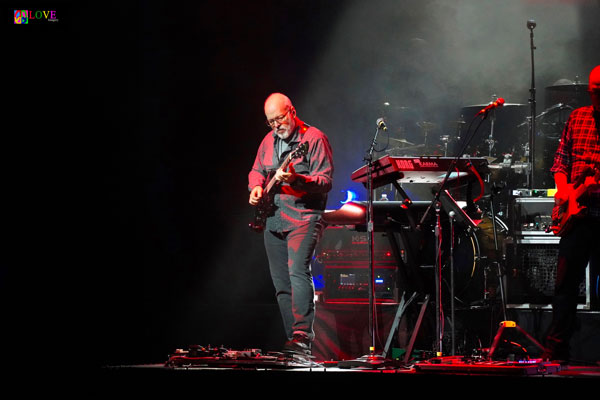 Featuring the superior musicianship of all six Zappa instrumentalists, Ed Mann impresses with his four-mallet technique, and Ray White adds his vocal to the soundscape — the piece morphing and flowing, ever-changing and moving. Then, Joe Travers takes a drum solo and provides a new direction for this compelling composition before Keneally and Scott Thunes rejoin him on electric guitar and bass.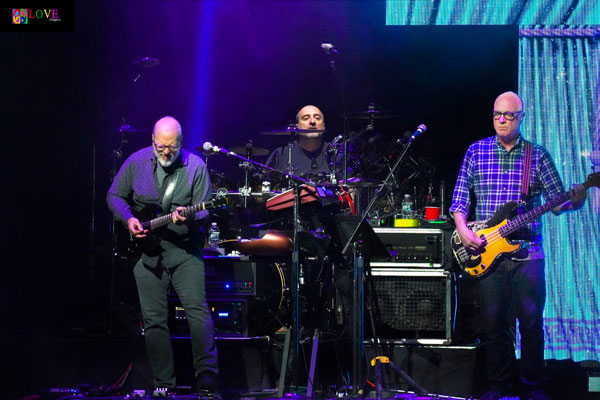 Following "The Dangerous Kitchen" — a free-form composition on which images of disgusting kitchen food fill the screen — a disco-inspired Zappa hologram sings and dances along to "Dinah-Moe Humm" while accompanied by two soulful back-up dancers.
The crowd laughs and cheers on this audience-pleaser before Ahmet Zappa takes the stage to say, "I can't thank you enough for coming tonight. It's an honor to bring you this show."
Adding, "We took a big leap of faith to create it," Ahmet instructs audience members to stand up and dance as images of his famous father fill the screen. Ahmet dances for the crowd while the band plays, jumping and encouraging the audience to get up and dance while singing "My Guitar Wants to Kill Your Mama" and "Dead Girls of London."
Recalling, "I grew up with these guys coming in and out of the house. I love these guys — I want to pay some respect," Ahmet individually introduces the members of the band. Each musician follows his introduction by playing a solo — for instance, Ed Mann "practices sorcery" on his digital xylophone, Ray White sings with "the voice of an angel,"and drummer Joe Travers twirls his sticks while soloing with machine-gun precision as Ahmet dances at the foot of the stage.
One of the most amazing segments of the show, however, follows Ahmet's introduction of musical director Mike Keneally where Keneally performs a mind-blowing solo — one which many musicians couldn't master on a single instrument — on two instruments simultaneously! Playing with lighting speed on his keyboard with his right hand and on his guitar with his left hand, Keneally defies logic and rouses audience members to their feet in awe of his peerless musicianship.
Zappa returns in hologram form for a funky rendition of "Dirty Love" as the band percolates all around him.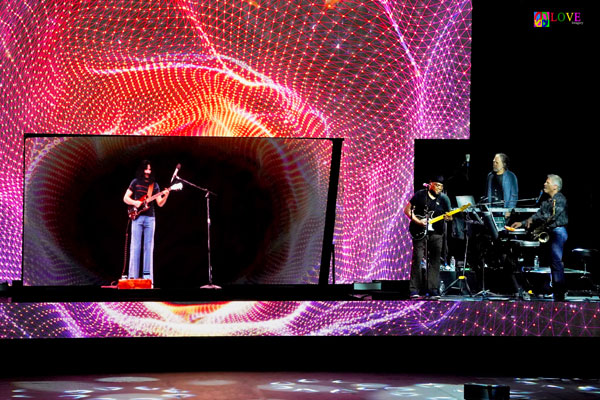 Afterwards, he says, "Thanks for coming to the concert. Good night!" before disappearing into the ether.
The audience stands and cheers, and Zappa and his musicians return to perform an encore presentation of the frenetic "Cheepnis" on which a hot-dog-costumed Frank Zappa plays guitar. They follow up with the countrified "Camarillo Brillo" where cartoon images dance as hologram Frank solos on guitar, jamming with the band and lifting the entire cheering crowd to its feet.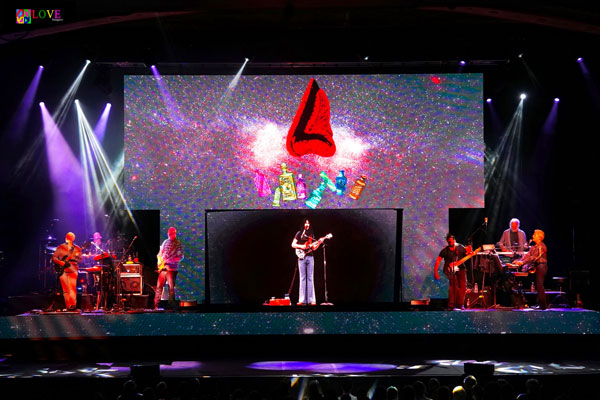 As audience members begin make their way out of the Hackensack Meridian auditorium, we take a moment to chat with Frank Zappa musician Ed Mann.
Explaining that the instrument he plays is called a MalletKet — a "MIDI keyboard which has sensor-equipped rubber bars" which he hits with mallets — Mann reveals that, with this unique device, he can use foot pedals and switches "to change the various sounds."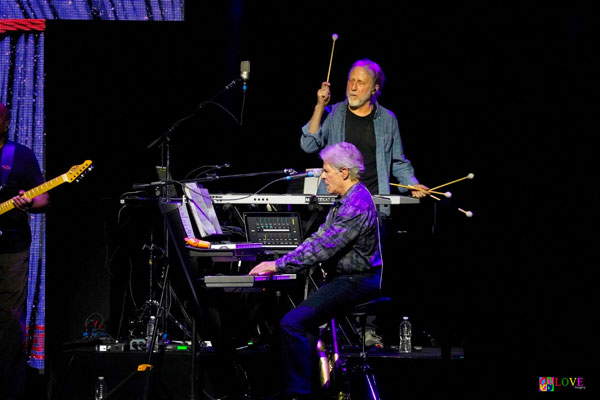 Going on to acknowledge, "I've been playing this music for 37 years," Mann confesses, "I had to practice my technique three hours every day for two weeks before this tour to be able to execute the music correctly."
Continuing, "It's a different kind of music — it's all about attitude," Mann concludes by asserting, "But you can't throw yourself at the music — rather, you're on a wave and you have to ride it in."
We also chat with several audience members who share their reactions to tonight's presentation of The Bizarre World of Frank Zappa.
Comments Lee from Lincroft, "The show was amazing! The whole thing came to life. The Frank Zappa hologram looked like a real person — it was unbelievable, really."
Continuing, "To have these musicians being pulled back together to sing and play was amazing, too. It felt like being back at a concert in the 1970s," Lee further adds, "I even brought my 15-year-old daughter to see it."
Exclaims Isabella, Lee's daughter, "I thought it was the real Frank Zappa on stage until my dad told me it was a hologram! I really couldn't tell if he was real or not — it all matched so well," before noting, "and I really liked all the lights, the videos, and everything else that went along with it, too."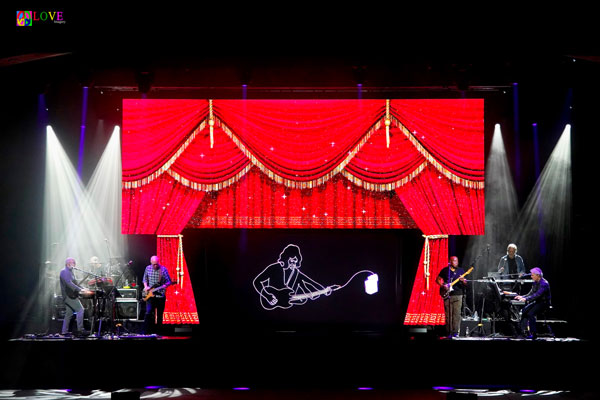 Recalls Tommy from Howell, "My brother — who is five years older than me — introduced me to Frank Zappa when I was nine years old," adding, "and I saw Zappa in 1981 for the first time at The Ritz when jazz guitarist Al Di Meola sat in with him."
Continuing, "I loved this concert — the band was amazing!" Tommy discloses, "I heard that some people were staying away from this show because of the hologram, but I say, 'It's multimedia! It's amazing — and very well done. As a Zappa-phile, you're gonna love it.'"
Admits Mike from Jersey City, "I didn't know what to expect, but it was great!" explaining, "Even without all the visual stuff, it was a great concert. The music itself was amazing, and the visual was the gravy on top," before adding, "and the hologram was cool, too."
Rich From Montvale calls tonight's performance "Phenomenal!" Acknowledging, "There's been some division among fans because of the use of the hologram, but I say, if you don't want to see the hologram, close your eyes. You hear with your ears — and the musicianship is amazing."
"Frank Zappa hand-picked these musicians to play this music," continues Rich. "His music has conceptual continuity — everything he wrote was connected — and in this concert, you're going to hear what Zappa heard and played."
Recalling, "I learned about Zappa from a high school teacher — it was an awakening for me — and for these musicians to keep Zappa's music alive, it's a labor of love, so I say, if you love the music, love the music," Rich concludes by stating, "The show far exceeded my expectations."
Lastly, we chat with Nathaniel from Rockaway who remarks, "I'm a long-time fan of Frank Zappa. At first, I wasn't going to come tonight, but I'm glad I did. The music was incredible, and all of the videos worked really well with the music," before he acknowledges with a smile, "It was really amazing — it blew my mind!"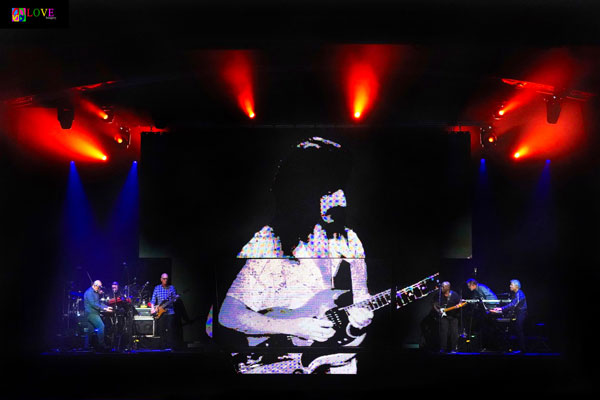 To learn more about The Bizarre World of Frank Zappa, please click on zappa.com. For information on upcoming concerts at the Count Basie Center for the Arts' Hackensack Meridian Health Theatre — including Gordon Lightfoot on May 9, Rob Thomas on May 28, and Brian Wilson presents Pet Sounds on June 11 — please go to thebasie.org.
Photos by Love Imagery
Spotlight Central. Your source for Jersey entertainment news and reviews
Love Imagery Fine Art Photography. all you need. peace/love/flower/power