By Spotlight Central
originally published: 04/19/2019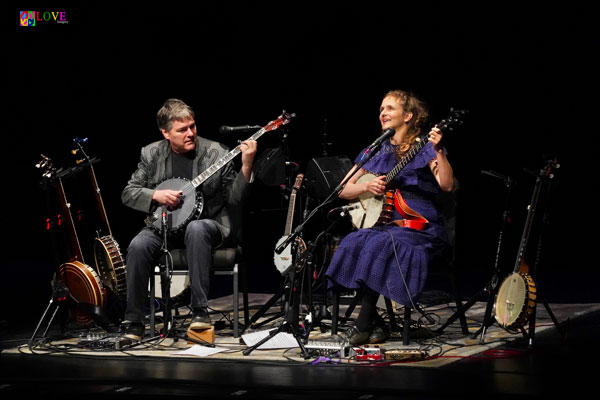 The stage is set this Friday, April 5, 2019 at Toms River, NJ's Grunin Center for the Arts with two chairs, a sprinkling of microphones, a small wooden platform, a stool, and six instrument stands filled with a cornucopia of banjos of various sizes — all ready for a live performance by banjo superstar Béla Fleck and his wife, singer and banjo player Abigail Washburn.
Fleck, 60, was born in New York City. Named after the Hungarian composer Béla Bartok, Fleck was drawn to the banjo as a child after hearing Earl Scruggs play the The Beverly Hillbillies theme song on television and "Dueling Banjos" by Eric Weissberg on the radio. At the age of 15, he received his first banjo from his grandfather. After high school, he moved to Boston where he became a member of Tasty Licks and recorded two albums. In 1979, he recorded his debut solo album, Crossing the Tracks, which was chosen Best Overall Album by the readers of Frets magazine.
In 1981, Fleck joined New Grass Revival, a group he played with for nine years. During that time, he recorded his second solo effort, Drive, which was nominated for a Grammy for Best Bluegrass Album. In 1988, he started his own band, Béla Fleck and the Flecktones, with bassist Victor Wooten. They recorded numerous albums including Flight of the Cosmic Hippo, which reached #1 on the Billboard Top Contemporary Jazz Albums chart.
Fleck also worked with musicians including Doc Watson and Dave Matthews. He recorded Perpetual Motion — a double Grammy winner which featured bassist Edgar Meyer along with guitarist John Williams and violinist Joshua Bell — in addition to producing Song of the Traveling Daughter, the debut solo album by his wife, Abigail Washburn.
Abigail Washburn, 41, was born in Evanston, Illinois, but spent her early years living in the suburbs of Washington, DC. She attended high school in Minnesota before enrolling in Colorado College as an East Asian Studies major and learning to speak Mandarin during summers at Middlebury College in Vermont. With thoughts of going to China to become a lawyer, following a trip down to the Southern US, she decided to pursue a career in music.
---
The article continues after this ad
---
---
Washburn spent five years touring with the band, Uncle Earl, with whom she recorded two albums; one of them, Waterloo, was produced by Led Zeppelin's John Paul Jones. Following her 2005 debut solo album, in 2006, she recorded Abigail Washburn and the Sparrow Quartet, an EP which included several songs she learned while living in China.
At the request of the US government, The Sparrow Quartet toured Tibet in 2006 — a first for an American band — and they also performed in Beijing during the 2008 Olympics. Washburn went on to perform with The Wu-Force before recording her second solo album, City of Refuge, in 2011. After starting a new chapter in her career as part of a duo with her husband Béla Fleck, the couple's first album, Béla Fleck and Abigail Washburn, debuted at #1 on the Billboard Bluegrass charts and also won a Grammy in 2016 for Best Folk Album.
The lights dim and Fleck and Washburn enter the Grunin Center stage, taking their seats while smiling and waving to the crowd. They open the show with a unique arrrangement of "I've Been Working on the Railroad" which features Washburn's outstanding vocals and banjo strumming and Fleck's superlative picking technique. Fleck deftly handles the melody on an instrumental break as Washburn's foot stomps before she sings the apropos "Fee, fie, fiddly-i-o/Strummin' on the old banjo" lyric, much to the audience's delight.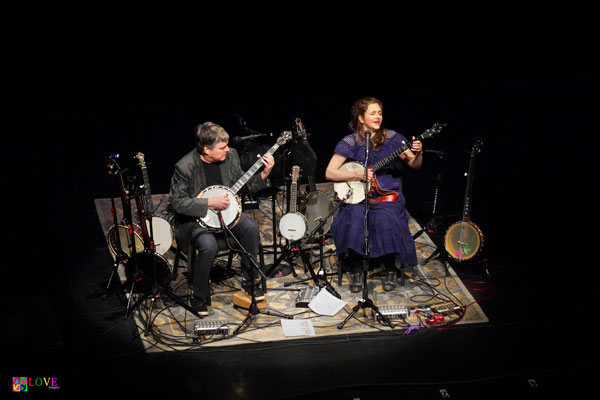 Following avid applause, the pair launches into an instrumental duet of fiddle tunes for dual banjos. As Washburn picks and rings out a melody, Fleck skillfully adds harmonics, the masterful music flowing from the couple's fingers straight to the audience and filling the room with sparkling sound. Watching each other as they play, they move up and down their respective fretboards, the motion of the music imitating a train. The audience listens with rapt attention before bursting into applause, hoots, and hollers at the end.
Fleck addresses the crowd saying, "Uh, oh — she's bringing out the big guns," before Washburn picks up a large cello banjo and exclaims, "I like big banjos." After revealing how the pair tours with their two young children in tow, Washburn explains that the next song is one the couple wrote about how "time goes so fast" and "wishing we could slow it down." 
Here, the duo launches into a poignant and heartfelt version of "If I Could Talk to a Younger Me," where Washburn's clear and pleading voice cries out, "If I could talk to a younger me/I'd tell me to go slow/The time on earth/It moves so fast/And when it's gone it's gone," as Fleck expertly accompanies her on banjo.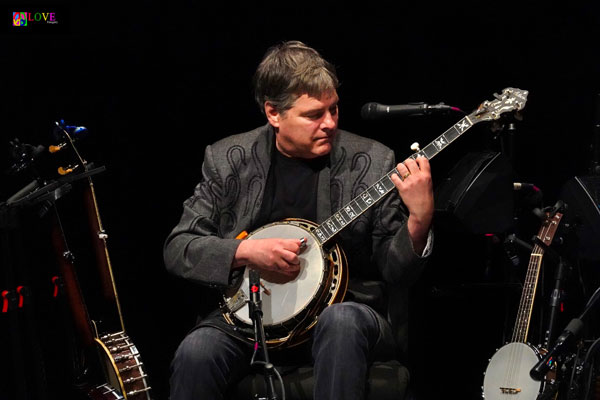 Washburn tells the audience that the duo wrote their next song, "Over the Divide," about a yodeling sheep herder who saved Syrian refugees during the Holocaust. On this uplifting number which features Washburn's yodeling talents, the two banjos pick and duel before Washburn sings, "Shepard on a mountain, over the divide/Meet me at the border and away we ride," on this unique and rhythmic folk song.
"Little Birdie" is a Fleck/Washburn original which has the musicians sliding and bending banjo notes before Washburn sings, "Little birdie, why you fly so soon/Has your mama been gone too long?" on this folk tune created in a minor key.
Washburn explains that she learned the duo's next song from a West Virginia woman who lived "deep in a holler." Revealing, "It's a song that's been passed down from generation to generation," she's pleased to add that "our five-year-old son was singing it along with us today when we were rehearsing."
Here, she moves to a single microphone set up on the side of the stage before launching into "Bright Morning Stars," her strong, clear soprano voice ringing out through the theater as she sings from her soul without instrumental accompaniment.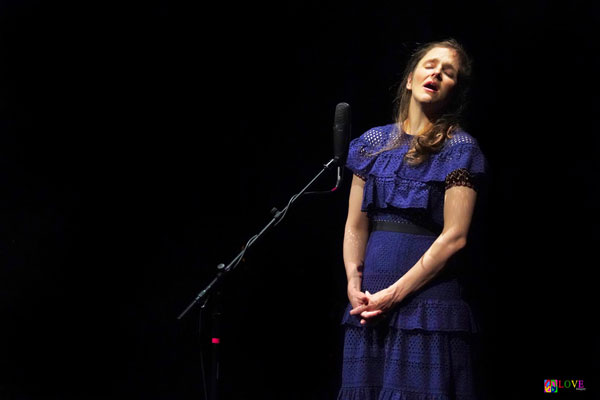 Standing alone in the light in the time-honored folk tradition, she inspires cheers and whistles of approval from listeners in the Grunin Center audience.
Fleck follows up by moving to a small stool, picking up his small ukulele banjo, and playfully adjusting both the stool and the microphone in a sort of impromptu slapstick routine. Once everything is just right, he begins to strum and fingerpick an upbeat banjo tune. The sound swirls and jumps as he simultaneously spins out a melody and an accompanying harmony, the audience transfixed by his talent before erupting into enthusiastic applause.
Standing on the small wooden platform next to Fleck, Washburn tells the audience about the "More Banjo" shirts they have for sale in the lobby, and also informs the crowd that certain purchases will entitle fans to enter a drawing for a signed ukulele banjo that will take place during Act II of tonight's program.
In introducing the couple's next song, Washburn reveals, "This is an old song that is usually played upbeat, but it is actually a depressing song," before pointing out, "We do it our own way."
Here, she and Fleck conclude Act I with a slow and bluesy rendition of "My Home's Across the Blue Ridge Mountains."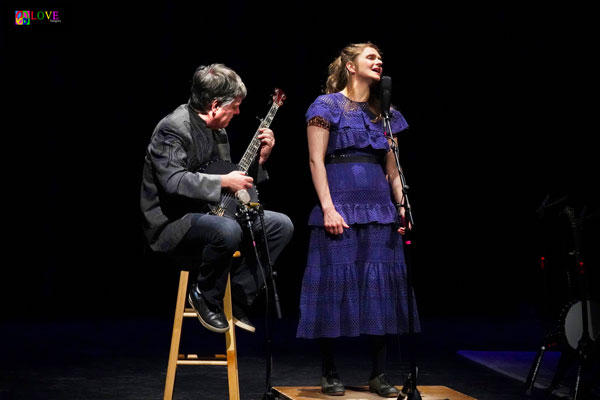 As Washburn's voice cries out, "How can I keep from cryin'/For I never, no never, will see you anymore," Fleck flawlessly plays the banjo — at times using a slide — starting out softly but building in intensity, this classic American folk song resounding with soul and authenticity.
During intermission, audience members trickle up to the stage to take photos of the various banjos on display while we take a moment to chat with several music lovers in the house who share their opinions with us of the concert thus far.
States Ray from Manasquan, "I've been a fan of Abigail Washburn's music for about eight or nine years now," revealing, "I had her City of Refuge album and I wore it out."
Explaining, "She has an incredible range and a distinct unique vocal style," Ray further notes, "The mix of banjo playing and voice here tonight is one-of-a-kind amazing. There is no one else like Abigail Washburn — and to have her together with Béla Fleck is crazy!"
Alex from Brick agrees commenting, "I loved the slapstick routine with the ukulele banjo — it reminded me of Groucho Marx," before adding, "Béla Fleck is the best, and I love Abigail Washburn, too — I just can't believe the two of them are doing a concert right here in Toms River!"
Fleck and Washburn retake the stage and open Act II with another instrumental banjo duet. Sounding upbeat and joyful, the two instruments run alongside one another, dancing their way through a happy-go-lucky tune which sparkles in the Grunin Center auditorium thanks to excellent acoustics and top-notch live audio engineering.
Changing things up, the couple's banjos sound sad and mournful as they accompany themselves singing in harmony on their original composition, "Don't Let It Bring You Down," a unique folk tune which features constantly shifting meters.
Washburn's sweet and clear soprano is featured on "Bloomin' Rose," a lovely Fleck/Washburn original on which Abigail poignantly croons, "I could feel my body grow weak with every passing year/She was a rose, a bloomin' rose," creating a mood of longing for the listeners in the house.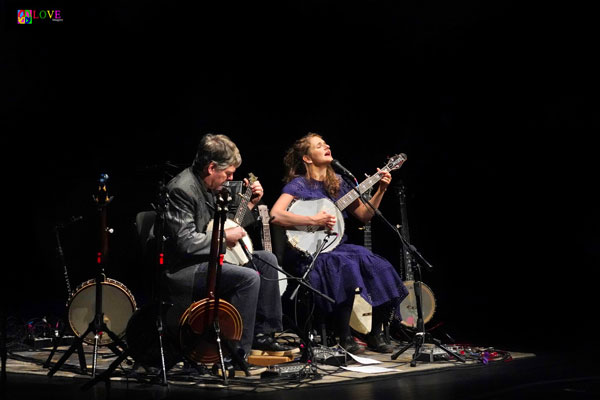 Taking a moment to explain two different styles of banjo playing — the "clawhammer" style employed by Washburn vs. the "three-finger-Earl-Scruggs" style utilized by Fleck — the couple assures the audience that, as a unit, they've been able to successfully blend these two diverse styles of playing.
They follow up with a highlight number of tonight's performance, "Song of the Traveling Daughter," a composition which Washburn wrote after studying Chinese in college and touring as a musician in China.
Explaining, "I started playing the banjo after I learned Chinese so I could show true American music to my Chinese friends," Washburn acknowledges that she wrote this next song after reading an eighth century Chinese poem questioning how a son could understand a mother's love, but she changed it to "a female point of view."
Impressing the crowd with her linguistic skills, as she sings in Chinese, Washburn also manages to provide line-by-line English translations on this unique and compelling composition which seamlessly melds American folk music with the Chinese language.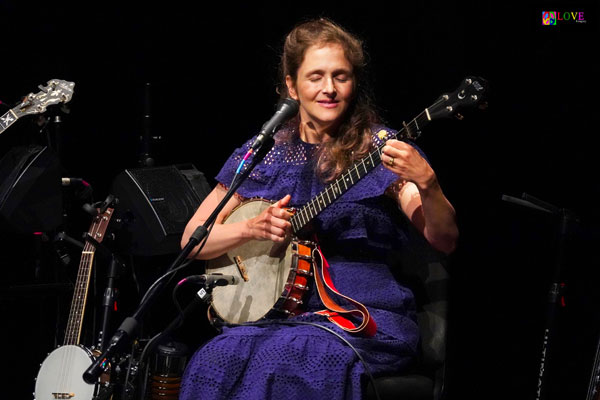 Washburn's voice is also featured on "And Am I Born to Die." Singing from her soul, "And am I born to die/To lay this body down/And must my trembling spirit fly/Into a world unknown," she's brilliantly accompanied by Fleck on the banjo, harmonics ringing and pinging throughout the Grunin Center auditorium.
Following huge applause, Washburn takes a seat, leaving Fleck in the spotlight for a virtuoso banjo solo on which he fingerpicks up, down, and around his banjo, thrilling the audience with his dexterity, precision, and style. As he continues to play, the beautiful melody he produces becomes a touching banjo rendition of John Lennon's "Imagine" before it morphs into Paul McCartney's "Martha My Dear." A treat for both the eyes and ears, Fleck's tour de force performance has the audience cheering and applauding with great energy and passion.
Taking a break from the music, the couple asks a young man in the audience to select a ticket from a jar before announcing the winner of a signed ukulele banjo — Jennifer from Philadelphia — who impresses Washburn when she exclaims, "Thank you — I want to learn to play the banjo!"
Another highlight of tonight's program is the duo's performance of their song, "Take Me to Harlan." On this appealing number, Washburn stands on the wooden platform next to Fleck and dances an energetic soft shoe as she sings, "There's an echo in the valley/I can hear it calling back to me/I will come to you love/So take me to Harlan anyway you go."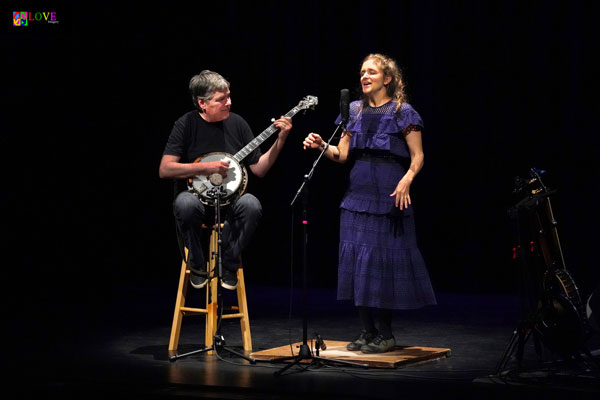 As Washburn dances, she sings with her whole body to Fleck's superb banjo accompaniment. Echoing the rhythm of his banjo, both the movement of Washburn's body and the sound of her feet — in counterpoint with her vocal line and Béla's expert playing — create a unique musical experience which the audience adores.
Ending with a stomp and a chord, the entire audience rises to its feet in appreciation, demanding an encore. After leaving the stage and returning, Fleck and Washburn make their way down into the audience to perform an encore to tonight's program, "Keys to the Kingdom."
Inviting audience members to snap their fingers and sing along on the song's compelling refrain, the crowd happily joins in on the "I got the keys to the kingdom/The world can't do me no harm" chorus. As Washburn and Fleck connect with their audience in this truly unplugged way — with no microphones or electronic amplification of any kind — they prove that folk music can be both for and by folks who cheer "Yay!" after being a part of this engaging musical experience.
As audience members exit the auditorium, we chat with several in attendance who share their opinions of Béla Fleck and Abigail Washburn's performance tonight.
First, we chat with Ken from Neptune who comments, "This was one great show. Béla is a great performer. He's always innovative — always thinking outside the box; he's forever an expressive banjo player!"
Tom from Toms River agrees adding, "Béla is always amazing, and Abigail is just so talented; she feels the whole thing — every part of the music," before noting, "It was a very personal show. It made you feel like you were listening to them in their living room."
We also chat with Jennifer from Philadelphia, the winner of tonight's ukulele banjo drawing.
Exclaims Jennifer, "I'm a long time Béla Fleck fan! Since 1997, I've seen him about 10 times, usually with his band, Béla Fleck and the Flecktones. He's a true virtuoso."
Continuing, "Seeing him with Abigail Washburn tonight was really different. Abigail shone on her own. Her voice is very soulful; it harkens you back to the mountains — or the holler," Jennifer additionally notes, "and her performance in Chinese was just beautiful."
Lastly, we chat with Jennifer's companion, Rich from Bayville, who remarks, "This was my first time seeing Béla Fleck. Since I like both banjos and bagpipes, Jennifer surprised me with tickets, and it turned out to be a very nice surprise," before concluding with a smile, "I'm a fan now!"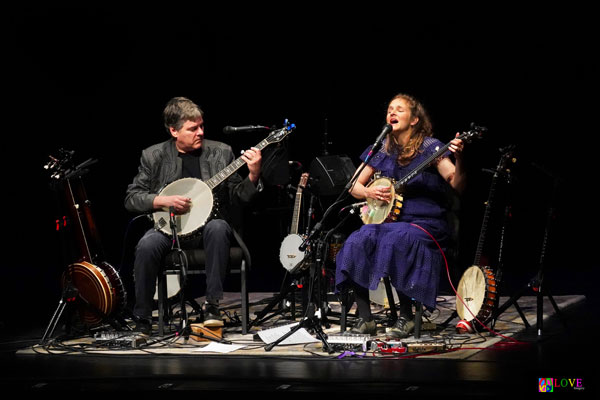 To learn more about Béla Fleck, please go to belafleck.com. For more on Abigail Washburn, click on abigailwashburn.com. To find out about future concert performances at Toms River's Grunin Center for the Arts — including John Pizzarelli on April 26, The Bronx Wanderers on May 19, and Rufus Wainwright on August 23 — please go to grunincenter.org.
Photos by Love Imagery
Spotlight Central. Your source for Jersey entertainment news and reviews
Love Imagery Fine Art Photography. all you need. peace/love/flower/power