originally published: 04/18/2019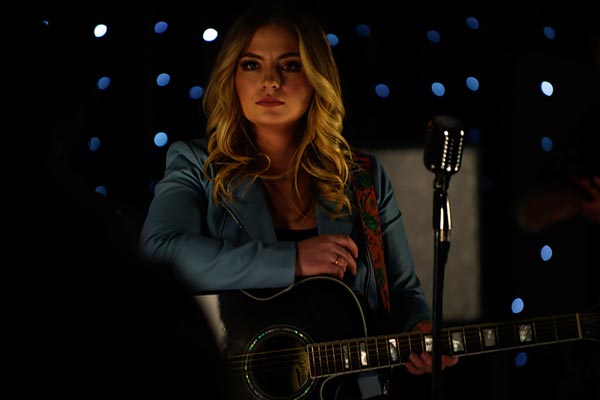 Taylor Tote is pictured on the set of her latest music video for the new single "Heart's a Boomerang," which makes its media premiere in Makin Waves. PHOTO BY KOSTAS LYMPEROPOULOS
Taylor Tote chats about her new single and video, "Heart's a Boomerang," upcoming appearances at Jammin' For Jaclyn and Makin Waves Fest, a national summer tour with Remember Jones and more!

Only 24, Taylor Tote has been an Asbury Park headliner for many years already and shows no signs of slowing down despite recently returning to college to obtain a degree in Media and Arts Management at New York City's Marymount College. Loving the hustle-and-bustle of the Big Apple and all the career contacts she can continue to make and maintain there, Taylor balanced her first semester back at school with a great new single, "Heart's a Boomerang," that adds to her impressive catalog.
Like most of her previous releases, the tug-of-war tale of love vs. self was produced by Grammy-winner David Ivory. In a new video, Taylor falls back on her early acting days to bring the heartfelt track to life. The clip was directed by Andrea Morgan, the immensely multi-talented video director at Asbury Lanes who has lensed Levy & the Oaks, The Foes of Fern, Natalie Farrell and much more. Here is the media premiere of Taylor's "Heart's a Boomerang" clip:
You can hear "Heart's a Boomerang," the forthcoming single, "If You're Good," and local hits, such as "Fighter," "Miss You," "Clouds," "Take Me Home," and "This Ain't Love," at several upcoming shows. Taylor and her band will play April 27 at Jammin' for Jaclyn, saxophonist Michael Squillance's annual cancer fundraiser in tribute to his late sister. Longtime Taylor guitarist and collaborator Nick Ryan's band also will play that show at the Sayreville Knights of Columbus.
On May 17, Taylor will participate in The Underground Songwriters Series in Lansdale, Pa. On May 20, she and her band will be at Makin Waves Fest's Makin Waves@Happy Mondays at the Wonder Bar in Asbury Park with Des & the Swagmatics and Nalani & Sarina. And on June 6 and Aug. 18, they will play The Asbury Rooftop at Salvation. In the summer, Taylor will hit the road on a national tour as a female lead singer in Remember Jones. She talked to me about her songs, plans and supportive family in the following chat.
What is your greatest musical influence, how and why?
This is always a tough question but I would probably have to say Stevie Nicks and Lady Gaga. I always loved hearing about their dedication to their craft and how they strived to get where they are today. I once heard Stevie Nicks say that she chose not to get married and have kids so she can focus on her true love, which is writing and performing. I love that so much about her, but I definitely do want to be married and have kids of my own one day!
When Lady Gaga was around my age she also was in NYC busting her ass, lugging her giant keyboard around to different venues and up and down her six floor walk-up every night. She would call venues pretending to be 'Lady Gaga's manager' convincing people that she was the next hottest thing, and they needed to book her right away. Musically, they influence me, but I think the hard work and dedication also inspires me to never give up either. I always have to remind myself that they were just like me at one point, and I can use their stories as an influence to get bigger and better.
Where did you grow up and where do you live now?
I grew up in Tinton Falls, and I'm currently living on and off in NYC and Tinton Falls!
Did growing up and/or living there influence your musical direction?
I honestly can't say yes to this question. Growing up so close to Asbury Park may have had some sort of influence, but I've been singing and performing well before I made my way into the Asbury scene or before I even knew what Asbury was. But I guess I would never know since I don't know what it would've been like to grow up somewhere else!
How have family influenced your approach to music?
It's funny because people always ask my parents if they sing and passed it down to me, and people will often ask my little sisters if I've influenced them to sing, which they don't either. None of us really have any musical bones in our bodies. I just loved singing since I could speak, but I wouldn't ever say I was good. I was just really dedicated to consistently practicing and teaching myself to get better until my parents encouraged me to get lessons when I was about 15 with Jody Joseph Bongiovi. But I will say that my entire immediate and extended family has been more than supportive, and I'm incredibly lucky for that. My first cousin, Laura, is always more than willing and ready to do my hair for any photo shoot or show. My parents help fund recordings and book gigs, my sisters are stagehands for certain shoots, and my mom's first cousin is Bart Cox. Bart was actually more like a brother to my mom since they were so close. When my interest in music became more evident, Bart was always there to help with sound, find new shows and connections, and get me train tickets into the city when I had any shows or meetings out there. Bart was a really well-known drummer in the Asbury area for a long time and was the first-ever recipient for Asbury Music Award's 'Best Drummer.' He, unfortunately, passed away last May, and we miss him terribly, but he definitely was a huge supporter of mine, which meant the world. Other family members are more than willing to share and promote shows and, of course, be in attendance. That I'm forever grateful for and incredibly lucky.
Bart's early band Latshaw was one of the first I interviewed back in 1985 before Makin Waves. What do you like most and least about working with your mom, Tara, as your manager?
I absolutely love working with my mom! She really knows what she's doing, and the best part is that she is my mom and always has my back and best interest. It means I also get to see and talk to her a lot more often.
I would say the only hard part is finding balance between work and family time. Also, I'm just shy of 24, and I sometimes worry that people might think it's weird they have to consult with 'my mom.' But I always assure people not to worry since she really is in 'manager mode' and not in 'mom mode' when it comes to business situations. We actually get many compliments on how professional she works and how professional we are together. There's never any negative feedback on it! I really wouldn't trade it for the world! Once I said I wanted to be a musician full-time she pretty much picked up the role right away. I didn't even ask, it was just like, 'OK, we're doing this.'
You have accomplished much at a young age, such as great gigs with the Asbury Park Press' 'Storyteller Series,' NAMM, headlining the Stone Pony and Asbury Lanes, playing festivals; releasing acclaimed material to many streams and sales; raising funds for causes dear to you; working with a Grammy-nominated producer and much more. What to you is your greatest accomplishment and why, and what impact did it have professionally and/or personally?
When I was 19, I sang the National Anthem at Madison Square Garden. It was quite some time ago, and I've done so much since then, but there's something about that phrase that seems so unreal. The National Anthem is such a chilling song to me and such an honor. To sing it at MSG is really insane and something I would strive to do again. Singing that song every time is very humbling for me. And MSG is, of course, a dream.
What would you most like to accomplish and why?
Honestly, at this point, it's about being able to do what I love full time and able to support myself and a future family.
Out of all your songs, which means the most personally to you and why?
There isn't just one! They all mean a lot to me. They were all a part of me at one point in time.
Which do you enjoy performing most and why?
Same thing! All of them!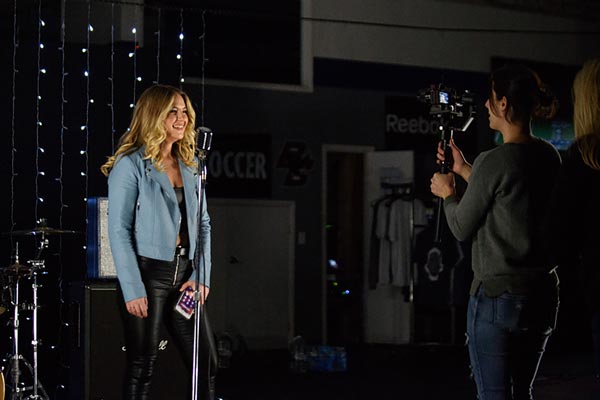 Taylor Tote, left, is pictured with "Heart's a Boomerang" video director Andrea Morgan. PHOTO BY KOSTAS LYMPEROPOULOS
Tell me about the new single, 'Heart's a Boomerang,' which you released on April 12. What inspired that song?
I wrote this song right around this time last year in the spring. I was not really sure what I wanted out of my life and relationship. I found myself making decisions and immediately going back on them. I was going back and forth a lot really that was happening at that time. I was also in a position where I felt like I had to love myself before I could allow anyone else to or even give that love to someone else. It was a really hard decision to make: who do I love more, this person or me? My heart definitely felt like a boomerang at the time. And I always say this talking about this song, but I am a Gemini so I'm indecisive at heart! Anyone who's had an indecisive moment, though, can definitely relate to this song.
Did David Ivory produce that track? What have you enjoyed most about working with him?
Yes he did! Working with David is really amazing. He and his partner, Joe Lam, know how to get the best out of me and my sound even when I don't know how to verbalize it. It's awesome because they genuinely care about the way the track sounds and the way I feel before, during, and after the recording process. Plus, they're super fun and funny, and we all jive really well. I trust them a lot.
Will you be releasing another EP or an LP or continue to focus on singles?
I'll continue to focus on singles for now! I think it's the way people are really listening to music these days. It's also fun seeing what we'll come up with next.
What I find interesting about you is that, like Taylor Swift, you write pop songs, yet they are constructed in such a way and you have the talent that you could play them solo acoustic, which you do from time to time. Do you initially write your songs by yourself on an acoustic guitar?
The way I write varies. More times than not, yes, it's just my acoustic guitar and me. Or I'll have Nick Ryan write some guitar parts on occasion. I've been doing a lot of top lining as well lately, where a producer or DJ gives me a track to write over, which I've really been enjoying.
What is the process like that turns them into fully produced band songs?
In the past, I would write a song by myself and sometimes with Nick with some sort of idea of how I want it to sound, show it to the band, and we hash out all the parts. Then we would take it over to David and Joe at Ivory Productions in Pennsylvania and tighten it up, add some parts or maybe take some out. But like I said previously, I have been doing more top lining lately, which I've given people a little taste of already and something you can definitely expect to see from me in the future!
How did you like making the Bulletproof Belv video for 'F Being Friends?'
That was super fun! Matty Carlock called me up and said they were looking for a female to be in the video, and I jumped right on it. Belv and Matt are super cool people and fun to be around. I really dig their music individually and together so it was really awesome getting to be in their video! It was definitely a fun one to shoot.
Have you done any other acting and do you expect to do more?
Yeah! I did theater all throughout middle school and high school and would absolutely love to do more! And as you should see attached in this article, the video for 'Heart's A Boomerang' is mostly acting! It was fun creating that storyline and getting to direct and edit a little bit too!
How is school in New York City going, what are you studying and why, and how do you like living in Manhattan while in school?
I absolutely love New York City and living there has been a dream of mine for a long time. The hustle and bustle is so my vibe and I feel like I fit in really well there. I've been attending Marymount Manhattan as of January and it's been quite a shock but incredible nonetheless! I took about a three-year break from college and just decided to go back over the holiday season. It kind of hit me that I don't know nearly as much about the business as I thought I did. So I'm majoring in Media and Arts Management and minoring in Music. I figured I could learn the tools to apply to myself as I am a DIY artist but also apply it to other situations if need be. It was also about being in the city every day utilizing the connections I have there more and making new ones and keeping up with them. Aside from college, I've been working with Song Art's Academy's Billy Seidman, as well as Broadcast Music Inc. (BMI).
You are playing the Makin Waves-curated Happy Mondays on May 20 with Des & the Swagmatics and Nalani & Sarina. What are you most looking forward to about that show and why?
I'm so pumped to play this show! I've played with Nalani & Sarina and Des multiple times in the past and it's always such a great time. I think our styles vibe really well together, and I'm honestly looking more forward to seeing both of those bands perform more than anything because they're just so dang amazing!!!
What else are you up to this spring and summer as far as gigs, promotion, touring and anything else?
I'm actually really excited to announce that I'll be joining Remember Jones for their U.S. Summer tour! We'll be hitting everywhere from the East Coast to the West! We just announced the dates so definitely take a look at the calendar and if you're in the area, come on out! I'll also be writing and recording my own music in between, really working to craft my sound and originals so that by fall there will be a new-and-improved Taylor Tote!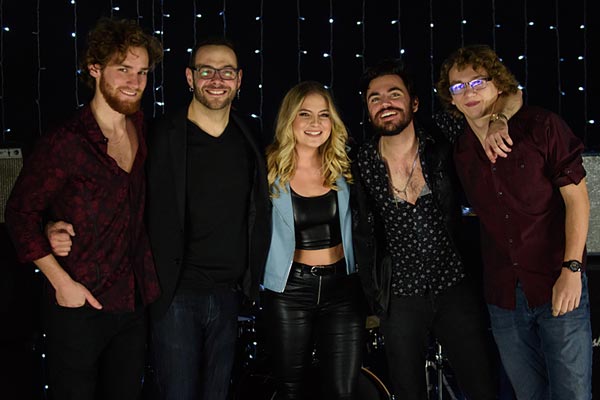 Taylor Tote, center, is pictured with the musicians who appeared in her latest music video for "Heart's a Boomerang." They are from left to right guitarist Kenny Iselhart, bassist Jimmy Franklin, guitarist Nick Ryan, and drummer Anthony Flora. PHOTO BY KOSTAS LYMPEROPOULOS?
Is there anything I didn't ask on which you would like to comment?
Well, since we're premiering the video, I would love to give a shout out to everyone who's helped work on it! Of course, the song was recorded by David Ivory and Joe Lam of Ivory Productions, and the video was filmed by Andrea Morgan who was an absolute dream to work with! She put so much time and work into this video and also let me assist with directing and editing the video with her.
My amazing friend, Jonathan Sanchez, plays the love interest, and it's so hard to believe he's never done any acting before. He was a true natural, and I was so blessed to have someone like him join in on this project! Anthony Baklouk, Claudia Hanna and Brittany Wilson, who all grew up with me, make an appearance, which was super fun to have them on board! They drove all the way out to Mount Holly to be in the video, and I'm very grateful for them. And of course, the band! On the recording, we had Tom Briant and Nick Ryan on the guitars, Aaron Manzo on bass, and Anthony Flora on the drums. In the video, we have Kenny Iselhart and Nick Ryan on the guitars, Jimmy Franklin on bass, and Anthony Flora on the drums. I would also love to give an incredibly special shout out to Ocean Crossfit, my friends and my home, for donating their space for the video. That's where we filmed all the band shots actually! I'm very excited for everyone to see this video, I put so much soul into it.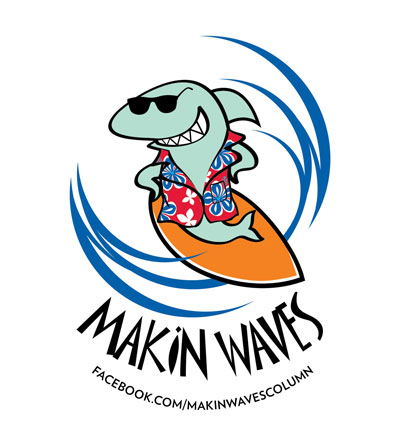 Bob Makin is the reporter for MyCentralJersey.com/entertainment and a former managing editor of The Aquarian Weekly, which launched this column in 1988. Contact him at makinwaves64@yahoo.com. And like Makin Waves at www.facebook.com/makinwavescolumn.