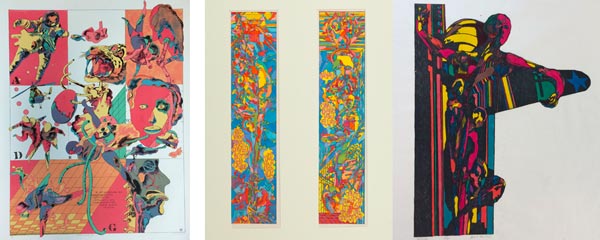 I have been covering the arts in New Jersey for a long time, and yet I continue to be surprised and delighted by the number of new things I learn about our small but mighty state's abundance of art-related offerings.
My new favorite discovery is the artist Jacob Landau and the exhibition "Jacob Landau: Exploring the Colors," presented by the Monmouth University Center for the Arts and on view at the Guggenheim Memorial Library in Long Branch through April 18.
Jacob Landau? Maybe you're searching your mind for a spark of recognition right now. "Should I know that name?" you may ask. And, although I was not familiar with Landau or his work before I began research for this feature, my answer now is an emphatic "Yes!"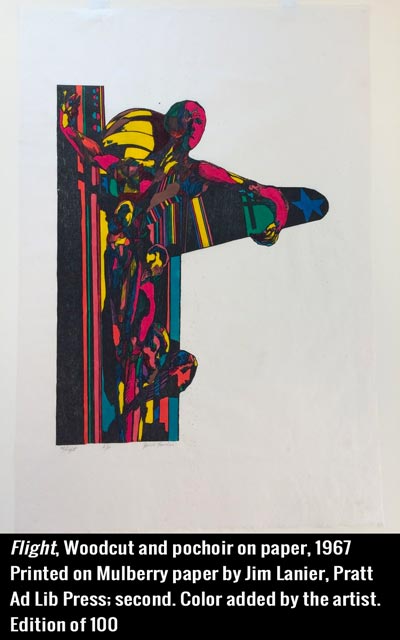 A printmaker, painter, teacher and humanist, Landau was born in Philadelphia in 1917 and launched his career as an illustrator. He won national prizes by the age of 16 and received a scholarship to the Philadelphia College of Art (now University of the Arts).
Landau lived most of his adult life and raised his family in Roosevelt, New Jersey, where he became an active part of the town's artistic community, along with noted artists like Ben Shahn.
Landau's art has been exhibited in Europe, Mexico and South America, and in the United States, in more than 30 solo and 200 national and regional group shows. He was also a master teacher, who retired as professor emeritus from Pratt Institute in New York.
Scott Knauer, who is Director of Galleries and Collections at Monmouth University and responsible for curating exhibitions in two of the college galleries and overseeing its permanent art collection, answered a couple of questions for me about Monmouth University and Jacob Landau.
"Why Landau at Monmouth?" was my first question.
"The university has a long-standing relationship with Landau," Knauer said. In 1996, Monmouth awarded Landau an honorary Doctor of Fine Arts degree. Then, in 2008, the university was gifted more than 300 prints, drawings and paintings from the Jacob Landau Institute, which was created after the artist's death in 2001.
The Landau exhibition is an annual affair, Knauer told me, with an exhibition each April that celebrates a different aspect of the artist's work. This year's theme is "Exploring the Colors" and focuses on … Landau's use of color.
Landau once said, "Color and drawing are the twin fundamentals of my style." Knauer pointed out that the exhibition includes examples of various media, including chalk pastel, conté crayon, oil pastel, ink, charcoal, colored pencil, watercolor, gouache, woodblock and the pochoir technique, also called hand-coloring and defined as a highly refined method of making fine limited editions of stencil prints (thank you, Brittanica.com.)
The next stop on my learning journey was a conversation with David Herrstrom, President of the Jacob Landau Institute.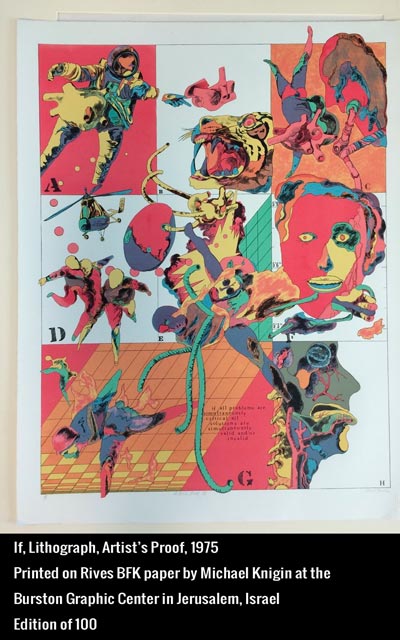 Herrstrom's connection to Jacob Landau was quite direct. "I met him soon after coming to Roosevelt," Herrstrom said. "His studio was in a geodesic dome in the woods near my house, and when I first encountered him in 1975 or 1976, he was working on a set of illustrations for Dante's 'Inferno'.          
"So many things about him were unique," Herrstrom continued, "I was immediately drawn to him.
"First thing, his god was Beethoven. He had his music playing all the time and it absolutely reverberated inside the dome."
Something else that Herrstrom noticed was that Landau's studio space was filled with all types of books.
"He had an omniscient curiosity," Herrstrom said. "There was almost nothing he wasn't interested in. And he approached his art with the same level of inquisitiveness.
"Another thing that characterized Landau and his work was his commitment to the human figure, and this was at a time when America seemed completely bowled over by Abstract Impressionism."
Herrstrom laughed, "It was him and a few other brave souls."
This mindset was a two-way street.
"Landau was rooted and connected in his humanism," Herrstrom said, "and that informed his art. He insisted that his life and his art had to be inseparable, believing that art is a way to see the whole world."
Perhaps the most arresting example of this is a series of 10 large (5' by 20') stained glass windows titled "The Prophetic Quest" and installed in the Reform Congregation Keneseth Israel in Elkins Park, Pennsylvania.
"The theme was the quest for justice," Herrstrom said, "which is something that had strong personal significance for him."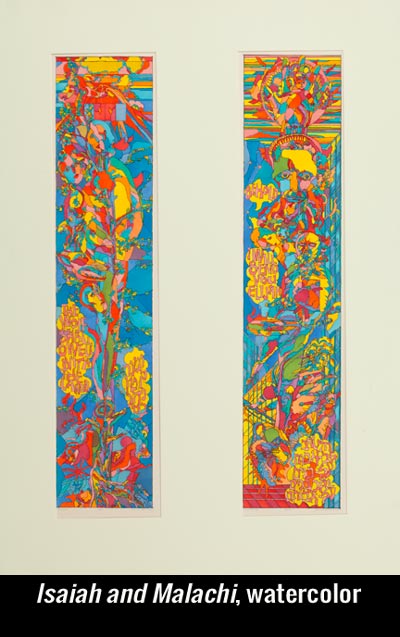 Although Landau was familiar with the subjects depicted in the works and, in Herrstrom's words, "appreciated them from a literary point," the artist still conducted extensive research, for more than a year, for the project.
"He had tremendous respect for Judaism, for the synagogue, for the space," said Herrstrom, "and wanted to contribute toward social awareness with these works."
And while the windows are nearly half a century old now, they seem remarkably fresh.
"There is a wide range of imagery, which plays off of tradition," said Herrstrom, "and a blaze of colors. They are very exciting."
Landau relied heavily on the basics – color and drawing – throughout his life, but never stopped trying new ideas.
"There were many phases," Herrstrom said. "For example, a major change came when he discovered he was allergic to oil paint and switched to watercolor. It's important to remember, too, that, throughout his career, Landau was a masterful illustrator and continued to be in high demand."
He even did some work with comic books, a stylistic variation that can be seen in some of Landau's later works.
"He was always experimental," Herrstrom continued.
At the heart of it all, though, Landau wanted his art to mean something. As vibrant and striking as his works might be, the artist believed that their purpose was greater than to simply be ornamental or decorative.
"It was never meant to lull or amuse," Herrstrom said. "His art was intended to alter consciousness."