By Spotlight Central
originally published: 04/11/2019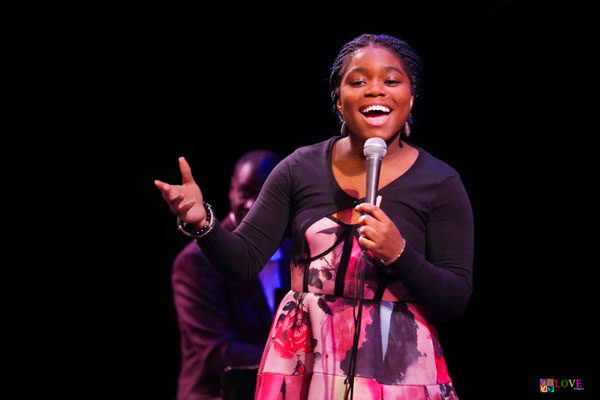 Music lovers of all ages make their way inside Toms River, NJ's Grunin Center for the Arts this March 31, 2019 for a special Jazz on a Sunday Afternoon performance by 17-year-old jazz phenom, Alexis Morrast.
A Jersey girl at heart, Morrast was born in Newark, but now resides in Plainfield. The youngest of six children, Alexis started singing in church at the age of three and began to sing solos in the church's adult choir at the age of seven. As a youngster, Alexis became a two-time amateur night winner at the iconic Apollo Theater, and also won the nationally-broadcast Showtime At The Apollo TV show hosted by Steve Harvey on Fox television.
Alexis has not only performed at Lincoln Center in New York City and The Kennedy Center in Washington, DC, but has also appeared on stage internationally in countries as diverse as Austria and South Africa. Despite her tender age, she has worked with such jazz legends as Christian McBride and Barry Harris in addition to a number of popular entertainers including Dionne Warwick, Michael Feinstein, and Christine Ebersole.
Morrast's story has not only been seen on the front page of national and international newspapers, but she's also been featured in publications including The Wall Street Journal, the LA Times, and Forbes magazine.
Inside the Grunin Center auditorium, concert producer Sandy Josephson welcomes today's crowd and introduces today's headliner by acknowledging, "The first time I heard her sing, I was blown away!"
---
The article continues after this ad
---
---
At this point, Alexis Morrast takes the stage along with her band which includes James Austin, Jr. on piano, Ben Rueben on bass, and Jeremy Warren on drums.
Smiling as she begins, Morrast opens with an upbeat and jazzy rendition of Roberta Flack's "Killing Me Softly."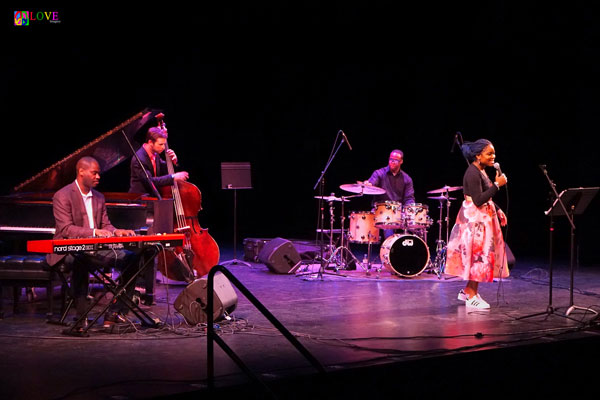 With her rich, full vocal sound, Morrast improvises around the song's famous melody as piano, bass, and drums support her on an uplifting arrangement which features a melodic James Austin Jr. piano solo and a lyrical Ben Rueben bass solo. After inviting the audience to join in with her on the song's "La la la" interlude, Morrast easily sings along above the crowd without the help of a microphone.
Following avid applause, Morrast welcomes the audience and tells them a bit about herself, saying, "I really am 17 years old and a senior in high school," before launching into her next number, Cole Porter's "Night and Day." Impressing the crowd with both her smooth lower register and her sweet upper register, her performance effortlessly traverses both aspects of her instrument as she croons "Night and day/You are the one." She's soon followed by a thoughtful James Austin, Jr. piano solo and an innovative Ben Rueben bass solo where Rueben creatively alternates between plucking and bowing the strings of his upright bass.
Moving on to her self-described "favorite song," Austin switches to an electronic keyboard to accompany Morrast on her presentation of a hip-hop-inspired arrangement of George Gershwin's "Summertime." Her voice sounding rich and resonant, the audience claps along while Alexis moves to the groove of Austin's solo. Then, Morrast has the audience echo-sing her voice, the crowd happily trying to emulate her full, rich low notes in addition to her compliment of sweet high notes.
Morrast follows up with an impressive rendition of "Besame Mucho" which she performs in Spanish. Singing with ease and expression on this Latin tune, Ben Rueben plucks fast on his bass provoking Alexis to exclaim, "Come on, Benny!"
A highlight of this afternoon's show is Morrast and Co.'s creative interpretation of Herbie Hancock's "Butterfly."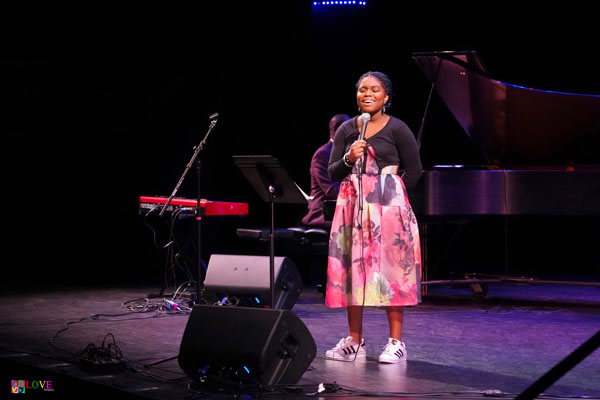 On this beautiful number, Morrast's voice floats above the audience, sounding true and clear in this pristine listening environment, before her splendid lead is followed by a rhythmic drum solo by Jeremy Warren.
After large applause, Morrast presents a slow and heartfelt arrangement of Nat King Cole's "For All We Know," and then shifts gears into a lively arrangement of Fats Waller's "Honeysuckle Rose." Crooning, "Every honeybee fills with jealousy/When they see you out with me," Morrast impresses as she sings up and down the melody with style and authority.
Morrast's audience-pleasing presentation of Louis Armstrong's "Basin Street Blues" has the crowd clapping along, hooting and hollering, as Morris glides up and down the melody before growling out a verse a la Armstrong himself.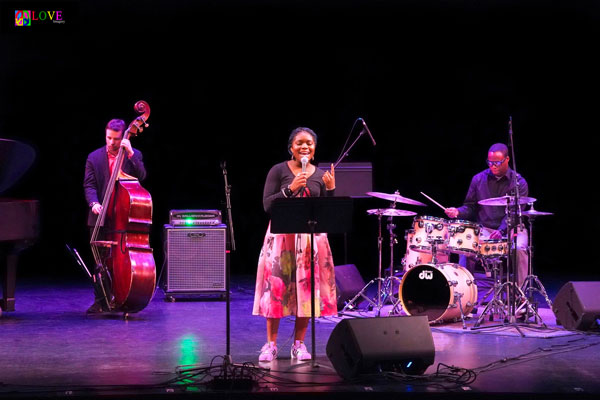 Effortlessly switching registers back to her head voice and singing beyond her years, the audience responds by rising to its feet.
Exclaiming, "I'm glad you like that one!" Morrast launches into "So Nice," a slow samba where she experiments with shifts in rhythm. Changing the duration of the notes as she winds her way through this Latin number, Jeremy Warren deftly accompanies her by playing his drums with a single brush and a single drum stick.
After announcing, "We're going to switch the tempo here and get a little crazy," Morrast performs a rhythmic interpretation of Gnarls Barkley's "Crazy." Sounding both soulful and pleading, Morrast and the band impress on their dynamic interpretation of this popular soul hit.
She follows up with a joyful rendition of "Bye Bye Blackbird." Starting slowly, making the song all her own, the instrumentalists pick up the tempo before the quartet takes off on a lovely ride. After each instrument is spotlighted with a solo, Alexis impresses by holding out notes and creating long lines of melody much to the Grunin Center audience's delight.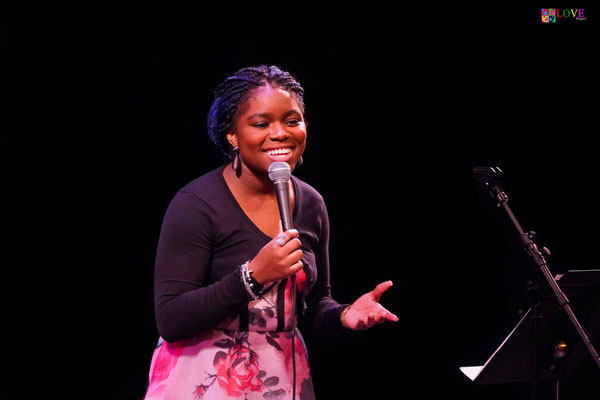 Another highlight of today's performance is Morrast's interpretation of Thelonious Monk's "Round Midnight" which features Alexis' voice and Ben Rueben's stand-up bass. After opening with a longing Ben Rueben bass solo, Morrast's vocal performance on this number is innovative, original, and unique. Creating a musical journey strictly with her voice, the audience shows its appreciation for her prodigious talent with avid cheers and applause.
Morrast concludes today's program with a rhythmic performance of the upbeat "1964 What," the interplay of the musicians creating an exciting musical experience as Alexis sings with maturity and style.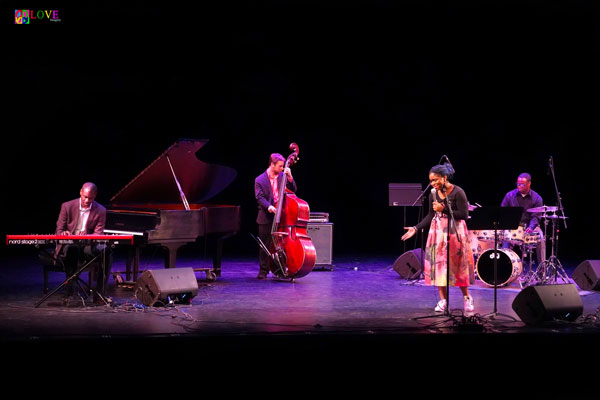 The audience rises and applauds as Morrast and the band leave the stage, but they return for an encore of India.Arie's tribute to Stevie Wonder entitled "Wonderful." Singing directly to the audience, "You are wonderful," Morrast connects with the crowd with her extraordinary voice and stage presence.
As audience members file out of the auditorium, we take a moment to chat with Morrast, who is happily greeting fans out in the Grunin Center lobby.
When asked how she first became interested in singing jazz, Morrast replies, "I learned it by being exposed to it," before adding, "As with anything, the gateway is to be exposed to it."
Continuing, "My mom is a pastor, so a lot of my music has always been gospel-based," Morrast reveals, "but I also listened to classical, jazz, hip-hop, and country."
When asked what she has coming up in the near future, Morrast explains, "I recorded my first album when I was 13, but I'll be going back into the studio soon to record a new album" before adding, "and I'll also be going on tour with Wynton Marsalis."
Lastly, with regards to performing here at Toms River's Grunin Center, Morrast acknowledges, "This is a great venue — big enough to get the 'theater effect', but close-knit enough to be able to communicate with the audience," before concluding, "And this was a beautiful audience!"
Out in the lobby, we also get a chance to chat with several members of the audience who share their reactions to today's performance.
Comments Naja from Little Egg Harbor, "Alexis Morrast is delightful — her singing is so seasoned."
Ernestine from Mays Landing agrees adding, "I've heard both Nancy Wilson and Ella Fitzgerald, and I can tell you that Alexis Morrast has got a wonderful career ahead of her."
Remarks Dave from Toms River, "She is awesome — she's rooted in jazz tradition, but she makes her sound all her own."
Kitty from Barnegat concurs declaring, "This was such a fabulous show — Alexis Morrast has such a strong spirit," before adding, "In my opinion, it's music and art like this that makes life good!"
Emmett from Barnegat contends, "Alexis Morrast reminds me of Roberta Flack. She's going to have a long career," before noting, "This was one of the best shows they've had at the Grunin Center — the jazz concerts here are a great way to spend a Sunday afternoon."
Gregory from Barnegat discloses, "As Alexis Morrast continued her program, I felt more and more drawn in by her. As poised as she was, she commanded the audience — I closed my eyes just to concentrate on her phrasing," before declaring, "and I've never heard any artist perform 'Round Midnight' like that!"
Lastly, we chat with Jane from Manchester who exclaims, "Alexis Morrast's vocal instrument is phenomenal! I am 81 years old and I've seen thousands of concerts, but this is the most phenomenal vocal instrument I've ever heard," before concluding, "She is just superb!"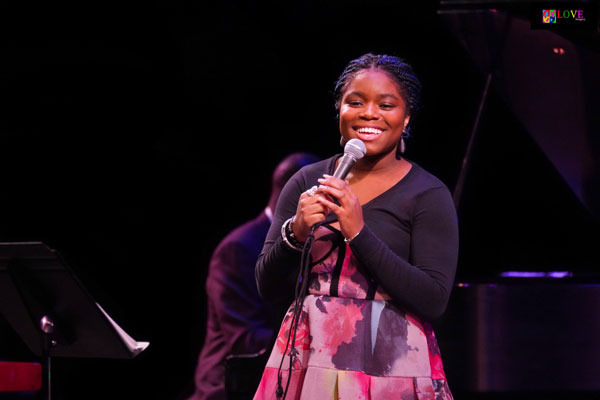 To learn more about Alexis Morrast, please go to alexismorrast.com. To find out about future concert performances at Toms River's Grunin Center for the Arts — including John Pizzarelli on April 26, The Bronx Wanderers on May 19, and Rufus Wainwright on August 23 — please go to grunincenter.org.
Photos by Love Imagery
Spotlight Central. Your source for Jersey entertainment news and reviews
Love Imagery Fine Art Photography. all you need. peace/love/flower/power