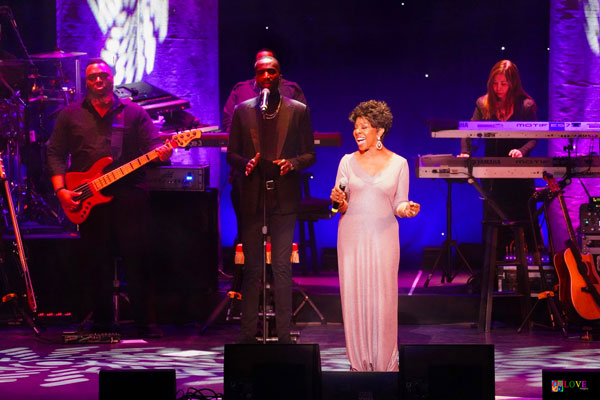 Music is in the air as we make our way up New Brunswick, NJ's George Street on this spring-like Sunday, March 24, 2019 evening.
There's a tenor saxophonist in front of a bank playing a smooth, solo rendition of "As Time Goes By."
Cars passing by have their windows open allowing us to hear drivers' personal favorites including recent hits such as Pharrell Williams' "Happy."
Outside a cafe, speakers stream Harold Melvin and the Blue Notes' "If You Don't Know Me By Now" onto the sidewalk much to pedestrians' delight.
And inside The State Theatre NJ, one of the most celebrated singers in popular music history, "The Empress of Soul" — Gladys Knight, is just about to begin a live performance of classic hits representing her long and storied musical career.
---
The article continues after this ad
---
---
Knight, 74, was born in Atlanta, GA, the daughter of a postal worker. She first achieved fame at the age of seven winning Ted Mack's Original Amateur Hour television competition. Soon after, she formed a music group with several relatives called the Pips, a quartet they named after a cousin, James "Pip" Woods.
With her brother, Merald "Bubba" Knight, and two other cousins, Edward Patten and William Guest, Gladys Knight and the Pips went on to record numerous hits during the 1960s and '70s. In 1996, the group became inducted into the Rock and Roll Hall of Fame.
Knight has also had success as a solo artist, performing with Dionne Warwick, Stevie Wonder, and Elton John on the Grammy-winning "That's What Friends Are For," in addition to other hits. She appeared on television in the 1980s and '90s with roles on A Different World, The Jeffersons, Benson, and The Jamie Foxx Show, and more recently on 30 Rock, The First Family, and Dancing with the Stars. In 2019, Knight performed as the "Bee" on The Masked Singer, and also sang the national anthem at Super Bowl LIII.
Knight opens her State Theatre concert this evening with a dynamic performance of her 1974 Top 5 hit, "I've Got to Use My Imagination." Her world-renown alto rings out through the packed auditorium as lights swirl while she sings, "I've really got to use my imagination/To think of good reasons/To keep on keepin' on."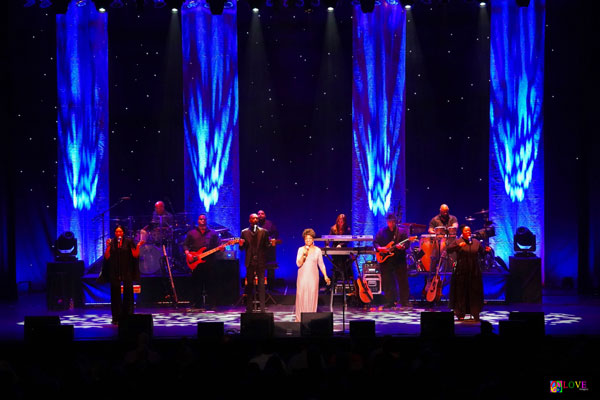 Thrilling the crowd as she dances to the driving bass and drums, her electric guitarist comes forward for a wailing solo as Gladys sings, "Get down, get down!" to cheers from the enthusiastic audience.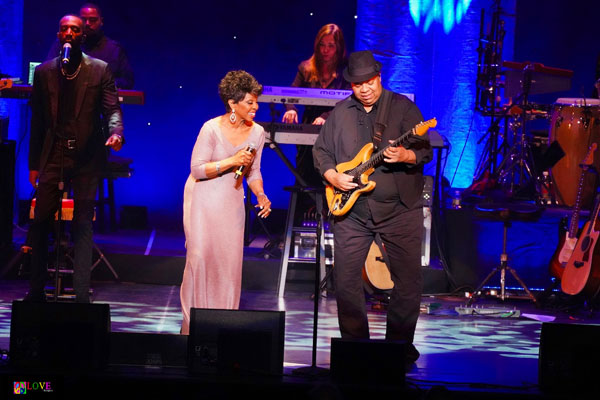 Her voice pleading, slow and sultry, Knight segues into "Make Yours a Happy Home," an upbeat R&B tune from the 1974 film, Claudine, starring James Earl Jones and Diahann Carroll.
Following excited applause, Knight greets the audience, explaining, "I always choose my songs by their lyrical content. When I'm singing to you, I'm talking to you, too — I want you to know exactly how I feel about you."
At this point, she presents an outstanding rendition of her 1973 million-selling hit, "(You're the) Best Thing that Ever Happened to Me," clearly singing from the heart for her delighted fans, "If anyone should ever write my life story/For whatever reason there might be/You'll be there between each line of pain and glory/'Cause you're the best thing that ever happened to me."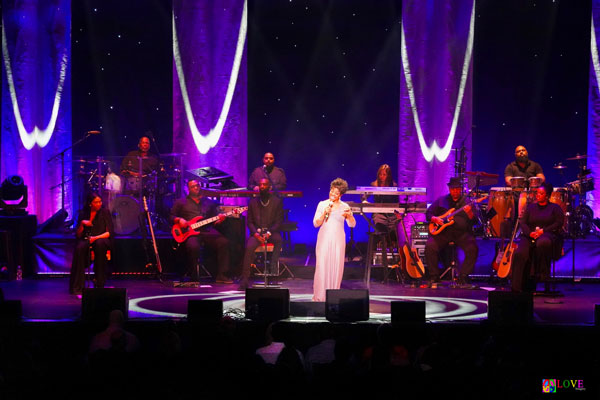 As she performs, the crowd sings along, but when they sing the final word before she does, Gladys stops to laugh before singing the song's final note — sweet and long!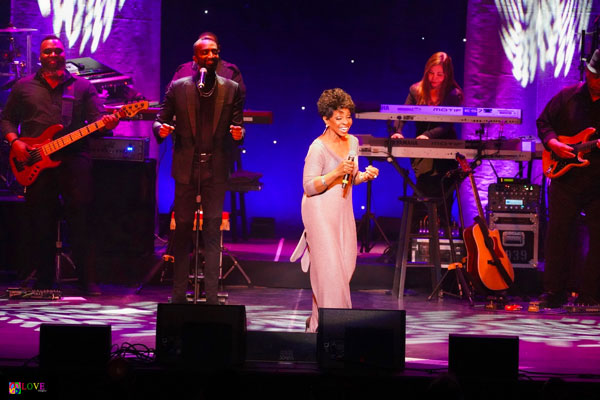 Moving on to her own powerful and rich rendition of Sam Smith's "Stay with Me," the audience joyfully sings along on the tune's infectious "Oh, won't you stay with me/'Cause you're all I need" chorus.
Then, she engages the eager throng with her expert vocals on her 1987 Top 40 hit, "Love Overboard."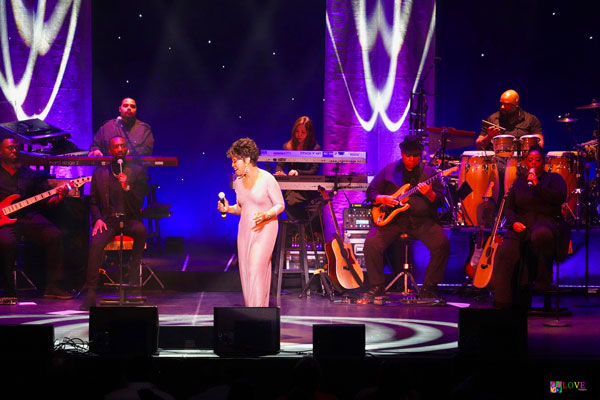 Colored lights flash to a funky guitar solo on this upbeat dancer which elicits cheers at the end and prompts audience members to enthusiastically shout out their approval.
Knight dedicates her next number — a funk ballad entitled "You're Number One (In My Book)" — to her sister.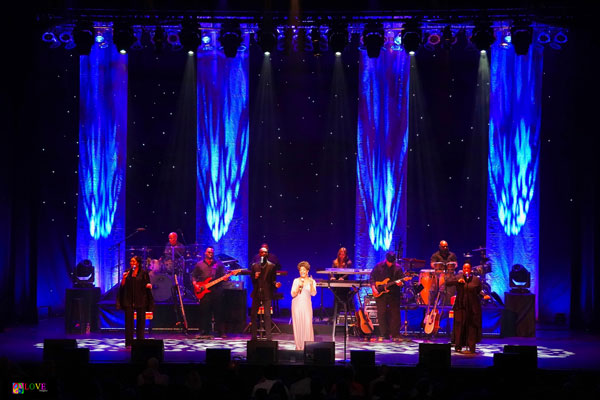 As she passionately sings, "Too many times/You gave more than you took/Now, it's my turn to show/Things are better than they look," the audience continues to respond with cheers and whistles.
After informing the audience about the "young group" of musicians who are backing her up tonight, Knight tells stories about learning about music from such masters as Ella Fitzgerald and Sammy Davis, Jr. Then, she launches into a soulful and emotional arrangement of the Gershwin masterpiece, "Someone to Watch Over Me," which has Gladys working her Knight magic as she sings up and down the song's famous melody.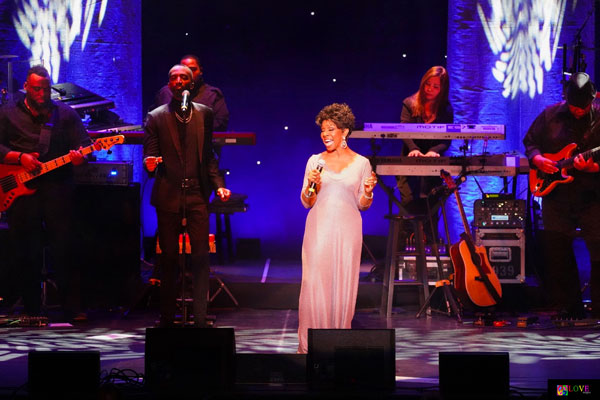 Following the presentation of this master class in singing, the crowd goes wild.
Moving on to her 1967 Motown smash, "I Heard It Through the Grapevine," Knight's outstanding lead vocal blends perfectly with her trio of back-up singers. Following a slow and sultry introduction — a la Marvin Gaye's version of the tune — the arrangement shifts to an upbeat and funky Gladys Knight and the Pips-like groove which inspires the audience to participate by singing and clapping along.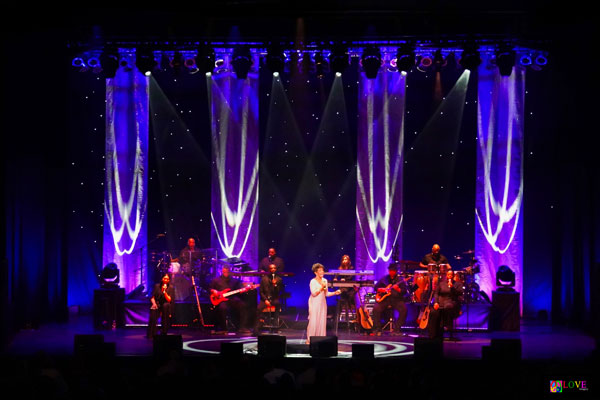 Following a huge response from the crowd, Knight takes a moment to talk about one of her all-time favorite musicians, Curtis Mayfield. Recalling, "We worked together all the time," Knight pays tribute to Mayfield by performing another song from the Claudine film soundtrack — a soft and heartfelt rendition of Mayfield's "The Makings of You."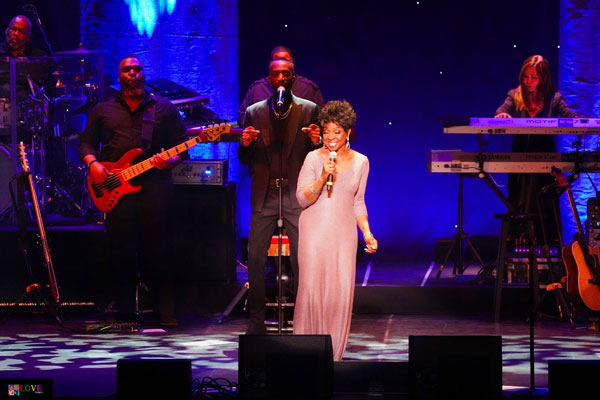 Then, over the course of the next three numbers, Knight delights in showcasing her trio of backup singers.
First, female vocalist Porcia performs with Knight on the ballad, "This is Why I Love You." Singing high and sweetly, Porcia and Knight provide a tender musical moment for the audience on this lovely duet.
Next, male vocalist Javonte joins Knight for a medley of '70s hits. Javonte opens with a slow version of Quincy Jones and James Ingram's "One Hundred Ways" as several audience members shout out "All right!" Then, Knight sings an upbeat rendition of her 1970 hit, "If I Were Your Woman" to Javonte which inspires the audience to commence hooting and hollering before the two take a well-deserved bow together.
Lastly, female vocalist Alexis is featured on a rendition of Aretha Franklin's "(You Make Me Feel Like a) Natural Woman" which has Alexis, Porcia, and Knight giving the audience goosebumps with a powerhouse performance of this classic Carole King/Gerry Goffin composition.
A highlight performance of the evening is Knight's rendition of her 1974 recording, "The Way We Were." Starting off — her voice soft and sultry, crying and pleading — the audience sways to the beautiful Alan and Marilyn Bergman lyrics as Gladys' voice swells and fills their ears, hearts, and minds with beautiful, majestic sound.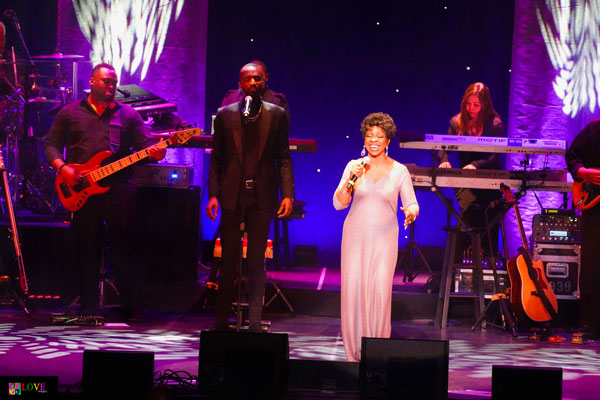 Looking and sounding beautiful as she performs this classic song, before she's even finished, the audience is on its feet in recognition of this extraordinary display of vocal perfection they've just witnessed and enjoyed.
Lights dance both on the stage and on the ceiling for Knight's sumptuous version of her 1973 Top Ten Motown hit, "Neither One of Us (Wants to be the First to Say Goodbye)." When the audience screams its approval, Knight responds by exclaiming, "I'm so glad you showed up!"
Continuing, "We can get so much more accomplished when we work together!" Knight takes a moment to introduce the members of her back-up band before finishing off this magical evening of music by raising the roof with an upbeat rendition of her signature tune — her 1973 chart-topping Grammy-winner, "Midnight Train to Georgia."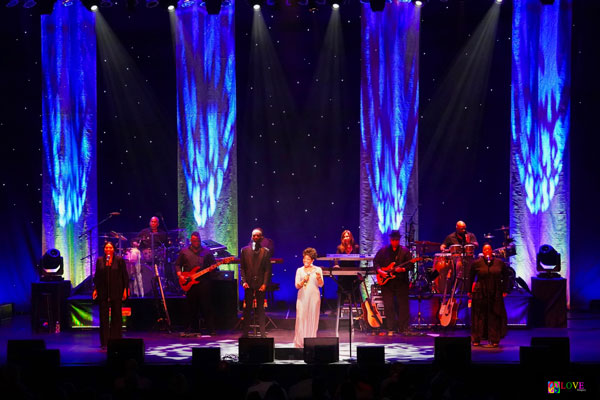 As the curtain closes and audience members make their way out of the State Theatre auditorium, we chat with several music lovers in attendance this evening who share their opinions of tonight's performance with us.
Declares Tonya from Edison, "Gladys Knight is phenomenal! She's so talented — I can't believe she's 74 and she still performs in heels!"
Jackie from Roselle agrees, adding, "I just love her! She performs with so much energy — and she even allowed all of the young singers on the stage to shine, as well."
Vince from New Brunswick remarks, "This was a fun show! Gladys Knight sounds great — exactly like she did 30 years ago."
Mary Ann from Long Valley concurs, stating, "Gladys Knight is wonderful — just fabulous," before noting, "We need more of this kind of music these days."
Debbie from Manalapan comments, "Gladys Knight looks great and sounds superb," before acknowledging, "They don't make them like her anymore!"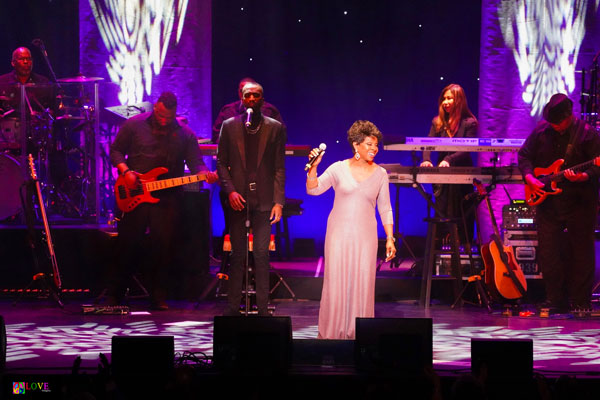 Lastly, Cheryl from Linden exclaims, "I'm Gladys Knight's #1 fan! I've seen her in Las Vegas and in New Orleans, as well as here in New Jersey. I love her because she sounds amazing and she looks gorgeous!"
"I'm such a fan," continues Cheryl, "that my daughter and my three sons all dressed up as Gladys Knight and the Pips — complete with rhinestone T-shirts — to sing 'Midnight Train to Georgia' to me at my 70th birthday party.'
Adding, "She's such a beautiful person, I would love to meet her someday," Cheryl concludes by acknowledging, "I just love her. She's my all-time #1."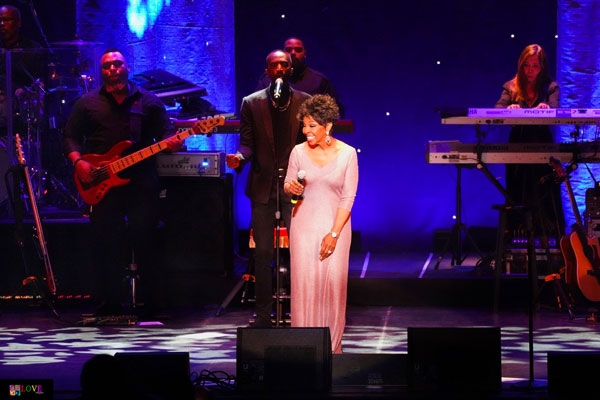 To learn more about Gladys Knight, please go to gladysknight.com. For information on upcoming performances at State Theatre New Jersey — including Chicago on April 15, Joe Jackson on May 18, and the Happy Together Tour 2019 featuring The Turtles, Chuck Negron, Gary Puckett, The Buckinghams, The Classics IV, and The Cowsills on May 29 — please click on stnj.org.
Photos by Love Imagery
Spotlight Central. Your source for Jersey entertainment news and reviews
Love Imagery Fine Art Photography. all you need. peace/love/flower/power