By Gary Wien
originally published: 03/25/2019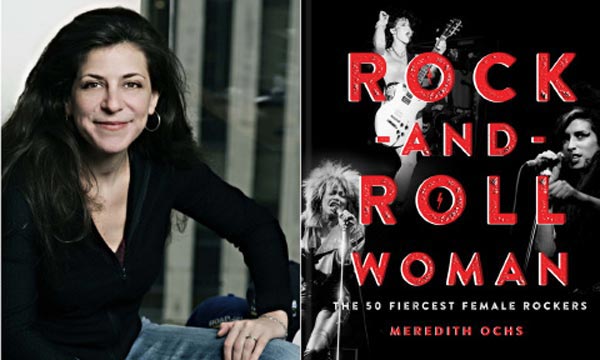 "Rock and roll is built of fierce women," writes Meredith Ochs in the introduction to her fascinating book, Rock-and-Roll Woman: The 50 Fiercest Female Rockers.  "Blues, jazz, R&B, and country artists who laid its groundwork.  Girl groups who projected a flashy, united front.  Counterculture singers who protested the establishment.  Punk rockers who democratized music-making.  Riot grrrls who politicized it.  And so many more.  They all subverted stereotypes and challenged expectations, whether they set out to or not.  Their rebellion is empowering and exponential."
Ochs is an award-winning broadcast journalist, author, deejay, musician, and longtime NPR commentator.  In her latest book, she not only provides wonderful stories and insights into these 50 female artists (both solo and in bands), but does a fine job proving her opening statement. She profiles women from the 1950s to today and from multiple genres.  The book tells the stories behind their journeys to success, their music, and their enduring impact.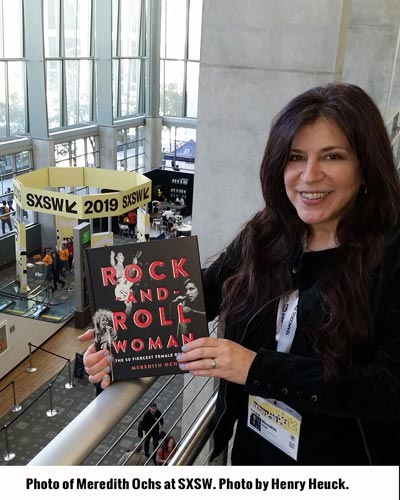 The book contains stories about the artists along with more than 100 photographs.  Some of the artists featured include the obvious choices like Aretha Franklin, Tina Turner, Janis Joplin, and Grace Slick; but she also digs deep into the past to profile revolutionary artists like Sister Rosetta Tharpe, Big Mama Thornton, and Wanda Jackson; legends from the 70s and 80s like Stevie Nicks, Heart, Chrissie Hynde, the Go-Go's, and Cyndi Lauper; plus contemporary artists including St. Vincent, Hayley Williams, and Brittany Howard.
Other books by the Hoboken-based author include Aretha: The Queen of Soul (Sterling Publishing, 2018) and Bruce Springsteen: An Illustrated Biography (Quarto Books, 2018). 
Rock-and-Roll Woman is a stunning book. When New Jersey Stage received it and read through its 224 pages, we wanted to learn more so we reached out to Ochs.
---
The article continues after this ad
---
---
Can you define "fierce" in the way you're calling these women the 50 fiercest female rockers? I know you talk about them all making an original, influential, and indelible mark on music and culture.  Do you consider them fierce for these three aspects or doing these three in a genre considered dominated by men?
The latter, certainly. Most of the artists in the book had to fight perceptions about women at every level, from record labels to audiences. It took a degree of "fierceness" to persist in the face of adversity. June Millington of Fanny, the first all-female rock band to release an album on a major label, talks about how people they encountered in the early Seventies just didn't believe that women could play rock 'n' roll, a notion they quickly dispelled simply by plugging in and playing. Pat Benatar was told by her own label that "women don't sell out arenas"- which she then did, of course. Jefferson Airplane was already an established band when Grace Slick joined, but she joined as an equal, not as a "girl singer," and she brought with her the two songs that became their most enduring hits. She also relished her role as an artist/provocateur and did all sorts of outrageous things. There's a famous quote that's often incorrectly attributed – it's by writer, historian, and Harvard professor Laurel Thatcher Ulrich: "Well-behaved women seldom make history." That doesn't necessarily mean do lots of drugs and smash lots of cars or whatever – it means challenge a behemoth, and in the book you see women doing that in music and culture over the past eight decades.
What was your original inspiration for this book?
I wanted to write a book that not only celebrated the artistry of these women, but that recognized their prescience, their accomplishments, how they moved culture forward, how they made the music industry change instead of changing themselves.
The book's introduction starts off with the bold statement, "Rock and roll is built of fierce women." - looking through the book, the vast majority of bands and artists used sex appeal or stunning photography for their photos.  Is part of what makes them great the fact that their music stood out on their own and they didn't need the image? Or do you think the image was necessary to break through?
What I meant by that opening quote is that a lot of women who contributed so much to rock haven't historically been acknowledged or rewarded for their work. We generally credit guys with inventing rock 'n' roll - Elvis, Jerry Lee Lewis, Chuck Berry, Little Richard etc. - and they were all influenced by Sister Rosetta Tharpe, a musical innovator and electric guitar pioneer. "Hound Dog" was written specifically for the great singer and multi-instrumentalist Big Mama Thornton, yet everyone involved in that song – Jerry Leiber and Mike Stoller, who wrote it, Johnny Otis, who produced it, Elvis, who later recorded it, even the song itself, are all in the Rock & Roll Hall of Fame, but Thornton is not. Much worse, she died in poverty. That's all separate from image.
But the subject of image is fascinating. Throughout the book, I explore how the artists cultivate their image from their interests, how they use it to reflect the times they're living in and a rebellion against said times, and how they sometimes struggle to maintain control of their image. Exene Cervenka of X crafted hers from years of collecting vintage clothes, religious iconography, poetry, and living in Los Angeles; she cut all of it up and stapled it back together punk-rock style. Heart is another good example. In the Eighties, they signed to Capitol records and had a complete makeover – big hair, corsets and shoulder pads, Nancy Wilson singing lead and switching to electric guitar and being flown through smoky air in videos and all that. It was massively successful, but also massively uncomfortable for them, and they ultimately ditched it. Or think about Debbie Harry of Blondie and Tina Weymouth of Talking Heads. Debbie Harry created this glamorous, pop art character, while Tina Weymouth chopped off her hair and dressed like a preppie in chinos and a polo shirt to the point where if you glanced quickly at the Talking Heads early on, you might not realize there was a girl in the band. Those two images were 180 degrees apart, and both were completely at odds with the punk rock aesthetic at CBGB. Yet both were part of the two most successful bands to emerge from the downtown New York scene. More recently, St. Vincent is someone who plays with image in a really compelling way. She's an artistic shape shifter, creating a starkly different persona with each album she releases. Rock 'n' roll has always been three-dimensional art, and she takes it to the next level.
Did you know much about all of the artists in the book or did you discover artists along the way?  What's the most interesting aspect you noticed?
I knew a lot about all of the women in the book before I sat down to write. It was the narrative threads that ran between their stories that interested me, like how they blazed a trail for themselves and one another, how they outlived, outlasted, or outsold their male counterparts, how they led their bands and worked collaboratively. Another narrative thread that reaches beyond the book and is continued on our Facebook page is how many of them are working together. Wanda Jackson has a new album due out this year that Joan Jett produced. St. Vincent was a featured artist on one of Sheryl Crow's songs late last year. Heart is touring with Joan Jett and Elle King this year. Chrissie Hynde toured with Stevie Nicks. And so on. However, if you'd like one astonishing revelation, it's that Beauty and the Beat by the Go-Go's remains the only number one album played entirely by an all-female band. How is that even possible?
I liked how you approached each artist - more like a feature article than a traditional encyclopedia listing.  What was one of your favorite stories?
I wrote for magazines for a long time, so that form feels pretty natural to me. It's a good approach when you only have a thousand words to cover someone who has had a considerable impact on music and culture – it's not enough space for a thorough biography, so I chose stories that exemplified who they are in their life and work. I also wanted readers to be able to open the book to any page and read the chapters in any order and still have it make sense. Best story? That's impossible to choose, but I will pick a great story: Chrissie Hynde, a true rock 'n' roller and a real boss. She moved from Ohio to the U.K. to get into music and did it in her own time and on her own terms. All of her friends on the London punk scene got signed before her – the Clash, the Damned, the Sex Pistols, even the Slits. But when she finally put her band together, they made one of the greatest rock debuts ever – the Pretenders' first album. When that band fell apart, she redefined it, put it back together, and has been driving it for four decades.
 One aspect I've noticed with female rockers in the local music scene is that many (not all, but close) seem to disappear after having their first child.  Your book is full of women who continued their rock and roll careers after entering motherhood.  Do you think that's a whole other level of fierceness for female rockers?
That's more of an economic issue. If you're successful first and you can afford to have help, I'm sure it's easier to carry on with your career. Most of the women in the book who had kids were famous before they became mothers. It's interesting to see the different ways they incorporate motherhood into rock stardom. Sheryl Crow built a home studio so she could be around her sons. Pat Benatar raised her daughters on the road - she says rock 'n' roll is easy compared to motherhood.
Has anyone approached you about making a documentary or a tv series about the artists in this book? Is that something on your radar for the future?
I have been approached by a few different parties about film and TV projects, so that's definitely in the works. I'm excited to see these women continued to be elevated and their stories expounded.
 You just returned from moderating a pair of panels at SXSW, do you have any other plans in the works for the near future in support of the book?
Yes, I'll be doing radio appearances and more book signing events throughout 2019. I also give talks on "Rock-and-Roll Leadership" at business conferences, and that's ongoing. It's a pretty compelling management metaphor. Just getting a band to function is a difficult and rewarding endeavor, and there are a lot of leadership lessons in the stories of rock 'n' roll women.
---
Check out Meredith Ochs' new series on NPR's All Things Considered - The Women Behind The Songs
---
---
Gary Wien has been covering the arts since 2001 and has had work published with Jersey Arts, Elmore Magazine, Princeton Magazine, Backstreets and other publications. He is a three-time winner of the Asbury Music Award for Top Music Journalist and the author of Beyond the Palace (the first book on the history of rock and roll in Asbury Park) and Are You Listening? The Top 100 Albums of 2001-2010 by New Jersey Artists. In addition, he runs New Jersey Stage and the online radio station The Penguin Rocks. He can be contacted at gary@newjerseystage.com.
---