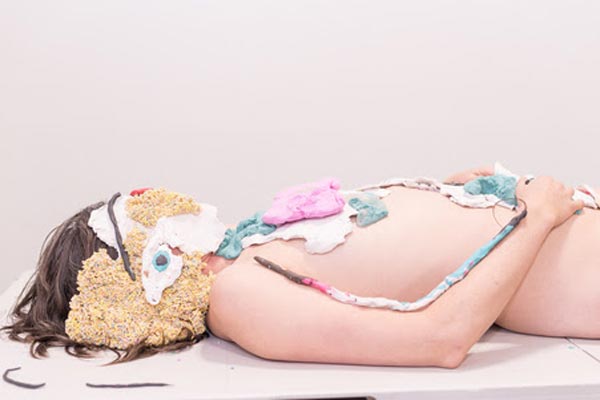 (MONTCLAIR, NJ) -- Peak Performances presents the World Premiere of "Thank You For Coming: Space" by Faye Driscoll from April 11-14 in the Alexander Kasser Theater at Montclair State University. Commissioned by Peak Performances, the new performance is the culmination of a multi-year PeARL (Performing Arts Research Laboratory) Residency. The final installment in Driscoll's three-part Thank You For Coming series, Space is both an intimate shared performance (audience capacity is set at approximately 60) and a liberatory ritual that confronts life's most notable transition.  Tickets are $30; FREE for Montclair State undergraduates with ID.
Alone with the audience, Driscoll constructs a temporary world—upheld by pulleys, ropes, and the weightiness of others—to invoke the sensations of absence. At the center of the work is the human body: built for action, self-contained, and driven by its longing for the felt world. Space calls forth new presences and offers an enlivened contemplation of our shared conclusion. Of Driscoll's powerfully inquisitive artistry Peak Performances Executive Director Jedediah Wheeler says: "Faye Driscoll is a game-changer who challenges one's aesthetic equilibrium; she perfectly exemplifies the caliber of adventurous artist that Peak Performances and the PeARL residency seek to support with funding, space, and the expertise of a first-rate production staff."
Space is part of Driscoll's Thank You For Coming series, the first two parts of which (Attendance and Play) were seen together for the first time at Peak Performances this past October. Collectively, the series seeks to extend the sphere of influence of performance, creating a communal space where everything is questioned, heightened, and palpable. According to Driscoll, the trilogy is a "series of works about how we are all wrapped up in each other, whether we like it or not. Each work in the series poses performance as a ritual act in which we sense that we do not exist in a vacuum." Of Attendance, Wendy Perron of Dance Magazine wrote, "(it was) the most engaging performance I've seen in a long time." The Thank You For Coming trilogy's two existing iterations have been commissioned and presented nationally and internationally by acclaimed presenters over the past four years, including Brooklyn Academy of Music, the Wexner Center for the Arts at The Ohio State University, the Institute of Contemporary Art in Boston, and the New England Foundation for the Arts' National Dance Project. Thank You for Coming: Space is performed by Faye Driscoll. The creative team includes visual designers Nick Vaughan and Jake Margolin, sound designers Andrew Gilbert and Faye Driscoll, lighting designer Amanda K. Ringger, artistic advisors Jesse Zaritt and Sacha Yanow, rehearsal assistant Izzy Miller, and producer and manager George Lugg.
Peak Performances continues its convention-defying 2018-19 season with a world premiere work from choreographer, performer, and director Faye Driscoll, a "startlingly original talent" (Roslyn Sulcas, The New York Times) and the season's recipient of Peak's vital PeARL (Performing Arts Research Laboratory) residency.
Performances of Thank You for Coming: Space will take place Thursday, April 11 and Friday, April 12 at 7:30pm; Saturday, April 13 at 8:00pm, and Sunday, April 14 at 3:00pm at the Alexander Kasser Theater at Montclair State University (1 Normal Ave, Montclair, NJ). Immediately following the performance on Saturday, April 13, the audience is invited to join the company to share reflections and responses.
---
The article continues after this ad
---
---
Tickets are affordably priced at $30, and can be purchased at www.peakperfs.org or 973.655.5112. Tickets are always free for Montclair State students.
About Faye Driscoll
Faye Driscoll is a Bessie Award-winning performance maker who has been hailed as a "startlingly original talent" (Roslyn Sulcas, The New York Times) and "a postmillenium postmodern wild woman" (Deborah Jowitt, The Village Voice). Thank You For Coming is the umbrella title for a series of works that Driscoll began creating in 2012. Her work has been presented nationally at the Wexner Center for the Arts, the Walker Art Center, The Institute for Contemporary Art/Boston, MCA/Chicago, and BAM/Brooklyn Academy of Music, and internationally at La Biennale di Venezia, Festival d'Automne à Paris, Croatian National Theatre in Zagreb, Melbourne Festival, Belfast International Arts Festival, Onassis Cultural Centre in Athens, and Centro de Arte Experimental (Universidad Nacional de San Martín) in Buenos Aires. Driscoll has been awarded a Jacob's Pillow Dance Award, Guggenheim Fellowship, a Creative Capital award, a NEFA National Dance Project Award, MAP Fund Grant, a French-U.S. Exchange in Dance Grant, Jerome Foundation Grant, a Foundation for Contemporary Art Grant, a Doris Duke Artist Award, and a U.S. Artists Doris Duke Fellowship. She recently choreographed for Young Jean Lee's Straight White Men on Broadway and for Josephine Decker film Madeline's Madeline.
About Peak Performances
Peak Performances is a program of the Office of Arts + Cultural Programming at Montclair State University and has been honored by the New Jersey State Council on the Arts with an Arts Citation of Excellence and Designation of Major Impact. Programs in this season are made possible in part by the New Jersey State Council on the Arts/Department of State, a Partner Agency of the National Endowment for the Arts; and the Mid Atlantic Arts Foundation.
Credits
Thank You for Coming: Space was commissioned by Peak Performances as part of the Performing Arts Residency Lab (PeARL) at Montclair State University, New Jersey; and co-commissioned by the Walker Art Center with funds provided by the Andrew W. Mellon Foundation and the William and Nadine McGuire Commissioning Fund; and Wexner Center for the Arts at The Ohio State University through the Wexner Center Residency Award Program. The work was made possible with generous support from the Doris Duke Performing Artist Awards Program and the Jerome Foundation, and developed with residency support from Camargo Foundation, the Pillow Lab at Jacob's Pillow and the Rauschenberg Foundation. Thank You for Coming: Space is a project of Creative Capital.