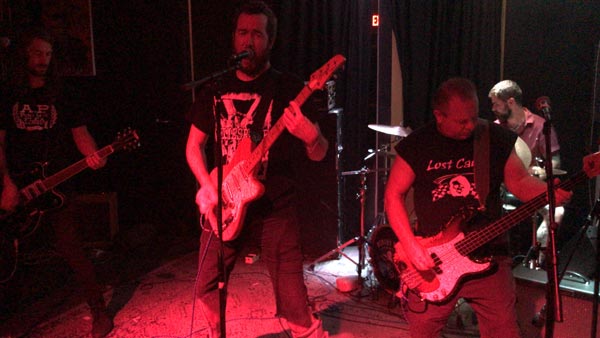 Asbury Park punk band Hot Blood will celebrate the release of their best-ever recording, Fear of a Unified Public, on March 30 at their hometown venue The Saint with Hammerfight and Urban Waste. The 17-song release is the band's best material yet. Photo by Bob Makin.
Hot Blood's Fear of a Unified Public is the best hard-core album I've heard in a long time, and it's without a doubt, the pinnacle of recording for one New Jersey's best punk bands because so much pain is expressed personally, professionally and politically. An epic 17 tracks clocking in at a brisk 29 minutes, the gripping collection largely involves vocalist-guitarist Mat Kylie's near fatal and very debilitating fall while working on a roof two years ago. The injury delayed the album -- along with the typical bullshit that occurs when trying to record and releases something -- but the resulting flood of energy, emotion and passion is jaw-droppingly awesome and invigoratingly cathartic. 
With so many good songs, it was a fun challenge to pick out the Makin Waves Song of the Week. The contenders were the opening "Nuclear Summer," an environmental-minded indictment of greenhouse gases through the eyes of an apathetic surfer; "On the Roof," Kylie's pre-fall chronicle of working as a roofer, and the title track, which fans of 1980s D.C. hardcore, like Minor Threat and Government Issue, will totally dig. Hot Blood makes excellent use of backing vocals as a melodic counterpart to Kylie's growls and screams, especially on the '50s vibe of "On the Roof," so I went with that as the Song of the Week. 
Those backing vocals by guitarist Alex Rosen and bassist Charlie Schafer, along with Rosen's searing guitars and drummer Billy Straniero's blazing beats, demonstrate how well Fear of a Unified Public is produced by two Jersey punk legends: Chris Pierce (Doc Hopper) and Pete Steinkopf (The Bouncing Souls). The band has worked with Steinkopf on all three of their previous studio releases, but this time, they've all outdone themselves, obviously with a great deal of input and experience from Pierce. 
Other highlights of the LP include "untitled," which features a desperate-sounding guitar riff raging underneath Frank Zappa's often-quoted preference of old cigar-chopping records executives who took chances on rock music that they didn't understand versus more conservative younger ones who bled the genre's artistry dry. That track segues nicely into the steaming blast of "Tastemakers," which turns the tables on those whose musical opinions seem to matter but don't in the face of what's really important: unity, support and cooperation within a music scene.
Another nice segue is the primal, all-too-brief "Monolith," which was co-written and features guest vocals by Devin Walby of the fellow Asbury punk band Coward, into the fierce gun-control anthem "Duck and Cover," which, ironically, has a violent beat and melody seemingly designed to inspire moshing.
One of the things I love most about Fear of a Unified Public is how Hot Blood give political activist-social critic Noam Chomsky the final word on the LP's closing call for revolution, "Rising Tide." Hot Blood have been playing most of these songs for a while, but it'll be good to see them played in support of the album on March 30 at a record release party at The Saint in Asbury. Hammerfight and Urban Waste will help celebrate.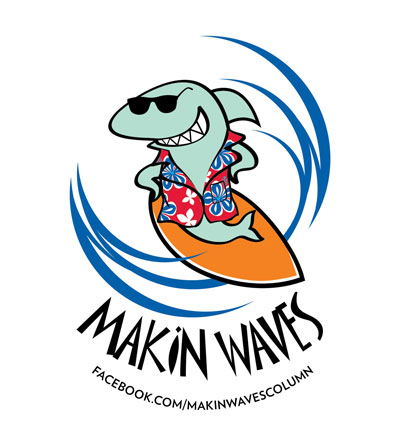 Bob Makin is the reporter for MyCentralJersey.com/entertainment and a former managing editor of The Aquarian Weekly, which launched this column in 1988. Contact him at makinwaves64@yahoo.com. And like Makin Waves at www.facebook.com/makinwavescolumn.