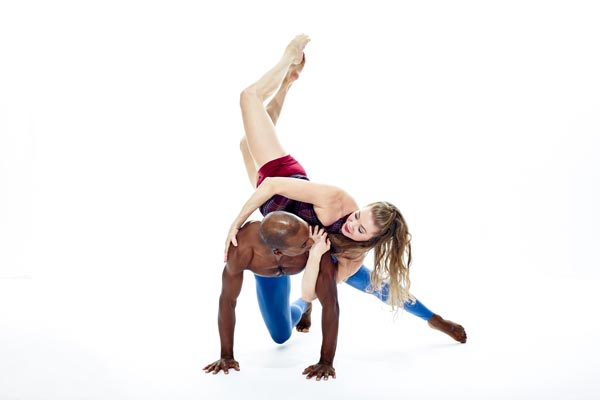 (NEWARK, NJ) -- Carolyn Dorfman Dance, a premiere modern dance company based in New Jersey and New York City, will appear at NJPAC for two performances on Saturday, April 6 at 7:00pm and Sunday, April 7 at 3:00pm as part of the Jersey Moves! Festival of Dance Series. The acclaimed company will celebrate more than three decades of work by their founding artistic director and choreographer Carolyn Dorfman in a program entitled "Love Life Dance." 
Both performances will feature three repertory favorites. The immersive, multimedia dance "Interior Designs" is set to the original score by Svjetlana Bukvich. When the dance premiered in 2013, it was hailed by the Star-Ledger as a Top Ten Dance Event for the year. Employing X-box technology, it a visually stunning tour-de-force which blends art and technology to create "a complex, digital world."
The popular creation "Love Suite Love" features the bittersweet love songs of country music icon Patsy Cline. In a nostalgic ode to youthful romance, Dorfman's choreography uses pillows and chairs as props to enchant the audience. Critic Robert Johnson praised the work, writing that "this hilarious dance was a gem of understatement."
The third work, "Odisea," chronicles the journey of 23 Jews leaving persecution in Recife, Brazil, in 1654 and journeying to the New World in North America, landing at New Amsterdam (NYC). With music by composers Greg Wall and Cecelia Margules, the dance is part of the company's exploration of Ms. Dorfman's Jewish legacy.  
The April 6th performance will also be part of the company's annual fund raising gala benefit that raises funds to support the operations of Carolyn Dorfman Dance including touring, performing, and all educational programming that falls under the DEPTH (Dance that Empowers People to be more Human) Initiative. In 2016, the Board of Trustees funded the initial $25,000 DEPTH scholarship that covers the full or partial costs to bring the company's programs to schools, colleges, and community organizations who could not otherwise afford it. The goal is to sustain that level of funding. 
---
The article continues after this ad
---
---
Two key awards will be given at the gala. The Encore Award will be presented to NJPAC Leadership, John Schreiber, Allison Scott Williams, David Rodriguez and Donna Walker-Kuhne, for the deep and broad partnership Ms. Dorfman and the company shares with NJPAC. Executive Director Anita Thomas will receive the Lifeline Award for providing ten years of dedicated and impactful leadership. Soul Jazz Violinist and Vocalist Charisa the Violin Diva returns with her quartet to perform during the gala reception.
The gala evening performance will be held at the Victoria Theatre at NJPAC as part of the Jersey Moves! Festival of Dance on Saturday, April 6 at 7:00pm. Gala tickets start at $225 and include parking and the performance, followed by a cocktails, a light supper, dessert, entertainment and dancing in the Chase Room. Gala sponsorships, tickets, and virtual advertising can be purchased online.  
General admission tickets to the Saturday April 6 performance are available for $30 and $45. Tickets for a Sunday April 7 at 3:00pm matinee are $34, $25, and $15 for children and seniors. Tickets to the performances are available at https://bit.ly/2XTaHYf. 
NJPAC located at 1 Center Street in Newark, NJ. There is ample parking nearby and the theater is accessible to public transportation including trains and light rail.  
Carolyn Dorfman Dance connects life and dance in bold, athletic and dramatic works by Artistic Director Carolyn Dorfman and nationally renowned choreographers. The company's 10 multi-ethnic and stunning dancers present high-energy and technically demanding dance that unleashes the powerful storytelling and imagery of its visionary creator. This distinctive combination takes audiences on intellectual and emotional journeys that ultimately illuminate and celebrate the human experience. The highly acclaimed ensemble is known for emotional resonance and artistic excellence in both performance and its interaction with audiences, students and community. Carolyn Dorfman Dance appears at major theaters, dance festivals, universities, schools, museums and galleries regionally, nationally and internationally. 
Dance company members include Associate Artistic Director Jacqueline Dumas Albert, Carolyn Dorfman Dance is comprised of 10 superbly talented artists: Jarred Bosch, Caroline Dietz, Quincy Dow, Lara Friedman-Kats Quinton Guthier, Brandon Jones, Kaila Moses, Elise Pacicco, Katlyn Waldo, and Terri Ayanna Wright.
The staff includes executive director Anita Thomas who has just completed in her 10th year with the company. She is supported by company manager Madeline Moore, communications/development manager Anna Shaffner, and financial administrator Flora Attardi. 
PHOTO: Brandon Jones and Katlyn Waldo will appear at NJPAC; photo courtesy of Whitney Browne.