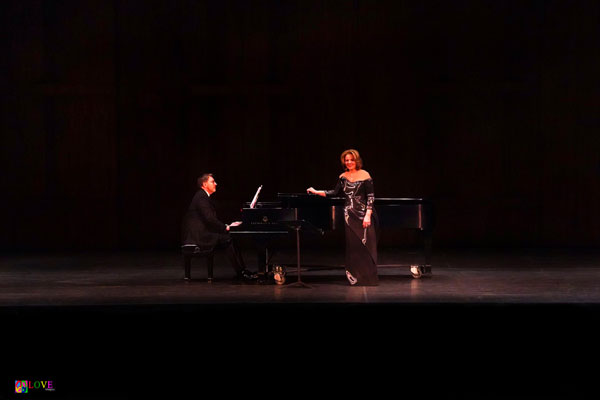 Audiences are lining up outside New Brunswick's State Theatre New Jersey this Wednesday, February 27, 2019 for a live concert performance by one of the most acclaimed singers of our time — Renée Fleming!
A daughter of two music teachers, Fleming was born in Indiana, Pennsylvania, but grew up in Churchville, New York. In high school, she sang in the school choir. While studying at the Crane School of Music at SUNY Potsdam, she began to sing with a jazz trio. When famed saxophone player Illinois Jacquet invited her to go on tour with his band, Fleming declined, choosing instead to pursue graduate studies at Eastman School of Music. She continued to sing at jazz clubs, however, to pay for her studies at NYC's Juilliard School of Music, where she took on roles in operas including Puccini's La bohème.
Fleming's big break came in 1988 when, at the age of 29, she won the Metropolitan Opera Auditions, an annual competition dedicated to discovering new opera talent. That same year, she made her debut with the Houston Grand Opera, and in 1991, she debuted with the Metropolitan Opera in Le nozze di Figaro.
Going on to present acclaimed performances in concert halls around the world, Fleming has recorded everything from complete operas and song recitals to indie rock and jazz. She has sung with Placido Domingo, Andrea Bocelli, and Josh Groban, in addition to Elton John, Paul Simon, and Sting. In 2013, Fleming was awarded the National Medal of the Arts by President Barack Obama and, in 2014, she became the first classical artist to sing the National Anthem at the Super Bowl.
A four-time Grammy Award winner, Fleming won a Tony Award nomination for her performance in the 2018 Broadway production of Rodgers and Hammerstein's Carousel. Her voice can also be heard in several recent motion pictures. It appears on the soundtrack of the 2018 Best Picture Oscar winner, The Shape of Water, in addition to the score of Three Billboards Outside Ebbing, Missouri. Fleming additionally provided the singing voice for actress Julianne Moore in the film Bel Canto.
---
The article continues after this ad
---
---
Fleming's latest recording is her 2018 effort Renee Fleming: Broadway, but her album, Signatures, was recently selected by the U.S. Library of Congress for the National Recording Registry as an "aural treasure worthy of preservation." Her 2004 memoir, The Inner Voice, is currently in its 16th printing.
Outside the bustling State Theatre auditorium, we take a moment to chat with several audience members here to enjoy Fleming's world-class lyric soprano voice live and in person.
Declares Lauren from Nutley, "She's fantastic! I've seen her on TV — I love watching her on PBS's Great Performances — and I've even seen her perform in operas at the movies. She has a killer voice and she's beautiful; she's just lovely."
Recounts Jim from Holmdel, "I just saw Renée Fleming last night at Rutgers University where she was a part of a presentation entitled Music and the Mind. At the presentation, she and a panel of neuroscientists discussed how music can improve one's health."
Adding, "Tonight is my first time ever seeing her perform," Jim reveals, "She is one of my favorites," before concluding, "I'm looking forward to hearing her perform some arias, but I'm sure I'll be happy with whatever she sings."
Lastly, we chat with Linda from Toms River, who tells us she's excited to be here tonight exclaiming, "Who wouldn't be? Who doesn't know Renée Fleming? Anyone who knows anything about opera has to know Renée Fleming!"
As we make our way inside the historic State Theatre auditorium, we see that the stage is sparsely set with a grand piano and a bench, a music stand, and a microphone. There is a feeling of anticipation as several patrons can even be seen testing their views of the stage through opera glasses while awaiting Ms. Fleming's arrival.
Fleming enters with accompanist Gerald Martin Moore to great cheers and applause. She takes the microphone joking, "I still get excited when I can make a debut somewhere!" before announcing that she will begin tonight's recital with a performance of "five Brahms folk songs."
Opening with Vergebliches Ständchen (Futile Serenade), Fleming's stunning soprano voice fills the theater — unamplified — as she is expertly accompanied by Mr. Moore on piano. While she performs, an English translation of the song lyrics appears on two large screens located on either side of the stage, helping the audience to understand the words she's singing in German.
On Die Mainacht (The May Night), Fleming stands with her arm gently in the crook of the piano as she sings totally relaxed. Her voice floating out over the audience like a velvet foglight, the passion of the song shines through in the dynamics and the flow of her rich soprano vocals.
Hands clasped in front of her — her voice beseeching, soft, and pleading — Fleming sings Da unten im Tale (Down in the Valley), the timbre of her voice passionately expressing the pain of human heartbreak.
With her vocal sounding more fiery and passionate, Moore's piano grows ever louder as Fleming sings the love poem, Meine Liebe is grün (My Love is Green) — a piece she calls "an extraordinary gem," with lyrics by Felix Schumann, the son of Robert and Clara Schumann.
There is a collective "aha" when the audience recognizes the final song in the quintet — Wiegenlied, more commonly known as Brahms' Lullaby — a composition which has been translated into languages all over the world. Her voice sounding so sweet and calming — floating clear and lovely — the audience is entranced by Fleming's talent, poise, and presence and they respond with enthusiastic cheers and applause!
Fleming takes the microphone to introduce the next piece, Letters from Georgia, an orchestral song cycle written especially for her by composer Kevin Puts. Featuring text captured from actual letters written by celebrated artist Georgia O'Keefe, the trilogy begins with an Introduction which is comprised of a rapid piano accompaniment that compliments the strength of Ms. Fleming's voice.
With lyrics that unravel a story of art and life, on I. Taos, the second song in the cycle, Fleming connects with the audience, singing to each member with grace and feeling, her voice and demeanor changing with the mood of the piece as she expertly interprets the text.
On the third song, V. Canyon, Fleming's voice floats as she sings about a big "SKY" described by Georgia O'Keefe, bringing images of a Western sunset to life through sound and vibration. The audience appreciates Fleming's interpretation of Georgia O'Keefe's words and responds with great applause!
After explaining that she recently had an "extraordinary year" where she was involved with the production of three films — two of them Oscar nominees — Fleming performs selections from three major motion pictures.
First up is Villa Lobos' Aria (Cantilena), which is featured in the film Bel Canto. Vocalizing on "ah" and "ooh" to Moore's accompaniment, audience members are delighted to hear the sound of Fleming's pure voice unencumbered by words. The music flowing and floating from her being, she begins to sing in Portuguese, describing the evening as "a rosy, translucent cloud." Ending with humming and vocalizing again — pure soul music — Fleming concludes on a beautiful high note!
Next is von Flotow's 'Tis the Last Rose of Summer, from the film, Three Billboards Outside Ebbing, Missouri. Singing softly and gently like a lullaby to the arpeggios of Moore's piano accompaniment, this beautiful and moving song clearly touches the hearts of audience members.
For the final piece of the trilogy, Fleming performs Harry Warren's classic "You'll Never Know," from the motion picture, The Shape of Water. For the first time this evening, Fleming uses a microphone to sing the lyrics of this sweet and tender love song in which she passionately croons, "You'll never know just how much I miss you/You'll never know just how much I care."
After the crowd rises for the duo's performance, Fleming and Moore bow together. Obviously touched, Ms. Fleming brings her hand to her heart as she acknowledges the audience's reaction to her art.

During intermission, we take a moment to chat with several members of tonight's crowd.
First, we meet Sue from Woodbridge who informs us, "I went to high school with Renée! She was part of the the Class of '77 in Churchville, just outside Rochester, NY."
While showing us a copy of her high school yearbook, Sue points to several photos of Renée. In one, we see that the young Fleming was a member of The Singing Saints, a select vocal group which performed at various functions within the community.
"We always knew Renée was going to be somebody," explains Sue, before adding, "and I also know her from college at SUNY Pottsdam — she's our most famous graduate," and concluding, "We all think she is phenomenal. I'm so happy to be here to see her perform tonight!"
Karen from Lambertville concurs stating, "I've seen Renée Fleming many times at The Met," remarking, "This is one stellar performance! The concert is intimate, the venue is wonderful, and the sound is marvelous!"
Continuing, "She has every nuance down — The Brahms Lullaby was performed so exquisitely," Karen declares, "There was so much emotion. I thought she was just incredible!"
After adding, "I think Gerald Martin Moore on piano is brilliant, also — I love the synergy between the two of them" — Karen concludes by stating, "And Renée looks gorgeous, too! Her gown has a life of it's own; it's like water — it's just stunning the way it falls and drapes."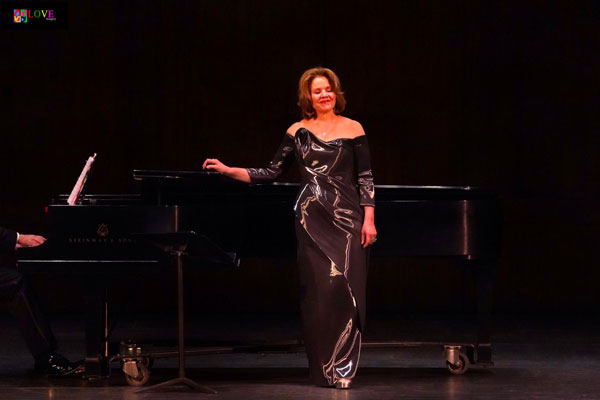 Lastly, we chat with Nona from Lambertville who recalls, "I lived in New Mexico and I thought the Georgia O'Keefe piece told a beautiful, brilliant story." Adding, "The way Renée Fleming performed it was visually blazing — so beautifully done!" Nona concludes by declaring, "She just puts so much of herself into her performances!"
Act II begins with Ms. Fleming returning to the stage in a deep purple gown with gold accents, once again accompanied by Mr. Moore on the piano.
Opening with Refice's Ombra di Nube (Shadow of a Cloud), the dynamics and interplay between the two musicians on stage creates tension and line that connects the two performers both to one another and to all of the music lovers in the audience. The crowd is spellbound by the beauty and grace of Fleming's voice as it interweaves with Moore's piano performance and reacts by responding with excited applause.
Following up with Leoncavallo's Musette svaria sulla bocca viva (The Sweetest of Songs Are On Mussette's Lips), from his version of La bohème, Fleming gives an inviting, playful, and charming performance as she sings to the audience in perfect Italian.
Continuing with this language, she sings Puccini's Signore, ascolta (My Lord, Listen), providing a soft and gentle performance which touches the heart, and continues with Tosti's La Serenata (The Serenade), a playful and delightful pairing of Fleming's lyric soprano and Moore's piano proficiency.
Taking the microphone once again, Fleming tells the audience about her recent appearance on Broadway in Rodgers and Hammerstein's Carousel. She also mentions her future plans which involve appearing in the musical, The Light in the Piazza, in London.
After announcing that Broadway actress "Barbara Cook was my neighbor, and I loved the sunshine in her voice," Flemings says, "This is a tribute to her." Here, she performs a heartfelt rendition of Meredith Willson's "Till There Was You," from The Music Man, a show which Cook originated on Broadway.
She follows that up with an emotional performance of Maury Yeston's "Unusual Way," from Nine, which she sings as if it's an art song. Then, Moore's piano creates tension and anticipation on Fleming's rendering of John Kander's "Love and Love Alone/Winter" from The Visit. 

Lastly, Fleming gives a tour de force performance singing the parts of multiple characters on Stephen Sondheim's "The Glamorous Life" from A Little Night Music.
After bowing to an avid standing ovation, Fleming and Moore leave the stage, but soon return for an encore performance of Gershwin's "Summertime." The audience applauds the instant they recognize this American classic, which Fleming sings without a microphone. Holding the last note at the conclusion — soft and glorious — the audience leaps to its feet cheering and applauding!
A special moment of tonight's recital takes place on Fleming's second encore — a rendition of Lerner and Loewe's "I Could Have Danced All Night." Inviting the audience to sing along with her half way through the second verse, Fleming exclaims, "I bet it's going to be great but you have to prove yourselves!" As the audience joins in — sounding utterly fantastic — Fleming and the crowd give a memorable performance of this classic tune from The King and I!
Following even more bows, Fleming returns to the stage with flowers to sing an emotional and stunning rendition of Puccini's O mio bambino caro (Oh My Dear Daddy) — an interpretation that brings the audience to it's feet calling out, "Brava! Brava!"
As we exit the auditorium, we chat with several members of the audience who share their opinions of tonight's program with us.
Comments Mike from Lawrenceville, "What a wonderful performance, with a generous triple encore," before noting, "Renée Fleming definitely saved the best for last!"
Theresa from Lawrenceville agrees adding, "I was so choked up at the end of that final encore — it was so emotional!"
Lastly, we chat with Laura, a professional singer/songwriter from Mount Laurel, who says, "This concert was just beautiful! The aria from Leoncavallo's version of La bohème was amazing, and on 'Summertime,' Renée Fleming just blew me away — her vibrato is simply unbelievable!"
Continuing, "I'm a soul singer, but I loved seeing someone of her calibre performing in another genre," Laura confesses, "I cried during her encore." Revealing, "I want to write a song now," she concludes by declaring, "She moved me. She inspired me!"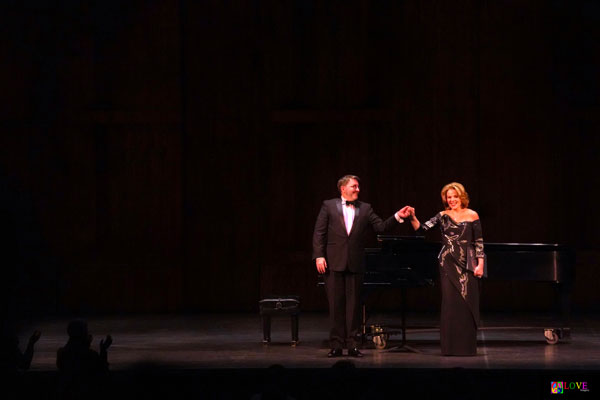 To learn more about Renée Fleming, please go to reneefleming.com. To find out about future performances at New Brunswick's State Theatre New Jersey — including The Russian National Ballet's Cinderella on April 1 and Mary Poppins in Concert with the New Jersey Symphony Orchestra on April 14 — please click on stnj.org.
Photos by Love Imagery
Spotlight Central. Your source for Jersey entertainment news and reviews
Love Imagery Fine Art Photography. all you need. peace/love/flower/power