originally published: 03/12/2019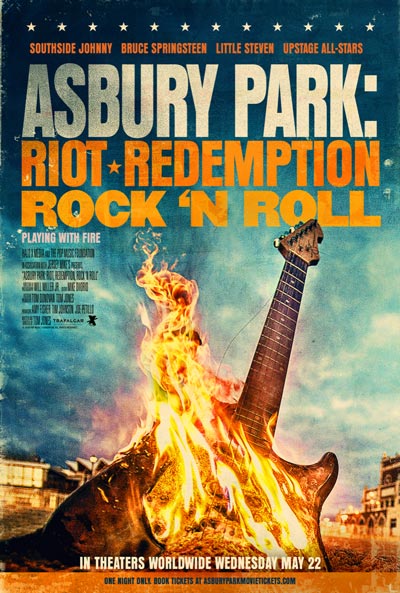 (ASBURY PARK, NJ) -- The Asbury Park Music & Film Festival (APMFF) has added two expanded-cut New Jersey film premieres screening at the Paramount Theatre: Clarence Clemons: Who Do You Think I Am? on Saturday, April 27 and Asbury Park: Riot, Redemption, Rock 'N Roll on Sunday, April 28.
Asbury Park: Riot, Redemption, Rock 'N Roll, directed by APMFF board member Tom Jones of Halo X Media, is the story of the long troubled town of Asbury Park and how the power of music can unite a people divided.  An early cut of this film played to a sold-out Paramount Theatre at the 3rd Annual APMFF on a now legendary night which featured  surprise appearances from Little Steven and the Disciples of Soul, Southside Johnny, Bruce Springsteen and a cast of all-stars from the legendary Upstage Club in Asbury Park.  It has been re-edited to include footage from that concert and new interviews from Bruce Springsteen, Max Weinberg and others.  The film will be in theaters around the world on May 22 and premiere at the APMFF. Following the screening, a panel discussion and Q&A will take place moderated by editor of Backstreets, Chris Phillips.
Featuring interviews with President Bill Clinton, Joe Walsh along with former bandmates, friends and close family members, Clarence Clemons: Who Do You Think I Am?, directed by Nick Mead, highlights Clarence's life as a musician while also presenting another side of Clarence not many saw when he was under the bright lights. It's an intimate portrait of a man who searched for enlightenment and for some meaning at the unknowingly final years of his life.   A panel discussion and Q&A will take place at the conclusion of the screening.
To kick-off the Festival on Thursday, April 25 at the Paramount Theatre, recording artists Jakob Dylan, Cat Power, Jade (Edward Sharpe and the Magnetic Zeros) and special guests will perform songs by The Byrds, The Beach Boys, and The Mamas and Papas following the New Jersey premiere of Echo In The Canyon.
Echo In The Canyon is a film that explores the echo of inspiration and how The Byrds, The Beach Boys, Buffalo Springfield, and The Mamas and the Papas, birthed the Laurel Canyon music scene (1965-1967). The film was directed by Andrew Slater and executive produced by Jakob Dylan, with appearances by Tom Petty, Brian Wilson, Stephen Stills, David Crosby, Graham Nash, Michelle Phillips, Jackson Browne, Ringo Starr, Eric Clapton, Roger McGuinn, John Sebastian, Lou Adler, Norah Jones, Beck, Regina Spektor, Cat Power, and others.  Dylan uncovers never-before-heard personal details behind the recordings of so many iconic songs from those who made them.
---
The article continues after this ad
---
---
Two-time Rock & Roll Hall of Fame inductee, David Crosby, and film director Cameron Crowe, will take part in a Q&A discussion following the New Jersey premiere of David Crosby: Remember My Name (Sony Pictures Classics), a documentary about the legendary musician, at The Paramount Theatre on Saturday, April 27 at 7pm.
In Crosby's six-decade career, the native Californian has created songs that resonate as indelible cultural touchstones for more than three generations, not only as a solo artist, but as a founding member of The Byrds in the mid-60's, Crosby, Stills, Nash (recipients of the Grammy for best new artist in 1969), and Crosby, Stills, Nash & Young.  The folk rock pioneer who was inducted in the prestigious Songwriters Hall of Fame in 2009, has also served as a social conscience, not only eloquently writing about societal issues on such songs as "Almost Cut My Hair" and "Wooden Ships", but continuously donating concert proceeds to likeminded causes.  
Cameron Crowe is a renowned director, producer, screenwriter, journalist author and actor. The Academy Award winner has a vast array of films which include Fast Times At Ridgemont High, Say Anything, Singles, Jerry Maguire and Almost Famous. Before moving into film industry, Crowe served as an editor at Rolling Stone magazine.
Oscar-award winner Peter Farrelly, and brother Bobby, will appear at The Paramount Theatre on Sunday, April 28 for a career retrospective, highlighting their mutual impact on the film industry. The evening will include an in-depth discussion moderated by Deadline Hollywood's Mike Fleming, audience Q&A and very special guests. The Farrelly Brothers have created some of the most revered comedic films in the past 25 years including Dumb and Dumber, Kingpin, Me, Myself & Irene, Shallow Hal, There's Something About Mary, The Three Stooges and many more. Peter Farrelly won an Oscar and Golden Globe for the comedy-drama Green Book.
The APMFF will present "The Po Boy Jam" headlined by the Tangiers Blues Band featuring Danny Clinch on Saturday, April 27 at The Stone Pony. A festival staple, the Tangiers Blues Band return to the Stone Pony to do what they do-invite diverse musicians to join them in raucous blues based cover songs. In the past year, they have played with Bruce Springsteen, Eddie Vedder, Jack Johnson, Brandi Carlile and Preservation Hall Jazz Band, among others. Opening the show are two young bands from the burgeoning Asbury Park music scene The Mercury Brothers and Sunshine Spazz.
Dylan Archives IV presented by the Bob Dylan Center will take place on Sunday, April 28 at The House of Independents. This presentation of rare Bob Dylan performance footage has been critically-acclaimed and one of the highlights for Festival attendees over the past three years.
The Paramount Theatre will host "The Gary US Bonds Unusually Big Birthday Bash" with special guests Joe Grushecky & The Houserockers on Friday, April 26. Hot Water Music will celebrate their 25th anniversary at the House of Independents and will mark the occasion by playing albums No Division and Caution in their entirety, respectively on Saturday, April 27 and Sunday, April 28. Special guests include Iron Chic and Crime In Stereo. Jake Miller, along with special guests Logan Henderson and Just Seconds Apart, will also play the House of Independents stage on Friday, April 26. In addition, on Sunday April 28, Rock and Roll Playhouse Presents The Music of Bruce Springsteen For Kids will be at The Stone Pony and Jazz Is Phsh at The Wonder Bar.
Ticket information for musical performances, film screenings and panels can be found on the Festival's official website at apmff.org/tickets.  The Asbury Park Music & Film Festival (APMFF), taking place from April 25-28, 2019 in Asbury Park, New Jersey.