By Sanford Josephson
originally published: 03/11/2019
(PEAPACK, NJ) -- "A fearless 16-year-old with cerebral palsy brought a combination of praise and put-downs to the job of master of ceremonies." That's how The New York Times' Neil Genzlinger described Chris Saglimbene in a column on October 20, 2002, reporting on a talent show at the Matheny School and Hospital, a special hospital and special education school in Peapack, NJ, for children and adults with medically complex developmental disabilities.
More than 16 years later, Saglimbene, now 32, refuses to be defined by his disability. "If you close your eyes for a second," he says, "and you picture the brain with wires, the best way to describe what I have is a fray in my wiring. The messages that are being sent to my legs aren't getting there. I don't consider myself to have any limitations. Whatever obstacle I see, I tend to knock it down."
Saglimbene grew up in Fort Lee and attended the Norman A. Bleshman Regional Day School for the Handicapped in Paramus until moving to Matheny (now called the Matheny Medical and Educational Center) when he was 12 years old. He is the son of Charles Saglimbene and grandson of Carmen Virella, both of Fort Lee.
Shortly after arriving at Matheny, he discovered its Arts Access Program, which enables people with disabilities to create fine art, assisted by professional artists who act as their facilitators. With the exception of digital art, Saglimbene has participated in all of Arts Access' arts disciplines. That has led to a highly-anticipated staged reading on Saturday, March 23, of his play, Band on the Run.
For several years, Premiere Stages, the professional theatre company in residence at Kean University in Union, has been working with Arts Access to showcase its playwrights via stage readings by professional actors.  Saglimbene, according to John J. Wooten, Premiere's Producing Artistic Director, "has always been one of the most enthusiastic writers at Arts Access. In the past, we have done readings of selected works from Arts Access writers. This is the first time we're reading a complete play. It's a testament to Chris that we're doing this -- to focus on one piece."
---
The article continues after this ad
---
---
The play is a romantic comedy about a group of young people who fall in and out of love and form a band to raise money so they can save a favorite neighborhood pizzeria from going out of business. "This is my attempt to showcase my comedic talents and to show off my talents as an actor," Saglimbene says. The main character is based on the playwright, and he will play the role at the reading. Saglimbene is also an avid video gamer -- he once choreographed and performed in a dance piece based on Mortal Kombat. "There's a video game in the play," he says. "Some of the stories in the play are loosely based on my life. My father worked -- and still works -- at the Linwood Pizzeria in Fort Lee. I spent a majority of my childhood in the pizzeria myself, interacting with some of the customers. I would bring my video game into a corner of the store while my father worked. The pizzeria is a nod to my life. My dad was a bit of a workaholic. It strained our relationship a bit because I didn't really see him that much."
Music is also an important part of Chris' life. He performed a tribute to Michael Jackson at Matheny shortly after the singer's death. And he starred in a production there of Phantom of the Opera.  "Phantom," he says, "is one of my favorite musicals of all time."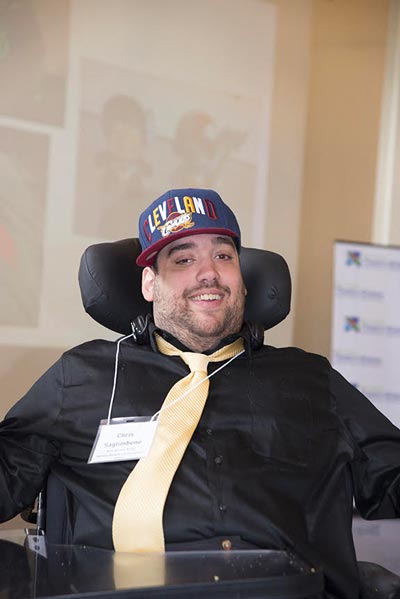 There are songs in Band on the Run (used as transitional cues), "that fit the scenarios and also had a big impact on moments of my life," he says. Metallica's "Enter Sandman" is one of them. "It means so much to me on multiple fronts," he adds. Others include Queen's "Somebody to Love" and Green Day's "Time of Your Life".
Saglimbene began work on Band on the Run in 2014. Last year, Premiere Stages did a selected reading from it, and he says, "The crowd loved it! I decided to go on a binge to finish it." To help round it into shape, he worked with Arts Access drama facilitator Mike Christie. "There were 15 pages when I picked it up with him in 2017," Christie says, "and he added 140 pages."
"The facilitator," Christie emphasizes, "is just there to get the words on the page and not influence the playwright in any way. We ask for clarity, but we refrain from giving our opinion. Chris uses speech-to-text because it takes him a long time to type, so we would find a quiet place to work on it. Chris definitely has a strong work ethic. He stays committed to each script he writes. And, he's very thoughtful with the choices he makes. He has a passion for the performing arts."
"The whole thing," Saglimbene says, "is a labor of love. I have worked on it for about four years of my life. I would encourage people to come in with an open mind. There are moments of silliness in it, but there's also an element of seriousness to it. I'm extremely proud of it."
Christie, a resident of Tewksbury, began volunteering at Arts Access in 2007 while a student at Gill St. Bernard, an independent school in Gladstone. He now works full-time as a business and operations analyst for a non-profit, but he returns to Arts Access three nights a week as a drama facilitator because, "I wanted to stay connected with the artists and help provide them with an outlet for their expressions. I've known some of them for 12 years. I look forward to the opportunity to work with them."
The staged reading of Band on the Run will take place at 3:00pm on Saturday, March 23, in the Robert Schonhorn Arts Center on the Matheny campus in Peapack. "We will bring in a group of versatile actors," Wooten says. "Most will play multiple roles. Nick Orvis, our director, is working closely with Chris and Mike to determine how to incorporate the sound cues and the music. Dusty Ballard, our sound designer, will be involved as well. The music is integral to the fabric of the play. We're super excited to be working with Chris. If there is one playwright ready to fully embrace this opportunity, it is Chris."
The reading is part of the New Jersey Theatre Alliance's Stages Festival, which provides free and discounted theatre events for all ages throughout the month of March. Founded in 1981, New Jersey Theatre Alliance was the first statewide service organization for professional, not-for-profit theatre companies in the United States, and is now a leader in developing model programs that foster collaboration, cooperation, and audience development. The Stages Festival is a project of New Jersey Theatre Alliance. Major funding is also provided by New Jersey State Council on the Arts, Bank of America, The Horizon Foundation for New Jersey, and Mid Atlantic Arts Foundation. Additional support is provided by individuals, corporations, and foundations such as Atlantic Health System, Blanche and Irving Laurie Foundation, George A. Ohl, Jr. Trust, Geraldine R. Dodge Foundation & OceanFirst Foundation.
Tickets to the March 23rd performance are free and may be ordered by clicking here.