originally published: 03/07/2019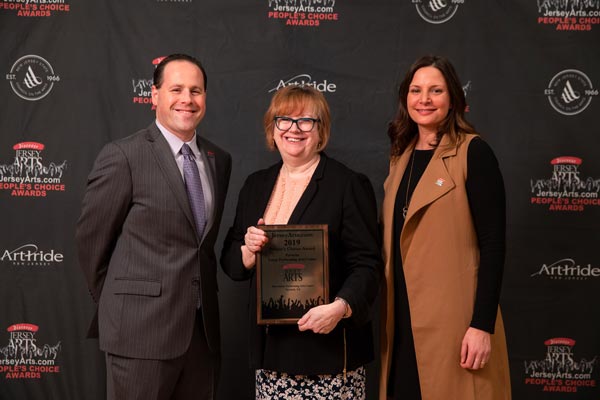 (BURLINGTON, NJ) -- The ArtPride New Jersey Foundation, in partnership with the New Jersey State Council on the Arts, has announced the winners of the 2019 JerseyArts.com People's Choice Awards. The annual contest celebrates the extraordinary work of New Jersey's vital and thriving arts community. Nearly 14,000 arts lovers from throughout the region cast their ballots this year. From 115 nominees, 19 groups were honored at ArtPride's on March 7th.
"The arts in New Jersey are vibrant, diverse and innovative," said Adam Perle, President & CEO of ArtPride New Jersey, during the morning awards ceremony at Lyceum Hall Center for the Arts in Burlington. "We are extremely proud to host the annual JerseyArts.com People's Choice Awards, and to honor the outstanding cultural industry that makes our state such an incredible place to live, work and play."
Favorite Large Performing Arts Center - New Jersey Performing Arts Center (NJPAC), Newark. The New Jersey Performing Arts Center serves as a model for programming, audience diversity, education initiatives, and as a catalyst in returning nightlife and economic activity to its hometown of Newark, NJ. NJPAC is a world-class and community-based cultural venue, showcasing national and international touring artists.  
Favorite Small Performing Arts Center - South Orange Performing Arts Center (SOPAC), South Orange. The South Orange Performing Arts Center (SOPAC) is a state-of-the-art performing arts center featuring singer-songwriters, blues, jazz, comedy, theatre, dance, and so much more. In addition to performances by its theatre company-in-residence, American Theater Group, SOPAC hosts events presented by the Seton Hall University Arts Council and the Juilliard School of Music.  
Favorite Large Theatre To See a Musical - Paper Mill Playhouse, Millburn. Paper Mill Playhouse preserves and nurtures the American Musical Theater art form and aspires to be a vital artistic and education center recognized throughout the region. Paper Mill is committed to rediscovering and re-imagining classic musicals and plays, developing new musicals, training young and emerging artists, and ensuring that the theater is accessible to all.  
---
The article continues after this ad
---
---
Favorite Large Theatre To See a Play - McCarter Theatre, Princeton. Recognized as one of this country's leading theaters, McCarter is the only organization in this country that is both a professional producing theater and a major presenter of the performing arts. At the core of McCarter's programming is its world-class Theater Series, built on an ongoing commitment to new work and to exploring and re-imagining classic works from the American and world canon.
Favorite Small Theatre - Luna Stage Company, West Orange. Performing in an intimate "black box" theater, the Luna Stage Company develops and produces vibrant plays about local and global experiences, bringing our communities together for artistic events that catalyze conversations and create understanding and change. Luna celebrates diverse voices and is dedicated to eliminating barriers to participation.
Favorite Art Museum - Grounds For Sculpture, Hamilton. This 42-acre sculpture park features the work of emerging and internationally renowned artists in a wide range of media. Outdoors, more than 250 contemporary sculptures from monumental to smaller scale pieces are sited on the carefully landscaped grounds. Indoors, rotating exhibitions and educational programs take place throughout the year in six indoor galleries.
Favorite Art Gallery - Studio Montclair, Montclair. Studio Montclair offers an array of opportunities for artists to bring their work to the public and network with other artists. Annual events include an open juried exhibition that has achieved international scope, an annual members' exhibition, and curated exhibits at the Studio Montclair Gallery.
Favorite Symphony/Orchestra - New Jersey Symphony Orchestra (NJSO), Newark. The NJSO is comprised of some of the country's finest musicians and is proud to have Xian Zhang as its Music Director. Artistic excellence, innovative programming, and community engagement are hallmarks of its mission. The orchestra brings its programs to six different venues throughout the state.  
Favorite Choral Group - Paper Mill Playhouse Broadway Show Choir, Millburn. The Paper Mill Playhouse Broadway Show Choir is an audition-based, exhibition Show Choir that stems from Paper Mill Playhouse's award-winning Arts Education and Outreach programs. The choir consists of 60 singer/dancers between the ages of 15 and 22. The participants act as ambassadors to Paper Mill Playhouse with an array of performance opportunities throughout the community and beyond.
Favorite Opera Company - Opera Theatre of Montclair, Montclair. Opera Theatre of Montclair (OTM) brings professionally-produced opera to a local audience, seeking both to serve those with a long-standing appreciation of the art form and to inspire a newfound love of opera in people of all generations. OTM makes opera accessible by creating productions on an intimate scale, using English supertitle projected translations, keeping ticket prices low, presenting a diverse range of repertoire, and exposing children to the art form through outreach performances and other educational events  
Favorite Ballet Company - New Jersey Ballet, Livingston. For more than half a century, New Jersey Ballet has thrilled audiences from Bergen to Cape May with top quality professional ballet and has given hundreds of thousands of adults and children their first introduction to ballet and inspired in many a lifelong love of the arts.  
Favorite Modern/Cultural Dance Company - New Jersey Tap Ensemble, Bloomfield. New Jersey Tap Dance Ensemble's mission is to preserve and promote the American art form of rhythm tap dancing. The company has become known for artistic excellence in performance and the development of tap artists, projects, and programs. The dancers are today's ambassadors for the art form and leaders in the field nationally and internationally.  
Favorite Music Festival - Montclair Jazz Festival, Montclair. The annual Montclair Jazz Festival is the biggest single one-day event in Montclair! Produced by Jazz House Kids and directed by bass virtuoso Christian McBride, the festival features world-class artistry in a family-friendly environment. Attended by thousands of music fans, the "no tickets required" event features internationally renowned jazz headliners and the talented students from Jazz House Kids.  
Favorite Film Festival - Montclair Film Festival, Montclair. The Montclair Film Festival (MFF) exists to nurture and showcase the talents of filmmakers from around the world. The annual festival creates a cultural focal point in the Township of Montclair that unites, empowers, educates, and celebrates our region's diverse community and robust artistic heritage.
Favorite Visual Arts Festival - Newark Arts Festival, Newark. Newark Arts Festival celebrates the rich diversity of the city's expanding arts scene and welcomes the world to experience an exciting array of artist exhibitions, forums, studio tours, performances, mural excursions, screenings, children's events, and more.  
Favorite Adult Art Class - Montclair Art Museum Yard School of Art, Montclair. The Yard School of Art offers programs for adults, children, and teens throughout the year. Classes are offered in four semesters including an eight-week summer program. Learn a new skill or refresh your existing knowledge in their professional studios from experienced teaching artists.  
Favorite Visual Arts Camp - Montclair Art Museum SummerART Camp, Montclair. Through its eight-week SummerART Camp, the Montclair Art Museum's Yard School of Art offers an extensive summer arts program for adults, children, and teens. Perfect for keeping children cool and creative during their summer break, the camp has a wide selection of fun classes and activities, ranging from cartooning, 3D animation, and LEGO Robotics to painting, sculpture, and jewelry making, to claymation, digital movie-making, and group sculpture.  
Favorite Performing Arts Camp - Jazz House Kids Summer Workshop, Montclair. For two weeks each August, the Jazz House Summer Workshop immerses students in the art of jazz performance and helps them become well-rounded musicians through workshops, ensemble performances, and jam sessions with professional musicians. Highlights include master classes, small groups and big band ensembles, history and culture, composition, and film scoring.
Favorite Downtown Arts District - Montclair. Nestled at the foot of the First Watchung Mountain, Montclair's vibrant downtown is flush with restaurants, movie theaters, shop, and nightlife that attract visitors from all over the region. The region is known for its arts community, which includes Montclair Film Festival, Montclair Jazz Festival, Studio Montclair, Opera Theatre of Montclair, and more.  
---
Honorable Mentions

Central Jersey Performing Arts Center - State Theatre New Jersey, New Brunswick. State Theatre is an 1800-seat venue that is credited as a major factor in New Brunswick's return to economic vitality. State offers international orchestras, Broadway musicals, world-class dance, stand-up comedy, children's theater, world music, and more—annually attracting some 200,000 patrons.  
South Jersey Symphony/Orchestra - Bay Atlantic Symphony, Atlantic City. Bay Atlantic Symphony is a professional orchestra that performs concerts throughout the year in southern New Jersey. The symphony performs and reinterprets a wide range of the traditional classical canon, including Beethoven, Mozart, and Bach, in addition to premiering new work. The company is also active in educational outreach projects.
North Jersey Art Museum - Newark Museum, Newark. The Newark Museum is the state's largest museum, holding fine collections of American art, decorative arts, contemporary art, and arts of Asia, Africa, the Americas, and the ancient world. Its extensive collections of American art include works by Hiram Powers, Edward Hopper, Georgia O'Keeffe, and Frank Stella. 
"The thousands of fans who come out and vote every year for their favorites are further proof that the arts matter in New Jersey," said Allison Tratner, Executive Director of the State Arts Council. "As drivers of tourism and the economy, these distinctive arts destinations anchor communities in every corner of the state, and help connect us with the creativity so vital to our quality of life."
The JerseyArts.com People's Choice Awards are coordinated through the Discover Jersey Arts program, a cosponsored project of the New Jersey State Council on the Arts and the ArtPride New Jersey Foundation aimed at increasing the awareness of and participation in the arts.
"New Jersey Stage congratulates all of the winners," said Gary Wien, publisher.  "We are proud to cover these organizations throughout the year.  They serve as a testament to the quality of arts throughout the Garden State."
PHOTO: Adam Perle, President & CEO of the ArtPride New Jersey Foundation, Linda Fowler, Director of Content at NJPAC, and Allison Tratner, Executive Director of the New Jersey State Council on the Arts. Photo by Gustavo Garcia.