originally published: 02/24/2019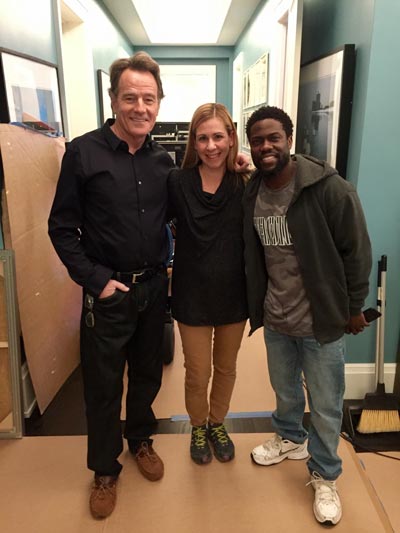 (SOUTH ORANGE, NJ) -- Professors Snowdon and McNiece were presented with the opportunity to work on The Upside after giving a tour of the Kessler Institute for Rehabilitation to the movie's producers and Bryan Cranston. Professor Lauren Snowdon and adjunct faculty member, Maggie McNiece of Seton Hall University's School of Health and Medical Sciences served as primary clinical consultants for the movie The Upside. The movie, starring Academy Award nominee Bryan Cranston and People's Choice Award winner Kevin Hart, tells the story of the unlikely relationship between the two – a wealthy businessman who has a spinal cord injury and the recent parolee who becomes his caregiver. 
Snowdon noted that the movie's team had toured multiple rehabilitation centers, yet chose Kessler for its specialization in spinal cord injuries (SCI).
The producers needed medical consultants who would aid in teaching the actors about SCI as well as the care-taking process. The expertise of Snowdon and McNiece in physical and occupational therapy (respectively), combined with their experience as teachers, made the two a perfect fit.  Snowdon and McNiece were hired the very same day they gave the tour and were even asked to participate in the movie's filming.
The CEO of Kessler Institute for Rehabilitation's West Orange campus, Bonnie A. Evans, noted, "We are proud that people turn to us not only for our care excellence, but also for the clinical expertise and experience we provide. Of course, it was exciting to have Hollywood come calling and have Lauren and Maggie help to ensure the authenticity of this film by serving as consultants. But it's the work that they and their colleagues do every day that really makes all the difference in the lives of our patients and their families."  
Although Snowdon has taught classes at Seton Hall over the last few years, she recently joined the School of Health and Medical Sciences full-time as director of Clinical Education in the Physical Therapy Department. She began her career at the Kessler Institute for Rehabilitation in 2001. Snowdon served as the director of Kessler's Neurologic Physical Therapy Residency program and has collaborated with the University within that role by coordinating a panel of experts to present at one of the School of Health and Medical Sciences' Interprofessional Education (IPE) Core Signature Experiences.
---
The article continues after this ad
---
---
Alumna Maggie McNiece graduated from Seton Hall with a Bachelor of Arts in psychology. She continued her studies at Columbia University, where she earned a Master of Science degree in occupational therapy. She joined the Kessler Institute's Spinal Cord Injury unit in 2011 and, most recently, returned to Seton Hall as an adjunct faculty member.
"It is wonderful to see Lauren and Maggie using the knowledge they provide to our students in a forum that will reach and educate millions of people about spinal cord injuries," said Dean Brian B. Shulman of the School of Health and Medical Sciences. "Their participation in this movie is truly a testament to their level of skill and the world-class education our students receive here in the School of Health and Medical Sciences at Seton Hall."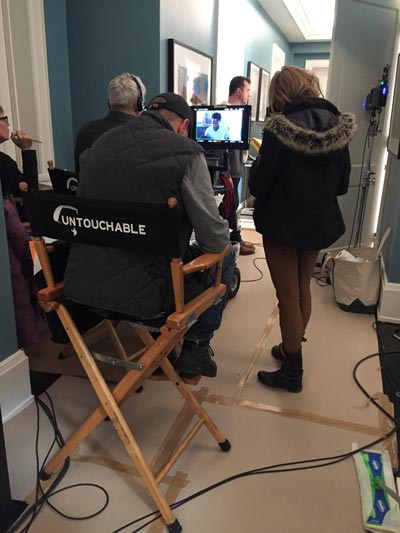 In their roles as medical consultants to the movie, Snowdon and McNiece demonstrate the importance of interprofessional collaboration between physical and occupational therapy. The consultants educated and directed Kevin Hart on how to properly care for someone with SCI and assisted Bryan Cranston with understanding the movements he could and could not perform as someone with an injury of this caliber. The professors were given the ability to communicate with the actors on set to point out any actions they deemed inaccurate. Snowdon and McNiece appreciated the authenticity that the producers and actors brought to these roles.
"What I respected most about the producers is that they filmed the movie in such a way that it would be as true as possible to someone with a spinal cord injury," said Snowdon. "As a therapist who has worked within that population my entire career, it meant a lot to me that they were so adamant about doing well by the SCI community."
"Both Bryan Cranston and Kevin Hart took the responsibility of portraying a person with spinal cord injury and a person who is a caregiver very seriously," added McNiece. "They were engaged when learning from us and were receptive to feedback.  It made the experience even more memorable."
After witnessing their time and dedication to the filmmaking process, the producers asked Snowdon and McNiece to be extras in the film. In the movie there is a birthday party for Bryan Cranston's character, and both women can be seen among the party-goers.
"Each day, we spent 12-14 hours for scenes that would only run about two minutes," said McNiece. "Seeing the behind-the-scenes of the movie making process, coupled with their commitment to authenticity, gave me a new appreciation for filmmakers."
Both Snowdon and McNiece have since been presented with other creative consulting opportunities regarding paraplegia and wheelchair assistance. The Luna Stage Theatre Company contacted the Kessler Institute in search of help for a play titled Tranquil, involving a female lead who is paralyzed from the waist down. Kessler provided the wheelchair and Snowdon and McNiece again provided their expertise.
"SCI is a misunderstood injury. People don't understand the significant deficits that come with it," said Snowdon. "Through this creative work, maybe we can help teach them."
---
One of the country's leading Catholic universities, Seton Hall has been showing the world what great minds can do since 1856. Home to nearly 10,000 undergraduate and graduate students and offering more than 90 rigorous academic programs, Seton Hall's academic excellence has been singled out for distinction by The Princeton Review, U.S. News & World Report and Bloomberg Businessweek.
Seton Hall embraces students of all religions and prepares them to be exemplary servant leaders and global citizens. In recent years, the University has achieved extraordinary success. Since 2009, it has seen record-breaking undergraduate enrollment growth and an impressive 110-point increase in the average SAT scores of incoming freshmen. In the past decade, Seton Hall students and alumni have received more than 30 Fulbright Scholarships as well as other prestigious academic honors, including Boren Awards, Pickering Fellowships, Udall Scholarships and a Rhodes Scholarship. The University is also proud to be the third most diverse national Catholic university in the nation.
During the past five years, the University has invested more than $165 million in new campus buildings and renovations. And in 2015, Seton Hall launched a School of Medicine as well as a College of Communication and the Arts. The University's beautiful main campus in suburban South Orange, N.J. is only 14 miles from New York City — offering students a wealth of employment, internship, cultural and entertainment opportunities. Seton Hall's nationally recognized School of Law is located prominently in downtown Newark. The University's Interprofessional Health Sciences (IHS) campus in Clifton and Nutley, N.J. opened in the summer of 2018. The IHS campus houses the University's College of Nursing, School of Health and Medical Sciences and the Hackensack Meridian School of Medicine at Seton Hall University.
PHOTOS: (TOP) Bryan Cranston (Left), Lauren Snowdon (Center), Kevin Hart (Right).
(BOTTOM) Lauren Snowdon (Right) on set of The Upside which was initially called The Untouchables.