originally published: 02/22/2019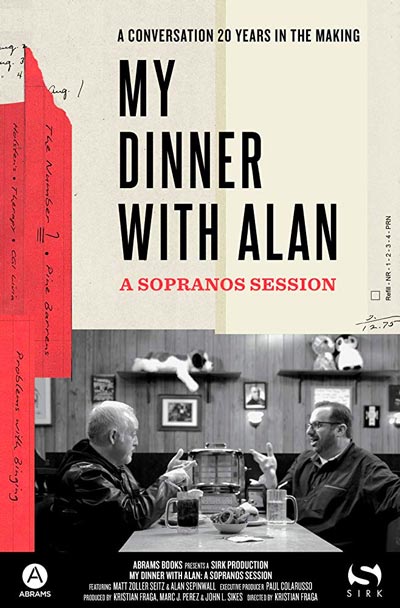 (ASBURY PARK, NJ) -- The 17th Annual Garden State Film Festival (GSFF) has added a fifth day to the festival this year and is presenting a special screening of the East Coast Premiere of My Dinner With Alan: A Sopranos Session. Monmouth County Freeholder Director Tom Arnone will serve as host for the evening, which takes place on Wednesday, March 27th at 7:00pm at the Jersey Shore Arts Center in Ocean Grove.
Fans worldwide are celebrating the 20th Anniversary of The Sopranos television premiere (the first episode aired in January 1999, and life has never been the same). The Garden State Film Festival is especially proud to be able to screen this fabulous film in GSFF Alumni, Tony Soprano's home state.
On the eve of the publication of their book The Sopranos Sessions, TV critics Alan Sepinwall and Matt Zoller Seitz meet at Holsten's restaurant in Bloomfield, New Jersey, the location of the controversial last scene of The Sopranos. Their wide-ranging conversation covers television, movies, psychiatry, gangsterism, their 20-year friendship, and their experience covering the series for The Star-Ledger of Newark, the newspaper that Tony Soprano picked up at the end of his driveway.
The screening will be followed by a discussion between Artie Pasquale, The Soprano Sessions co-authors Alan Sepinwall and Matt Zoller Seitz and My Dinner with Alan director Kristian Fraga.
This evening will also include a book signing by both authors, with proceeds to benefit the Garden State Film Festival. The book is available for pre-order for the Book Signing (cost is $25.00 and guests must be present at the event, books will not be shipped). Books will also be available to purchase on site while supplies last.
---
The article continues after this ad
---
---
The Garden State Film Festival is scheduled to screen over 245 independent films from around the globe at ten venues in Asbury Park, March 27-31st, 2019.