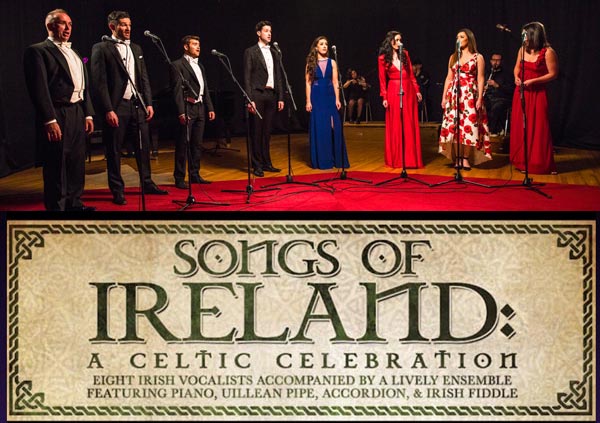 (MORRISTOWN, NJ) --  Mayo Performing Arts Center will get into the Saint Patrick's Day spirit a day early when Songs of Ireland – A Celtic Celebration performs on Saturday, March 16 at 7:30pm. Songs of Ireland presents an exhilarating and unique musical approach to universally loved songs and arias with all original arrangements drawing from Irish Traditional folk song; opera arias, duets, trios, quartets and ensembles; songs from the great American songbook; Broadway hits; and "modern" contemporary popular repertoire.  Tickets range from $29-$59. 
The company features 4 tenors, 4 sopranos, 1 pianist, and 3 traditional Irish instrumentalists (Uilleann Pipes, Whistles, Fiddle, and Concertina). The cast includes: Emer Barry, Heather Fogarty, Leanne Fitzgerald, Andrea Delaney, George Hutton, Josh Spink, Alan Leech, and Ciarán Kelly (subject to change): 
Emer Barry, Soprano - a graduate of the Conservatory of Music and Drama, Dublin. In 2014, 2015 and 2016, she toured the US with classical crossover act "Affiniti". Emer has also just completed her first solo album, 'Storyteller', launched at Dublin's National Concert Hall on 18th of July 2017. The album features opera, musical theatre and Celtic music with emphasis on the art of storytelling and its inherent place in Irish heritage. She has been described by The Boston Globe as "full of soul, sass and sophistication as well as exquisite technique."
Heather Fogarty, Mezzo Soprano - a Graduate of The Royal Irish Academy of Music. She performs both as an Opera Singer on the stages of Dublin's National Concert Hall and Belfast's Opera House as well as an Actress on the stage of the world-famous Abbey Theatre. Heather recently toured Europe and South America with the renowned Lubeck Choir Academy under Maestro Rolf Beck.
Leanne Fitzgerald, Soprano - a native of Co. Kerry, recently graduated with a Bachelors of Music honours degree from the DIT Conservatory of Music and Drama. Leanne performs frequently as soloist and chorister with a number of different Irish ensembles. She joined Irish a cappella vocal Ensemble Ardú in 2015, and in 2017, Leanne joined Chamber Choir Ireland.
---
The article continues after this ad
---
---
Andrea Delaney, Soprano - she sings in both an operatic and traditional Irish style. She toured with Celtic Woman and Anuna in the United States, Japan, China, Canada and Europe and perform regularly with NI Opera's Young Artist's Program in productions such as Wagner's Flying Dutchman, Verdi's Macbeth, Donizetti's Elixir of Love, and Puccini's Turandot. Notable performance include a private concert for Prince Charles and Camilla as well as U2's Bono and his guests.
George Hutton, Tenor - a member of the world famous Irish vocal group Anuna and previous member of The Five Irish Tenors, George has toured around world performing in the U.S., Canada, Belgium, Holland, and Japan. George also performs with Irish acts Glen Hansard, Moya Brennan of Clannad, Hozier and Daniel O'Donnell. His latest single 'Waiting' received a 4-star rating from PureM Magazine describing it as: "Vibrant…vivacious…spirited…energetic…'Waiting' is a very vitalizing pop/folk piece whose soft yet cinematic style and affable attitude make a powerful impact."
Josh Spink, Tenor - he started his singing career as a boy soprano and is now a member of the world famous Irish vocal group Anuna. A Graduate of the Conservatory of Music and Drama, Dublin, Josh performs with Dublin's Wide Open Opera, Opera Theatre Company and Lyric Opera and recently performed in the award-winning Wide Open Opera production of The Second Violinist.
Alan Leech, Tenor - he makes his triumphant return to America after his performance with The Five Irish Tenors who completed a 49-city tour of the U.S. in 2017. Alan is a graduate of University College Cork and has performed with Opera Cork, Opera South, Anna Livia Opera, Opera Ireland, and has even performed at the White House for President Barack Obama. International touring has included U.S. Russia, Brazil, China and the Lebanon, as well as several European tours.
Ciarán Kelly, Tenor - he graduated from the Royal Irish Academy of Music in 2010, having studied with Veronica Dunne. He made his opera debut at the RIAM in January 2007. Ciarán made his professional opera debut at La Teatro Municipal Piacenza. He is a member of professional choral ensemble Resurgam, and has also sung with Chamber Choir Ireland, Crux Vocal Ensemble, and Apollo5 (part of the VCM Foundation, London). Ciarán has toured the world with the likes of Anúna, Celtic Woman and, most recently, as one of The Five Irish Tenors in their highly successful 2017 North American Tour.
Mayo Performing Arts Center, a 501(c)(3) nonprofit organization, presents a wide range of programs that entertain, enrich, and educate the diverse population of the region and enhance the economic vitality of Northern New Jersey. The 2018-2019 season is made possible, in part, by a grant the New Jersey State Council on the Arts/Department of State, a Partner Agency of the National Endowment for the Arts, as well as support received from the F.M. Kirby Foundation and numerous corporations, foundations and individuals. The Mayo Performing Arts Center has been designated a Major Presenting Organization by the New Jersey State Council on the Arts. Mayo Performing Arts Center was named 2016 Outstanding Historic Theatre by the League of Historic American Theatres, and is ranked in the top 50 mid-sized performing arts centers by Pollstar Magazine.
Mayo Performing Arts Center is located at 100 South Street in Morristown, New Jersey.