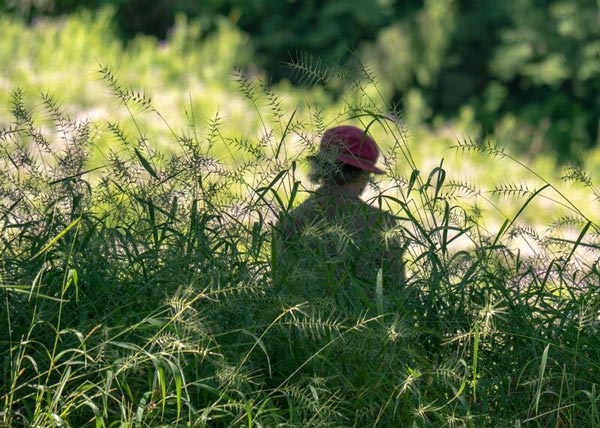 (PRINCETON, NJ) -- It's a walk. It's an app. It's an art exhibit. Healing Trails, introduced by D&R Greenway Land Trust, is all of the above. The exhibit, in partnership with the Princeton Photography Club, is on view through April 5 at D&R Greenway's Johnson Education Center, 1 Preservation Place, Princeton.
"We developed the Healing Trails app as a unique way to connect the value of being outside in nature with physical, emotional and spiritual health," says D&R Greenway President & CEO Linda Mead. "Our inspiration came from Edie Howard who, with her husband, Charlie, preserved their land with us in 2013. While undergoing cancer treatments, Edie found that being outdoors in nature, walking among the bees and the butterflies, was a healing process. She shared this with her 'rainbow circle,' describing in e-mails what she saw in nature and how this related to her healing process.
"We were inspired by Edie to get people out on the trails, in nature, for all the restorative properties it conveys," continues Mead.
For the exhibit, D&R Greenway partnered with the Princeton Photography Club, coordinated by Sheila Geisler, to identify seven trails. Over a year-and-a-half, club members walked the trails in all seasons to photograph the trails. Walks were led by D&R Greenway co-founder and photographer Jim Amon.
The photographs showcasing the seven healing trails are accompanied by a map and take-away information showing viewers how to get there. Princeton Photography Club members will be present at the February 15 reception to answer questions.  The Healing Trails app will be available for the first time on a large screen to enable visitors to explore the trail and listen to the 15 stories for themselves.
---
The article continues after this ad
---
---
"You walk a trail…  Do you really see the details, the personality, the individual beauty of each of the many trails you walk?" asks Geisler. "While looking through my lens I focus on the beauty of each area. I spend time, I ask questions, I learn about the nature that surrounds me. My camera forces me to look at my hike in a different way. I connect with that trail, it brings me an inner peace, a quiet time just for me."
The Princeton Photography Club mission has been to help introduce these trails to the community. "We hope you are able to feel the same connection with nature while viewing these images," continues Geisler, "and that we have stimulated a desire in each of you to walk the trails."
The trails featured in the exhibition are at Greenway Meadows, Cedar Ridge Preserve, St. Michaels Farm Preserve, the Sourlands Ecosystem Preserve and Dry Run Creek. Additionally, the walking tour and paddling tour at Abbott Marshlands are featured—D&R Greenway unveiled two Travelstorys apps for these in 2017.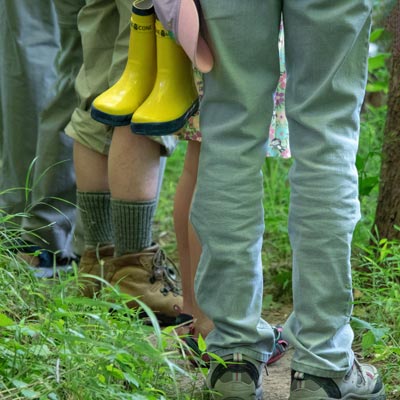 A growing body of evidence shows that contact with nature has positive outcomes on the physical and emotional wellbeing of adults and children. Walking in nature can alleviate problems from diabetes, asthma, arthritis and hip and knee injuries. Being outdoors lowers blood pressure, boosts the immune system, improves sleep and increases energy and longevity. Children who play outside enjoy greater creativity, better focus, longer attentions spans and enhanced cooperation with others.
Photographers include Jim Amon, David Anderson, Mary Anne Borge, Peter Burt, John Clarke, Joel Dowshen, Carl Geisler, David Goodwillie, Laura Hawkins, Sharlene Holiday, Allen Jones, Deborah Land, Mary Leck, Byron Lum, Tasha O'Neill, Santford Overton, Agata Prawdzik, Maia Reim, Igor Svibilsky, Serge Trigoubovich and Jeff Worthington.
The Healing Trails exhibit, juried by Geisler, D&R Greenway Curator Diana Moore, and botanist, photographer and Rider University Professor Emeritus Mary Leck, includes poetry by Jody Kendall and Maxine Sussman, and sculpture by Kate Graves.
"Graves' sculptures of whimsical figures evoke the magic of the trails and the creativity that nature inspires," says Moore. "An aluminum alligator brandishing a flowering, bronze branch titled 'Branch Manager' rests underneath Igor Svibilsky's dreamy photograph of a single bench in a silvery mist framed by silhouetted branches. Joel Dowshen's photographs of kayaks on Abbott Marsh evoke the spirit of the prow of Graves' 'The Admiral,' a wooden horse carrying an armada of bronze animals. Her iconic kangaroos with joeys in their pouches guard the room that celebrates Greenway Meadows, echoing the stone sedum sculptures in Meredith's Garden with their detailed plinths."
On the app's audio tour, we hear the voices of those for whom nature has been remedial. The late Dr. Lyn Ransom, a musician and choir conductor, wrote and performed songs about her healing journey. More than a few of these relate to the natural world, and she described nature as a healing force she could draw on whether climbing Baldpate Mountain trails or watching the silhouetted birds at sunset. "There's a silken breeze flowing through the field/ The pine perfume lets my heart yield/ to the beauty of the land time and time again/ That's where I go to drink the air and love the land," she sang.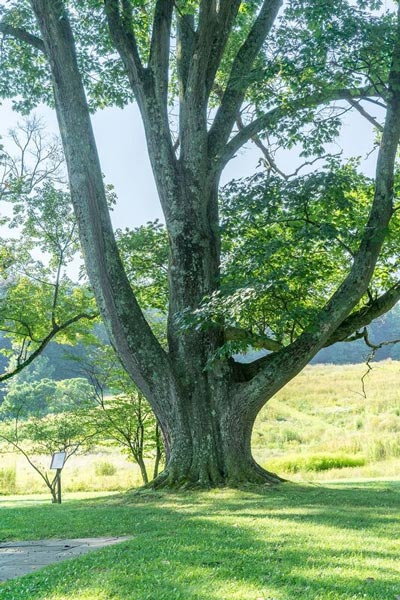 D&R Greenway's Board Chair Phyllis Marchand knows a thing or two about persistence. The former Princeton mayor and marathon runner is a cancer survivor who, in addition to treatments that remove and restore her white blood cells, and interferon injections, relies on an essential "medication": a regular dose of nature. "No matter what you face, taking a walk in the sunshine always makes for a better day," she says.
A March 19 Healing Trails presentation at D&R Greenway's Johnson Education Center will teach participants how to use the app. There will be a panel discussion to talk about the benefits of healing in nature, with medical professionals from Robert Wood Johnson University Hospital Hamilton and those featured on the trail telling their personal stories of healing.
Following its run at D&R Greenway, Healing Trails will be exhibited at the Lakefront Gallery at Robert Wood Johnson University Hospital Hamilton, and at the Tulpehaking Nature Center at Abbott Marshlands. 
Both the Healing Trails app and the upcoming walk will be unveiled at the Healing Trails opening reception on Friday, February 15, 5:30-7:30 p.m. Please rsvp for the reception: (609) 924-4646 or rsvp@drgreenway.org. Gallery hours Monday-Friday,10 a.m.-5 p.m.www.drgreenway.org. Call to be sure Galleries Not Rented at time of prospective visit.
The healing trails audio tour app is free, so users can get outside, be well and stay inspired—there's a story out there!
PHOTOS: First two by Laura Hawkins.  Last by David Anderson