originally published: 01/24/2019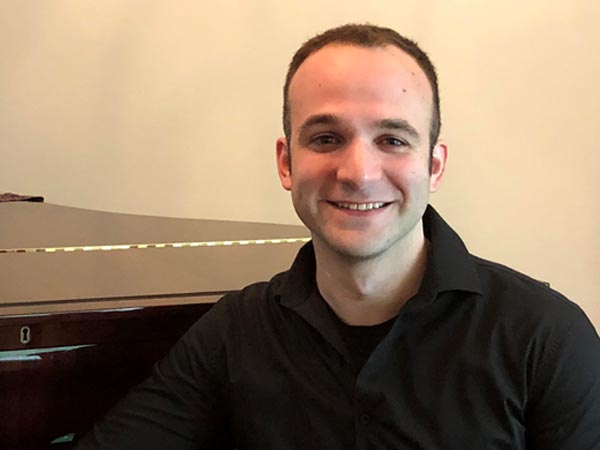 (BERKELEY HEIGHTS) -- Wharton Institute for the Performing Arts (WIPA) continues its Salon Series with a performance by pianist Benjamin Michael on Thursday, February 7 at 7:30pm at 60 Locust Avenue in Berkeley Heights. This intimate, pre-Valentine's concert will feature selections by Debussy, Ravel, Granados, and Liszt. Wine and cheese will be served. Tickets are $12 for adults, $6 for seniors, and free for Wharton Institute for the Performing Arts students. Tickets are available at the door or by calling 908-790-0700.
A native of New Jersey, Benjamin Michael performed his first solo recital at the age of eleven. In subsequent years, he performed extensively in Massachusetts, Connecticut, and New Jersey. He has been a featured guest in the Skaneatles Music Festival and the Classic Chamber Concerts series in Naples, Florida. Other performances include solo recitals at the Centre for Visual and Performing Arts in Newnan, Georgia and the Texas State International Piano Festival in San Marcos, Texas. Michael was the recipient of scholarships to attend the Banff Centre in Alberta, Canada and PianoFest in the Hamptons, where he performed in master classes as well as in public concerts. In addition to solo recitals, Michael also enjoys collaborating with other musicians. He has performed with the Contemporary Music Ensemble of Northwestern University and has participated in ChamberFest! at the Juilliard School. Michael participated in the Gluck Community Service Fellowship Program, where he performed at healthcare institutions throughout New York City. He graduated with a Bachelor of Music degree from the Juilliard School and a Master of Music degree from Northwestern University. Michael is a faculty member at the Wharton Institute for the Performing Arts' Performing Arts School in Berkeley Heights, New Jersey.
The Wharton Institute for the Performing Arts' mission is to provide the highest quality performing arts education to a wide range of students in a supportive and inclusive environment, where striving for personal excellence inspires and connects those we teach to the communities we serve. 
Wharton is New Jersey's largest independent non-profit community performing arts education center serving over 1,500 students through a range of classes and ensembles including the 15 ensembles of the New Jersey Youth Symphony, which serve 500 students in grades 3 – 12 by audition. Beginning with Out of the Box Music and Pathways classes for young children, WIPA offers private lessons, group classes and ensembles for all ages and all abilities. We believe in the positive and unifying influence of music and the performing arts and believe that arts education should be accessible to all people regardless of their ability to pay. We teach all instruments and voice and have a robust musical theater program.
Based in Paterson, New Jersey, the Paterson Music Project (PMP) is an El Sistema-inspired program of the Wharton Institute for the Performing Arts that uses music as a vehicle for social change by empowering and inspiring children through the community experience of ensemble learning and playing. PMP provides intensive, free musical training to students throughout Paterson after school. PMP launched its first site at the Community Charter School (CCSP) of Paterson in January 2013 with 32 second graders and has since added a new class of students each year. Since its inception, PMP has partnered with the Paterson Public Schools to open the Paterson Public School 1 and 26 site as well as the CCSP 21st Century Community Learning Center Program to start a winds and brass middle school program. Last year, PMP partnered with William Paterson University's Music After School Program to create a central band site at the Norman S. Weir School to serve over 60 students. This year, Paterson Music Project will be partnering with the Rosa Parks Performing Arts High School in Paterson to host the PMP Saturday Program which includes large ensemble rehearsal, Community Choir, Afro-Fusion Percussion Ensemble, and private lessons. There are now over 250 students in the program across the city of Paterson grades 1-8.
---
The article continues after this ad
---
---
Wharton Institute for the Performing Arts is located in Berkeley Heights, New Providence and Paterson, NJ and reaches students from 10 counties. All of WIPA's extraordinary faculty members and conductors hold degrees in their teaching specialty and have been vetted and trained to enable our students to achieve their personal best.