originally published: 01/19/2019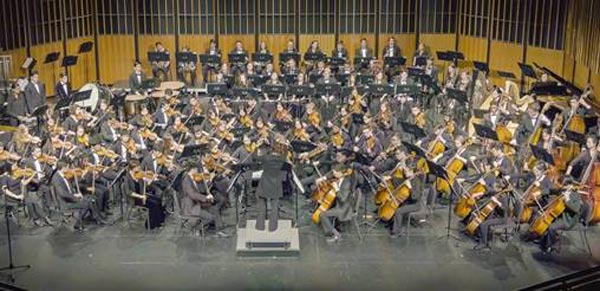 (PRINCETON, NJ) -- The New Jersey Youth Symphony (NJYS) continues its 40th Anniversary with a concert featuring the NJYS Youth Symphony and Youth Orchestra on Sunday, January 27 at 4:00pm at Richardson Auditorium at Princeton University located at 68 Nassau Street in Princeton. Youth Symphony will open the concert with Mahler Symphony No. 1 in D major followed by Youth Orchestra performing Dvořák Symphony No. 8 in G major, Op. 88.
Tickets are $20 for adults and $15 for students and seniors, available online at www.njys.org or by calling 908-771-5544.
Says Helen Cha-Pyo, Artistic Director and Conductor, "My vision for the New Jersey Youth Symphony's 40th Anniversary is promoting the already well-developed musical excellence of our students—encouraging them to shine far and wide on varied stages and bring their talents to new audeinces." In addition to Princeton University's Richardson Auditorium, NJYS ensembles will grace stages this season including the Montclair State University, Union County Performing Arts Center, Chatham United Methodist Church, Dolan Hall at the College of St. Elizabeth, Drew University, and the New Jersey Performing Arts Center.
With 105 of the highest level musicians from 40 different high schools in New Jersey, the NJYS Youth Symphony regularly explores adventurous programming, juxtaposing old and new works and making musical connections meant to resonate with both the audience as well as the young musicians. Youth Symphony has appeared at New York City's Carnegie Hall, the Musikverein in Vienna, and at the Kennedy Center in Washington, D.C. The NJYS Youth Orchestra, a 75+ member full orchestra, offers opportunities to perform music from Beethoven to contemporary composers and was selected to perform at the 2017 NAfME Eastern Division Conference in Atlantic City.
Helen H. Cha-Pyo is in her first season as the Artistic Director of the Wharton Institute for the Performing Arts and Conductor of the New Jersey Youth Symphony. Wharton Arts is New Jersey's largest independent non-profit community performing arts education center serving over 1,600 students from 13 different counties of New Jersey through a range of classes at Wharton Performing Arts School, 15 performing ensembles at the New Jersey Youth Symphony and the Paterson Music Project, an El Sistema-Inspired program serving children everyday at 2 separate sites in the city of Paterson, NJ.  She is also serving currently as the Visiting Associate Professor of Orchestral Studies and Conductor of Montclair State University Symphony Orchestra at John J. Cali School of Music (NJ). 
---
The article continues after this ad
---
---
For 16 years as Music Director and Conductor of the Empire State Youth Orchestra, Cha-Pyo has inspired hundreds of young musicians to perform at the highest levels, resulting in Empire State Youth Orchestras being recognized as one of the nation's premier music organizations for youth. Ms. Cha-Pyo's creative programming has resulted in 3 prestigious ASCAP awards and a $100,000 grant to partially fund a music festival that commissioned nine works, one for each ESYO ensemble. She has conducted the orchestra in outstanding concert halls including Troy Savings Bank Music Hall, Zankel Hall, EMPAC, Tanglewood's Ozawa Hall, and Carnegie Hall.  She has led the orchestra on three international tours: to Europe in 2008, China and South Korea in 2012, and Portugal in 2016. Cha-Pyo's vision was instrumental in the founding of ESYO CHIME in 2015, a music education program dedicated to serving underprivileged youth in Schenectady and Troy, NY. ESYO has established the Helen Cha-Pyo Golden Baton Award and Scholarship for students who embody Cha-Pyo's passionate commitment to music as a means to uplift and enrich the community.
From 1996 to 2002, Cha-Pyo served as Artistic Director and Conductor of the Riverside Philharmonic Orchestra and Choir and Associate Director of Music at The Riverside Church in New York City. She has released 3 recordings with the Riverside Choir (JAV Recordings). A committed music educator, she pioneered the Riverside Music Educational Program, which served thousands of New York City public school children in Districts 4, 5 & 6.
Born in Seoul, Cha-Pyo immigrated to the US when she was 12. She studied piano and organ in the Pre-College Program at The Juilliard School. She holds a Bachelor of Music degree in Organ Performance from Oberlin Conservatory and a Master of Music degree in Conducting and Organ Performance from the Eastman School of Music. She served as assistant conductor to Eastman Philharmonia and the Britt Festival Orchestra (OR). She has also won conducting fellowships at Aspen Festival and Yale School of Music. Her conducting mentors include David Effron, Peter Bay, Murry Sidlin, Lawrence Leighton Smith, Benjamin Zander and Kurt Mazur. She is a frequent guest conductor and clinician for All State and Regional Festival Orchestras throughout the country and is a conductor at Kinhaven School (VT) in the summer. This season, she will appear as guest conductor and clinician for the Nebraska All-State Festival Orchestra, ASTA National Orchestra Festival, Newport Youth Orchestra Festival (OR) and NJ ASTA String Orchestra Festival.
A conductor focused on inspiring and educating young musicians, Simon Lipskar has been the conductor of the NJYS Youth Orchestra since 2006. He conducts in the summers at the Kinhaven Music School where he was a student as a teenager. He has been a regularly guest conductor at the Third Street Music Settlement in New York City and served as Assistant Conductor of the Brooklyn Philharmonic under Robert Spano, as well as for a number of other orchestras and opera companies. A member of Tanglewood's prestigious Conductor's Seminar led by Robert Spano and Gustav Meier, Lipskar took part in master classes led by Seiji Ozawa, Bernard Haitink, André Previn, and Joseph Silverstein. He received his Master of Music degree in Orchestral Conducting from the San Francisco Conservatory of Music where he studied under Michael Morgan and Denis de Coteau and was awarded the Conducting Department Award in Honor of Outstanding Contributions to the Conservatory Ensembles. A graduate of Yale University, he received a Bachelor of Arts in Religious Studies. As a teenager, Lipskar was a Juilliard Pre-College violinist, pianist, and composer as well as an award-winning chamber musician. Along with his extensive work with young orchestral musicians, Lipskar is President of Writers House, a leading literary agency where he represents many of today's bestselling and award-winning authors.
"At NJYS, we strive to provide musical experiences that embrace more than just excellence in music," says Cha-Pyo. "We believe music is a powerful agent that transforms individuals, communities, and the world, and through our partnerships with local social service organizations we aim to use music as a tool to connect with the communities we live and serve."
In celebration of the New Jersey Youth Symphony's 40th Anniversary, the youth organization is partnering with social services in the communities where NJYS will perform throughout the season. For the January 27 concert, NJYS will partner with Princeton Cornerstone Community Kitchen and take in-kind donations of granola bars and other non-perishable food items for their Children's Breakfast Bags.
The Wharton Institute for the Performing Arts' mission is to provide the highest quality performing arts education to a wide range of students in a supportive and inclusive environment, where striving for personal excellence inspires and connects those we teach to the communities we serve.
Wharton is New Jersey's largest independent non-profit community performing arts education center serving over 1,500 students through a range of classes and ensembles including the 15 ensembles of the New Jersey Youth Symphony, which serve 500 students in grades 3 – 12 by audition. Beginning with Out of the Box Music and Pathways classes for young children, WIPA offers private lessons, group classes and ensembles for all ages and all abilities. We believe in the positive and unifying influence of music and the performing arts and believe that arts education should be accessible to all people regardless of their ability to pay. We teach all instruments and voice and have a robust musical theater program.
Based in Paterson, New Jersey, the Paterson Music Project (PMP) is an El Sistema-inspired program of the Wharton Institute for the Performing Arts that uses music as a vehicle for social change by empowering and inspiring children through the community experience of ensemble learning and playing. PMP provides intensive, free musical training to students throughout Paterson after school. PMP launched its first site at the Community Charter School (CCSP) of Paterson in January 2013 with 32 second graders and has since added a new class of students each year. Since its inception, PMP has partnered with the Paterson Public Schools to open the Paterson Public School 1 and 26 site as well as the CCSP 21st Century Community Learning Center Program to start a winds and brass middle school program. Last year, PMP partnered with William Paterson University's Music After School Program to create a central band site at the Norman S. Weir School to serve over 60 students. This year, Paterson Music Project will be partnering with the Rosa Parks Performing Arts High School in Paterson to host the PMP Saturday Program which includes large ensemble rehearsal, Community Choir, Afro-Fusion Percussion Ensemble, and private lessons. There are now over 250 students in the program across the city of Paterson grades 1-8.
Wharton Institute for the Performing Arts is located in Berkeley Heights, New Providence and Paterson, NJ and reaches students from 10 counties. All of WIPA's extraordinary faculty members and conductors hold degrees in their teaching specialty and have been vetted and trained to enable our students to achieve their personal best.