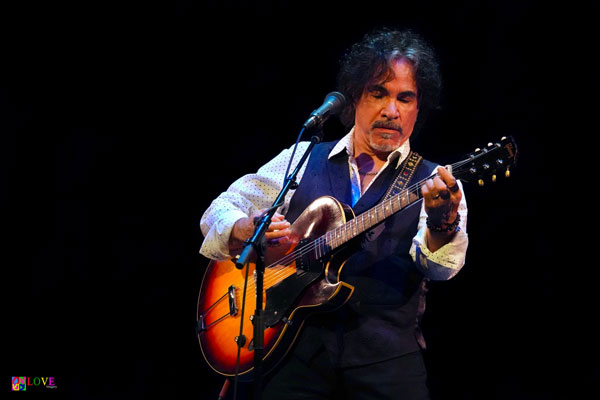 It's brisk for an evening walk on South Orange Ave. in South Orange, NJ, this Friday, Jan. 4, 2019 evening, but it's a good road to follow as it leads us directly to the South Orange Performing Arts Center (SOPAC) for a special performance by singer, songwriter, and guitarist John Oates and his backup group, The Good Road Band.
John Oates is one half of the legendary American pop rock duo, Hall & Oates. Along with Daryl Hall, Oates recorded ten #1 records including "Rich Girl," "Kiss on My List," "Private Eyes," and "Out of Touch," and sold an estimated 80 million units, making Hall & Oates the best-selling duo in music history — surpassing other musical pairs including The Everly Brothers and Simon and Garfunkel.
Oates was born in New York City and raised in the suburbs of Philadelphia. As a youngster, he listened to various genres of music including folk, bluegrass, Delta blues, and ragtime, along with the R&B sounds of Otis Redding, Sam & Dave, The Temptations, and Smokey Robinson and the Miracles.
One of Oates' greatest mentors was his guitar teacher, Jerry Ricks, who spent time on the road with Mississippi John Hurt, a guitarist and country blues artist whose work came to exert a major influence on the budding musician. Ricks also introduced Oates to the music of Doc Watson and Reverend Gary Davis and passed down to him their signature fingerpicking and flatpicking styles.
While still a teenager, Oates recorded his first song, "I Need Your Love," with The Masters for the Philly-based company, Crimson Records.
---
The article continues after this ad
---
---
Following his high school graduation, he enrolled in Temple University to study journalism. As a freshman, he met Daryl Hall, a senior, who was also a professional musician.
The pair formed their duo, Hall & Oates, and by 1972, they had signed with Atlantic Records. In addition to recording 21 albums and over 20 Top 40 hits, Hall & Oates performed as a part of the original Live Aid concert and also sang on the 1985 single, "We Are the World."
After 30 years with Hall & Oates, John Oates recorded his first solo album, 2002's Phunk Shui, and followed that up with a number of successful albums including 2008's 1000 Miles of Life and 2011's Mississippi Mile. 2015 saw the creation of Another Good Road, a live CD and DVD combination which also debuted as a Palladia TV special, and in 2017, he published his memoir, Change of Seasons.
Oates' latest project is his 2018 recording, Arkansas, an album he recently described as being "like Dixieland, dipped in bluegrass, and salted with Delta blues." It's a record he says he always wanted to make, because it pays tribute to the music which initially inspired him to pick up a guitar — the traditional American music exemplified by country bluesmen like Mississippi John Hurt.
Inside the cozy SOPAC auditorium, we chat with several John Oates fans before the beginning of tonight's show.
Reveals Bill from Mountainside, "I'm a lifelong Hall & Oates fan, and I've seen the duo perform live several times," noting, "I even saw them in concert before they were big!"
"I'm interested to see what John Oates is doing for this solo tour," continues Bill. "I understand there is more of a traditional influence on this tour, and SOPAC is the perfect venue for this kind of concert. It's small and intimate — just like watching a performance in someone's living room."
Ford from Irvington declares, "I'm a Hall & Oates fan — when I was a kid, they were one of my favorite groups — but I actually think John Oates is the better singer! I've always liked his music — I have his Mississippi Mile album."
Acknowledging, "I've seen Hall & Oates many times, but I'm curious to see John Oates perform by himself," Ford remarks, "plus I really wanted to see him at this venue where the seats are comfortable and the sound is great."
Ford's brother, Jay from Irvington, agrees with everything his sibling says, indicating, "I'm a Hall & Oates fan, too," before pointing to his brother and joking, "I had to be — growing up with him around!"
The lights dim and tonight's opening act, Adam Ezra, takes the stage. A folk artist from Boston who describes himself as "an impoverished hippie folk-playing Jew," Ezra impresses the SOPAC crowd with his powerful, soulful voice and his rhythmic guitar playing.
With original compositions like "I'm Gone" and "Find a Way" — in addition to tribute performances to David Bowie and The Eagles' Glenn Frey — Ezra engages the audience with his musical talent, storytelling ability, and warm personality.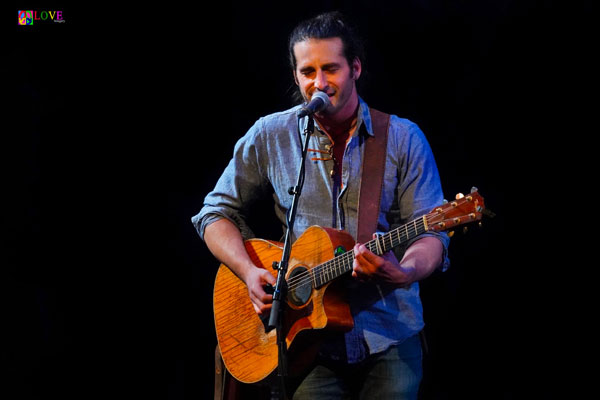 A highlight of Ezra's set is "Door to Door Sales," a composition he co-wrote with John Oates.
Recalling, "I started out as part of a Boston bar band, and I was touring the country when I got a call from John Oates to come to Nashville to write a song with him," Ezra delights the audience with his unique guitar playing style on this number which involves the use of a pick while simultaneously strumming with his fingers.
After revealing that his mom, his fiancee, and his future in-laws are in the audience tonight, Ezra performs another highlight of the evening, "Steal Your Daughter," a cut from his 2017 recording, Hurricane Wind. Belting out the lyric, "Jump twice in the holy water/I'm comin' to steal your daughter/ I'm what you fear the most," the crowd rises in applause for the driving soul of this modern-day folk troubadour.
Following a brief intermission, the audience cheers as the musicians of The Good Road Band — guitarist Guthrie Trapp, bassist Steve Mackey, and drummer Josh Day — enter the stage, followed by John Oates who takes a seat center stage with his acoustic guitar and welcomes the audience to tonight's concert.
After acknowledging that musician Mississippi John Hurt was the primary inspiration for his latest recording, Arkansas, Oates reveals, "When John Hurt would start a show, he'd say, 'Let's put the Lord out front,' to put you in a nice place for the evening — so that's what we'd like to do."
Opening with a rousing John Hurt gospel number, "Lord Send Me," Oates uplifts the audience with his warm and soulful performance.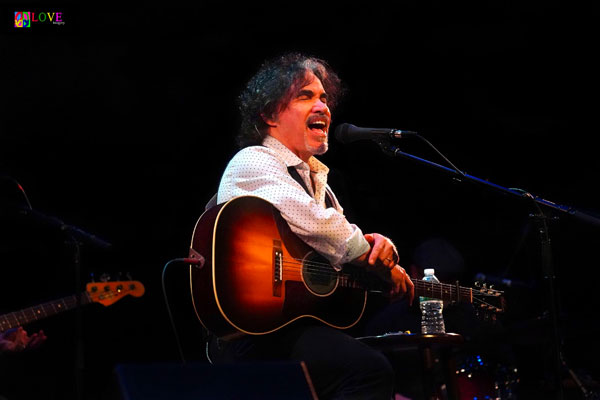 As Oates' bluesy and expressive voice rings out through the SOPAC auditorium, it is expertly supported by Guthrie Trapp's lead guitar playing and Steve Mackey's and Josh Day's tight background singing and rhythm section playing.
Following avid applause, Oates asks the crowd, "Are you ready for a pop hit from 1923? This record had them dancing in the aisles!" Here, he and The Good Road Band perform Emmett Miller's "Anytime," a song which he calls "the first pop hit record to sell a million copies."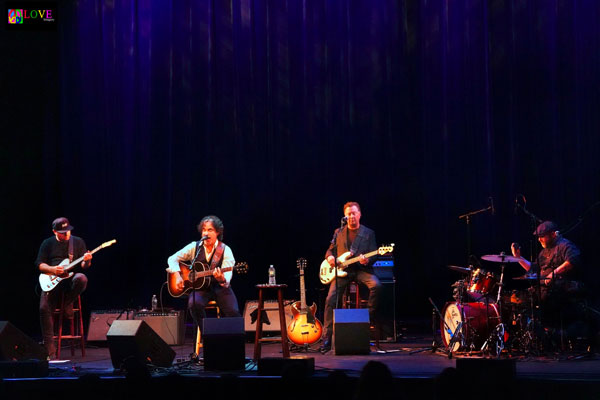 As Oates sings the famous lyric, "Anytime, you're feeling lonely/Anytime, you're feeling blue," his voice is soft and melodious on this sunny two-step which features a rockabilly-style electric guitar solo by Guthrie Trapp.
Moving on to the 1959 hit by Lloyd Price, "Stagger Lee," Oates channels Mississippi John Hurt on a breezy cover version of the song which he refers to as "Stack O Lee" — a number he describes as a tale about "a murder that happened in St. Louie."
Revealing, "John Hurt was a big fan of Jimmie Rodgers, the godfather of country music," he performs Rodgers' "Miss the Mississippi in You." Opening the number with just voice and guitar, Oates' cries out a story of the blues as his musical colleagues join him on this slow country waltz.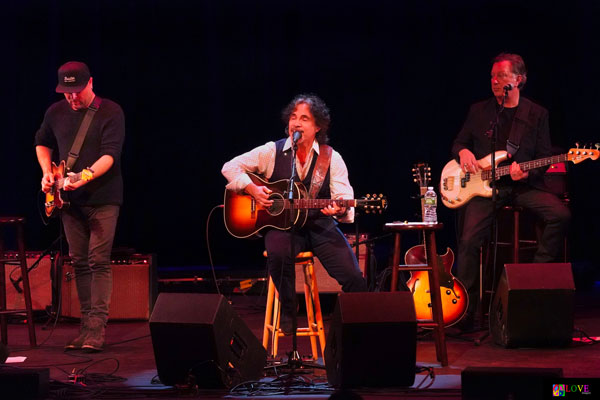 After introducing the members of The Good Road Band, who all happen to hail from the South, Oates quips, "I'm the Yankee in the group!" Then, he and the group perform a Blind Blake number, "That'll Never Happen No More," which features impressive fingerpicking from Oates, an electric guitar solo from Trapp, and authentic New Orleans style drumming by Josh Day.
Following large applause, Oates tunes his guitar, joking, "I was out of tune — which added authenticity!"
He follows up with a cover version of the Canadian group, Frasier and Debolt's, 1969 recording, "Them Dance Hall Girls." His voice clear and strong, Oates tells his story, "Them dance hall girls/You know they treat you kind/They'll give their bodies/You'll never reach their minds," as he deftly fingerpicks on his guitar.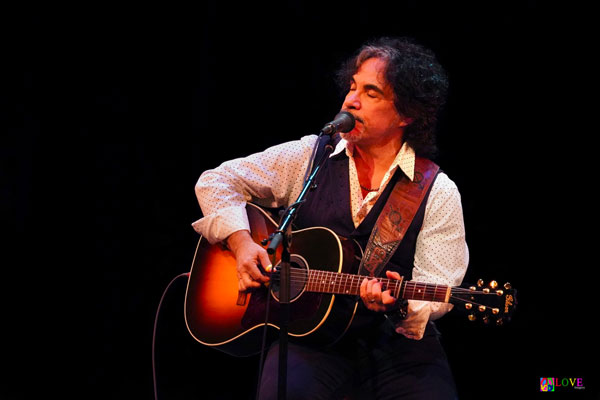 Next up is the title track from Arkansas. Josh Day plays shaker as he simultaneously plays his drum set on this slow and rhythmic country rocker. Featuring a twangy guitar solo and three-part vocal harmonies, this instant classic also features Oates' soulful lead and dextrous acoustic guitar playing.
Oates invites Adam Ezra to join him on stage to perform a piece they co-wrote. Revealing, "This is the first time we're playing this song together," the musicians joke as they carefully tune their instruments before performing their excellent composition, "All I Am."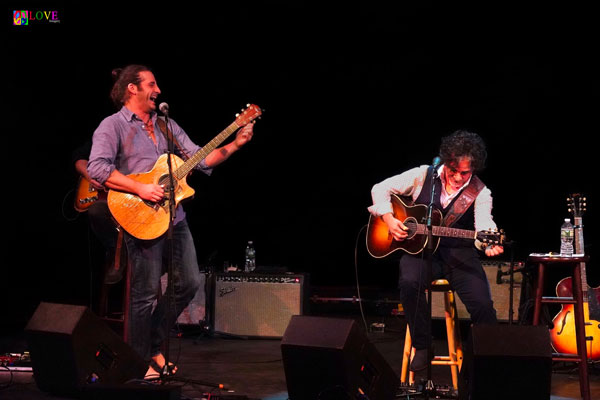 Dual acoustic guitar fingerpicking accompanies the lovely vocal harmonies as the pair sings, "All I am is the ground below the stars/All I am is the story written in scars/Steppin' steady through a shiftin' sand/In the end that's all I am," openheartedly sharing their story and talent with this SOPAC audience.
Following great applause, Oates introduces a number which he co-wrote with country songwriter Craig Wisemen. Describing it as a song "about being too drunk to find your hotel room in New Orleans," he and the band perform "Lose It in Louisiana," a blue-eyed soul number in the form of a soft country story ballad which features a soulfullly smooth vocal by Oates and top-flight electric guitar playing by Trapp.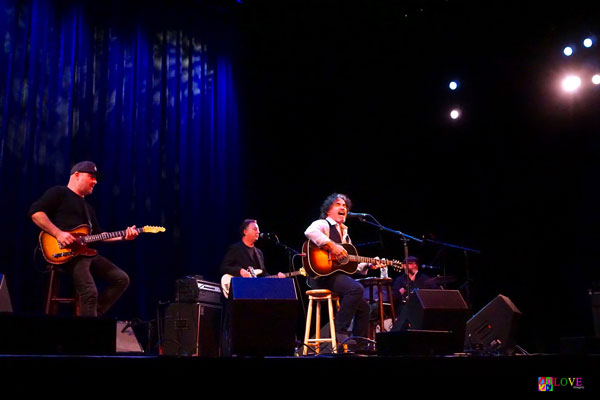 Wrapping up the mainly acoustic portion of the evening's festivities, Oates performs a delightful number by the prolific country songwriter, Jim Lauderdale — a bluesy story song entitled "Let Him Come to You" — which features jazz guitar chording by Oates and a jazzy guitar solo by Guthrie Trapp.
Switching over to electric guitar, Oates stands at the mic for performances of "Digging Back Deep" from the Arkansas album and "The Edge of the World," a number he describes as "a little blues for you" on which he and the band rock out.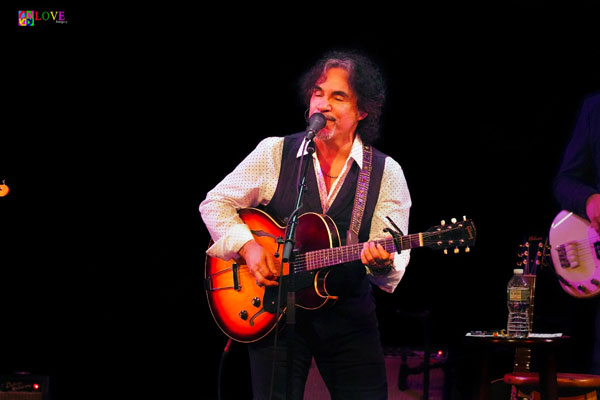 Oates and the musicians continue to rock the SOPAC auditorium on their performance of "one more Mississippi John Hurt song" — "Make Me a Pallet on Your Floor" — a number which features driving guitar parts from Oates and Trapp and solid bass playing from Steve Mackey.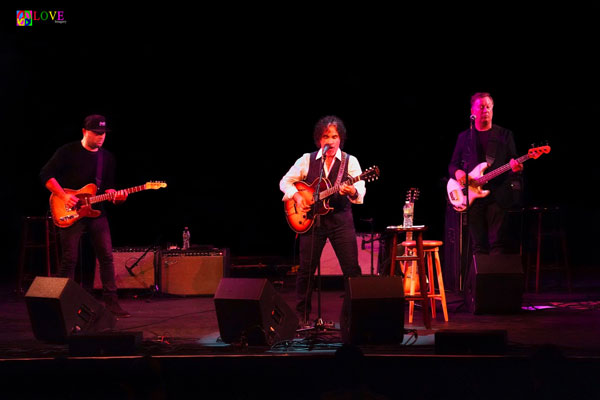 Heads bop and toes tap along with John Oates' bluesy vocal and Trapp's hair band-inspired guitar wizardry!
Following enormous applause, Oates treats the audience to a smattering of classic Hall & Oates hits. Modestly announcing, "Here's a song that's so good, even I can't mess it up," Oates sings lead on the duo's first Top 10 hit from 1976, "Sarah Smile." Audience members cheer for Oates' slow, sexy rendition of this classic pop confection.
Next up is a slow and funky version of Hall & Oates' 1981 chart-topper, "I Can't Go for That," which — unlike the original recording which ends with a fade-out — concludes when Oates quips, "I don't have any endings for these songs!"
After announcing, "We're going to go back in time to 1982 to Greenwich Village where I met a girl whose filthy mouth was in stark contrast to her beauty," Oates plays a song which went on to become a 1982 #1 smash. Performing the selection in the style which he originally envisioned for the piece, Oates and Trapp jam out together on a reggae version of "Maneater."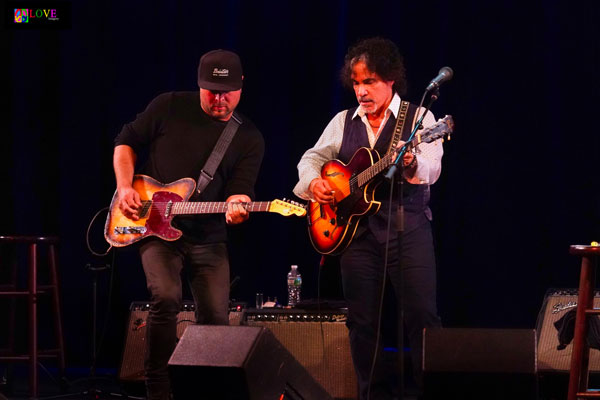 For bringing a new and different feel to this familiar classic, audience members leap to their feet and cheer for John Oates and The Good Road Band!
After leaving the stage, Oates and Co. return for an encore where they perform a reimagined rockabilly version of Hall & Oates' 1981 Top 5 hit, "You Make My Dreams," which features John Oates' rockin' electric guitar and his bluesy lead vocal.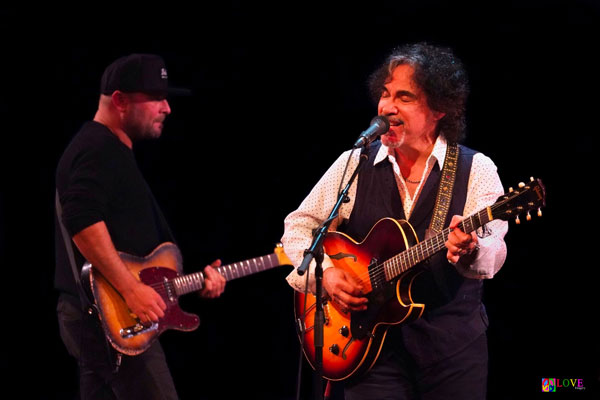 Thanking the crowd as he gives them a goodnight wave, Oates pauses and holds up his pointer finger to announce, "It wouldn't be a rock show without a Chuck Berry song." Here, he and the band perform a rhythmic version of Berry's "Can't Stop the Train." Crooning, "Can't stop the train/You got to let it roll," the crowd responds to Oates' performance with yet another enthusiastic standing ovation!
As the audience makes its way out of the SOPAC auditorium, we chat with several in the crowd who share their opinions with us regarding tonight's performance.
Comments Susan from Short Hills, "I loved this concert — it was excellent! I loved how John Oates started mellow with the music of his roots and then performed his hits. He's so talented and inspiring!"
Ann from Parsippany concurs, noting, "I loved how he reimagined his classic Hall & Oates songs, and The Good Road Band was great!"
Tom from Lambertville remarks, "I thought this concert was wonderful, and the best part was the collaboration between Adam Ezra and John Oates."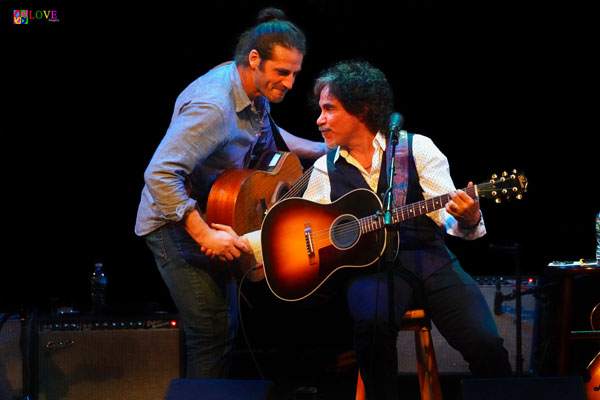 Tom's wife, Ginger, agrees, noting, "And I liked 'Maneater' too — the island theme was kind of neat!"
Mary of Basking Ridge declares, "This was a fun evening! John Oates was really good," acknowledging, "It was the story telling — live and up close — that I liked best, but I also liked the Hall & Oates' hits and how John Oates put a new spin on them."
Luciann from Dumont concurs, explaining, "I liked the banter — and the blues was awesome," before adding, "The music sounded great — the art these musicians are able to create is wonderful!"
Laura from Princeton states, "John Oates was awesome — and I never heard a band like that! I also loved hearing John Oates and Adam Ezra perform 'All I Am' — it's such a beautiful song."
Keith from South Orange expounds upon his appreciation for the talent of Adam Ezra.
"I love his music," explains Keith. "We first saw Adam seven or eight years ago in Vermont, and now we follow him. Altogether, we've seen eight or nine shows," before acknowledging, "He is one of the nicest guys around, and we love attending his house tour shows where he performs in peoples' living rooms."
Lastly, Anthony from Creskill tells us, "This show was impressive from start to finish, and I felt like I was a part of the action in this intimate setting. Adam Ezra is an undiscovered talent, and guitarist Guthrie Trapp was absolutely amazing. Also, the guys in the band kicked butt!"
Continuing, "Tonight, John Oates made all those '80s Hall & Oates hits his own — he completely owned them," Anthony concludes by declaring, "At the age of 70, he totally wowed us!"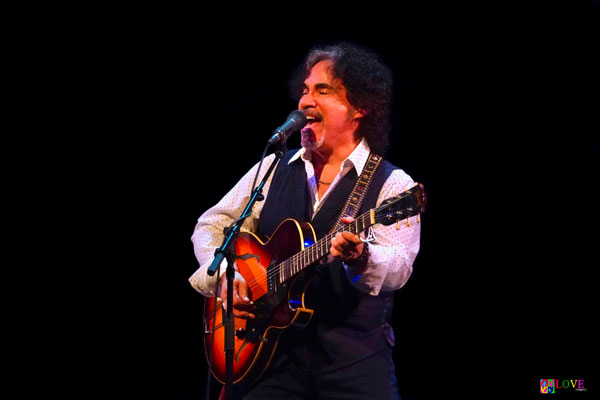 To learn more about John Oates, please go to johnoates.com. For information on upcoming performances at South Orange, NJ's SOPAC — including Janeane Garafalo on February 15, Del McCoury and David Grisman on March 20, Los Lobos on March 30, and Roger McGuinn on April 11 — please click on sopacnow.org.
Photos by Love Imagery
Spotlight Central. Your source for Jersey entertainment news and reviews
Love Imagery Fine Art Photography. all you need. peace/love/flower/power