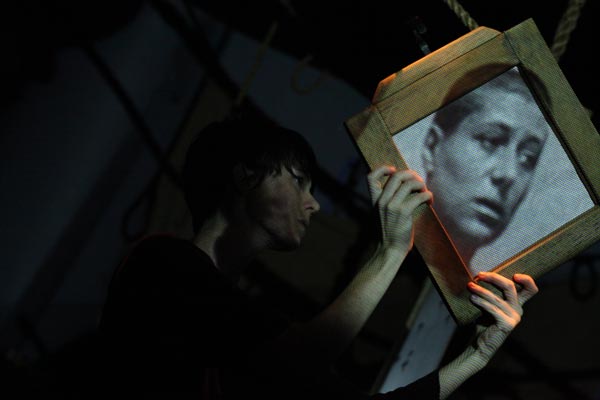 (JERSEY CITY, NJ) -- Art House Productions presents the unique theatrical experience that is Reid Farrington's The Passion Project performed by Laura K. Nicoll.  Eight performances will take place from February 21st to March 3rd. The Passion Project is a 30 minute vibration between performance, film, and installation. Carl Th.Dreyer's 1928 immortal masterpiece, "The Passion of Joan of Arc" is the main narrative along with the history behind the making of the film, a discussion with a Danish archivist, the story of making this project, as well as Joan's own story –– her trial, torture, and execution. The Passion Project explodes the film into the three dimensions; placing the audience inside the film, sitting next to Joan, subjecting them to the relentless rhythm of 35 mm film projection.
Performances run February 21, 22 at 8 pm, February 23 at 2:00pm and 8:00pm, February 24 at 5:00pm, March 1 and 2 at 7:00pm, and March 3 at 3:00pm, for a total of eight performances. In concurrence with The Passion Project, Art House presents a screening of the rough cut of the movie made from Tyson vs. Ali on  February 27 at 7:00pm and work-in-progress showings  of BrandoCapote on March 1, 2 at 8:30pm and March 3 at 5:00pm. Admission is $20 single tickets, $30 double-bill tickets, pay what you can at the door on Friday, March 1 as part of JC Fridays. For tickets and more information click here.  
"What Beauty there is in Mr. Farrington's work. Like Dreyer's film it is both luminous and cruel." – Claudia La Rocco, The New York Times.
"The Passion Project should not be watched, it should be entered into. After all, it is an act of devotion." – Helen Shaw, Time Out New York.
Farrington and Nicoll have been working together since 2009. The Passion Project premiered in 2007 in Copenhagen and has since been performed in New York City and Waterville, Maine as well as in Vancouver, Budapest, and Saskachewan.
Truman Capote's 1957 profile of Marlon Brando, The Duke in His Domain is the inspiration for BrandoCapote, Sara and Reid Farrington's follow up to the 2017 Drama Desk nominated CasablancaBox. Reid and Sara will be joined by performers Roger Casey, Sean Donovan, Lynn R. Guerra, Gabriel Hernandez, and Laura K. Nicoll to develop this BrandoCapote during a two-week creative residency at Art House in advance of a premiere later in the year.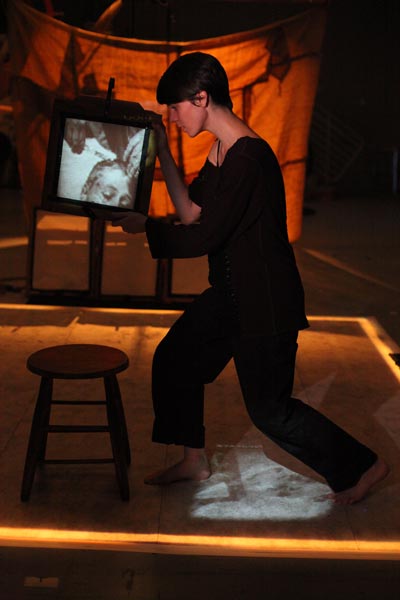 Reid Farrington is a theater director, new media artist and stage designer.  Reid and his artistic partner and wife, Sara Farrington, are currently developing a new work that centers on the 1957 meeting of Marlon Brando and Truman Capote. His most recent finished work, CasablancaBox was commissioned as part of HARP at HERE Arts Center and was nominated for two Drama Desk Awards, Outstanding Projection Design and Unique Theatrical Experience. Other work includes: The Return, about the accidental destruction and assembly of Tullio Lombardo's Adam (commissioned by and performed at The Metropolitan Museum of Art, 2015), Tyson vs. Ali, a hybrid theater sports event (PS 122 Coil Festival 2014), Reid Farrington's A Christmas Carol, which mixed live performers with video projected characters from 35 different film versions of Dickens' tale (Abrons Art Center in 2011 & 2012) and Gin & "It", based on Hitchcock's Rope (Wexner Center, 2010). His work has been supported by NYSCA, NYFA, Jerome, ETC, Franklin Furnace, Greenwall, Axe-Houghton, MediaTHE. From 2001 – 2008, Reid held creative residencies at the Wexner Center for the Arts, Eyebeam Art & Technology Center, 3LD Art & Technology Center and Abrons Art Center. From 2001 – 2008, Reid was a technical artist for The Wooster Group where he designed video and/or created hardware and software systems for the integration of video and sound for six of the company's productions: Hamlet, Poor Theater, To You the Birdie!, Who's Your DADA!?, House/Lights and Brace Up! Reid and wife/playwright Sara have two boys, Jack and Levi.
Laura K. Nicoll is originally from Mt. Desert Island, Maine and currently based in Brooklyn, New York. After training with American Ballet Theater, Pacific Northwest Ballet, and Suzanne Farrell, and graduating from St. Paul's School, she joined Pittsburgh Ballet Theater's corps de ballet where she was also a union representative. While in Pittsburgh she performed in a diverse repertoire that included works by George Balanchine, Matjash Mrozewski, Dwight Rhoden, Lynn Taylor-Corbett, and Twyla Tharp. Following her classical ballet career, she performed on the Norwegian Dawn (cruise ship), with several New York City-based theatre companies. Since 2009, Laura has worked with theater director/new media designer Reid Farrington first as a performer in THE PASSION PROJECT (2009–2012) and A CHRISTMAS CAROL (2011–2012) then as a choreographer for TYSON vs. ALI (2014) and CasablancaBox (2017). Recently, she has also created two site-specific dance projects in collaboration with choreographer Jessica Nicoll and is working on her own solo material.
Art House Productions is located at 262 17th St, Jersey City, NJ.  It was founded shortly after the devastating events of September 11, 2001 by Christine Goodman in order to create a place for artists and community members to connect through creative expression. Since then, AHP has grown significantly. In 2007, AHP became a 501(c)3 not-for-profit organization and was presented with the Key to the City by Jersey City for being a pioneer of artistic and cultural programming and a model of what the arts can do for evolving urban centers. Now in its 17th year, AHP presents a professional season of two Actors' Equity Association mainstage productions, six curated visual art exhibitions, over six youth and adult arts education programs both in school and after school, and the free, quarterly arts festival, JC Fridays, which serves over 15,000 people annually.
AHP's mission is to engage, inspire, entertain and challenge audiences with highly intentional visual and performing arts programming; provide arts education to promote lifelong learning to diverse communities; and celebrate the essential power of the arts to illuminate humanity. AHP provides a home for innovative performing, visual, and literary artists to develop new work; presents emerging and under-recognized artists who are making significant contributions to their respective fields; and serves as a safe space for established artists to take creative risks.
Made possible in part by funds from the New Jersey State Council on the Arts/Department of State, A Partner Agency of the National Endowment for the Arts; administered by the Hudson County Office of Cultural & Heritage Affairs/Tourism Development, and by the County of Hudson, Thomas A. DeGise, Hudson County Executive, and the Hudson County Board of Chosen Freeholders.
Art House's 5,500 square foot facility has elevator access, gender-neutral family bathrooms, and wheelchair ramp accessibility. For accessibility requests and inquiries, please contact info@arthouseproductions.org or call 201-918-6019
---