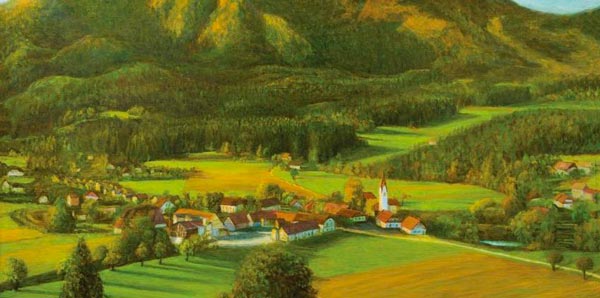 (PRINCETON, NJ) -- The 2018 – 2019 Westminster Conservatory Faculty Recital Series starts the new year with "A Postcard from Slovenia." The concert takes place Sunday, January 27 at 7:30pm in Bristol Chapel on the campus of Westminster Choir College of Rider University in Princeton, N.J. The program will feature music by contemporary Slovene composers. Admission is free. Performers are Westminster Conservatory faculty members Barbara Highton Williams and Kevin Willois, flute; Peter Plomchok, guitar; Phyllis Alpert Lehrer, Suzanne Lehrer and Christopher McWilliams, piano; Urška Haule Feguš and Chika Mimura, violin; Emily Muller, viola; Chase Morrison, cello; Sam Sapienza, bass; and Drew Brennan as narrator.
Urška Haule Fegus was born in Slovenia and introduced to the violin by Andrej Tičar, violinist in the Slovene Philharmonic. She toured Europe with the Slovene RTV Symphony Orchestra before becoming a full-time member in The National Theatre–Opera and Ballet Orchestra. Ms. Feguš has held teaching positions at Brunswick Academy of Music, New Jersey Chinese Elite Preparatory School and from 2008 at Westminster Conservatory, where she is currently a violin strings coordinator and head of the strings department.
Phyllis Alpert Lehrer is known internationally as a performer, teacher, clinician, author and adjudicator.  She has given master classes, workshops and enjoyed an active concert career as a soloist and collaborative artist in the United States, Canada, Central America, Asia and Europe. Her performances have met with much critical acclaim: "Warmth and vibrancy at its best," The Times (London); "An able warmhearted pianist…Impressive musicianly qualities," Daily Telegraph (London); "an admirable musicality …" (The New York Times). Ms. Lehrer is professor of piano and director of graduate piano pedagogy at Westminster Choir College.  
Suzanne Lehrer has been on the faculty of Westminster Conservatory since 1998, where she founded Westminster Summer Piano Camp in 2004 and will be co-directing it in July 2019 with Megan Hofreiter. She runs an independent piano studio in Princeton, where she teaches students of all ages to have a love of music, competence with music reading and interpretation of the piano repertoire and prepares to feel comfortable performing. Since 2016 she is on the faculty of Camp Encore/Coda in Sweden, Maine, where she teaches chamber music, musicianship, private and group lessons and performs in faculty recitals.
Chika Mimura holds a Diploma of Suzuki Violin from the International Academy of the Suzuki Method in Matsumoto, Japan. Ms. Mimura started violin in a Suzuki Violin program in To­kyo, Japan, at the age of three. She has performed at Ensemble Archet, some String Quartets in Japan, and currently performs with Sin­fonietta Nova, a community orchestra based in West Wind­sor, N.J. Ms. Mimura has taught Suzuki violin for 10 years including Suzuki Summer Camp in Japan and for one year at The Institutes for The Achievement of Human Potential in Pennsylvania. She also taught violin at Suzuki Method World Convention in Seoul and Matsumoto and participated Suzuki Method World Convention in Torino. She has been a Westminster Conservatory of Music faculty member since 2004, teaching violin.
---
The article continues after this ad
---
---
Chase Morrison earned a bachelor's degree in music from Wellesley College. She received her master's degree in music composition from Westminster Choir College. Other music studies were completed at The New England Conservatory, and Boston University with cellist George Neikrug. She has held principal positions with the Tasmanian and Melbourne Symphony Orchestras in Australia, the Spoleto Festival in Italy, was the founder of PANOPTICON, a non-profit music group in New York presenting works of women composers, and she was a member of the Ron Carter Jazz Nonet. She has toured with Barbra Streisand and Joni Mitchell, and she has recorded with Grammy winner Paula Cole.  Ms. Morrison has also performed under Leonard Bernstein, Leopold Stokowski, Colin Davis, and Michael Tilson-Thomas. As a composer, her music has been performed at Cornell University, Symphony Space, and her arrangement of Stars and Stripes for multiple cellos has been heard on NPR's All Things Considered. 
Emily Muller has performed as member of Philly Pops, Concerto Soloists, performances with Opera Company of Philadelphia, Opera Company of Delaware, Reading Symphony, member of the Lancaster Symphony, Orchestra 2001, Kennett Square Symphony, performances with Trenton Symphony, Riverside Symphony. Teaching experience includes string teacher and string orchestra conductor at the Waldorf School of Princeton. Ms. Muller also maintains a private studio. She earned her bachelor's degree from the New School of Music in Philadelphia where she studied viola with Max Aronoff and members of the Curtis String Quartet and Philadelphia Orchestra. 
Peter Plomchok attended Rutgers University where he obtained a bachelor's degree in music and studied classical guitar with Robert DiNardo. After college, Mr. Plomchok continued his guitar studies focusing on plectrum/jazz guitar under the direction of Edward Flanagan. He has performed for over 30 years in various combos and musical theater, and he has been involved in various recording projects including short films. Mr. Plomchok has instructed several guitar classes for the Westminster Continuing Education Office, and he  has been a member of the Westminster Conservatory of Music faculty since 1984.
Sam Sapienza was inspired to begin his musical journey when his third and fifth grade daughters took up orchestra in school. Besides enjoying playing with his daughters, Mr. Sapienza plays in the Westminster Community Orchestra led by Ruth Ochs, the Hopewell Community Orchestra and Tim Keyes Consort as well as local bands like the Princeton Country Dance Band. He strongly believes it is never too late to start playing a musical instrument.
Barbara Highton Williams is a founding member of the Volanti Flute Quartet, former principal flutist of the Bravura Philharmonic, and she is a former member of the San Jose Wind Symphony and Blawenburg Band. For more than 20 years she has been heard frequently in chamber music programs in the greater Princeton area. She has concertized on both coasts of the United States, in France, and in the Western Cape of South Africa, where she collaborated with flutist Marietjie Pauw in a series of recitals. Released in 2012, a CD of their program includes the world premiere of the title work by Neo Muyanga, Fofa le nna (Fly With Me). More recently, in collaboration with Princeton poet Daniel A. Harris, she founded AEOLUS, to explore the interplay of poetry with works for solo flute.
Kevin Willois graduated from the Mason Gross School of the Arts, Rutgers University with degrees in Music Performance and Music Education. He studied flute under Bart Feller, and participated in master classes with James Galway, Paula Robison and Jean Pierre Rampal. Mr. Willois is an active performer in the New York/New Jersey area performing with the Perth Amboy Band, the Edison Symphony, Artemis Chamber orchestra, Chelsea Opera orchestra, Martina Arroyo Opera orchestra, Actor's Net as well as the small chamber groups, Trio at Play and Vento Trio. The latter group released their first CD, Brazilian Dances and Inventions and was a featured for the Fou de Bassoon conference in Angouleme, France, where Mr. Willois played classical and jazz concerts and taught workshops on jazz improvisations.
Westminster Choir College of Rider University is located at 101 Walnut Lane in Princeton. To learn more about this recital and other Westminster performances, please go to www.rider.edu/arts.