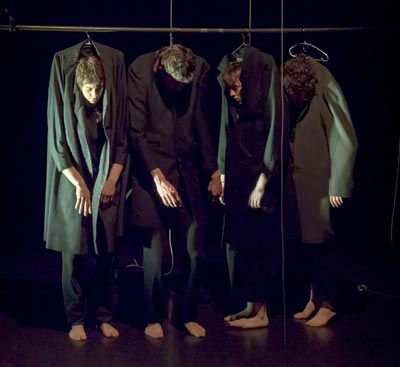 (MONTCLAIR, NJ) -- Peak Performances Presents Raphaëlle Boitel: When Angels Fall from February 9-17 in the Alexander Kasser Theater at Montclair State University. The season of genre-and-convention-defying performances catapults into 2019 with multidisciplinary visionary Raphaël Boitel's return to the Alexander Kasser Theater, following her luminous directorial debut The Forgotten. Admission is $30; FREE for Montclair State undergraduates with ID.
The U.S. premiere performance, When Angels Fall, is a tragicomic vision of a mechanized world stripped of nature, an environmentally depleted future that holds a mirror to the precariousness of our present. Pushing the boundaries of her circus training as a contortionist and aerialist, Boitel and her company of collaborators Cie L'Oublié(e) layer jaw-dropping acrobatics, an interactive set, chiaroscuro-style lighting, and original music into a breathtaking cinematographic universe. When Angels Fall exemplifies Peak Performances' commitment to highlighting the works of performance auteurs from around the globe—giving a home to singular visions by artists like Boitel, Nora Chipaumire, Romeo Castellucci, Emma Dante, Faye Driscoll, Astrid Haddad, Angélica Liddell, Robert Wilson, and many others. 
In When Angels Fall, all things organic have been replaced by machines, and humans' very existence depends on making themselves passive, conformist cogs in a massive engine controlled by hidden manipulators who watch from above. From among the survivors—depicted as fallen angels—a heroic figure rises to resist their power and bring fresh hope to humanity. 
Boitel says, "Each of my shows is a step, part of a global project to create a language that I hope to be, for the audience, a vector of reflection, of wonder, and emotion. Today, for the first time, human activity impacts its surroundings on a planetary scale. Through this story of anticipation, I imagine a place where humanity, realizing its own fragility, clings to life, and reflect on the dangers and repercussions engendered by the self-destructive predisposition of man. I invite the audience here to a philosophical, poetic, absurd, and jubilant wandering."
When Angels Fall highlights the capacity for circus performers' bodies to create an augmented reality through the beauty and complexity of their humanity. Boitel takes advantage of the vertical and aerial space, using it as an extension of the stage, which is set and lighting designed by Tristan Baudoin. It teems with a matrix of almost anthropomorphic mechanical objects, half-cranes, half-articulated arms, ropes and lamps that create a visual language of manipulation inspired by puppetry techniques, incarnate their own characters, and interact physically with the actors. Above the stage, a mobile monolith spins—an apparatus, a character, and an inquisitive eye watching the world while seeming to control time. 
---
The article continues after this ad
---
---
Arthur Bison's tense, dramatic compositions nod to the virtuosity of classical music as a mirror to the work of the circus artist. Along with Baudoin's lighting (inspired by the visual universe of 2001: Space Odyssey, astronomical photography, and volcanic storms) and Lilou Hérin's costumes denoting the codes of power and manipulation within this world, the design elements merge to create a heightened sensory experience.The cinematic quality of When Angels Fall is brought out as human and mechanical characters, in plain view of the audience, install and transform their surrounding spaces, in the manner of shooting a film. 
The production features performers Alba Faivre, Lilou Hérin, Loïc Leviel, Nicolas Lourdelle, Emily Zuckerman, Tristan Baudoin, and Clara Henry. The creative team includes Tristan Baudoin (Set and Lighting Design), Arthur Bison (Music and Sound), and Lilou Hérin (Costumes). 
On February 12 and 13, Boitel and other artists and aerial technicians will lead physical theater masterclasses that immerse participants into the dreamlike world the company has created. The classes will be based around improvisational exercises created by Boitel, within the When Angels Fall environment: they will happen onstage, and will include the set, performers, and technical elements (including lighting and music) of the show. The February 12 floor-based workshop will open to the public, with no experience or background in movement or theater necessary. The February 13 aerial workshop will be held exclusively for faculty-selected MSU Dance and Theater students. 
Performance Schedule and Ticketing

Performances of When Angels Fall will take place Saturdays, February 9 and 16 at 8:00pm; Thursday, February 14 and Friday, February 15 at 7:30pm; and Sundays, February 10 and 17 at 3:00pm at the Alexander Kasser Theater at Montclair State University (1 Normal Ave, Montclair, NJ). Immediately following the performance on February 9, the audience is invited to join the company of When Angels Fall to share reflections and responses.
Tickets are affordably priced at $30, and can be purchased at www.peakperfs.org or 973.655.5112. Tickets are always free for Montclair State students.
US Tour Partners: Peak Performances at Montclair State University (NJ), ArtsEmerson, Emerson College (MA) from February 20 – 24, and Williams Center for the Arts, Lafayette College (PA) on February 28. 
---
Programs in Peak Performances' 2018-19 season are made possible in part by funds from the National Endowment for the Arts and the New Jersey State Council on the Arts. This production supported by FACE Contemporary Theater, a program developed by FACE Foundation and the Cultural Services of the French Embassy in the United States with the support from the Florence Gould Foundation, Institut français-Paris, the French Ministry of Culture and private donors. Additional support for women artists has been provided by Fondation CHANEL.
About Raphaëlle Boitel (Director, Choreographer, Performer)

Raphaëlle Boitel was born in 1984 and started studying theatre and performing when she was 6 years old. Noticed by Annie Fratellini, she joined the National School of Circus Arts Fratellini. From 1998 to 2010, she worked with James Thierrée in La Symphonie du Hanneton – The Junebug Symphony and in La Veillée des Abysses. During those 13 years of touring, she also performed in theater, cinema, television movies (directed by Marc Lainé, Lisa Guédy, Graham Eatough in Scotland, Luc Meyer, Serreau Hill, Jean-Paul Scarpitta...), events (Jean-François Zygel), music videos, and in various cabarets in New York, Miami, London... In 2012, she worked under the direction of Aurélien Bory in Géométrie de Caoutchouc, founded her own company, and worked on her first personal creations. In 2013, she created Consolations ou interdiction de passer par dessus bord, with 3 artists from the Academy Fratellini, and worked on the choreography of the Opera Macbeth, at the Scala in Milan, directed by Giorgio Barberio Corsetti.
In 2014, she created The Forgotten, a long form show of "circus theater" and in 2015, 5es Hurlants an homage to circus. Soon after, she choreographed the Opera La Belle Hélène at the Théâtre du Châtelet, directed by Giorgio Barberio Corsetti and Pierrick Sorin. 
In 2017, she wrote and performed a short-form solo, The Black Beast, a metaphor of her past life as a contortionist. That same year, she choreographed the Opera Alcione at the Opéra Comique, directed by Louise Moaty and conducted by Jordi Savall. 
Boitel is currently touring throughout France with 5es Hurlants, When Angels Fall, and The Black Beast, and is working on a project in collaboration with the Opéra National de Bordeaux, at their home, the Grand Théâtre de Bordeaux. A new performance for young audiences, Un Contre Un, will debut in France in January 2020, and in May 2020, Alcione will be performed at Barcelona's Liceu. 
About the Performers

Alba Faivre is an accomplished aerial artist, specializing in Chinese pole, aerial rope, and trapeze. In 2009, she joined the National Circus School of Montreal where she graduated in 2012, moved by her encounter with the choreographer Johanne Madore. Since then, her work has combined circus and dance, focusing on research around emotion. In France and abroad, she has practiced traditional and contemporary circus, cabaret, opera, dance, street theater... This wide range of forms is unified by a constant personal search: that of the danced circus motion. In 2016, she met Raphaëlle Boitel on the opera Alcione, and she continues to work with her in When Angels Fall.
Loïc Leviel was born in Lille in 1993, and started in the circus at 6 years old, before getting into theatre, dance and improvisation. He began specializing in tight wire at the Piste d'Azur school, and developed his clown skills. In 2013, he joined the Académie Fratellini as a tight wire artist, continued street theatre, and joined the Cie El Teatro Del Silencio. As part of his curriculum, he also worked with Pierre Meunier, Stuart Seide, Philippe Fenwick. A graduate of the National School of Circus Arts, he continues his work with Raphaëlle Boitel in 5es Hurlants and When Angels Fall.
Nicolas Lourdelle graduated from the 12th National Circus Arts Center promotion in 2000, performing The Iota Tribe, directed by Francesca Lattuada, with the specialties of Chinese pole and wire. The same year, he participated in the creation of the company Baro d'Evel Cirk and performed in three of their works. In 2006, he met David Bobée, Cie Rictus and worked on three of his creations. Following that, he performed roles in various creations of Aurélien Bory, Cie 111, where he met Raphaëlle Boitel and Tristan Baudoin. From 2009, alongside his career as an artist, he trained and perfected his techniques in rigging and as a cordist. Since then, he has worked at the Pôle national des arts du cirque d'Amiens, as a rigging director at Zénith d'Amiens, helping artists, directors and choreographers with rigging and safety issues. In 2017, he joined Raphaëlle Boitel on the opera Alcione and now works with her in all the Company's work, in a role mixing his artistic and technical abilities.
Clara Henry, dancer and actress, studied and the Conservatoire Régional de Nancy where she won in 2009 the gold medal in classical and contemporary dance. In 2014, she joined the Ecole Internationale Jacques Lecoq and in 2015 studied the Art de la performance et sculpture course at the Académie royale des Beaux-Arts de Bruxelles. She continued her formation with Ana Rodriguez (Maguy Marin Cie). Between 2004 and 2016, she performed in shows from Julien Ficely, Christian Bourigault, Brice Kapel, Richard Siegel...with the companies Bud Blumenthal, Micantis, Silex, Good Dog, T&T and the flying circus (Brussels), Encounter, Les Butineurs, 104 (Australia), and Cie Maria-Clara Villa Lobos. In 2017, she founded her own company GingerCandy and created the show Appel d'air. The same year, she joined the Cie L'Oubliée and performed in 5es Hurlants and When Angels Fall.
Emily Zuckerman is an artist and performer, specializing in acrobatics, dance, and aerial rope. A passion for creative practice and a desire to understand the invisible brought her to study visual arts and cognitive science at the University of California-Berkeley. Interested in further exploring the limits and nuances of human experience, Emily moved to Paris in 2012 to study at Académie Fratellini. In 2016 Emily joined Raphaëlle Boitel in the opera Alcione, after which Boitel proposed they continue their work together in When Angels Fall.
About the Creative Team

Tristan Baudoin (Set and Lighting Designer) grew up in an artistic environment. Passionate about the visual arts, he started working at 17 in show techniques. His training focused heavily on lighting and stage machinery techniques. He accumulated experience in live shows, television, and events. In 1998, he focused his activities on theatre, music, and dance, favoring creation work, with many artists of the Toulouse region. In 2004, he met Aurélien Bory and joined the Cie 111, to which he fully committed and became its stage manager for 10 years. He developed his knowledge in stage design, machinery, human flights, and robotics, driving the industrial robot of No Object. In 2011, he met Raphaëlle Boitel. He now collaborates with her in the conception, stage design, lighting, and technical management on all her artistic projects.
Arthur Bison (Sound Designer) started working at 19 as a studio assistant for Dan Levy, composer for film and dance and founding member of the band The Do. Between 2006 and 2013, he notably participated in the recordings of the score of the movie Darling and on award-winning albums A mouthful and Both Ways Open Jaws. He also accompanied the band on tour as a backliner and tour manager. Alongside this work, he started working with choreographer Johanna Levy in 2008, composing and recording the music for her shows Hotel Mind (2008), After (2014), and Twist (2016). He met Raphaëlle Boitel in 2011 and has since written and recorded the music for her shows The Forgotten (2014), 5es Hurlants (2015), and now When Angels Fall (2018).
Lilou Hérin (Costume Designer & Performer) Since 1998, Hérin has mainly worked as a costume designer and accessories manager. In 2006, she and her collaborator Victoria Chaplin won the Molière award for the costumes of The Junebug Symphony. Until 2012, she participated in the creation of all of James Thierrée's shows, before leaving to work with Raphaëlle Boitel on her creations. Alongside her work on costumes, she has joined the cast as a performer ever since The Forgotten.
About Peak Performances

Peak Performances is a program of the Office of Arts + Cultural Programming at Montclair State University and has been honored by the New Jersey State Council on the Arts with an Arts Citation of Excellence and Designation of Major Impact. Programs in this season are made possible in part by the New Jersey State Council on the Arts/Department of State, a Partner Agency of the National Endowment for the Arts; and the Mid Atlantic Arts Foundation.