By Spotlight Central
originally published: 12/30/2018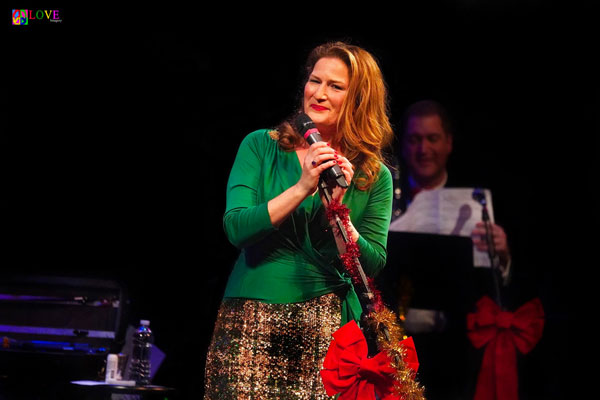 The Grunin Center stage in Toms River, NJ is set this Saturday, December 15, 2018 with drums, a grand piano, a guitar, an acoustic bass, and various microphones for vocals. A stool and several microphone stands are bedazzled with colorful garlands of shiny red, gold, and green, and wrapped gifts are strewn on stage among the instruments. Projected white snowflakes adorn the walls, and Christmas music plays as patrons enter the theater to put everyone in the mood for tonight's holiday show — Ana Gastayer's Holiday Tipple!
Ana Gasteyer was born in Washington, DC. As a student at Northwestern University, she majored in voice, but later became a theater major. After graduation, she gained comedy experience working with the Los Angeles improvisational comedy group, The Groundlings, and played small roles on a variety of television shows including Seinfeld, Frasier, and NYPD Blue.
In 1996, Gasteyer joined the cast of Saturday Night Live, where she appeared for six seasons. In addition to characters including Bobbie Mohan-Culp, the operatic-voiced high school music teacher she portrayed alongside Will Ferrell's Marty Culp, she also played Margaret Jo McCullen, co-host of the NPR radio show, Delicious Dish, renowned for the "Schweddy Balls" comedy skit with Molly Shannon and Alec Baldwin.
Following SNL, Gastayer portrayed Lindsay Lohan's mother in the film, Mean Girls, and also performed on Broadway in Threepenny Opera and as Elpheba in Wicked. After appearing on TV's Curb Your Enthusiasm, she starred on ABC's sitcom, Suburgatory, and was also seen as a recurring character on The Goldbergs.
In 2014, Gasteyer recorded I'm Hip, her first album of jazz standards and, in 2017, she starred on a Fox special television presentation of A Christmas Story Live. These days, she can be seen on Netflix's television comedy series, Lady Dynamite.
---
The article continues after this ad
---
---
As the Grunin Center auditorium lights dim, musicians on piano, guitar, bass, drums, and saxophone take their places on the stage as emcee Julian Fleisher announces, "Ladies and gentlemen — all the way from Trenton, NJ — Ana Gasteyer!"
Opening with a jazzy rendition of Dean Martin's "I've Got My Love to Keep Me Warm," Gasteyer impresses with her strong, resonant, and expressive vocals as the band swings behind her.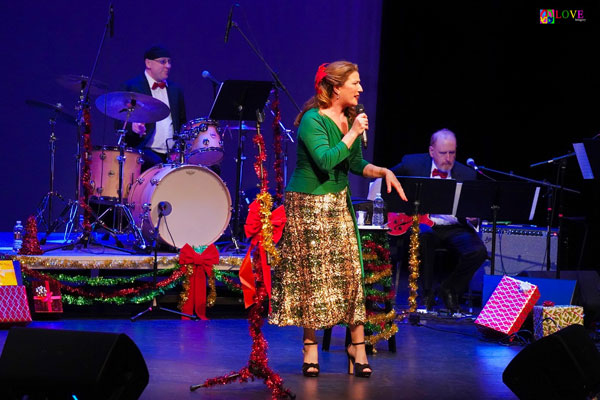 After crooning, "The snow is snowing and the wind it is blowing/But I can weather the storm/What do I care how much it may storm?/I've got my love to keep me warm," the crowd responds with enthusiastic cheers and applause!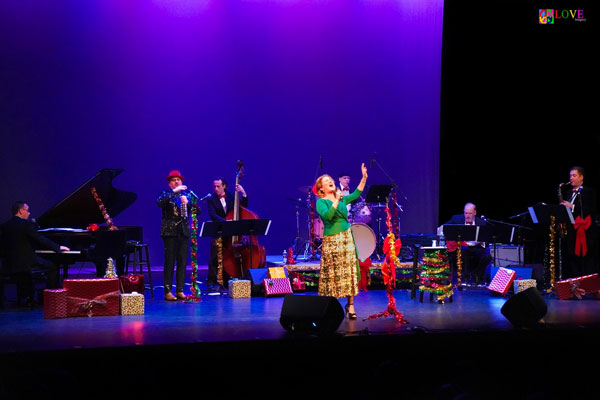 Gasteyer takes a moment to welcome the audience, telling them about herself and her life. Joking, "I have two kids, a nanny, a maid, a dog walker, and a secret maid — I have a village at home," Gasteyer charms the audience with her warm, easy-going stage persona, not to mention her impeccable comic timing.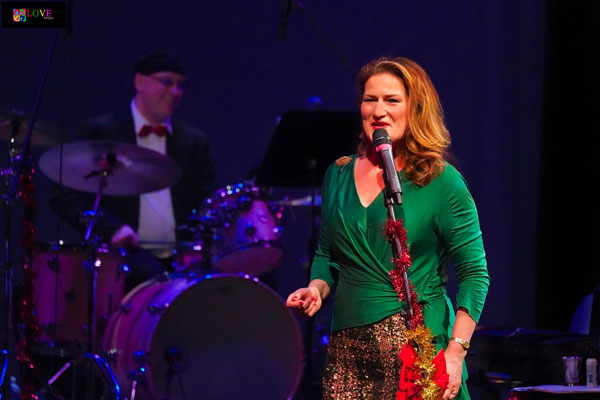 Explaining that she is putting together a holiday album to be released next year, she riffs on how her emcee, Julian Fleisher, "festooned" the stage to help put everyone in the holiday spirit. At this point, Gasteyer and the band launch into her rendition of Kay Starr's "Everybody's Waiting for the Man with the Bag." Singing, "Old Mr.Kringle is soon gonna jingle/The bells that'll tinkle all your troubles away," Gasteyer dances about while her band solidly accompanies her.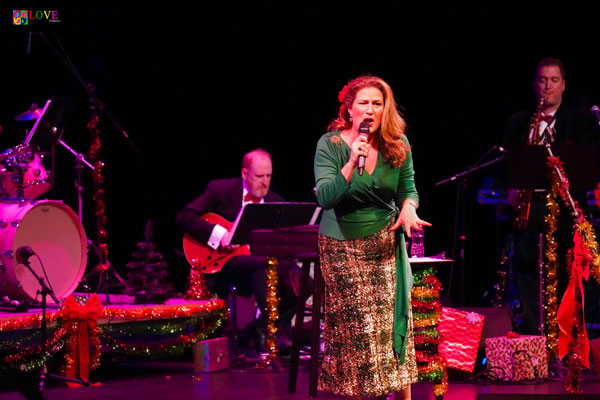 Asking the crowd if her bedazzled microphone stand clashes with her sequined skirt, Gasteyer quips as she casually saunters across the stage, "I'm a simple gal. I'm the Quaker of comedic performers who sing jazz."
Following a lively version of "Let it Snow" — in which she adds a comic interlude about kicking out party guests from her home — her voice sparkles on a jazzy and upbeat arrangement of Leroy Anderson's "Sleigh Ride" accompanied by piano, acoustic bass, drums, guitar, and tenor sax.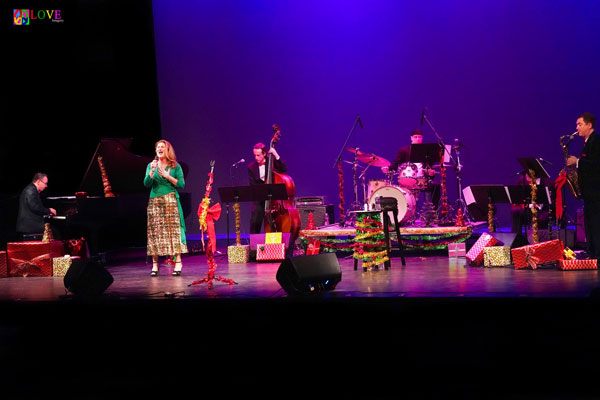 Charming the audience with her warmth and wit, Gasteyer tells humorous stories about her domestic trials and tribulations. Describing her show as "edutainment — because of the many "informational tidbits" she provides — she reveals that her mother has told her that she has developed into a "handsome woman," which she jokingly explains means "a woman with a broad pelvis."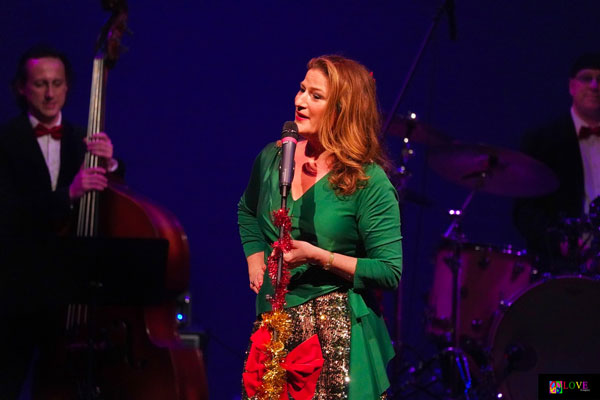 She also confesses that the sequined fabric that constitutes the outfit she's wearing "doesn't breathe."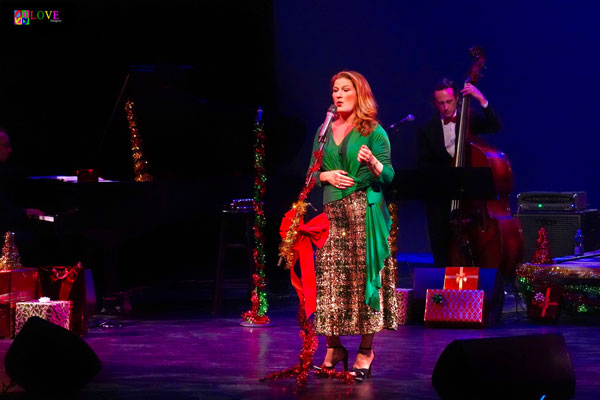 Claiming that the best part of the holidays is "sugar and booze," Gasteyer performs an original song she composed in order to detail what the holiday season means to her. After announcing, "I'm not used to performing for a sober audience," she performs a unique rendition of "Jingle Bells" which has her dancing to a Latin beat and vocalizing with style and feeling.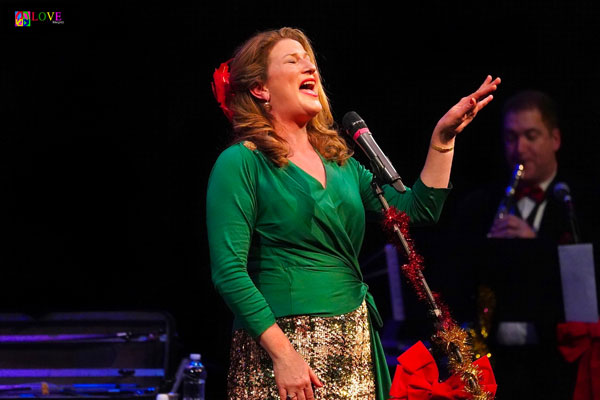 Following avid applause, Gasteyer explains to the enamored audience how she played the violin for 16 years, and then proceeds to discuss a very sad version of 'Have Yourself a Merry Little Christmas' which, she says, was originally written for the movie, Meet Me in St. Louis. Announcing that emcee Julian Fleisher will sing the "sad version," Ana notes, "I'm going to play this sad instrument" before launching into the song.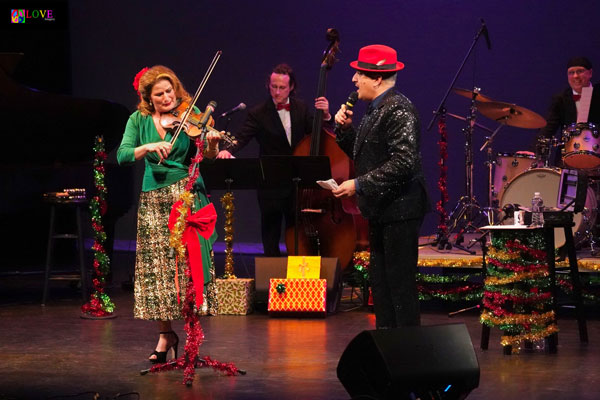 Following their hysterically funny rendition of the so-called "sad version" of "Have Yourself a Merry Little Christmas," the pair joyfully duets on the "happier Frank Sinatra" version together, much to the audience's delight.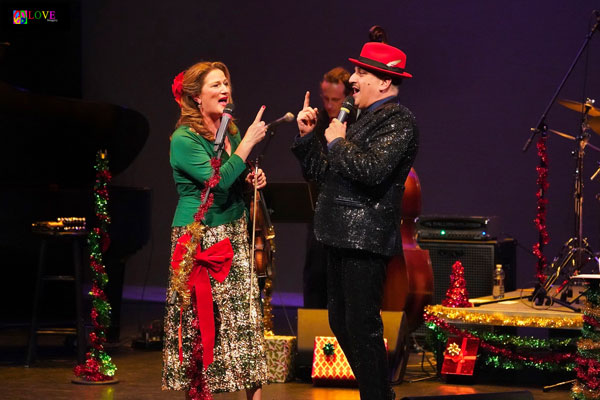 At this point, Gasteyer and Fleisher take time out from the musical numbers to play a game with the audience, the object being to come up with eight new names for the reindeer mentioned in "Rudolph the Red-Nosed Reindeer."
Gasteyer and Fleisher take suggestions from the audience and choose the best eight for Ana to sing at the beginning of the classic story song.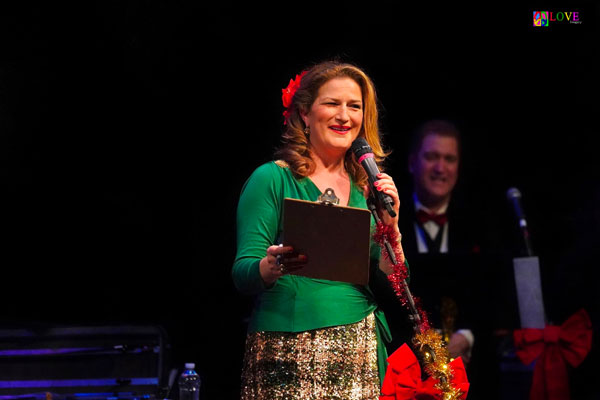 After retrieving examples like "Trippy" and "Uranus" and using them in the song's intro, Gasteyer awards prizes procured from a local dollar store including holiday socks and marijuana drug tests to audience members who unabashedly laugh out loud.
Following "In the Market for a Miracle," an upbeat Hanukkah song from the Fox television special, A Christmas Story Live, Gasteyer thanks the Toms River audience for "having a charming village — and theater." Then, she performs her final selection, "Children Go Where I Send Thee," a number which features her rich and dynamic voice as the band adds layers of texture to the performance, eliciting an enthusiastic standing ovation from the crowd!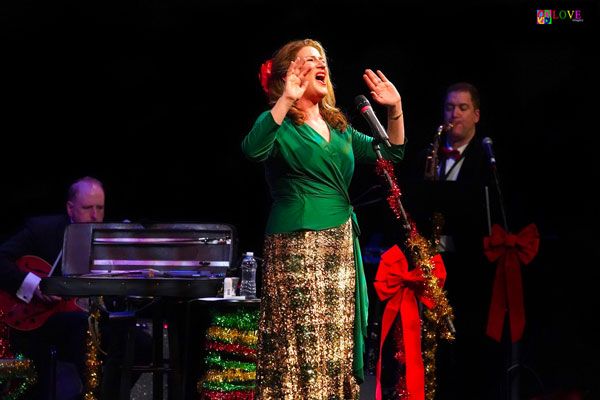 After leaving the stage, Gasteyer returns to perform what she describes as "one more little gem." Explaining, "It's a darling song about someone" — before joking, "everyone wants to visualize someone they hate" — the band begins to play the intro to Bing Crosby's "White Christmas." Surprisingly, however, they soon launch into an arrangement of "You're a Mean One, Mr. Grinch," which is not only a platform for demonstrating Gasteyer's top-notch comedic skills, but her impressive vocal range and musical talent as well.
The audience responds with yet another standing ovation, and Gasteyer takes leave of the stage waving and dancing for the crowd!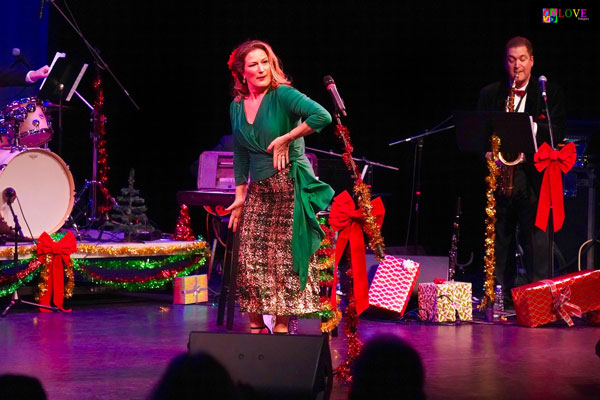 As audience members make their way out of the Grunin Center auditorium, we chat with several in attendance who share their thoughts about tonight's Holiday Tipple program with us.
First, we chat with Lisa and Peter from Monroe Township.
Comments Lisa, "I thought this was a great holiday show — perfect for a cabaret in NYC!" Adding, "Ana Gastayer is naturally funny and she has a strong, wonderful voice," Lisa further remarks, "She is so engaging, and I loved the interactive nature of the show."
Husband Peter agrees, exclaiming, "She's so much more that just a singer!"
We also chat with Tara and Marty from Lakewood.
While Tara calls Ana Gastayer's Holiday Tipple, "Fantastic!" declaring, "We loved it," Marty remarks, "Ana was wonderful. We need more entertainment like this! She was so nice and very professional — she really made you feel close to her."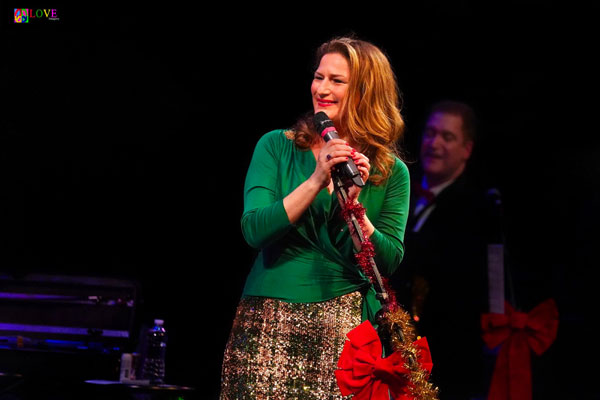 Rubin from Lakewood calls tonight's show, "Wonderful!" adding, "It was well worth coming."
Meg from Brick exclaims, "It was fantastic! It was beyond my wildest dreams, and I didn't want it to end!" Acknowledging, "I've been a big fan for a long time. I came expecting comedy and I was impressed by her music," Meg notes, "She's so quick and spontaneous," before declaring, "And her voice? Oh my God!"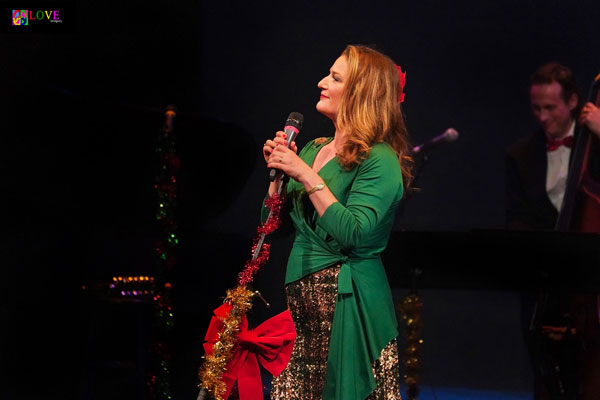 Mark from Seaside Park agrees, commenting, "Ana Gasteyer is a breath of fresh air. Her musical talent, comedic talent, and storytelling are top-notch! She's clever and witty and has a wonderful stage persona."
Ned from Waretown concurs, commenting, "She did a great job from beginning to end."
Lastly, we chat with Sue from Waretown who exclaims, "Ana Gasteyer was great! She's an extraordinary talent — she's like a chameleon!" before concluding, "Anyone not here tonight missed one happy, happy time!"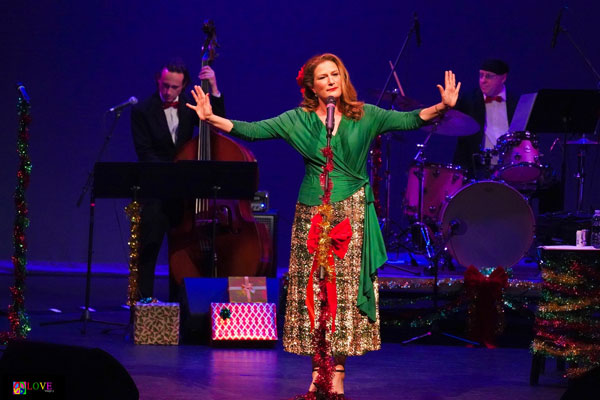 To learn more about Ana Gastayer, please go to anagasteyerinconcert.com. To find out about future events at Toms River's Grunin Center — including Rickie Lee Jones on February 22, 2019, Béla Fleck and Abigail Washburn on April 5, 2019, and John Pizzarelli on April 26, 2019 — please go to grunincenter.org.
Photos by Love Imagery
Spotlight Central. Your source for Jersey entertainment news and reviews
Love Imagery Fine Art Photography. all you need. peace/love/flower/power