By Gary Wien
originally published: 12/22/2018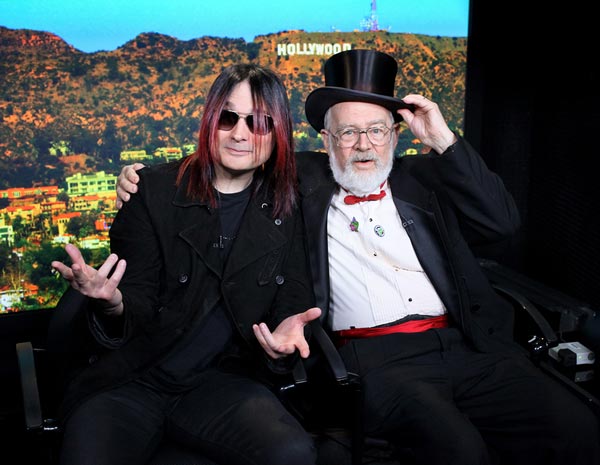 Do you remember Dr. Demento radio shows from back in the day? The show featuring music and comedy was nationally syndicated for decades and is still available weekly online. Many of the legendary songs from the show's history are celebrated in the compilation album Dr. Demento Covered In Punk, which was released in January 2018.
The compilation is the latest project by John Cafiero who grew up in New Jersey and graduated from North Bergen High School.  The record is basically a Dr. Demento radio show from the novelty songs down to the factoids and anecdotes by Dr. Demento himself between songs.   It also features an impressive cast of artists including the Misfits, Fred Schneider of the B52s, Uncle Floyd, Weird Al Yankovic, the late Adam Batman West (in one of his final performances), and Captain Kirk himself, William Shatner (to name just a few). Over 30 of the songs have never been released before, including an absolute stunner by Joan Jett & The Blackhearts.  Together they bring a punk mentality to these songs of "mad music and crazy comedy." 
The two-disc CD and three-disc vinyl LP come with a full-color booklet packed with extensive liner notes and quotes personally written by the artists, a foreword by Cafiero, an afterword by Dr. Demento, as well as facts, photos, and an array of dynamic paintings and illustrations created specifically for the project by a team of visual artists spanning the world of comic books, classic punk-rock album covers, Topps trading card series, Mad Magazine and more.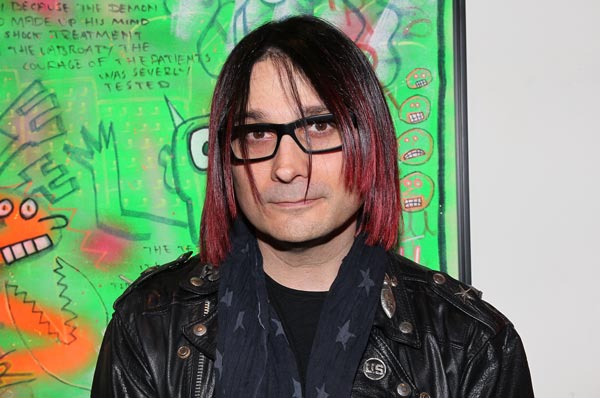 Cafiero's band, Osaka Popstar, plays a prominent role including covering "Fish Heads" — the most requested song of all-time on the Dr. Demento Show.  Originally done by Barnes and Barnes, the song gets a new life and a great cartoon music video. 
NJ Stage spoke with Cafiero about the album and his band's part in it.
---
The article continues after this ad
---
---
What a cool idea for an album! Did you approach Dr. Demento before approaching the artists to cover these songs?  What was his initial reaction to the project?  Would you have done a project like this if he had turned you down? 
Thanks, I'm glad you dug it! It's something I genuinely wanted to hear (and see), so I decided to make it a reality. When I approached Dr. Demento about it, I hadn't reached out to any artists yet. I had a lot of artists and concepts in mind from the onset, and told the Doc what I was thinking. He liked what he heard, agreed to come on board, and with that, I started working on it. 
No, I don't think I would have followed through on it without the Doc. From the very beginning I felt his name belonged on the project. He's the curator and ringmaster of the genre I wanted to pay homage to. I wanted it to be an official Dr. Demento release and connect the project straight to the source who had immersed me, and countless others, in the world of novelty music to begin with. The project was always intended to be a tribute to Dr. Demento, just as much as it is a tribute to the music he's played over the years too.
Our online radio station has received many very funny punk rock songs of the years.  Do you think punk music and comedy have always had a sort of connection?
Yes, absolutely. Both punk and novelty music are rooted in outsiders who have a unique POV that differs from the mainstream. A lot of punk lyrics, particularly old-school punk rock of the 1970s, could just as easily pass for novelty songs if performed with a different dynamic or arrangement. Punk classics like "Beat on the Brat" or "Now I wanna Sniff Some Glue" by The Ramones are prime examples. By the same token, if you take a novelty song and cover it with a punk attitude, the reverse rings true. I think its evident on Dr. Demento Covered in Punk.
Hate to say it, but I didn't even realize Dr. Demento was still doing his show online.  Had you been following him all of these years or just remember him from listening as a kid?
For me, it's a little of both actually. I remember him vividly from listening as a kid, before the internet—and reconnected with the show years later online. When I listened as a kid, the show was syndicated and would frequently change stations without warning. You never knew where and when it would turn up next, so it was easy to lose touch with it; but the one thing I could always count on were the Dr. Demento albums. I loved them, and still do—which is why I thought it would be fun to put a new spin on the concept, and introduce the world of Dr.Demento to a whole new generation. It's re-introduced Dr. D. to many who'd lost touch over the years too, which is fantastic. 
More and more people have started becoming aware there's a brand new episode of the Dr. Demento show online every week at his website. There's even a huge streaming archive of his classic shows from the 70s onward available to subscribers. 
His show was definitely an acquired taste. Growing up in New Jersey were many of your friends fans of the show as well?
Yes definitely, and most of them were introduced to the show, and the albums, by me! It was a huge deal in the 80s. That's when the song and the music video for the original version of "Fish Heads" by Barnes & Barnes became part of the fabric of pop culture, and "Weird Al" Yankovic started to become a household name. 
The album features an impressive roster of artists.  Were most of them excited to be part of the album?  Did the artists get to choose the songs they did or did you assign songs to them?
I wanted this album to be something very special. I strived to assemble an ensemble "cast" that would make the project as rich as possible. Like me, a lot of the artists were longtime fans of the show, loved the idea and were really enthused to be a part of it. Ultimately, everyone got to choose their song—but the path that led them there differed case to case. Sometimes an artist would have a song in mind from the very start, for example Fred Schneider immediately knew he wanted to cover "Fluffy"; others would give it some thought and come back to me with suggestions to choose from, but in most cases I would have a track in mind that I felt would be great for a given artist and their sound, they'd agree, and that would be the song they'd record.
Known for his parody songs, what did Weird Al think about covering a song straight?
He loved the idea and gave an amazing performance. From the very beginning I'd envisioned Al recording the "finale" track in a reverse of the concept. For most of the album we feature punk bands covering novelty songs, but here we have the most successful artist in comedic-music performing a punk classic! It's also the first time in Al's entire career where he's recorded a cover without parodying the lyrics. The original lyrics were 'demented' enough just as they were written by the Ramones!
I saw that you were with Dr. Demento and Emo Phillips when Weird Al got his star on the Hollywood Walk of Fame.  Had you known Weird Al before this project?  
I'm a long-time fan, and even met Al very briefly by chance on the street in NYC once in the 80s, but didn't come to know him personally until working together on this project. He's a pleasure to work with, and as genuinely nice as he is talented. 
You've definitely been spending lots of time with Dr Demento doing interviews and such.  What have you learned about him that you didn't expect?
Back in the 1960s, before he got his 'doctorate' in demented music, he played a formative role in the early days of classic rock. He was a confidant to the bands Canned Heat and Spirit who both went on to become classic rock staples. Dr. Demento, then Barret Hansen, produced a demo for Spirit a year before their studio debut, and was even slated to produce their first album. Circumstances led to a label change, Spirit signed to Ode Records and the producer role filled by the legendary Lou Adler. Barry (aka Dr. Demento) was disappointed at losing the gig, but knew how much this would mean for the band's career, so he cheered for them from the sidelines. Spirit's self-titled debut album was a commercial success and stayed on the Billboard charts for over six months. 
The Doc even wrote a verse of lyrics for Spirit's hit song, (#25 in the top 100 for 1969) "I Got a Line On You", but was never credited. He never asked for one, it was a different time, the "peace and love days" as he puts it. His influence on classic rock maintained over the years though. 
In one example, when the Dr. Demento show was in full swing in the 1970s, he played a funny and risqué double entendre rhythm and blues song by Bull Moose Jackson called "Big Ten-Inch Record".  Aerosmith heard it on his show and decided to cover it for their Toys in the Attic album—a classic and one of their most successful albums of all time. 
Steven Tyler later called Dr. Demento asking if he could recommend any more "dirty blues" songs, so the Doc sent him one called "Reefer Head Woman", which Aerosmith covered on their 1979 Night in the Ruts album.
It's amazing that Joan Jett's version of "Science Fiction/Double Feature" had never been released before.  Did you know about her cover beforehand?  
I was just suggesting songs I thought would be a good fit for Joan to consider for the project, and when I mentioned "Science Fiction/Double Feature", I learned she'd already recorded it, but hadn't released it! Joan's longtime manager and musical collaborator Kenny Laguna sent it to me to check out, and when I heard it, I was blown away. 
It's a perfect fit for the album, and Rocky Horror Picture Show is one of my all-time favorite films. I've seen it hundreds of times over the years and used to go to the 8th Street Playhouse in NYC to see it religiously. Joan cleverly took the short reprise of the song you hear at the end of the film, (and the play), and made it the last verse in the song. It's a great version, I love it and I'm really happy to have had the chance to include it on the album.
Tell me about your "Fish Heads" cover.  Your band covers the most popular Dr Demento tune and has released an incredible animated video. Did you come up with the concept? If so, what inspired it?
Yes, I came up with the concept and directed the animated video. Thanks, I'm glad you liked it. I'm a huge fan of the original which served as inspiration in some respects, along with a diverse range of pop culture influences… Everything from Captain Beefheart's Trout Mask Replica, which inspired me to make the band have Fish Heads with human bodies, to Pinocchio—which inspired the ending where the band is swallowed by a giant Fish Head on the final lyric "eat them up yum"—just like Monstro the whale swallows Pinocchio & Geppetto. There's lots of subtle little references within it too. There's a Twilight Zone homage because Bill Mumy, half of Barnes and Barnes who wrote and recorded the original version of Fish Heads back in the late 70s, appeared as a child actor on an infamous episode of the Twilight Zone called "It's a Good Life", one of my favorites from the series. The "Turd Monster" aka Chet from Weird Science makes a cameo in homage to actor Bill Paxton who starred in and directed the original 1980 live action music video for Fish Heads. I'm also a big fan of sugar cereal mascots and their animated commercials so I seized the opportunity to create one for the Fish Heads universe —illustrating the lyric "In the morning laughing happy Fish Heads"… There's tons of stuff to look for within the animation. I think it's a lot of fun and I hope people enjoy it. 
Was that the first time you've had a cartoon version of yourself like that? It's pretty cool.
Actually, this is the second time I've been animated! The first time was chibi style in the video for "Wicked World" from the Osaka Popstar and the American Legends of Punk album. This is the first time I've been animated more like I really look when I'm visiting toon town though…lol. 
How did Osaka Popstar come about?  Do you do many concerts or is it more of a recording project band?
I started Osaka Popstar in the early 00's and it's continued to evolve since. I originally planned to kick it off with an EP, which grew into the debut album. North American and European tours followed, a live album, and lots of new singles and collaborations have been recorded and released since. I wear a lot of different hats including managing the Misfits and the Estate of Dee Dee Ramone, producing other artists and lots of other creative ventures—one example being the Dr. Demento Covered in Punk album. I have a pretty full plate, but looking forward to doing more live shows, likely starting as soon as next year. Two new Osaka Popstar EPs are also coming in 2019. The two EPs are collectively about an album's worth of new material, but very different in theme and tone. They'll be released a few months apart from one another sometime next year. 
Finally, do you hope or plan to do more projects like this album?  Anything already in the works or planning stages?
Yes absolutely, I have a lot of stuff planned already including Dr. Demento Covered in Punk Vol. II and more that I think people who enjoyed this album will appreciate. I'm in the middle of a project right now that I'm particularly excited about and will be released sometime in 2019, but it's too early to reveal anything just yet… If you follow me on social media, you'll be among the first to know when the time comes! 
---
Gary Wien has been covering the arts since 2001 and has had work published with Jersey Arts, Elmore Magazine, Princeton Magazine, Backstreets and other publications. He is a three-time winner of the Asbury Music Award for Top Music Journalist and the author of Beyond the Palace (the first book on the history of rock and roll in Asbury Park) and Are You Listening? The Top 100 Albums of 2001-2010 by New Jersey Artists. In addition, he runs New Jersey Stage and the online radio station The Penguin Rocks. He can be contacted at gary@newjerseystage.com.
---