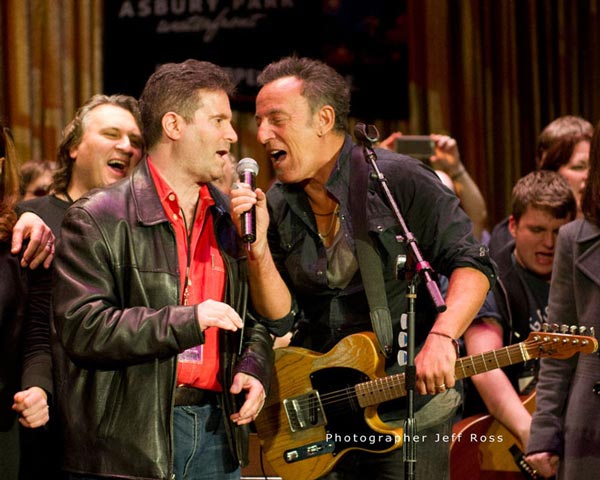 Recently back from shows in Europe, Light of Day Winterfest 2019 is just around the corner.  In addition to shows throughout Asbury Park, shows will also take place in North Jersey, Philadelphia, New York City and Rockland County.  Light of Day, now in its 19th year, not only raise money for the Parkinson's Foundation, but does much more.
The Light of Day Foundation grants money to organizations which fund specific research initiatives, including the Michael J. Fox Foundation, CurePSP, the Parkinson's Foundation (formerly the Parkinson's Disease Foundation), and the Parkinson's Unity Walk. The Light of Day Foundation also supports "boots on the ground" programs designed to help people with these diseases live better lives on a daily basis, including co-sponsored projects with Joan Dancy & PALS, with a mission to help New Jersey residents in nearby Monmouth and Ocean Counties afflicted with ALS by providing a better quality of life for them and their families.
In 2018, Light of Day WinterFest raised over a half million dollars for the fourth straight year, catapulting its 18-year cumulative total past the $5 million mark and L.O.D. Winterfest 1019 is expected to push the total past $5.5 million. 
This fall, the Light of Day Foundation made a $100,000 donation to the Parkinson's Foundation to launch the Come Out In The Light Of Day educational initiative, a pilot program to be tested in New Jersey for patients who are newly diagnosed with Parkinson's.
The Ventures, Steve Forbert, Albert Lee and Band, Popa Chubby, Willie Nile and Band, Jesse Malin, James Maddock and Band, Jeffrey Gaines, Marc Ribler's Red, White & Brit Tribute to The Who featuring members of Little Steven's Disciples of Soul, Joe Grushecky and The Houserockers, The Weeklings, John Eddie, Remember Jones, Williams Honor, Bruce Tunkel, Joe D'Urso and Stone Caravan, Christine Martucci, Nalani & Sarina, Taylor Tote, Pat Guadagno, and the Billy Walton Band are among the first wave of acts to be announced for Light of Day 2019.
---
The article continues after this ad
---
---
Here's a look at a few of the shows we have information on.
Friday, January 11 - LOD "NORTH JERSEY" at Outpost in the Burbs, Montclair 
Willie Nile, James Maddock, Danielia Cotton, Williams Honor, Joe D'Urso, Jon Caspi, Christine Martucci, Laura Crisci, Rick Winowski
Saturday, January 12 - LOD "PHILADELPHIA,"  at The World Cafe, Downstairs
Willie Nile Band, The Weeklings, Jesse Malin Band, James Maddock Band, Joe D'Urso & Stone Caravan 
Thursday, January 17 - "WINTERFEST 2019 KICK-OFF" at House of Independents, Asbury Park
Remember Jones, Williams Honor, Johnny Piasano's Rock 'n Roll Pizzeria, Marc Ribler's Red, White & Brit Tribute to The Who featuring Little Steven's Disciples of Soul members Andy Burton, Jack Daly, and Rich Mercurio 
Friday, January 18 - "ASBURY ANGELS INDUCTION" at The Stone Pony, Asbury Park
The Ventures, The Weeklings, Billy Walton Band, Milly, Bobby Mahoney & The Seventh Son, Black Flamingoes 
Friday, January 18  - FRIDAY NIGHT LIVE at House of Independents,  Asbury Park
Dramarama, The Grip Weeds, The Easy Outs
 Saturday, January 19 - "FULL TILT BOOGIE BASH" at Wonder Bar, Asbury Park
Popa Chubby, Billy Hector Band, Christine Martucci
Sunday, January 20 - "MUSICIANS ON A MISSION" at The Saint, Asbury Park
Dan Amato & The Sentimental Gentlemen, High Season,  The Extensions, Sonic Blume